The best large smartphones that you can buy for under $200 (off contract)
7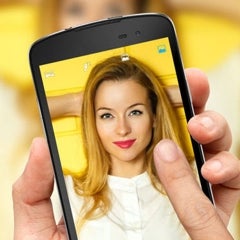 If you want to have the very best large smartphone that money can buy right now, you'll obviously need to check out
high-end offerings
like Samsung's Galaxy Note 4, or Apple's iPhone 6 Plus. But these are expensive, and many customers simply can't afford to get a handset that costs many hundreds of dollars. However, this doesn't mean there are no decent large smartphones that can be bought by users on a budget. In fact, we did some research and found that there are quite a few great options priced at less than $200 off contract (we're talking about the US market here).
Since most handsets now have screens measuring around 5 inches, by "large smartphone" we mean devices with displays of at least 5.5 inches. Let's see what $200 or less can get you, shall we? In alphabetical order:
While the star of Asus' latest line-up is the ZenFone 2 64 GB with 4 GB of RAM, this one costs $299 - probably a bit too much for some customers. Luckily, you can also buy a ZenFone 2 for $199 if you're happy with just 2 GB of RAM and 16 GB of storage space. You'll still get Android Lollipop, LTE, and the 5.5-inch 1080p screen of the more expensive model, though the processor powering the $199 variant is slightly weaker: a quad-core Intel Atom Z3560 clocked at 1.8 GHz. Right now, only the silver variant of the Asus ZenFone 2 16 GB costs $199. As far as we know, this is the only 1080p Android Lollipop smartphone with LTE that you can currently get in the US at this price.
Released earlier this year alongside several other new BLU smartphones, the Studio X Plus can be bought for as low as 134.99. The handset sports a 5.5-inch 720p display, runs Android KikKat (upgradeable to Lollipop), and is powered by a quad-core MediaTek MT6582 processor. It also offers an 8 MP rear camera, 2 MP front-facing camera, 1 GB of RAM, and 8 GB of expandable storage space. The BLU Studio X Plus doesn't have LTE, but supports HSPA+, being compatible with all GSM networks in the US (including AT&T and T-Mobile).
Back in March, the Lenovo K3 Note was released as a China-only device, so we're surprised to see it available on Amazon. We're also surprised by the fact that the handset isn't much more expensive than it is in China, costing just $170 unlocked. That's a fantastic price for what the Lenovo K3 Note (also called Lemon K3 Note) is offering. Just like the Asus ZenFone 2 that we mentioned above, the K3 Note runs Android Lollipop and has a 5.5-inch 1080p display. However, it doesn't support US LTE bands, so you'll have to make do with HSDPA (compatible with AT&T, T-Mobile and other GSM carriers). The K3 Note further comes with a 13 MP rear camera, 5 MP front-facing camera, an octa-core MediaTek MT6752 processor, 2 GB of RAM, and 16 GB of expandable internal memory. Dual SIM capabilities and a removable 3000 mAh battery are also included.
And here's another Lenovo device, though this one's older (and larger) than the K3 Note. Sold until recently for over $200, the S930 currently costs just $121, being a great choice for anyone wanting a cheap, extra-large smartphone. The Lenovo S930 has a 6-inch 720p display, 1 GB of RAM, 8 GB of expandable storage space, and a quad-core MediaTek MT6582 processor. An 8 MP rear camera, a 1.6 MP front-facing camera, and a 3000 mAh battery complete the specs sheet. The only real downside of the S930 is that it runs Android 4.2 Jelly Bean.
Yes, we know that the Nokia Lumia 1320 will soon be 2 years old, but it's still going to be updated to the brand new Windows 10 that Microsoft is readying for later this year. Besides, the 1320 is a very attractive product at just $187 - that's how much it costs at Amazon (note, however, that this is the international variant, and is offered with no warranty). Sporting a 6-inch 720p display, the Nokia Lumia 1320 is powered by a dual-core 1.7 GHz Qualcomm Snapdragon S4 processor, and includes a generous 3400 mAh battery. Other features: LTE, 5 MP rear camera, 1 GB of RAM, 8 GB of internal memory, and microSD card support.
The ZTE Grand Max+ is another 6-inch 720p handset, but this one is available to buy only from Cricket Wireless. However, it's offered off contract, for $169.99 with activation, so anyone in the US can get it (as long as they're in an area with Cricket service). The Grand Max+ offers a quad-core Snapdragon 400 processor, 2 GB of RAM, 13 MP and 5 MP cameras (rear and front, respectively), 16 GB of expandable storage space, and a 3200 mAh battery.