Mariyan Slavov - News and Shopping Writer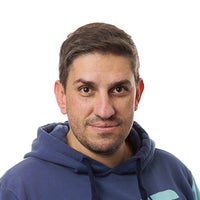 mariyan.s@phonearena.com
Mariyan (Murray) spent most of his childhood tinkering with gadgets and trying to find out how things work. His passion for technology resulted in toy robots, RC cars, and even game consoles being taken apart often beyond repair.

His quest to find the secrets of the Universe led Mariyan to a major in Nuclear Physics, and countless nights of stargazing through his 90mm refractor telescope.

From a very early age, Mariyan was fascinated by another very powerful and somewhat magical device of human civilization - writing. He devoured hundreds of books in dusty libraries - from run-of-the-mill crime thrillers and science fiction all the way up to Raymond Queneau's Exercises in Style.

After writing and publishing poems and short stories of his own, Mariyan decided to pursue a career in writing and ended up graduating with distinction in Journalism and Mass Communications.

This strange amalgamation of tech and scribble led Mariyan to the position of Editor-in-Chief of PCWorld Bulgaria. When computers started to disguise themselves as phones, Mariyan decided to follow the trail and landed a job as a writer at PhoneArena.

If you ask him a provocative question such as "Android or iPhone?" you'll get a meticulous dissection of pros and cons, along with a thousand-word essay on how technology impacts humanity.

His all-time favorite smartphone is an obscure Sony Ericsson Xperia Ray which he still owns and keeps in "perfect working order." Mariyan enjoys writing about fringe technologies such as graphene batteries, holographic smartphone displays, smart contact lenses, and nanotechnology.

When he's not on duty you can find him noodling on his electric guitar, practicing his Japanese, or clocking miles on the running track. Mariyan spent three years fencing on a national level but now he prefers to fire up his PlayStation 4 Pro and hit the racing track in Gran Turismo. If he feels nostalgic he plays Final Fantasy VII Remake, and reads Haruki Murakami.
Recent articles by Mariyan