Daniel Petrov - Senior Mobile Tech Journalist and Reviewer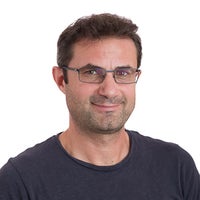 [email protected]
With a smartphone OCD since the dawn of Windows Mobile, frantically engaging in eBay swaps for devices like the Cingular Audiovox 5600 or AT&T Tilt, Daniel is mesmerized by the notion to carry one device that fits all your needs. The late Steve Jobs' "computer in your pocket," and Eric Schmidt's "you'll be never bored" ideas have come to fruition, so Daniel can't help but keep an eye on the mobile.

He's been with the PhoneArena team since 2010, notching thousands of articles on his belt. His areas of expertise include but are not limited to mobile hardware and software, living with technology, carrier plans and networks, and digesting the vast amount of tech information from the West and the East, to serve educated guesses on where the wind will be blowing in the next phases of the mobile evolution.

The future-curious attitude now sparks a keen interest in the digital health and car connectivity revolutions that have dawned upon us, as well as all the ways that 5G and the next "G" would reshape the ways we interact with our devices.
Will their main components become implants and wearables scattered all around our bodies in the next decade, reshaping the tech testing and review process completely? What about the ethics and privacy safeguards of it all? These are the topics passing through his news junkie head on a daily basis, and the answers are even more.

What will the technology future bring remains to be seen but we are certainly living in interesting times, as the Chinese proverb says. In the meantime, to survive all that social connectedness and digital onslaught, there's no better human battery recharge for him than traveling, meeting people, and reading for pleasure. Oh, and tinkering with any new tech that the industry throws his way – from the botched releases, to the futureproof ones.
Recent articles by Daniel