Apple iPhone SE Review
99+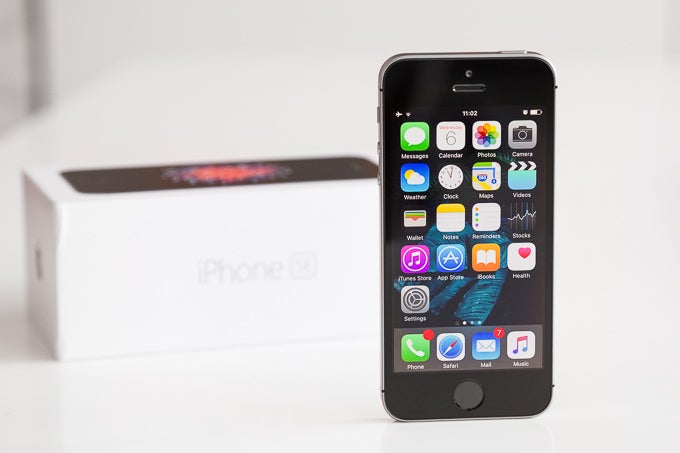 Introduction
This has to be one of the more peculiar reviews I've ever been tasked with. A past
iPhone 5
and
5s
user, I have long forgotten what it is to hold and work with a smartphone of such caliber. Since those two, whom Apple's new
iPhone SE
resembles thoroughly, I've only had the pleasure (and sometimes – displeasure) of using much bigger devices; like the
iPhone 6
, for example, or the
One M9
, or the
Galaxy S6
... and you know what? I think I got perfectly used to the big screen format. Most devices above 5 inches do feel rather clunky to me, but if we draw the line at around 5", I think most handsets in the category come off as relatively easy to handle.
So does the world still need a phone with a 4" screen, be it with the latest top-of-the-line tech? Have our hands permanently adjusted to working with big handsets? Does the extra portability of the iPhone SE make a meaningful difference for the 2016 consumer? And, perhaps more importantly, is the 4" form-factor still adequate enough to get the job done well enough in this day and age, for productivity, gaming, general usage, and more? Do browsing the web, or checking a Facebook feed, or typing out a message feel constrained on this seemingly old-age 4" screen? These are all hard questions the iPhone SE will have to answer if we're to believe in its adequacy. Let's see what it has to say!
The package contains:


Apple iPhone SE
Wall charger
Lightning cable
EarPods earphones
SIM ejector
Quick start guide
Apple decals
Design
Blast from the past: the iPhone SE resurrects a design many thought superior to iPhone 6, but is it really so?
You can imagine the tension in the air that was accommodated by the moment when I first took the iPhone SE out of its box and carefully enveloped its seemingly delicate body with my fingers. My first thought was: wow, this is a nice phone! A looker! My second thought was: oh boy, that sharp edge is cutting right into my fingers.
The Apple iPhone SE may be very compact and all, but its boxy shape with sharp edges sure isn't very ergonomic. It looks good, but doesn't feel good, which is equally important. Using a case is a way to work around this problem, but it isn't quite the ideal solution. I think if Apple had actually used a scaled-down version of the iPhone 6 design, it would have made for a much more comfortable handset, not to mention – much fresher.
Aside from that, the iPhone SE is very well built – the metal body, ornamented by the contrasting glass pieces on the back, is a sight to behold, while the buttons for volume and home, as well as the mute switch, all click nicely and reassuringly.
When it comes to the dimensions themselves: yes, the SE is extremely compact and light by today's standards. It's very refreshing to once again use such a small device – a considerably more effortless experience compared to the 'full-size' slates of today. It's also not tiny to the point of looking weird or inadequate in the hands. However, the SE definitely isn't looking to balance body size and screen diagonal – the significant bezels around the screen, and especially the final look when you put a case on, do make the iPhone SE appear somewhat old-school. It would have been a nice gesture from Apple if it had taken the time to renew the design of the munchkin to make it look more modern.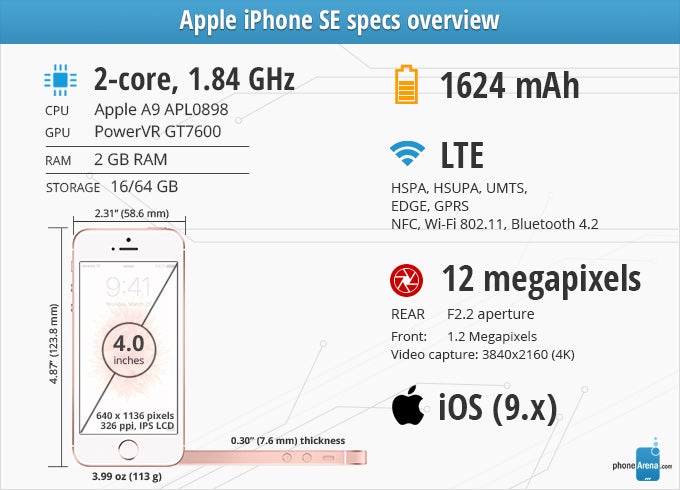 Display
A very high-quality display, the 4" panel of the iPhone SE is a great treat for LCD lovers.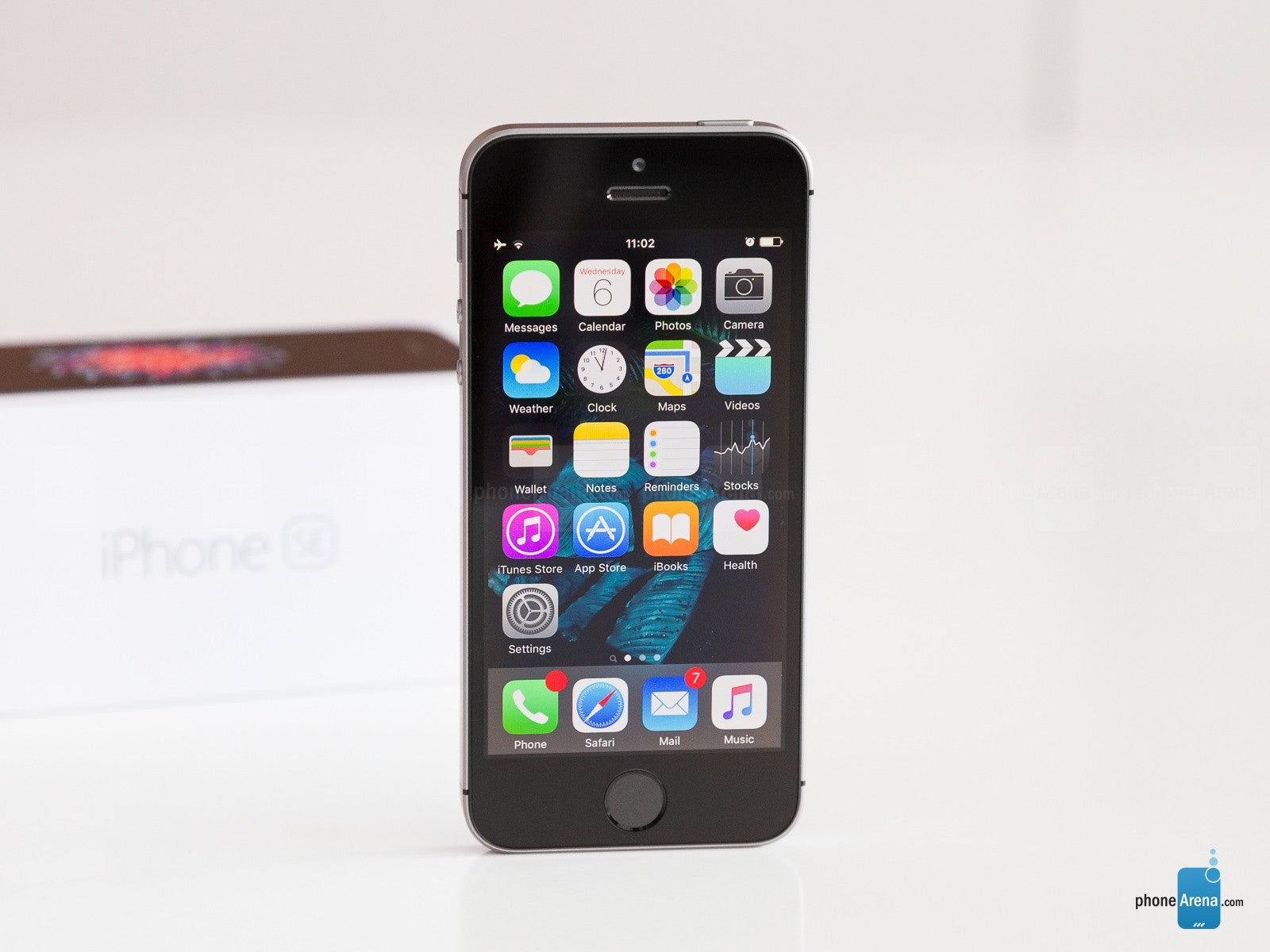 The 4" IPS LCD screen of the iPhone SE is terrific. Its resolution comes in at 640 x 1136 pixels, which delivers a pleasing pixel density of 326 ppi. Reading text and discerning fine details on the screen doesn't make you squint or focus more than usual, because iOS scales correctly to display items with adequate size. As a matter of fact, most elements of the user interface have the same dimensions as on the iPhone 6's 4.7" screen. Of course, this means you'll be seeing less content on the SE, but it's a fair trade-off.
Brightness with the iPhone SE can be cranked up all the way to 600 nits, which is a superb output, allowing the screen to be used with relative comfort even when it's sunny. Minimum brightness sits at 6 nits, which translates to decent viewing comfort in the dark, but it could have been better.
Images, video and other content looks great on the iPhone SE, because color balance is great. Color temperature is a tad cold at 7000 K (slightly dominant blue color), but overall, colors are very accurate and true to life, while the display's gamma is spot on, producing a deep, dynamic look that's also natural. There's just the right amount of contrast and vividness.
Whether or not 4 inches are big enough, or too small, depends on what you're going to be using them for, so it'll be in the next chapters where I'll explore the display's efficiency.
Unfortunately, there's no 3D Touch here, which probably isn't such a big deal at this point. The fact you can reach all corners of the screen with a single thumb easily offsets the loss.
Display measurements and quality