Apple iPad Pro 2020 Review
10
We may earn a commission if you make a purchase from the links on this page.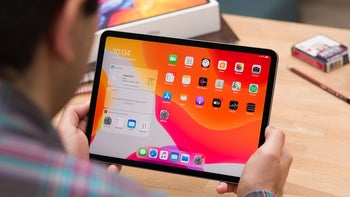 Summary
With each passing year, the iPad line comes closer and closer to that laptop-tablet hybrid that many products before it tried to be yet didn't quite hit the mark. In order for a hybrid to feel right, it needs to strike that balance between portability and no-compromise performance.
Now that iPadOS 13.4 officially supports a mouse, the iPads are ready to take a real stab at the "hybrid" experience. And Apple is pretty open about calling the new iPad Pro (2020) "Your next computer".
Indeed, the iPad Pro is fantastic — it's powerful, it's smooth, that 120 Hz screen looks gorgeous on a tablet. But hey — the base iPad and the mid-tier iPad Air also support a keyboard and mouse. What makes the iPad Pro so special?
Buy Apple iPad Pro 2020 from:
iPad Pro vs iPad Air vs iPad
Or is it worth paying the Pro price?
The base $330 iPad and the $500 iPad Air both support the Smart Keyboard (not the new Magic Keyboard) and the 1st generation Apple Pencil. They also fully support iPadOS 13.4 and all of its features.
So, why buy a $800 iPad Pro when the other two options are perfectly good as well? Let's see what in the iPad Pro is better than the iPad Air or iPad base:
Design: the iPad Pro is the only line with a thin bezel and Face ID
Smooth display: the iPad Pro is the only line with 120 Hz refresh rate
Latest hardware: iPad Pro (2020) has an A12Z and 6 GB of RAM, iPad Air has A12 and 3 GB of RAM, iPad has A10 and 3 GB of RAM.
USB Type-C: instantly makes accessorizing and file transfers more convenient
Apple Pencil Gen 2: more convenient, sticks to the iPad Pro magnetically and charges wirelessly
Magic Keyboard support: suspended design, integrated trackpad. (other iPads still support wireless mouse)
Quad speaker setup: the iPad Pro line is the only one that offers stereo sound. If you're serious about your media viewing
Starting storage: the iPad Pro starts off at a 128 GB tier for $800. The iPad Air gives you 64 GB for $500. If you want to upgrade that to 256 GB, it'll be $650.
Our recommendation:
If you are on a budget and are just looking to dip your toes into the iPad experience, go for the base iPad. It will still allow you to upgrade it with a Smart Keyboard and an Apple Pencil should you feel the need. You will miss out on quad speakers, a laminated display, 120 Hz ProMotion, Face ID, and the new design in general.
If you want a more premium experience, are actually looking to get some work done on the iPad, or are serious about media consumption and gaming — skip the iPad Air and just go for the iPad Pro. 128 GB is nothing to snark at and will be plenty enough for most users. The iPad Pro is super-smooth, modern-looking, and an actual treat to use. Yes, it's a bit pricey, but — compared to the mid-tier iPad Air — it's a big leap.
On to the iPad Pro (2020) review!
Design and display
Apple is very rarely in a hurry to change designs. So, it was absolutely no surprise that the 2020 iPad Pro models look exactly like their 2018 counterparts. We can't say we are getting tired of this design just yet. It's beauty might be subjective, but its functionality is most certainly there.
The frame is uniform, the quad speakers are positioned symmetrically around the tablet's body, and you really, really will forget the old worries of "Am I holding it right?" Any direction you spin the tablet in — it works and looks natural. Even Face ID will scan your mug no matter how you spin the tablet, which is a feature we'd love to see on the iPhones as well.
We are testing the 11-inch iPad Pro which strikes a pretty good balance between screen real estate and portability. It is only ever-so-slightly heavier than the most current iPad Air, which is pretty impressive, especially considering that the Pro is full of magnets to attach to the Apple accessories.
The screen looks gorgeous, with accurate colors that are vibrant without getting aggressive on the eyes. No surprise there — that's something we expect on every iDevice nowadays.
The lower-tier iPads may support True Tone and Night Shift, making them super-easy on the eyes when used, but the iPad Pro line is still the only one that has a 120 Hz display. And once you've experienced that, you'll find it hard to go back to the 60 Hz iPads. It gives iPadOS an even smoother and more responsive feel than before.
Display measurements and quality
LiDAR – what is the iPad Pro's 3rd camera used for?
One big new feature that the iPad Pro (2020) line has is the new LiDAR scanner — a sophisticated ToF camera that can determine object shapes, sizes, and edges much more accurately than we've previously seen on a mobile device. Or so it was said.
The LiDAR scanner is meant to make AR apps — such as the Measure app, various AR games, or even home decoration apps — better by allowing the virtual objects to interact naturally with and fit more accurately in your real-world environment. So, of course, we tested it.
Upon initial launch of the simple Measure app, the benefits of LiDAR are instantly visible. You no longer need to wave the tablet around until it gets a bearing of what type of surface it's "looking at". It's instantly ready to get to work, it's much better at detecting different plains and surfaces, and it even suggests measuring lines and snaps your markers to the edges of detected objects.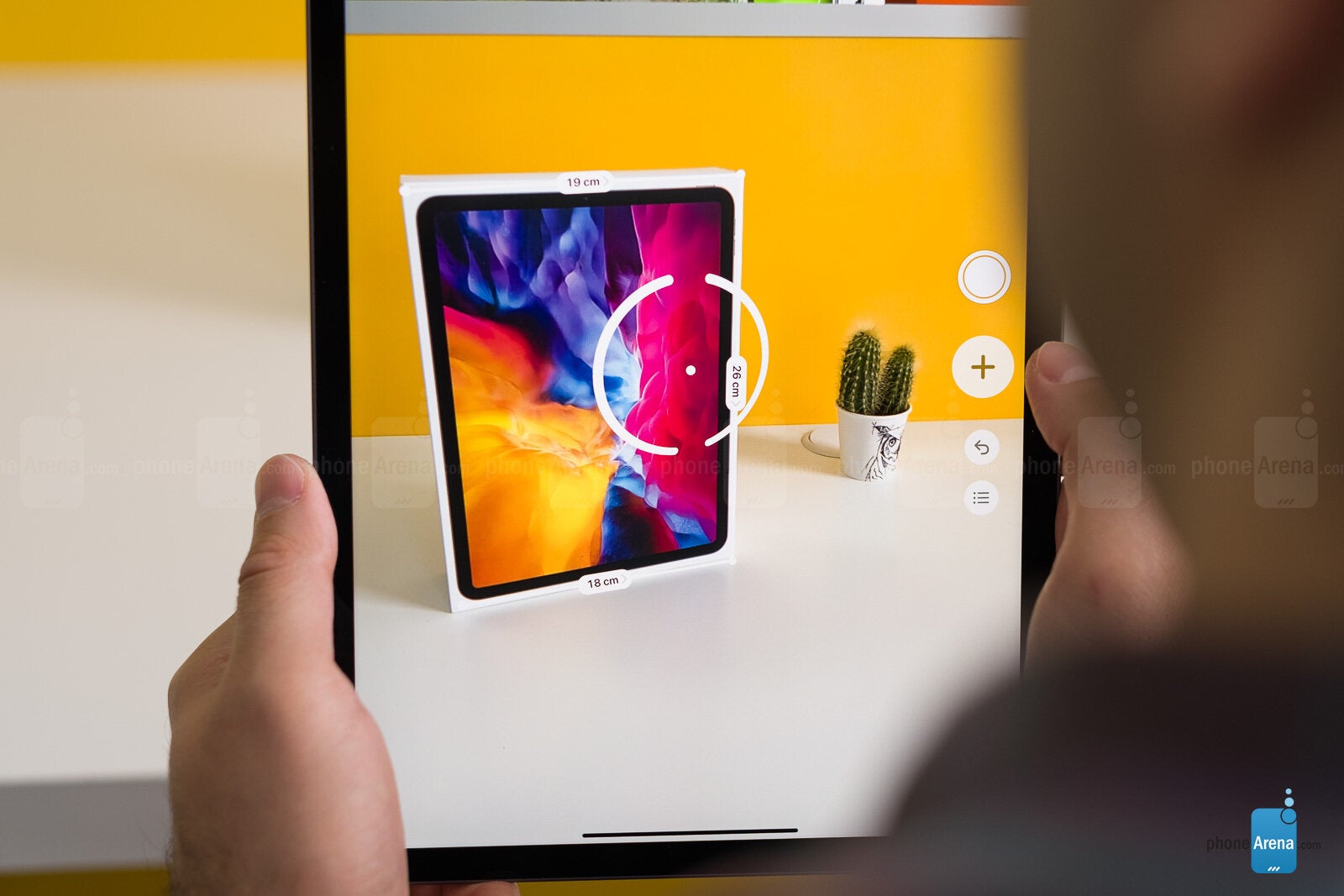 We did a quick Measure test with the iPad Pro vs the iPhone 11 Pro. First up — the tape measure. Both devices were following it accurately and showing the same numbers in cm as the strip itself. However, the iPad Pro was faster to "snap" on to the line and it even divided the line in single cm steps when we moved in closer.
Then, we measured this guitar here. Out of 3 attempts with each device, the iPad Pro was consistently getting the scale length right — it is supposed to be 26.5". Out of 3 attempts, the iPhone was slightly off, showing 26" on every try.
Unfortunately, we couldn't find any AR apps on the App Store that have been updated to use the new sensor. There's a lot of promise there — real-time object mapping, the ability to detect real-world objects coming in and out of the frame and either deleting them or allowing them to naturally pass in front of the virtual objects, room mapping, and other neat stuff that both Apple and various devs have talked up. It remains to be seen how all of that pans out.
One thing is certain — it's a bit weird that the upgraded AR sensor arrived on an iPad instead of an iPhone. Let's be honest here — waving a huge tablet around while trying to use its cameras is nobody's go-to choice.
Camera and audio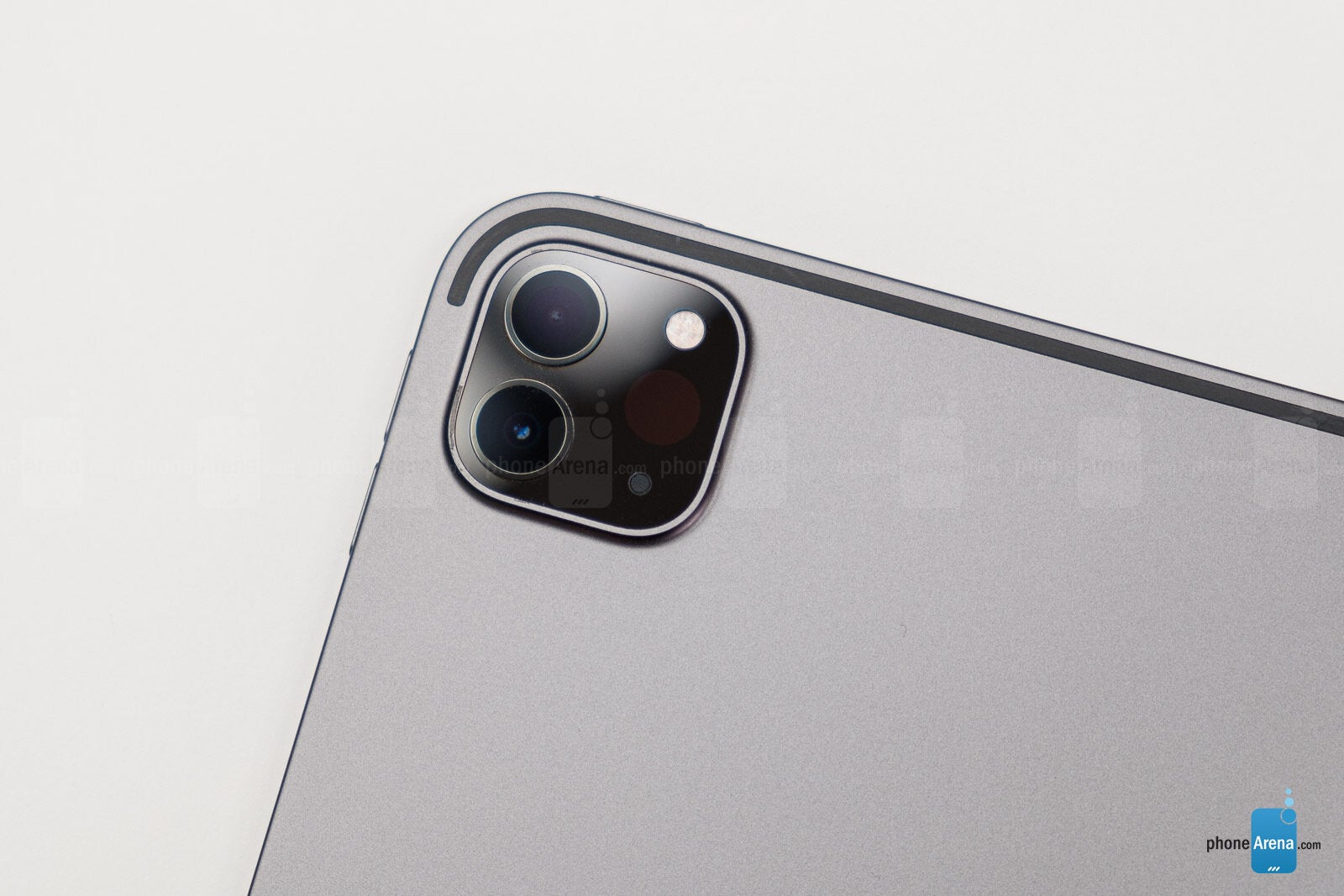 The iPad Pro 2020 comes with a 12 MP main camera, a 10 MP ultra-wide-angle camera and a 7 MP selfie camera. It looks like the main snapper is basically the same camera from the iPhone 11, but the ultra-wide-angle and selfie cams are a bit downgraded. Another weird decision on Apple's part — people generally use tablets for video calls and don't care that much about their back-mounted cameras. Having the same 12 MP front camera as on the iPhone would've been nice.
All that being said, let's move on to image quality. The main camera on the iPad Pro 2020 is pretty great — details and colors are true to life and its dynamic range is fantastic, just like on the iPhone 11.
We were able to "trick" it from time to time, usually in indoors shots — you can see that the red guitar below has a slightly brown-ish tint, which isn't there in real life. The LED lights on the shelf are pure blue, while the iPad Pro camera gave them a slightly purple-ish tint. But, to be fair, these are shots that pretty much every smartphone camera we have on hand struggles with.
The ultra-wide-angle camera has the same color calibration, so you don't get a jarringly different image when you switch to it, but the lower-res sensor shows. There is a bit more digital noise with the ultra-wide-angle camera. The last two pictures in the gallery below were taken with the iPhone 11 Pro for comparison's sake. You will notice both the iPhone's cameras have wider viewing angles.
The same stands with the selfie camera: great colors, great dynamic range, but once you go indoors, it gets soft on the details and introduces some digital noise.
You do get Portrait Mode on the iPad Pro (2020), but it only works with the selfie camera, utilizing the Face ID sensors. We thought the LiDAR sensor would be used for better Portrat Mode shots with the main camera, but nope — not right now.
As far as audio goes — the iPad Pro traditionally rocks quad speakers, placed in a stereo setup. It gets fairly loud without crackling up and the sound quality is impressive for a thin tablet. It won't replace a nice Bluetooth speaker for indulgement in good music, but you can definitely use the iPad Pro (2020) speakers for casual media consumption.
Files, workflow, USB Type-C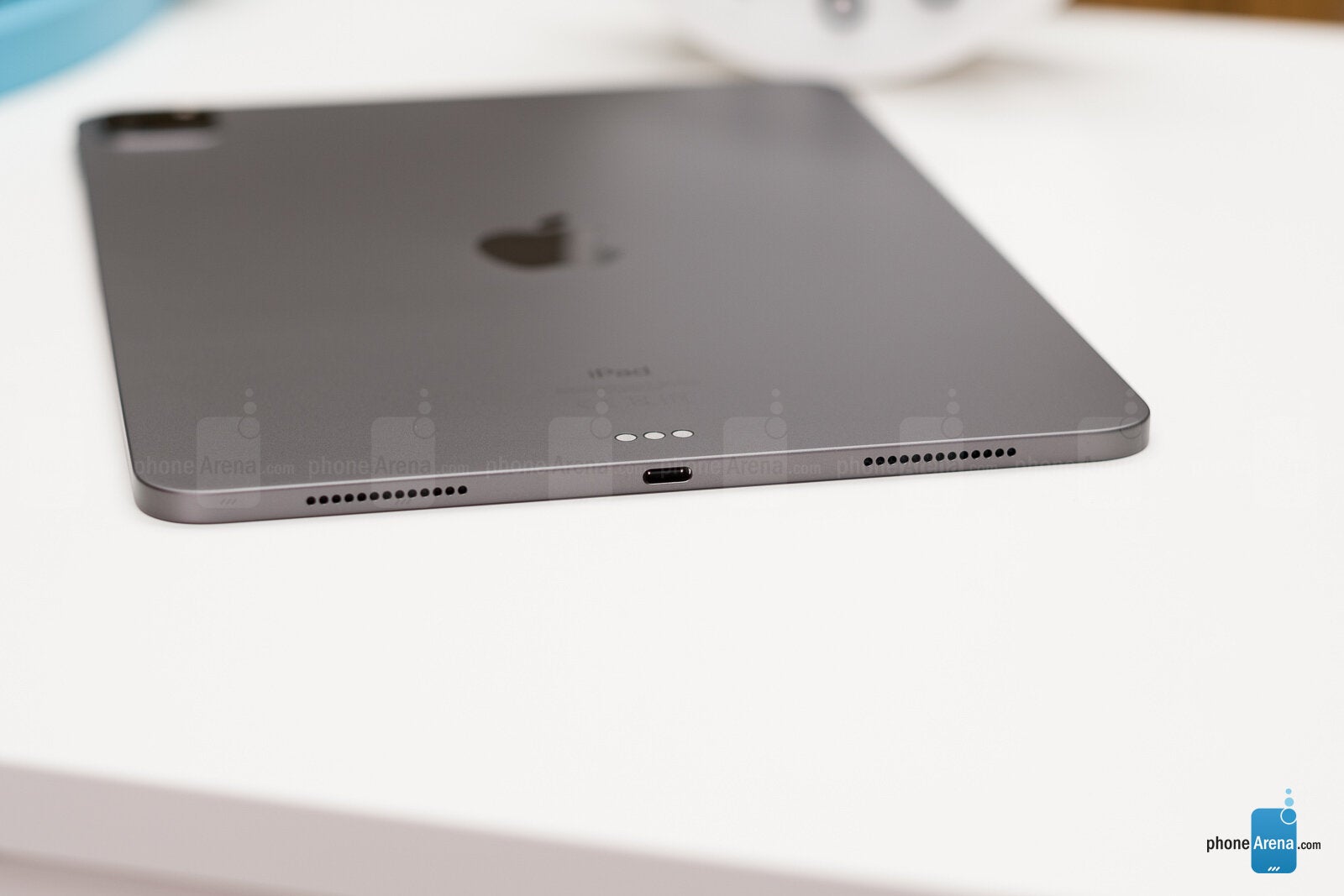 What sets the iPad Pro line apart from any other iPads or iPhones is the presence of a USB Type-C port where the other ones have Lightning instead. This makes it much easier to hook up to external, third-party devices. And it really opens up a lot of possibilities — from transferring photos quickly from your pro-grade camera to hooking up an external hard drive.
We hooked up a portable LaCie SSD, which is usually used with a MacBook, and the iPad Pro instantly recognized it and was able to use the files — from playing videos to copying and moving files around.
Now, this doesn't mean that the file system is as "free" as on a PC — if you want to import a video file from the external hard drive to use in an iMovies project, the iPad will still create a copy of that video and store it in its internal memory. So, what type of storage you buy with your iPad still matters. The file system is there to help with transfers, but it won't really allow you to actively expand your iPad storage without a ton of micro-management on your part.
When it comes to workflow, iPadOS 13.4 offers a few solutions to make task-switching fast and easy. The dock can hold up to 13 of your favorite apps, and it will always show the 3 most-recently used apps on its right side. Whenever you want to swap to a different app, you don't need to go to the home screen — just flick up from the bottom edge to see the dock and tap on your desired app. Alternatively, you can drag the desired app over your main screen to go into Split View or Slide Over (floating window) modes.
How does a wireless mouse work on the iPad Pro? Well... same as on the computer, really. Apple went all fancy and made the cursor very animated, changing its shape in accordance with what you are pointing at. But... that doesn't make anything different — it's still a mouse pointer, it just acts like a shape-shifting cartoon character while you swipe around with it.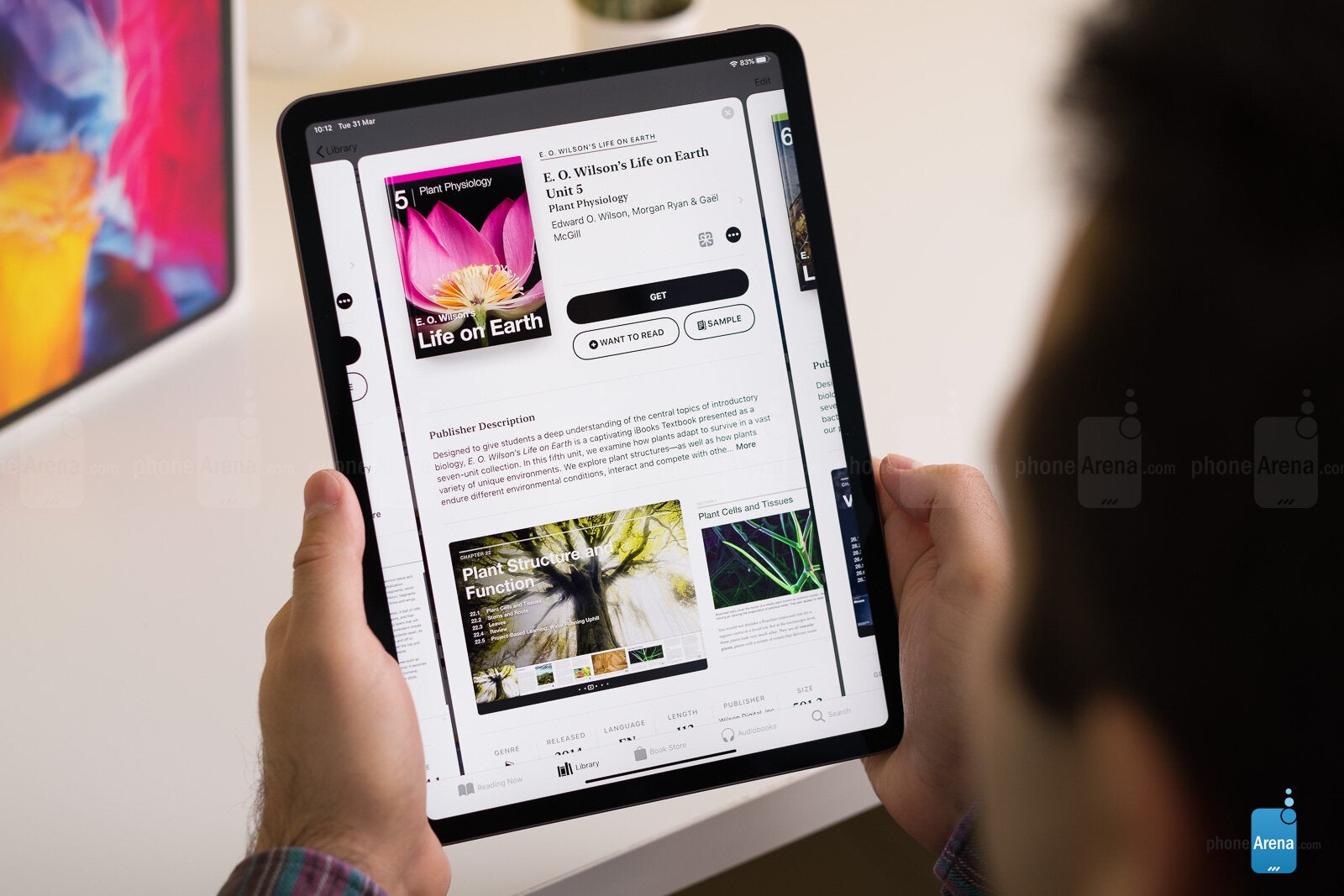 So, does the iPad Pro replace a computer?
From the description above, you can see that the iPad Pro does offer some multi-tasking. It feels a bit cumbersome and clunky and is nowhere near as fast or capable of dealing with tons of windows as what you can get on a PC or Mac.
In other words, yes, it kind of can replace a PC, but it really can't either. It really depends on what you will be using it for.
For example, I can very easily write this review straight on the iPad Pro. All I need is one open document and the ability to answer chats or emails by simply swiping the apps I need into Slide Over mode.
But if I was doing a different task — researching an article, taking notes, and editing image sizes to the precise pixel, I would prefer to do that on a laptop or desktop computer.
If your workflow requires you to focus on one task while occasionally needing to pop up a separate window for a quick email-check, YouTube clip, or website reference — sure, it works great. Especially if you want to make great use of that Apple Pencil for some artistic work.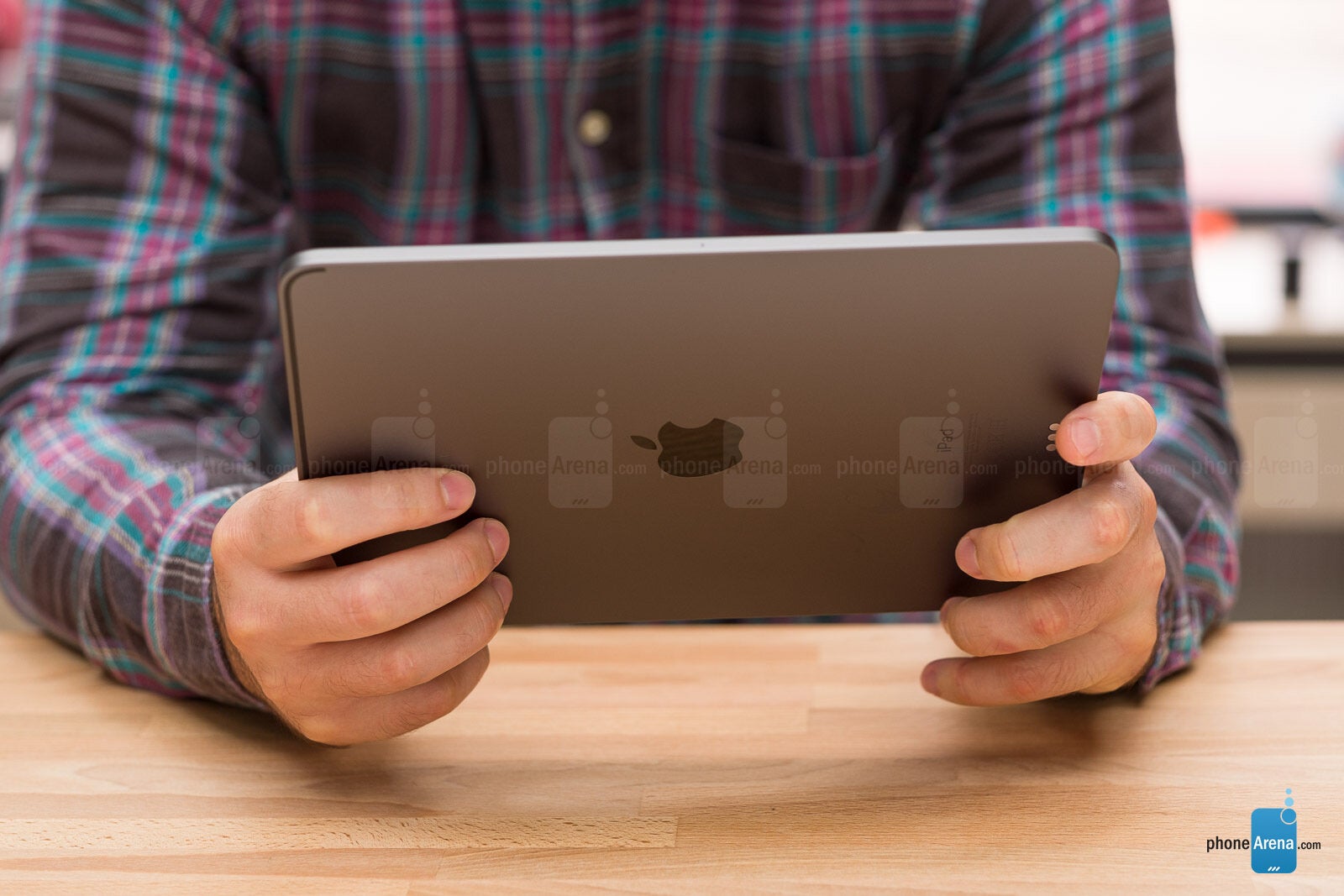 Battery life
There were no surprises with the 2020 iPad Pro's battery life. Much like Apple tablets before it, we were able to consistently get between 8 and 10 hours of use. Heavier tasks, like incessive 3D gaming or specialized artistic apps can drain it in about 5 or 6 hours. But, in general, we feel confident that it can take on a full 8-hour working day with mixed usage.