Weekly Round-Up
This article contains unofficial information.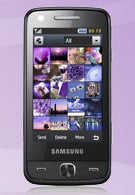 Here are the highlights for the week:
One of the most important things that have happened this week is certainly the announcement of Samsung's first 12MP camera phone, the Pixon12. However, shortly after, a spy photo revealed another 12MP Samsung, which had a label saying 3X optical zoom. Whether it is real, we still do not know.
Of course, this week can´t have passed without the mandatory iPhone rumor. It was the back panel this time, placed next to the original iPhone casing. Check it out.
Sony Ericsson has finally decided to get rid of its M2 standard for memory cards and the manufacturer has already started putting microSD slot into its newly announced models.
Users of luxury phones can now take advantage of Mobiado's finest, the Grand350PRL. It is unlawfully expensive and features a full front-facing QWERTY keyboard. On the other hand, why should anyone shell out all this money for a luxury business phone if you can just go for the BlackBerry Pearl Flip, officially announced by Verizon. Or… if you are into signing up with AT&T, the carrier now offers the BlackBerry Bold and the BlackBerry Curve 8900 at lower prices.
Advertisements have been popping around the web this week, pointing at a June 24 event that is to be hosted by HTC. Some speculations on the matter suggest the Taiwanese company is to announce its next Android phone – the HTC Hero.
While pushing technology to its limits is a cool thing, someone has to take care of nature eventually and it seems like the guys from Sony Ericsson are the right ones to do it. The C901 GreenHeart and the Naite are their first shot at commercial, eco-friendly phones.
Verizon has finally released its update for the first touchscreen BlackBerry smartphone. We are happy to see it´s worth the waiting. Check out our hands-on experience.
So, what should we expect
next week
?
Of course, right from the start... we have the
Palm Pre
coming out tomorrow... a minute of silence, please. The official release of the
Sprint HTC Snap
is expected several days later. The list of upcoming phones for the next week includes names like the
Samsung Exclaim
,
Sony Ercisson C905a
,
Motorola Rival
and
Evoke QA4
. And, of course, the
Casio Exilim C721
.
In order to see what's on next week, just visit the page of the any carrier of your choosing and select the "Upcoming" tab.