Wednesday's News Bits
This article contains unofficial information.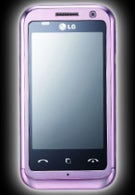 Verizon is to use the BlackBerry Storm as a competitor for the Pre

. It looks like the Storm will be Big Red's "secret" weapon against Sprint's Pre, judging by leaked documents, sent to Verizon sales agents.
source:
CrackBerry
LG ARENA goes… pink?!

Yes, if you think you have seen all, LG might just have a surprise for you. The new pink version of the S-Class-powered handset will be exclusively sold with Orange.
source:
MobileNews
Nokia N86 8MP is now on its way to stores

, says the manufacturer. Nokia's first 8-megapixel camera phone will be available globally, but there is no information about the exact release date.
source:
Nokia
Samsung has launched a solar-powered phone

, the Guru 1107, aka Solar Guru. It is extremely low-end, housing a tiny 1.5-inch CSTN screen and dual-band GSM connectivity. However, what it has and other current phones haven´t is the ability to deliver about 5-10 minutes of intensive talk time after an hour of solar-powering. The Guru is now available in India, but will soon take over Europe, Southeast and Southwest Asia, as well as Latin America. Cool, ain't it?
source:
SamsungHub
BlackBerry Pearl Flip 8230 and Samsung Code

have surfaced on

U.S. Cellular's

website somewhat earlier than expected. Check them through our source links!
source:
U.S.Cellular
(BlackBerry Pearl Flip),
more
(Samsung Code) via
BGR