What to expect from MWC 2010?
0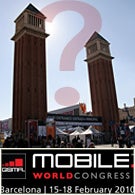 Some manufacturers have announced (without much details) their latest phones in the week before the MWC 2010. However, we have enough cool stuff to look forward to that's not yet unveiled, so it will be quite exciting to see these handsets live at the event and have the chance to play with them.
Nokia:
won't be showcasing phones
at the MWC. This however doesn't mean the company won't have its own booth somewhere in Barcelona, where the media will be able to check its latest creations. We expect from the Finns to announce their mysterious Cseries, which will probably consist of low- to mid-end phones. Additionally, some rumors point that a successor to the N97, the
Nokia N98
might show up. Maybe we'll finally see a 12MP camera phone too – Nokia N87 Vasco and N8 (these could be one and the same device).
Nokia N98 – News
Nokia N8 – News
Nokia N87 Vasco – News
Nokia Cseries – C3, C5, C6 – News
Samsung:
Samsung proved to be probably the largest manufacturer of touchscreen phones so we expect it to unveil many such models at MWC 2010. It would be quite interesting to see the introduction of the
first phone with Super AMOLED display
, as well as the debut of the
first bada phone
. The latter is said to happen a day before the very start of the event, on February 14.
Super AMOLED phone – News
bada phone – News
Samsung Galaxy 2 – News
LG:
The other Korean giant has already announced some interesting products in the week before the show. Still, there are some details about them that are still missing. Besides, we might also see some quite impressive devices like the 4.8-inch tablet-phone, the
LG GW990
, and the device that's codenamed Apollo, which (according to the rumors) will run Windows Mobile 7 and will be equipped with a 1.3GHz processor and 1GB RAM.
LG Apollo – News
LG ARENA MAX – News
LG GW990 Specifications
|
News
LG Mini GD880 Specifications
|
News
LG GT540 Specifications
|
First Impressions
LG KM570 – News
LG GT350 Specifications
|
News
LG Cookie Plus GS500 Specifications
|
News
LG Clubby KM555 Specifications
|
News
LG GD350 – News
Motorola:
A year ago Motorola was considered a dying manufacturer. Suddenly, the old giant returned to prove it's alive and well, thanks to its Android phone, which are among the best on the market. We expect to see a few new phones with the same OS at the MWC 2010. We'll might also see the
Motorola SHADOW
, which is rumored to be the Nexus Two.
Motorola SHADOW – News
Motorola Sholes Tablet Specifications
Motorola MOTOSPLIT – News
Motorola Opus One Specifications
|
News
Motorola DEVOUR Specifications
|
News