Motorola DEVOUR brings the MOTOBLUR love to Verizon
12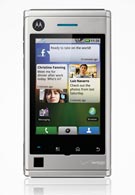 Verizon customers have probably missed Motorola's
MOTOBLUR interface
pretty much (or maybe not…), but here comes the
Motorola DEVOUR
to save the day! Officially coming in March, the DEVOUR is one of the hottest Android smartphones we have ever seen. The Sidekick-like form-factor is quite remarkable, and we again see the same harsh lines we come to love on the DROID.
When it comes to features though, the Motorola DEVOUR is not as spectacular. The capacitive screen measures
3.1
inches and there will also be Wi-Fi, 3.5mm jack, 3MP camera and aGPS. Sounds like a watered down version of the
DROID
to us. Now, the version of Android that will be powering the DEVOUR will be 1.6, but we believe this will be only for the time being, until Motorola manages to get its MOTOBLUR interface working on top of the new versions.
So there you have it, the Motorola DEVOUR coming in March, at a still unknown price. Yes, we know – we also hate all these capital letters.
Motorola DEVOUR Specifications
source:
Verizon and Motorola