Garmin-Asus introduces Android and WinMo handsets – the A50 and M10
0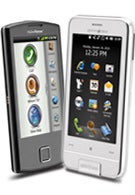 As the Mobile World Congress approaches, we notice companies are starting to get more active, unveiling new handsets each day. Today we see Garmin-Asus
finally
stand up and officially introduce two new smartphones, namely the Android powered
nuvifone А50
and the Windows Mobile 6.5.3 based
nuvifone M10
.
Both will be pretty high-tech, featuring 3.5-inch touchscreens, with the A50 having HVGA resolution and capacitive tech, while the M10 will be sporting WVGA res and unknown technology (we do hope it will be capacitive though, since version 6.5.3 adds that feature).
The
Garmin-Asus nuvifone A50
will have the personalized user interface we saw on the nuvifone G60 and will, of course, come preloaded with Garmin navigation and maps on the 4GB internal storage space. Navigation-related functions should be found in many system apps, along with access to Street View in Google Maps and enterprise features like support for Microsoft Exchange. The navigation itself will include features like lane assist with junction view and cityXplorer (provides public transit information) in some cities. The nuvifone A50 should be available in Europe in the first half of the year, with goodies like car mount and power cable in the box.
For Windows Mobile users, the
Garmin-Asus nuvifone M10
will not disappoint either. Although it will come with automotive navigation installed only (the A50 will also include pedestrian navigation), it will integrate navigation functions with important apps like the calendar, contacts, internet browser, email and messaging. It will also sport lane assist and junction view, as well as highway mode. The nuvifone M10 will bring you real-time information about weather, safety cameras, traffic, flight status and fuel prices. It should also be packaged with handy accessories like a powered cradle and windshield mount (although this will vary by the market). The M10 is scheduled for H1 2010 availability in Europe and Asia.
Garmin-Asus nuvifone A50 Specifications
Garmin-Asus nuvifone M10 Specifications
source:
Garmin-Asus
(A50),
more
(M10)