LG Apollo and HTC Obsession to run Windows Mobile 7?
3

According to what WMExperts has been hearing, Windows Mobile 7 is expected to be be offered in two different formats. There will be the Windows Phone Seven Business Edition and the Windows Phone Seven Media Edition. This info comes from a combination of stories and speculation that was told to WMExperts by anonymous sources. The site says that some of the information has been corroborated by other tipsters. The Business Edition of the OS is supposed to be a stripped down version that allows manufacturers to put a UI-like Sense-overlay on top of the software. The specs required will be lower than the Media Edition. The latter concentrates on HD multimedia playback along with an emphesis on social networking sites like Facebook, Twitter-you know the suspects. The Business Edition includes cloud like services for manipulating stored data. Multiple users will be able to work on a document and even remotely access files on your PC. You will be able to snap a photo and embed it on a document from your handset. According to the story, the HTC HD2 can run this OS now with a minimum lag. It won't be until October/November when the Windows Mobile Superstar gets the upgrade, so hopefully any lag will be worked out by then.Minimum resolution for this OS is WVGA, WMExperts says describing the Business Edition is a challenge, but they quote others who have seen it in action. Those lucky users said, "Think TouchFLO (slider tabs) meeting up with a stock SPB Shell (lots ofinformation on multiple screen) mixed with a very well integratedmessage and app launcher — almost a 'fun' BlackBerry interface. Seemslike the stock shell is more like a really good BB theme than
iPhone
or Android."
The Media Edition is what the gang at Redmond is betting heavily on. Not nearly as complete at this point as the Business Edition, there is a chance that we won't see this software in its final form until 2011, although we could see some small part of it at MWC in Barcelona next month. At the MWC, it is expected that we will see HD video, Mediaroom, XBox Live, Facebook and Twitter interfaces and Zune Music integration. The idea is to present an OS that would make a phone running on it appear to be close to that most mythical of Microsoft beasts-a Zune handset.
Regardless of which Edition you use, Business or Media, the "Orion" platform will work across all carriers and present a quick way for your location to be locked in to be passed along by API to third party software. Already part of Windows 7 for the desktop, this is a good example of how the lines are blurring between both the PC and mobile version of Windows.
The first device to run Seven-as it is being called-is expected to be the LG Apollo, launching in August or September of this year. A sizzling fast Qualcomm processor will be under the hood, running at 1.3GHz. The screen is a 3.8 inch capacitive AMOLED display that supports multi-touch. The Apollo will have 1GB of RAM and ROM and sport a 10MP camera with AF and flash. Being a world phone, it will support both GSM (HSDPA) and CDMA (EV-DO). Talk time on the included battery is 7.5 hours. Sprint and Verizon are supposedto get first crack at this stud which one hands-on report says "blowsaway the HD2". Considering the HD2 specs and how it runs, that would be quite a feat.
Expected to launch in October, the HTC Obession would be another Seven powered handset. Running a 1GHz Snapdragon processor, this GSM device would have a 3.7 inch AMOLED touchscreen with multi-touch support. The camera is a 5MP model with flash and captures HD 720p video at 25 fps. The Obsession looks to be heading to T-Mobile at first, and resembles the HTC Imagio.
source:
WMExperts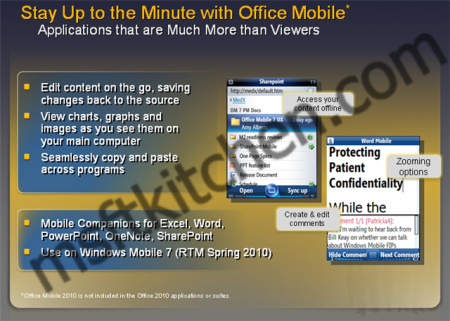 Seven Business Edition, courtesy of MSFT Kitchen