Is this the Nokia N98?
This article contains unofficial information.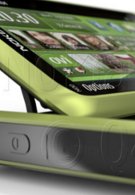 The Nokia N97 was considered a refreshed model after seeing its previous predecessors spark some interest in consumers looking for a high-end Nokia smartphone. Although the N97 was speculated to storm straight up to the top of sales charts, it really didn't catch on fire as some would've liked. Now there are news surrounding its potential successor, the Nokia N98, which may make an appearance during Mobile World Congress 2010. There's even a picture of the alleged smartphone which looks to be a departure from the usual looks found on past handsets. Sporting a green and black colored trim, it's rumored to pack a 4" touchscreen, full QWERTY keyboard (tilting of course), and 32GB of storage – all of this with an already mentioned cost of 450 euros ($613). Although that's the extent about what is speculated about the handset, we're crossing our fingers as MWC creeps closer – hoping that Nokia does intend to showcase the phone during the event.
source:
Be Geek
(translated)