Could the Motorola Shadow be the next in line to be named the Nexus Two?
13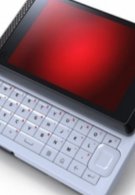 If you thought that the QWERTY packing Motorola DROID was RAZR-like in form factor, then we may all be surprised by Motorola's next working project. We've already seen some
leaked
render shots of the alleged Motorola Shadow that hinted to a slimmer looking handset with an HDMI port. Now there are more rendered shots of this smartphone which is rumored to possibly be the next in line to be graced with the Nexus Two moniker from Google. As we previously reported, it's rumored to pack a 4.3" display with a resolution of 800 x 484 pixels – all neatly packed into a thin white outer shell. Even the QWERTY keyboard looks to retain the same layout that made the DROID extremely compact – plus there's a wrist strap from the looks of it.
source:
Mobile01
via
Engadgetmobile