Motorola Opus One specs come to light
This article contains unofficial information.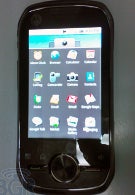 One of BGR's tipsters passed along to them a list of specs for the upcoming Motorola Opus One. While the list is nothing to (push to) talk about if it were a top of the line handset, considering that it is an iDEN device for Nextel, the total package actually does encompass quite a few features and is the Schaumberg based firm's first Android iDEN model. Let's start with the OS which will be Android 1.5. The capacitive touchscreen will measure
3.1
inches with resolution of 320 X 480 pixels and will include an accelerometer and proximity sensor. Wi-Fi, Bluetooth and A-GPS are part of the features included, and while there is actually some support for Flash with FlashLite V3.1X, the audio jack is 2.5mm instead of the usual 3.5mm jack. Go figure that one out. Apps preloaded include a barcode scanner, MOTONAV navigation application, and a corporate email client with ActiveSync support. Under the hood will be the "Zeus" CPU and the Home, Back, Menu and Speaker buttons are capacitive with haptic feedback. The Opus One is loaded with 512MB of Flash and 256MB of RAM. Throw in a 3MP camera with AF and LED flash and you have a full-featured iDEN phone that gives you the fun, finger-friendly navigation and responsiveness of Android with the business sensibilities and quick connections of a PTT handset. Launch date and pricing are still unknown.
source:
BGR