The LG GW990 – based on Moblin and utilizing the Moorestown platform
2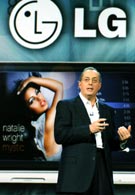 The
LG GW990
is a powerful smartphone that appeared on the scene like a
bolt
from the blue and it was not until
CES 2010
had taken off when we first caught wind of the handset. The device first got mentioned at a presentation hosted by Intel and according to LG, the GW990 is going to be no less but a milestone device in the evolution of smartphones. And the reason why it got in the spotlight at this particular event is that the handset integrates two components developed by Intel - the Moorestown platform that we
told you
about last September and the Linux-based operating system Moblin
2.1
(further details are available
here
). The LG GW990 is the first cell phone ever to utilize these two and we just cannot wait to see it in action. Judging from what we have seen so far, the OS is heavily personalized and reminds us of LG´s famous S-Class 3D interface.



The hardware specifications of the device are downright impressive and include a truly gigantic 4.8-inch display with breathtaking native resolution of 1,024x480 pixels. The manufacturer claims that it allows for browsing of huge webpages without having to scroll. Moreover, the interface will be optimized so as to properly visualize several active windows and permit users to get down to several things at the same time. The LG GW990 will be equipped with 5-megapixel camera, Wi-Fi and 3G and future versions will support LTE. The device is rolling out in the second half of 2010 and its price is still an impenetrable mystery.
More images of the LG GW990 can be found in out
live news feed dedicated to CES 2010
. We do hope to get our hands on the device pretty soon, so stay tuned, we are going to share our impressions quite soon.
source:
LG