Picture reveals the Motorola MOTOSPLIT?
10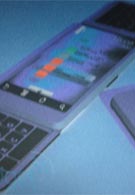 A blurry picture of an oddly looking handset has surfaced on the Internet and the word has it this is the
Android
-based
Motorola MOTOSPLIT
. Allegedly, it will be a high-end cell phone equipped with a fast Snapdragon processor and side-sliding QWERTY keyboard with landscape layout that consists of two separate arms that unfold sideways, to you right and left, in pretty much the same way as the keyboard of the
Nokia 6820
. The information on the Motorola MOTOSPLIT is still rather sketchy and it´s quite possible that the image is fake. Still, it shows us the handset will come with angular design and shapes, similarly to the famous DROID. The rumor goes the device will hit the shelves via AT&T in the US, although judging by the extremely popular
CLIQ
and
DROID
, the manufacturer certainly does not like the confines of a single market, so we will probably see the MOTOSPLIT across Europe as well. Supposedly, the device will roll out in Q3 2010, so we guess we will be reporting about leaked pictures and specifications for quite some time.
source:
Engadget