The Sony Ericsson Robyn – new pictures but still no specifications
This article contains unofficial information.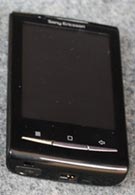 We have recently
told you
about pictures disclosing a handset called the
Sony Ericsson Robyn
, that looks like the little brother of the XPERIA X10. At that time we had our doubts as to how accurately those images reflected reality, but it now seems the handset does exist after all. How come we can be so sure? Well, the brand new images are of much better quality and look more realistic, although they unfortunately fail to reveal any further details on the specifications of the device. The oddly coloured volume rocker and camera shutter fit the idea that the Sony Ericsson Robyn will probably roll out aimed at youngsters and in various color solutions.
We do hope we find out more about the cell phone soon enough and why not, even see it officially announced at MWC 2010. Food for thought – we wonder how likely it is that the Sony Ericsson Robyn turns out to be a member of the Xperia family?
Sony Ericsson Robyn Preliminary Specifications
source:
PoinGPhone