Monday's News Bits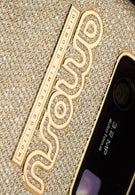 The Samsung Instinct HD got video-reviewed by a customer
. Taylor, the guy, who told us about the
hands-on video of the Instinct HD
, has pleasantly surprised us again with a really nice customer video review. Enjoy watching!
Taylor, thanks (again), dude!
The most expensive BlackBerry handset to date is made by Amosu and you would have to fork out exactly $200,366 to get yourself one
. Alexander Amosu has named its creation the Amosu Curva and the phone took 350 hours to make. The body of the ultra pricey handset is covered with 18 carat gold and features 4,459 diamonds. Just three units of the Amosu Curva will be released, although one of them has already been sold to a Middle East customer, so if you happen to have extra 200 grand that you don´t know what to waste away on, why not get yourself one of these three... (via
BornRich
)
I Tweet for Android is a free app aimed for Tweeters
. The program allows people using handsets that run all the rage Google-made operating system to take advantage of the functions that the popular micro-blogging service delivers to its subscribers. (source:
Android Tapp
)
Gameloft has released Real Soccer 2010 for the iPhone, FIFA 10 rolls out on 2 October.
We believe
iPhone owners who love football will be definitely pleased at the news. What´s the better of these two we wonder. (source:
pda-247
and
T3
)