Pastry chef makes a Galaxy S7 edge cake in Samsung teaser video
14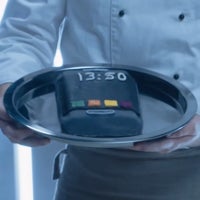 Remember the clip where
a llama was allowed to unbox a Galaxy S7
and then given a paintbrush to draw its impressions? Well, this, together with a clip of a child doing the same, is part of Samsung's ongoing Seven Days of Unboxing teaser campaign. Each day, Samsung posts a video of a person (OK — or a llama) experiencing its new flagship smartphone for 30 seconds and then recreating it through an art medium of their choice.
For the past 3 days, there have been three new clips – one of an ice sculptor making a
Galaxy S7
statue, one of a metal artist building a metallic sculpture of the device, and one of a pastry chef, making a cake in the unmistakable dual-curved shape of a
Galaxy S7 edge
.
Samsung is about to unveil the new handsets in just a couple of days – at the Unpacked 2016 event, to be held on the 21st of February in Barcelona, a day before the Mobile World Congress begins. This means we have two more of these videos to look forward to before the actual announcement.
There have been a lot of leaks regarding the flagship duo in the past couple of days, and if you follow smartphone news even slightly, you've probably caught a glimpse at the info. But here's a quick recap – we are expecting a 5.1-inch display on the Galaxy S7 and a 5.5-inch one on the curved Galaxy S7 edge. The smartphones will reportedly have two variants – some powered by the
Qualcomm Snapdragon 820
, others – by Samsung's homemade
Exynos 8890
. We are expecting 4 GB of RAM, a 12 MP camera with
improved low-light performance
, and a
3,000 mAh / 3,600 mAh
cell on the S7 / S7 edge respectively. Other rumors claim the return of
water resistance
and
microSD card storage expension
, so – fingers crossed!