Samsung Galaxy S7 and S7 Edge rumor review: specs, features, price and release date
86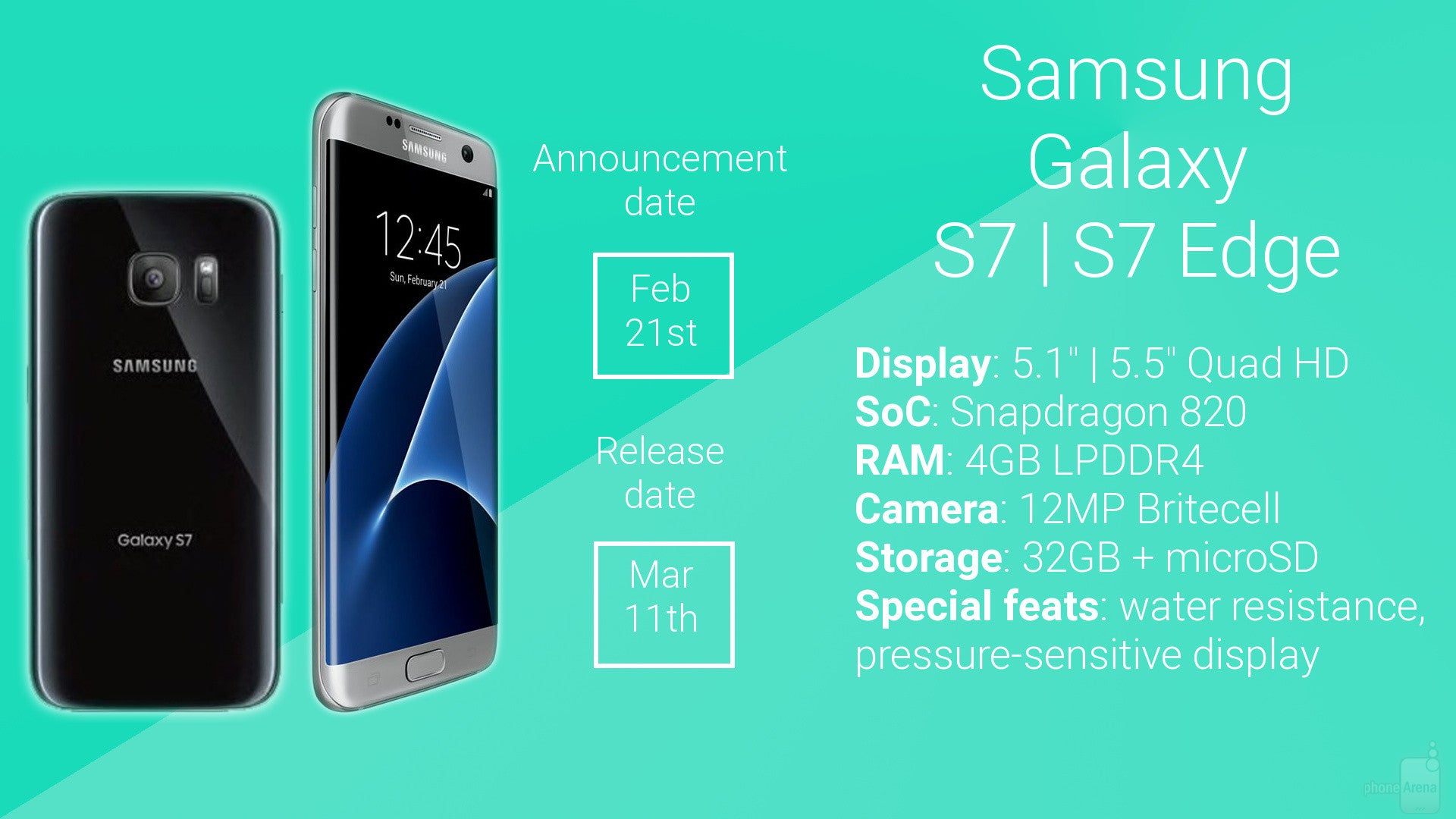 The Samsung Galaxy S7 is shaping up to be one of the biggest launches of 2016 and with the first rumors and leaks already out there, we can already paint a picture of what the Galaxy S7 will look like.
Two new Galaxy S7 phones are coming: 5.1" S7 and 5.5" S7 Edge
One thing is clear: there will be not just one S7, but just like last year, Samsung will unveil two phones at the same time: the 5.1" Galaxy S7 with a flat screen and the 5.5" Galaxy S7 Edge with edge functionality.




With a very familiar but evolved design language, they are expected to have more curves, fit easier in the hand and sport larger home keys. Under the hood, though, is the place where the biggest changes occur: the new Snapdragon 820 system chip and a brand new, 12-megapixel Britecell camera that comes with the promise of big improvements in low light image capture. Add larger batteries and a fresh paint to TouchWiz on top of Android 6 Marshmallow, and there is quite a lot to look forward to.



TL;DR
Before jumping in the fine details about the Galaxy S7 and S7 Edge, here is a quick run-down of all the important features as per leaks and rumors:
1. Same design, but with more refined curves, a less protruding camera and sturdier frame
2. microSD card slot is back, but still no removable battery
3. Super AMOLED screen with Quad HD resolution: 5.1" for S7, 5.5" for S7 Edge
4. Snapdragon 820 version for US and most Western markets, Exynos - for others
5. New, 12-megapixel camera sensor with improved low-light performance
6. New TouchWiz on top of Android 6.0 Marshmallow
7. USB Type C with faster charging speeds
8. Pressure-sensitive display (tech similar to the iPhone's 3D Touch)
9. IP67 water resistance
10. Earlier release date in mid-March (March 11th for the US)
Contents:


What's new
Pressure sensitivity, USB Type C and microSD cards
First, the pressure sensitive display (God forbid Samsung calls it S Touch!). For those who follow the industry, it really is no surprise to see Samsung follow in the footsteps of
Apple's iPhone 6s
with its 3D Touch. We expect similar functionality: tap harder on an icon to get additional options (similar to a right click on Windows), tap lighter to open it up. The feature should be built in Samsung's own apps, but what about third-party apps? There's the biggest challenge: Samsung will have a hard time to convince developers to develop code just for one (even if it's the most popular) phone of many Androids out there.
microSD card slot makes a comeback
Second, fast charging and USB Type C. Hurray for the universal and conveniently reversible USB Type C that is now confirmed from various sources to arrive in the Galaxy S7. No more wondering which way to plug the cable in. Moreover, the promise of a 30-minute charge for a full-day battery refill is definitely promising.
Third, the microSD card slot is back! Samsung has equipped its flagship phones with microSD card slots for expandable memory for years, but it broke the tradition with its 2015 S6 and Note 5. This caused an outcry and was a reason for many users to look towards different phones like the LG G4 that offered the versatility of microSD cards. In 2016, Samsung seems to have learned from this mistake and the microSD card is expected to make a comeback in the Galaxy S7 (keep in mind that the S7 Edge might not have it, though).
Design and display
A new generation of AMOLED screens
Last year, Samsung stepped up its design game hugely with the Galaxy S6. Then, the company was starting to lose market share and with the most fierce criticism against it centering around the uninspiring, plasticky design of its phones, Samsung took notice. The Galaxy S6 was a huge departure from earlier plastic designs: with a sturdy metal frame sandwiched between two pieces of toughened glass, the S6 turned out a stylish, good-looking handset.
S7 design = S6 design, evolved
The Galaxy S7 is likely to retain this focus on design and early leaks have even shown renders of the phone looking very similar to the Galaxy S6. Unlike the regular aluminum alloy used in the Galaxy S6, rumors claim that the new S7 will feature an even sturdier magnesium alloy frame, while the front and back are likely to remain made of glass. Also, the S7 will have more curves and less sharp edges, for a more comfortable in-hand feel. Another neat additional feature is IP67 water resistance certification that will allow you to not worry about getting your phone a bit wet (and it might save it from the surprisingly common drops in the toilets).




The last two generations of the Galaxy S - the S6 and S5 - both featured 5.1-inch Super AMOLED displays, and the S7 is expected to have a 5.1" screen as well. The S7 Edge is expected to be a bigger, 5.5" phone. Resolution on both is likely to remain at 1440 x 2560 pixels (Quad HD), which makes them two of the sharpest screens out there. New AMOLEDs also means more efficient technology, so the screen draws less power and this should help battery life in a big way.






Under the hood
Two versions, one with Snapdragon 820 and an Exynos one
Last year caught Qualcomm in one of its most challenging periods of a transition to 64-bit chips, and its Snapdragon 810 had issues with overheating. This is what allegedly forced Samsung to use its own Exynos 7 Octa system chip in the S6, and this was no mistake, as benchmarks ranked it among the very best in the Android world.
In 2016, though, Qualcomm should finally be done with its Snapdragon 820, a chip expected to feature the first custom 64-bit Qualcomm CPU core, and the Galaxy S7 is likely to ship in two versions: one featuring a Samsung-made Exynos 8890 chip, and another one running on the Snapdragon 820. Both are expected to be built using Samsung's next-gen 14nm production method and the non-planar FinFET manufacturing method.

Leaked benchmarks give us reasons to believe that these new chips will be a huge step forward in terms of single-core performance. With octa-core setups in the past, Android flagships have always had great multi-core performance, but they did lag behind noticeably in single-core oomph when compared with Apple's large custom CPU cores. Hopefully, this situation will finally change in 2016 with the Galaxy S7 and S7 Edge.
Camera
New 12-megapixel sensor
A new camera sensor with improved low-light performance
The Galaxy S6 features an excellent camera, but it is large, it bulks out of the back of the phone and is not a perfect blend with the otherwise sleek design of the handset. The Galaxy S7 won't fix that completely: but it will have a camera that protrudes less.
Most importantly, it will have a brand new camera sensor: a 12-megapixel Britecell tech that is said to bring big improvements in low-light shooting.
Britecell is a patented Samsung technology that means you have RGBW pixels. Put simply, the new RGBW pattern is about improvements to light sensitivity, as well as signal-to-noise ration in low-light environments. A 12-megapixel sensor also means larger individual pixels, again for better low light performance.
Samsung Galaxy S7 Edge version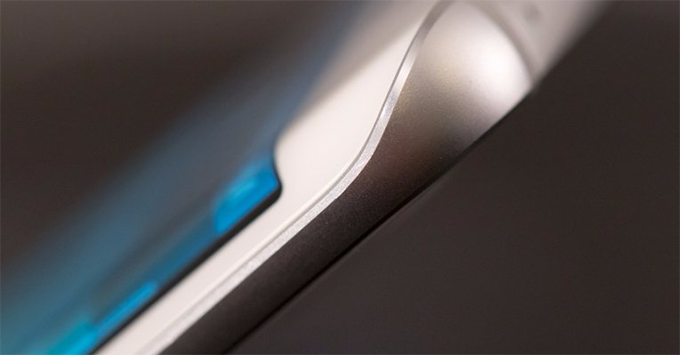 The S7 Edge version is expected to be nearly identical to the regular S7 save from a few elements: the edge screen that curves around the two sides of the phone with extra functionality built in those edges. It will also be a larger phone: while the S7 is said to feature a 5.1" screen, the S7 Edge will have a 5.5" display. It is possible that the S7 Edge comes with no microSD cards because of the interference with the position of the edges.
Since 'Edge' products in Samsung's lineup are considered more premium, the S7 Edge should be a tad more expensive than the regular S7 as well.
Price and release date
In stores on March 11th, allegedly
The Samsung Galaxy S7 and S7 Edge release date is allegedly set for mid-March 2016, almost a month earlier than the Galaxy S6, which arrived on April 10th, 2015. And with the official announcement of the S7 expected to happen at a massive event on Sunday, February 21st, at MWC 2016 and the release will happen just a couple of weeks after the unveiling. March 11th is pegged as the US release date for both the S7 and S7 Edge.
By pushing the actual release date closer to the announcement date, Samsung is clearly trying to capitalize on the inevitable hype around the new phone. An early release would also undoubtedly give the S7 an edge over other Android top dogs that are traditionally unveiled in the beginning of the year by companies such as HTC and LG. Also, in a more distant perspective, it will have more time to sell before the
iPhone 7
arrives in September 2016.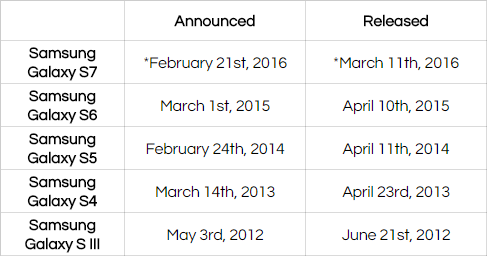 *expected dates based on rumors
Finally, the Galaxy S7 full retail prices are expected to start at $650 for a base, 32GB model and go up to $750 for a 64GB version. The S7 Edge variant would likely carry a $100 to $150 premium on top of that, so starting price for it will likely be no less than $750.
With all this in mind, are you planning on buying the 'next big thing' from Samsung?