Galaxy S7 parts specs appear: big 1/2.5" camera sensor size and a powerful speaker
61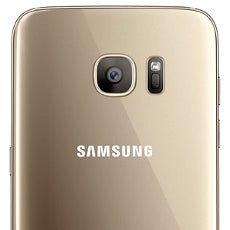 There has been one unprecedented barrage of leaks and speculation around the most eagerly awaited phone of the season -
Galaxy S7
- to the point that we are starting to wonder what else is left to know, and if Samsung cares at all about leaks any more, like it did in the past. We kid, the company probably does, but information about the upcoming S7 and its
S7 Edge
sidekick is pouring from the least expected places - perhaps that is why Samsung can't control the flood.
In today's episode of Galaxy S7 and S7 Edge leaks, we are bringing you a somewhat funny confirmation of the full specs sheet, courtesy of one obscure Spanish bank - La Caixa - that has jumped the gun on its collaboration campaign with Samsung Pay, and an internal poster for its cooperation has leaked out. We immediately went to La Caixa's web site, and searched for Galaxy S7. Sure enough, a "
https://portal.lacaixa.es/campaigns_es.html
" link popped up, with an HTML blurb that has the "Galaxy S7" mentioned in the code, so the poster you see in the slideshow below is most likely real.
Granted, the specs sheet listed there uses
our own Galaxy S7 infographic
that
we made for Phone Arena's rumor roundup video
, but still the bank seems content to go with it, so the specs speculation that we've listed might turn out to be legit, after all. So far we've seen tangential evidence on everything that's mentioned here, save for the pressure-sensitive display, so this one might be out of the picture in the end.
Camera
How about that rumored
brand new 12 MP camera module in the S7
, though, anything novel about it? Well, we are glad you asked, as its specs have also leaked out, courtesy of the Zauba import database, where a bunch of parts for an SM-G930F handset have been listed. The G930F is none other than the
international version of the Galaxy S7
, so the listings definitely caught our interest.
Tucked among other interesting tidbits about the S7, like that it will have two speakers (one is most likely the earpiece) of 1.2W and the generous 1.5W strength, respectively, is a treasure trove of info about the 12 MP camera module. The unit is apparently with a 1/2.5" sensor size, which is big for a mobile phone, and at this resolution means that the individual pixels will be larger than the typical 1.12 micron ones that can be found in your average phone, thus able to collect more light, at least in theory. Quick calculations for a 1/2.5" sensor with 5.76mm width and 4.29 height, and 12 million light-collecting buckets on it, return a pixel size of at least 1.4 microns, depending on the space between the pixels. This is roughly the same size of the pixels in the
iPhone 6
camera, but, of course, at a 50% higher 12 megapixels resolution.
In any case, going for a smaller resolution count than the previous
Galaxy S6
edition, but bigger pixels, is a welcome change from the pointless megapixel race, and should help the Galaxy S7 perform pretty well in low-light scenarios. Given that the S6 already shoots nice pics in low-light, we can't wait to grab the first samples from the S7 for comparison. That moment shouldn't be far away, as
we are armed and ready at the MWC expo
, eager to relay everything we learn about Samsung's next best thing to you as quickly and thoroughly as humanly possible. Stay tuned.