Operational Samsung Galaxy S7 leaks in new brief video & pics, microSD card slot confirmed
81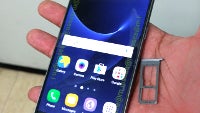 The Samsung Galaxy S7 has leaked profusely in the past few days, both in pretty legit press renders and real-life snaps. Our rumor review is chock full of these, but don't feel like we are complaining. Not at all! We are pretty happy to get hold of any leaks regarding the upcoming Samsung flagship or its larger "edge" sibling. Now, with merely days to the S7's debut, it's more than normal for more leaks than usual to be hitting us from all directions. Just yesterday, we showed you one of the more curious and brazen leaks of recent - a Galaxy S7 edge prototype
listed up for sale on Dubai's equivalent of Craigslist
.
Today's a new day, and we have got yet another saucy leak. This time around, it's the Galaxy S7 that is making the rounds. An operational S7 is snapped in a couple of pictures and a brief video obtained by Android Authority, which confirm a couple of important tidbits of info.
First of all, it's now certain a microSD card slot will be making the cut next to the SIM slot. Additionally, it seems that there is no USB Type-C in sight. Thirdly, though not confirmed, Android Authority says there won't be a 3,000mAh battery, but "merely" a 2,800mAh one in the Galaxy S7. We are still hoping for the larger juicer, though. Last, but not least, we get to see the interface of the phone for the first time, with what seems to be only minor touchups to the iconography and the interface design of TouchWiz. Oh, and Flipboard is still going strong!
By the way, if you are concerned about the fingerprint smudges on the back, take a closer look at the back: there seems to be some kind of thin plastic film, its cutouts are visible near the camera and the flash. Hopefully, the real deal won't be such a grease magnet. Any opinions?