Snapdragon 820-equipped Samsung Galaxy S7 flexes its muscle in leaked AnTuTu benchmark result
77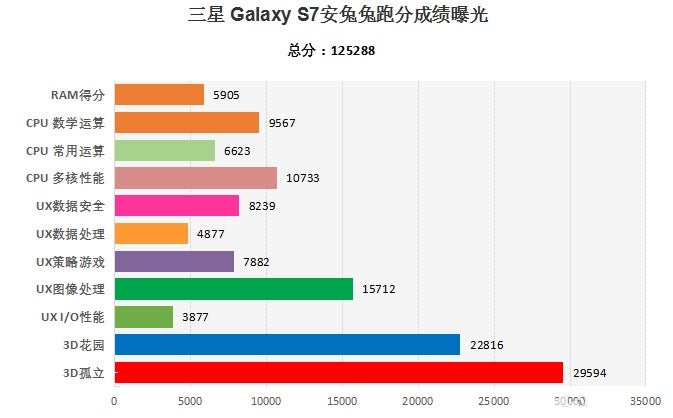 A few weeks ago, mobile benchmark developers from
AnTuTu promised that they will soon post the score
obtained by a Samsung Galaxy S7 prototype. Today, the day has finally come and, as expected, it looks like the heavily anticipated Galaxy S7 is going to be a true powerhouse.
Many already know this by now, but the Samsung Galaxy S7 is expected to come in two versions. The North American version will probably get a
Qualcomm Snapdragon 820
version while the rest of the world is expected to get the
Exynos 8890 chipset
. Last week,
AT&T's Snapdragon 820 version
was spotted making the rounds on Geekbench, showcasing great CPU performance.
This time around, a Snapdragon 820-equipped Samsung Galaxy S7 prototype was passed through AnTuTu, a benchmark that tests both the CPU and the GPU performance. The handset got a score of 125,288 points, which is well above the scores obtained by current-gen Android flagships. For reference, the
Samsung Galaxy S6 edge+
averages out at about 82,000 points in the latest version of AnTuTu.
The Apple A9-powered iPhone 6S Plus, which is currently the
best-performing smartphone in AnTuTu
, gets an average score of about 132,000 points. However, we do have to bear in mind that the iPhone 6S Plus runs a resolution of 1080 by 1920 pixels while the Samsung Galaxy S7 will most likely use a resolution of 1440 by 2560 pixels. Since 3D performance is a big component of the overall score, it's impressive that the Snapdragon 820 is nearly able to match the score of the iPhone 6S Plus in AnTuTu given that the GPU has to push about 77% more pixels.
As is always the case with benchmarks on prototype devices, it remains to be seen if the commercial version of the Samsung Galaxy S7 will be able to maintain this performance levels. As such, make sure not to read too much into these results. For much more details on what to expect from the upcoming Samsung flagship, make sure to read our
Galaxy S7 rumor roundup
.