Samsung Galaxy S7 edge Review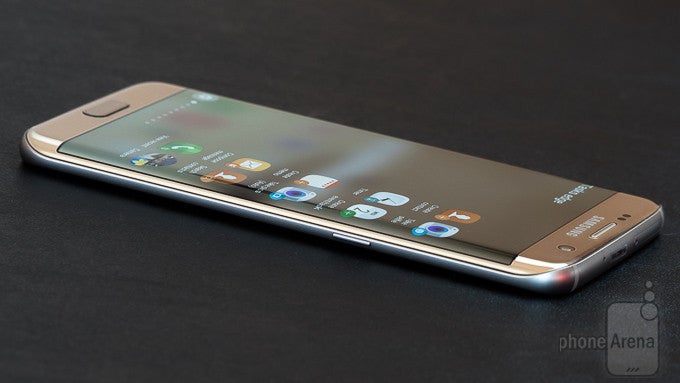 You can now read:
Introduction
Last year we saw the introduction of the
Samsung Galaxy S6 edge
, the first time in the Korean-based company's history to complement a flagship with another variant. While the S6 and S6
edge
featured the same specifications, the difference between them turned out to be the slicker aesthetics that accompanied the S6 edge – as well as its unique edge features, and heftier price too.
Samsung Galaxy S7 edge
isn't just an
S7
clone with a dual-curved screen. Oh no! Rather, it's a bigger sized smartphone this time around, which should help to differentiate the two right from the onset, as there's now more of an incentive (given its cost too) to eventually go for the S7 edge.
Samsung knows the importance of variety, evident in how they brought out the larger
Galaxy S6 edge+
back in the fall to give consumers another option to think about. But with the introduction of the S7 edge, Samsung is replacing both the S6 edge and S6 edge+, leading us to believe that this year, it'll be the S7, S7 edge and Note 6 that are going to form the company's high-end line-up: three phones spanning three different sizes; unlike last year, when we had four phones covering just two sizes.
The package contains


Samsung Galaxy S7 edge
Rapid wall charger
microUSB cable
SIM ejector tool
Stereo headphones
User guide
Design
Improved premium design made better with a water-resistant construction.
From the surface, it might not appear as though there are remarkable changes to the S7 edge's design, but there are in fact several subtle refinements that carefully address some of the shortcomings with last year's design. First and foremost, the same premium design is present once again here, boasting that attractive metal and glass package that ceremoniously elevated Samsung to a totally new level last year. Our particular unit, a gold platinum Verizon variant, shimmers in a distinctive gold hue when it's tilted in the sunlight. However, it's still something that attracts nasty baddies such as fingerprints and smudges – so a lot of care and wiping is necessary in keeping it clean.
Of course, the same slick aesthetics are achieved thanks in part to how its dual-curved edges just makes it look great near and far. The most notable change here with the S7 edge is its size, one that finds itself in middle of the S6 edge and S6 edge+. For a 5.5-incher, though, Samsung's engineers continue to trim as much of the fat off the phone, almost giving off the illusion that it's a phone with a smaller sized screen. In fact, its 76.09% screen-to-body ratio is recognizable when it's placed alongside the
iPhone 6s Plus
, which boasts a 5.5-inch screen as well, but looks considerably larger due to its lower screen-to-body ratio of 67.91%. In comparison with something like last year's LG G4 and its 72.46% screen-to-body ratio, the S7 edge's compactness isn't all that impressive, but it still comes across as remarkably narrow and easy-to-handle device considering the screen size.
Believe us when we say that the S7 edge doesn't look like your typical 5.5-incher! And it's quite revealing when we hold the phone in our hand, as we're able to grasp the entire width of the phone without having that feeling of stretching our hand more to compensate its size – such as the case with the
iPhone 6s
Plus. Sure, people with smaller sized hands will feel it's still quite goliath in size, but we're digging how they're able to keep its frame within the bounds of reasonable.
While its size is what's arguably the most different, we will note, however, that Samsung has drastically improved its feel in the hand. The last generation suffered from excessively sharp metal edges that made the phone unpleasant to hold, but this year, Samsung has finally polished those edges, putting an end to in-hand discomfort with the S7 edge. Throw in the fact that it also adopts the same curved edges on the back of the phone, something first introduced by the Note 5, the S7 edge's in-hand feel is substantially improved.
Looking around the phone, everything from before is in its familiar location. From the power button on the right edge, to the volume controls on the left, and the speaker grill, mic, microUSB port, and 3.5mm headphone jack all positioned on the bottom, nothing is out of order with its placements. The fingerprint sensor, which is incorporated into the home button, is still just as quick and responsive as before. Interestingly, though, the button itself doesn't protrude as much – it's almost flush with the surface, in fact. Meanwhile, the camera lens on the back is not as protruding as before.
One key thing to note that's missing this time is the IR blaster, something that Samsung has decided to scale back with its devices. Say what you will about this decision, it's something that we've been accustomed to seeing in many flagships, so to find it omitted is rather telling about its worth to consumers.
The return of water-resistance & microSD slot
While the changes to the S7 edge's design might be perceived as subtly refined, there are actually two notable changes that are worth mentioning. First and foremost, the nanoSIM slot on the top edge of the phone now doubles as a microSD slot as well, bringing back expandable storage to Sammy's flagship. Another feature that went missing with last year's S6 line, a water-resistant construction, makes its comeback in a stunning fashion.
With its IP68 rating, the Galaxy S7 edge ups its game by fashioning a water resistant construction to a premium looking smartphone. This means that it can be submerged in up to 5 feet of water for 30 minutes with no compromise, ensuring that minor accidents, such as spills, will no longer be of concern to this prized handset. Best of all, there's no worry about having to close up ports and such, much like what you have to do with many of Sony's Xperia phones, seeing that it's been treated for water resistance.
Not only does the S7 edge look stunning and feels incredible in the hand, but the reintroduction of a water resistant package just completes its no-compromise stature. Many phones have impressive designs, but few go to the same length as to what Samsung achieves with the S7 edge.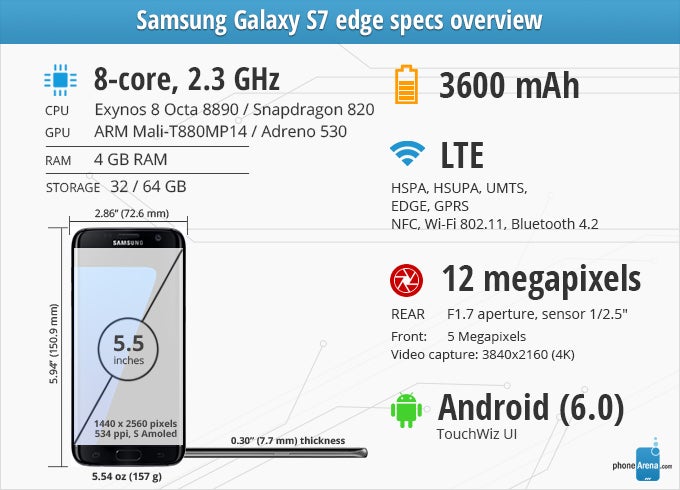 Display
It's a bigger screen, with those signature dual-curved edges that give it one slick look.
By now, we're accustomed to Samsung's expertise when it comes to displays. Each successive device thus far has been equipped with a better display. For the S7 edge, they've obviously fashioned a larger, 5.5-inch 1440 x 2560 Super AMOLED display – putting its size right between the two previous edge phones.
While it seems like we're reaching that threshold, especially when Quad-HD resolution is the standard amongst high-end phones, we have to look at some of the other aspects of the screen to distinguish its superiority. Most notably, when set to Basic screen mode, this AMOLED display exhibits colors that are very close to the standard sRGB colorspace, which is always a good thing. And, being AMOLED, contrast and brightness are remarkably preserved when viewing the display at an angle. The same doesn't go for color accuracy, though, as things get dramatically shifted depending on the angle you're viewing the screen from.
The only minor thing to change here with the display is its peak luminance and color temperature. Specifically, the S6 edge managed to produce a potent 553 nit luminance, but the S7 edge's potency has lessened to 493 nits. On paper, the discrepancy might be thought of as grand, but in reality, the S7 edge's screen is still more than visible on the sunniest of days – thanks in part to how it cranks up the contrast when it's on automatic brightness. As for its color temperature, it's actually an improvement at 6586K, besting its predecessor's mark of 6799K. A color temperature close to 6500K means that color balance is spot on.
Overall, there's very little to complain about the S7 edge's display. When we look at it, the same amount of iridescence put out by it continues to be a major drawing factor. And when you combine its dual-curved nature, it only helps to enhance its allure in the space – wherein it's still a rare sighting for any phone to feature a curved screen.
Display measurements and quality