iPhone 14 Pro Max vs iPhone 13 Pro Max: main differences
33
We may earn a commission if you make a purchase from the links on this page.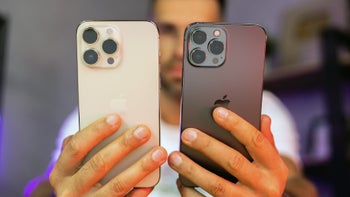 Summary
Design and Display Quality
Design is mostly unchanged
There is a tiny change in the dimensions of the new 14 Pro Max, but it's so minuscule you probably won't even notice.
Do keep in mind that the Always-on Display function drains an average of about 5% every day, so if you use it, you might be getting worse battery life than with the 13 Pro Max.
What is not changing are the contents of the box: you only get a Lightning cable and no charger inside.
But what about the display? Both phones come with a 6.7-inch OLED screen with a nearly identical resolution.
When it comes to biometrics, the two use Face ID. Despite that new pill shape on the 14 Pro Max, it uses the same sensors and technology for face recognition as the 13 Pro Max, so the experience of using Face ID remains the same.
Performance and Software
What does the new Apple A16 chip bring?
The A16 Bionic makes the jump to 4nm technology, a generational change from the 5nm tech used in previous iPhones. This allows the A16 to pack nearly 16 billion transistors, and it now comes with even more efficient CPU cores. Apple is also sticking with 6GB of RAM on the 14 Pro Max, just as it did on its predecessor.
Benchmark Results:
In the GeekBench test which measures CPU performance, the new iPhone got nearly 9% better single-core results and nearly 14% faster multi-core performance.
In the 3D Wild Mark graphics test, the initial burst of performance was improved, but then the 14 Pro Max throttles similarly to the 13 Pro Max, and performance between the two was basically identical.
Camera
A new 48MP main camera
Apple has been a leader in camera quality, especially for video recording, but what new does it bring to the table this year?
First, we see a larger, 48-megapixel sensor in the main camera, a welcome change from last generation's 12MP one.
However, keep in mind that the default option still captures 12MP photos. Apple is using a technique called pixel binning where combining four pixels into one, so images have less noise and look better in low light. However, we find you will really notice the difference in quality when you shoot ProRAW photos at the full 48-megapixel resolution where you get a lot more detail and a less "phone-like" look. Just be warned that those take up a lot more space.
Main Camera
Talk about minuscule changes! Despite a brand new sensor, the actual differences in 1X photos during the day are actually quite tiny. The wider field of view (24mm vs 26mm) is noticeable and makes for more epic landscapes, plus some can argue is more versatile, but you can hardly count that as a real advantage.
Colors are about the same, with similar issues or choices, if you prefer: burned out highlights and slightly crushed shadows in challenging conditions with a bright sun behind you. In this case, the wall on the left is a highlight that is burned out and the shrub on the right half is way too shadowy! Look closer at details, though, and you'd notice quite the sharpening on the new iPhone and that just goes a bit too extreme in our opinion, and we actually think this is one downside of this new camera.
The wider main camera and the improved low-light processing help the 14 Pro Max capture more light in even very dark conditions, and you can see in the above example that it does have a slight advantage over the previous generation iPhone. However, that extra sharpening on the new iPhone, still bothers us here.
In the above image, you can see how the newer iPhone captures more light, but at the same time, in this particular case, the white balance on the older 13 Pro Max model is more accurate.
Ultra-wide Camera
Front Camera
Portrait Mode
Zoom
Apple makes full use of the higher res and bigger 48MP main camera sensor, and crops out the middle part to give users optical-grade 2X quality, and it indeed lives up to the expectations. Compared to older sensor from previous generation iPhone, the detail here is noticeably cleaner.
You won't notice much of a difference when you compare day shots with the native 3X zoom lenses on these two iPhones. Similar amount of detail, and practically identical color processing.
Audio Quality and Haptics
Finally, don't forget that there is no headphone jack on either one (and it's probably not coming back ever in future iPhones).
Battery Life and Charging
Even if it remains as long-lasting as its predecessor, the 14 Pro Max will be a battery beast
PhoneArena Battery Test Results:
On the charging front, there are no changes either. Both the 14 Pro Max and 13 Pro Max max out at 27W charging speeds, which means a full top-up with a compatible charger takes around 2 hours.
Both the 14 and 13 series of iPhones support MagSafe, the magnetic wireless charging technology providing speeds of up to 15W.
Specs Comparison
Summary and Final Verdict
Sure, photo enthusiasts will appreciate the new 48MP camera, which brings a lot more detail, the surprisingly useful 2X zoom mode... and the new Dynamic Island is a really cool idea! The slight boost in performance with the A16 is less noticeable and in many other areas this is pretty much the same phone as before.
Recommended Stories