iPhone 13 Pro review: focused on improving the fundamentals
14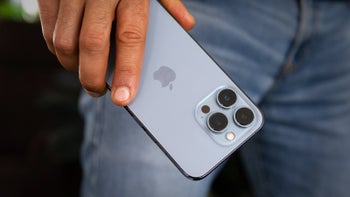 The iPhone 13 Pro is a familiar phone: it mostly looks and feels like last year's iPhone 12 Pro. And once you unlock it and start using it, it mostly feels just like every iPhone released since... well, since the very first one! You don't have a brand new operating system, no new design, basically you have no big changes — nothing but small deliberate steps to improving what already works.
And that's actually part of the grand Apple design: the
familiarity
of the iPhone.
"If it ain't broke, don't fix it."
However, throughout all those years of iPhone releases, the smaller iPhones have always had one compromise that users have had to live with: mediocre battery life. The iPhone 6/7/8, then the iPhone X, and then the X and XS would often us consumers, ever more fixated on social media, to charge before the end of the day. Even the improved iPhone 11 Pro and iPhone 12 were... just okay in terms of battery life.
Cue the iPhone 12 Pro: it has quite a few improvements, it has all-new cameras, it has a faster processor, a super-smooth 120Hz refresh rate, and so on, but without diminishing all of that, there is really one BIG improvement that changes the perception of using an iPhone — it has significantly better battery life! How much exactly? And could this iPhone generation turn out to be one of the greatest ever released? Read on to find out...
iPhone 13 Pro design, size and colors
Different colors and a bigger camera module on the Pro, which has also gotten a lot heavier
Open the box, and the iPhone 13 Pro inside will strike you with its oversized camera bump, much larger than on any previous iPhone and also the reason why previous iPhone cases won't fit this new phone. Apple has you covered with its $50 cases, or you can just buy a much cheaper alternative, here are the
best cases for the iPhone 13 Pro
, in case you're looking. Speaking of the box, there is only a USB-C to Lightning cable inside, and no charger included, so you might need to get one if you want the fastest speeds and don't have a charger with USB-C input.
In the hand, the 13 Pro feels solidly constructed and it has shiny flat sides, a hint that you have a stainless steel frame and not aluminum like most other phones. This adds to that rich and luxurious feel, but is also one of the reasons why this device weighs so much.
The iPhone 11 Pro and 12 Pro both weighed around 188 grams (6.63oz), while this newer iPhone 13 Pro weighs exactly 204 grams (7.2oz), and you can definitely feel the added heft if you carry it in your pocket.
For all else, it comes with all the bells and whistles you'd expect: things like the IP68 water protection rating, and the Ceramic Shield toughened glass on the front for better protection from scratches. Still, it might be a good idea to protect that display with a
screen protector
.
Apple has also added one new color this year: it's called Sierra Blue and is a very delicate shade of blue, we like it. The other
iPhone 13 Pro colors
are the more familiar Graphite, Silver, and Gold, and all of them feature a frosted, matte finish for the back glass.
iPhone 13 Pro: ProMotion display looks glorious
Same OLED screen with one major difference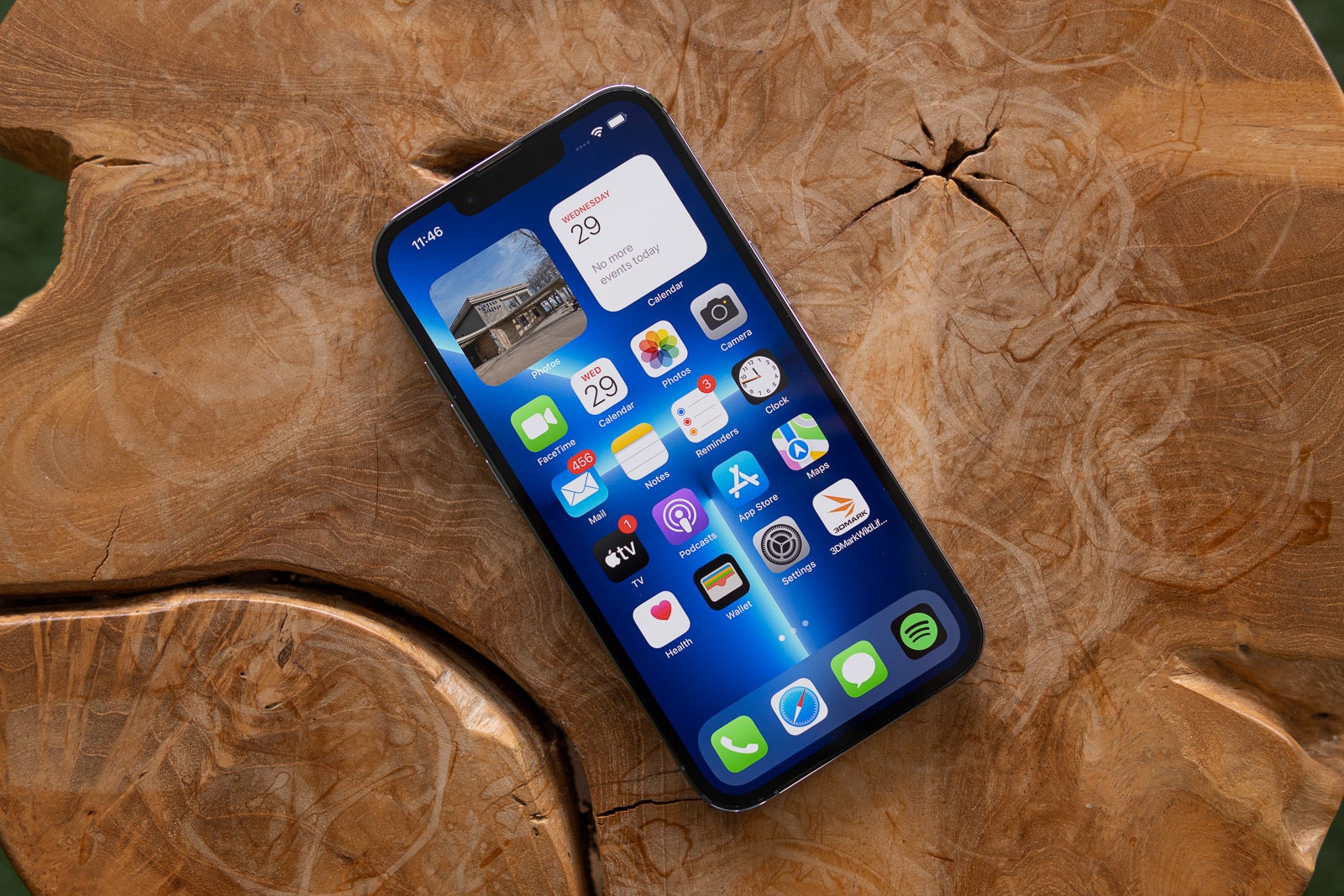 Apple started making "Pro" versions of its phones two years ago, but it was last year, with the iPhone 12 series, when differences between the Pro and the non-Pro version almost disappeared. Well, this year, there is a lot more "Pro" to the iPhone 13 Pro than before, and one of those added features is ProMotion.
ProMotion refers to the 120Hz fast refresh rate that Android phones have had in the past couple of years, and... it looks magnificent! It's one of those things that you look at and say: "Finally!"
Apple explains that this is a variable refresh rate that will drop down to as low as 10Hz when you have static content such as photos, then will adjust to 30Hz or 60Hz with other content such as video, and then will ramp up all the way to 120Hz when you scroll around for example. It's also baked into the system, it works at the full screen resolution and it works with all Apple apps.
However, the company says that developers will need to opt-in and push a little update to their apps in order to support the feature. So yes, your favorite third party app might not support ProMotion just yet, but we'd guess that it will take no longer than a couple of months until most popular apps do.
By the way, Apple also allows you to kind of
turn off 120Hz on the iPhone 13 Pro
, and you can limit the screen to run at up to 60Hz, if you want to conserve battery life. You should also know that switching to low power mode will also automatically limit the refresh rate to 60Hz.
Another thing the iPhone 13 Pro can do is get brighter than last year's model: max brightness goes as high as 1,000 nits, while it used to be 800 nits on the 12 Pro (the non-Pro iPhone 13 also goes as high as 800 nits). This makes the 13 Pro easier to use outdoors in the sun.
For all else, the iPhone 13 Pro display is the same as on last year's model with a 6.1 inch size and a resolution of 1170 x 2532 pixels.
Performance, benchmarks and storage
The Apple A15 Bionic in the Pro series brings big GPU gains
Apple has the lead in smartphone processors and it only extends it with the Apple A15 Bionic chip in the iPhone 13 Pro. This chip is faster, but not in a way that you can immediately notice, and that's actually been the case in the past few years of iPhone releases, which all feel similarly fast. The benefits of having a faster chip are mostly felt in some super advanced camera processing and in truly intense tasks like video editing or gaming.
The A15 is built on the same 5nm process as last year's Apple A14 chip, so it's no surprise that it delivers a very slight improvement in CPU performance, but what we were surprised to see was a quite big jump in GPU speeds.
Below, you can find results from a few benchmarks we ran to test the A15 performance:
Another little quirk of the iPhone 13 Pro is that it has 6GB of RAM, while the cheaper iPhone 13 model for example only has 4GB RAM. That is not really a cause of big concern for those looking to save some money on the regular model as Apple handles multitasking quite well, but it's still one advantage of the Pro you should know about.
The iPhone 13 Pro is the RIGHT phone for gaming. Not only you get longer battery life, you also have a much more powerful GPU and to understand its power and behavior, we turn to the 3D Mark Wildlife Extreme Stress Test, which runs for 20 minutes straight and shows not just the initial performance, but also whether the GPU throttles and how much exactly:
3D Mark Wildlife Extreme Stress Test benchmark results
Compared to the regular iPhone 13, the Pro model has an extra, fifth GPU core and that helps it achieve slightly higher performance, to the tune of 10% as seen above. As typical for iPhones, it starts with a burst of performance but then very quickly — after just a minute — throttles to its nominal running speeds.
Compared to the competition in the form of the Galaxy S21, the jump in GPU speeds is much more noticeable.
On the storage side, the base version of the iPhone 13 Pro starts at 128GB storage. You can also get a 256GB, 512GB, and for the first time this year, a 1TB version. Why would you ever need 1TB of storage on your iPhone? The answer might be ProRes video, the new codec that the Pro iPhones will support, but more on that later this year when the feature becomes available.
iOS 15 software
The iPhone 13 Pro launched with
iOS 15
, which in itself was a minor update with new features centered around new Focus modes (think Do Not Disturb with more granular control) and a Notification Summary that would silently gather pesky notifications and deliver them in one fell swoop whenever you see fit.
Good news is that there haven't been any major issues with the iPhone 13 Pro and iOS 15, and it's mostly been a smooth sail.
A month after the release, Apple pushed the iOS 15.1, the first major update that added SharePlay for FaceTime, plus it unlocked the ProRes video recording feature on the Pro models. Shortly after, iOS 15.1.1 fixed call drop issues, and most recently, iOS 15.2 added an App Privacy Report feature where you can see how often apps access your location, camera and other possibly sensitive features.
iPhone 13 Pro cameras
All new sensors, longer zoom and faster night time capture
With an all-new triple camera system, the iPhone 13 Pro has a few extra arguments to win over buyers hesitant between the Pro and non-Pro iPhones. In a nutshell, the main camera now has a bigger sensor with larger pixels and wider aperture that Apple advertizes will capture 2.2X more light, it has an all-new ultrawide camera that captures 92% more light than before, and it has a longer zoom camera, now at 3X zoom. All three cameras feature sapphire glass for far better scratch resistance.
Here is a quick look of the camera system on the 13 Pro:
Wide camera: 26mm on both, f/1.5 aperture and larger sensor
Ultrawide camera: 0.5X, or 13mm, f/1.8 aperture
Telephoto camera: 3X zoom, or 77mm
Front camera: 12MP
When you compare pictures between this and the older iPhone 12 Pro, you wouldn't notice much of a difference during the day. Apple says it uses a new generation HDR algorithm, Smart HDR 4, on the iPhone 13 series, and you could notice some slight improvements, but nothing major.
The colors on the 13 Pro in this case were a bit warmer and more flattering to this scene, and it's a trend that Apple has tweaked the white balance better on this newer generation, but the differences are often very subtle.
The new 3X zoom is also used for portrait mode where its 77mm focal distance is better suited for true, close-up portraits compared to the 2X zoom on the iPhone 12 Pro. We are on the fence whether that's actually an upgrade or just a change, take a look at a 3X portrait vs a 2X portrait captured from the same distance of about 5-6 feet distance.
While some reviewers have mentioned that the front camera on the iPhone remains disappointingly unchanged at 12MP, we did actually notice quite the change in processing. HDR shots like the one above look so much better on the iPhone 13 Pro as the skies retain their blue color, while on previous generation you would get those highlights completely blown out.
Photographic Styles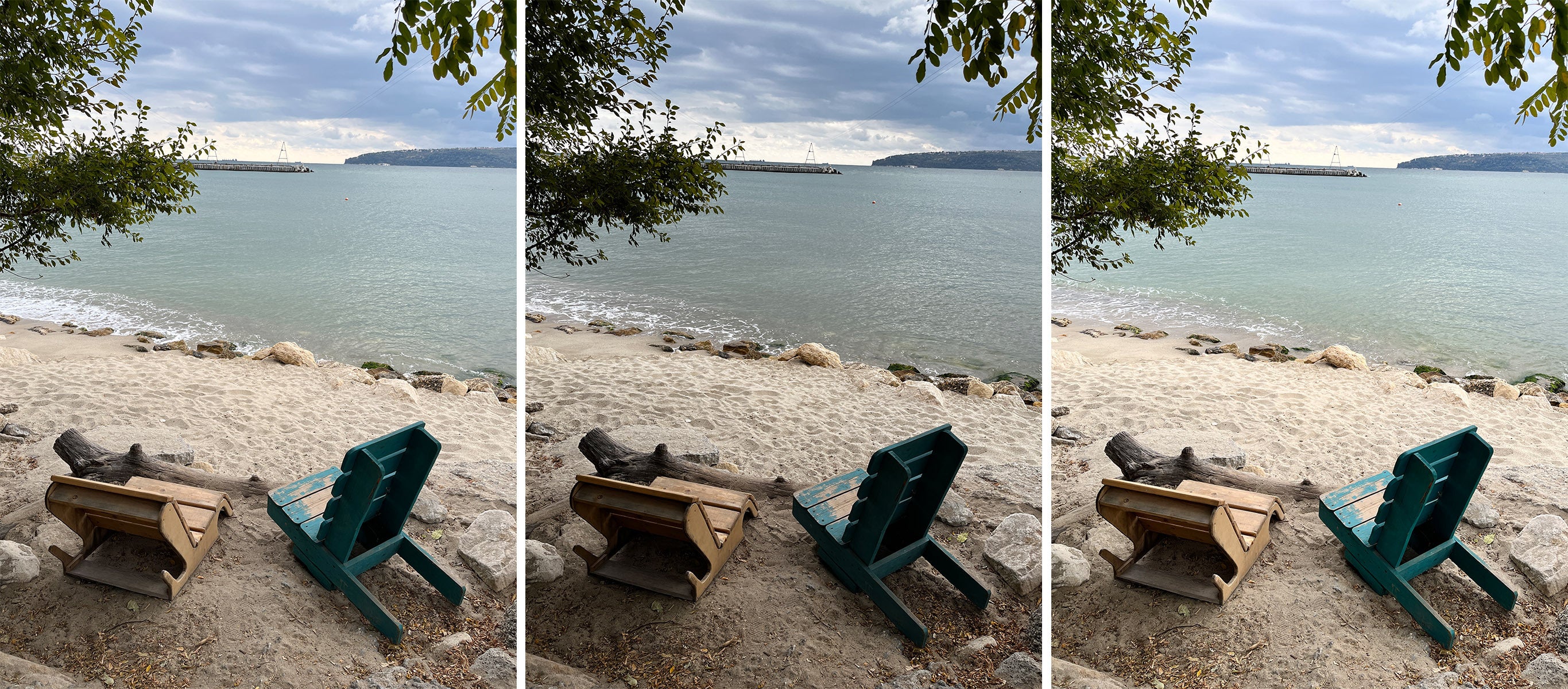 Standard look (left), Rich Contrast (middle), and Vibrant (right)
While the big changes are reserved for low light shooting, the new Photographic Styles feature that is exclusive to the iPhone 13 family is actually quite useful and gives it a lot more flexibility than the iPhone 12 family ever got for enthusiast photographers. Previous iPhones would capture photos with good-looking colors, but they were what Apple had chosen.
With the iPhone 13 Pro (actually all new iPhones), you can tap on the arrow icon in the camera, select the multi-frame Photographic Styles icon and pick a predefined look, or further customize it.
You can pick the Rich Contrast look to get an image that looks a lot like one from a Google Pixel with deeper shadows, or you can select the Vibrant mode for Samsung-like punchy colors, or make it all your own, and every time you capture a photo, that color profile will be applied to your images. That's super powerful!
Notable with Photographic Styles is also that it will preserve the skin tones of people in photos, and not mess them up while it changes the overall colors of a photo. Keep in mind that Photographic Styles are really built in the photo, you cannot revert to a different Style after you've captured a photo. You also cannot use the ProRAW format with Styles.
Night Mode and low light photography
The really big changes, however, are in low light photography which feels quite a bit improved here. Thanks to Apple's new sensor shift stabilization and just the bigger camera sensor and larger individual pixels, snapping photos at night is a lot quicker. While night mode shots on the iPhone 12 series would often take 2-3 seconds, the iPhone 13 Pro captures photos at half that time, almost instantaneously.
Interestingly, the photos are a bit darker for a more genuine "night feel", but you can certainly manually force a longer exposure and get a brighter photo by tapping on the night mode button in the camera.
< iPhone 13 Pro
iPhone 12 Pro >
At night, we did not always see a dramatic difference in low light performance as you would expect. In the photo with the lights above, the iPhone 13 Pro image is a bit darker, but that's hardly a major distinction. Also notice the very noticeable flare from those lights that appears as tiny dot reflection, that's become worse last year and the issue still persists in the 13 series.
< iPhone 13 Pro Ultra-wide
iPhone 12 Pro Ultra-wide >
The ultra-wide camera on the newer phone surprisingly captures a darker image by default, but you do get slightly cleaner detail in the grass. It's still far from the quality you can get with the main camera but it's a step up.
The LiDAR sensor for augmented reality is also present, but unless you are really interested in AR, you'll probably benefit very little from it. One useful thing it does, though, is help get focus faster for night time portraits.
Macro mode
One feature only the Pro models have this year is macro photography for photos and videos. That is possible because of the new ultra-wide camera on the Pros that now features auto focusing, and this makes it possible to focus on objects that are up to 2cm close, while previously you could only focus at up to 10cm distance.
Apple's implementation, however, is a bit strange: if you have the 1X camera on, as you approach an object for a macro mode shot, the camera app will automatically switch to the ultra-wide when it decides you have gotten very close, and it's just a bit unpredictable and almost feels a bit broken.
On the video side, before addressing the
cinematic
elephant in the room, let's quickly mention sensor shift stabilization that is now on all iPhone 13 models, including the Pro. The gist of it is that while previously the lens would be stabilized with traditional OIS, here, the whole sensor is stabilized. This should result in smoother video, but quite honestly, we couldn't spot any difference. Most of the time, videos feel just as stable as before. Which again is definitely not a bad thing, iPhones already had one of the best stabilization for video.
Cinematic Mode Video
Okay, let's get to the juicy part: the new
Cinematic Mode
, which some will tell you is not quite ready for prime time, and others will say that it's great. So what is it? There is really two separate aspects to it: first one is that it is just like Portrait mode for video as it blurs the background, and in that regard, it's not perfect, but it does a far better job than the competition; the second aspect is focus racking and switching focus on a video after you've recorded it. The idea is that it would automatically focus on the biggest face in the frame, but when that person looks away, it will switch to the next one.
While Cinematic Mode is fun to play with, it didn't always work quite as expected. Apple's marketing department says that it is no less than
"it's like having Hollywood in your pocket."
But nope, it's definitely not quite that, Apple.
Right now, you should also know that Cinematic Mode only records in 1080p and... 30fps. It's a bit strange downgrading to 1080p from the much crisper looking 4K quality that we have had since the iPhone 6s, but we guess the computational power required for real-time background blur is still too much when dealing with 4K footage. Would we use Cinematic Mode? Yes! But we do think that it's a bit of a misnomer. Cinematic Mode suggests this is something for the pro users that would truly unlock, well... cinematic capabilities, or the inner director inside you. As it is right now, this is more of a Focus / Portrait mode, and that would have been a more proper and accurate description of this new mode.
There is one other big new video feature for the pros that record video on their iPhones: Apple ProRAW. This RAW camera format is not available on the iPhone 13, while on the Pro it allows you the freedom to color correct in Final Cut Pro without losing in quality, but we couldn't test it just yet — the feature will arrive via a software update later this year.
Calls and Audio Quality
There is nothing quite new in the audio department: you still don't have a headphone jack, and you still get dual stereo speakers with one located in the earpiece and another one at the bottom. Compared to other phones, audio from iPhones has a bit more depth and bass to it (as much as that's possible on a smartphone), but it lacks a bit of definition in the higher tonalities and the mids. It's one of the better loudspeakers around, but not quite the very best. Let us add that it is about trade-offs here: some companies include two full-sized speakers that sound great (looking at your Asus Rog Phone 5), but that makes the device quite a bit larger and requires bigger bezels that are often frowned upon.
Calls sound crisp and clear, and we had no issues with reception, so all good on that front.
New X60 modem, but no Wi-Fi 6e and no satellite magic
Just like the iPhone 12 series, both the iPhone 13 and iPhone 13 Pro come with 5G connectivity support with all required bands for major US carriers (and a ton of international bands). There is no difference in the connection speeds that you will witness on these two phones.
The iPhone 13 Pro is equipped with Qualcomm's X60 modem, which just so happens to be used in other flagship phones like the Galaxy S21 series, and is a welcome upgrade over the X55 modem used in the iPhone 12 series. The main advantage of the newer X60 modem is that it gets rid of one limitation of the previous modem that helps with the latency of your connection. While the X55 modem bundled 5G downlink with 4G uplink, which was problematic, while the newer X60 combines 5G downlink and 5G uplink for lower latency.
One thing rumors got wrong about the iPhone 13 Pro is Wi-Fi 6e support.
No
iPhone 13 model supports Wi-Fi 6e, a new standard that can theoretically more than double bandwidth by opening the 6GHz channel for customers for the first time. We guess the iPhone 14 might have that feature, but the iPhone 13 can still only connect to 2.4GHz and 5GHz Wi-Fi networks.
Oh yes, and the much rumored satellite connection on the iPhone 13 family also turned out to be non-existant. Apple may or may not implement it in the iPhone 14 series with the idea being so that you can send an emergency text message over satellite connection in remote places where you have no other coverage (just don't expect to make calls over satellite networks, that's not likely to happen any time soon).
Battery life
Ooooh mama! Just how much better?!
You probably already got the memo: all iPhone 13 models have larger batteries and battery life has improved, but just by how much exactly?
iPhone 13 mini — 2,406mAh
iPhone 13 — 3,227mAh

iPhone 13 Pro — 3,095mAh

iPhone 13 Pro Max — 4,352mAh
The first thing you notice here is that the iPhone 13 Pro model actually has a slightly smaller battery cell than the non-Pro version, but despite that it gets slightly longer battery life. That is mostly thanks to the variable refresh rate that can drop to as low as 10Hz and help preserve battery life. Apple rates the Pro for 20 hours of non-stop video streaming compared to 15 hours on the regular iPhone 13. Apple also tells us that on average the iPhone 13 Pro should delivers 1.5 hours longer battery life over the iPhone 12 Pro.
But how does all of that translate into real life? When I was spending more time on social media and YouTube, the iPhone 12 Pro battery would often drop below the 20% mark before the end of the day for me. It feels like the iPhone 13 Pro battery lasts significantly longer and I don't get anxious that my battery would run out before the end of the day. Even clocking in 6 hours or 7 hours of screen time, the 13 Pro can handle that.
The battery scores that you see above are definitely impressive and confirm that the Pro gets solid battery numbers all across the board.
Charging speeds
Finally, on the charging side, there is far less excitement: you still get charging speeds of up to 20W, which feels kind of slow, plus you don't get a charger in the box and you need to buy one separately.
iPhone 13 Pro charging speeds (20W charger):
in 15 minutes — 31% charge
in 30 minutes — 56% charge
Full charge takes 1 hour and 30 minutes
MagSafe is still very much around, but it hasn't changed and the size of the magnets and their strength is the same as on the iPhone 12 series, plus the maximum MagSafe wireless charging speed also hasn't changed and remains at up to 15W. At least all MagSafe chargers made for the iPhone 12 are still perfectly compatible with the iPhone 13 Pro.
iPhone 13 Pro: should you buy it?
At the end of the day, the iPhone 13 Pro was supposed to be this relatively quiet update. Another year, another iPhone. Well, it turns out that it's more than that. We think that Apple has managed to exceed expectations, handily. Despite all the leaks that correctly predicted the new camera features and increase in weight and battery size, the actual improvement in battery life are impressive and some have gone as far as to compare them to the battery leap that Apple achieved with the M1 chip on its Macbook Air laptops earlier this year.
Should you upgrade from an iPhone 12 / Pro to this newer model? We would usually say 'no', but if you stumble upon a great trade-in offer and are bothered by the battery life on your device, then... go for it.
For those coming from earlier iPhones, the iPhone 13 Pro feels like the right upgrade much more so than the regular iPhone 13. The price difference of around $200 is no pocket change, but it buys you slightly longer battery life, an actual zoom camera, far better portraits, macro mode, a brighter display, more power for gaming, and smooth and luxurious 120Hz ProMotion display.
And what's your take on the iPhone 13 Pro? Were you as surprised as we were by the battery gains and have you gotten one? Looking forward to your thoughts and experiences with the phone, you can share them right below in the comments section.