Apple iPhone 14 Pro Max Review
3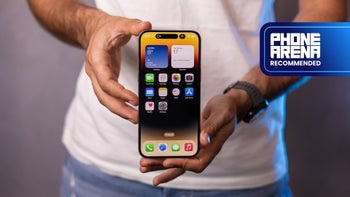 iPhone 14 Pro Max Intro
It's September, or Apple's month, and this year, Cupertino chose September 7 for its "Far Out" special event, which gave us first look at the anticipated iPhone 14 generation as well as the
Apple Watch Series 8
and
AirPods Pro 2nd Gen
.
Yet, without the shadow of a doubt, one device was the undisputed crown jewel of the keynote - the exceptional and feature-packed iPhone 14 Pro Max. Historically, the Pro Max version of all previous iPhone generations has always been the most intriguing and feature-packed device, with the largest display, the longest-lasting battery, and the most advanced cameras, coveted despite their large size and heavy stature.
The iPhone 14 Pro Max is no different. It has the best hardware and feature loadout among all new iPhones, and is much better differentiated from the rest of the lineup. After using the phone for more than a week, one thing is certain to me, at least—if you want the very best of Apple in 2022 and most of 2023, you definitely have to go with the iPhone 14 Pro Max.
However, does that ring true for users of iPhone 13 Pro Max and the even older iPhone 12 Pro Max? Not necessarily: the latest jumbo iPhone is certainly the crown jewel of Apple's current design and tech advances, but it's not an imperative upgrade, especially if you're using a not-so-old iPhone. Yet, for all those coming from older iPhones, like iPhone 11 Pro Max, iPhone XS Max, or other iPhone models, upgrading to the iPhone 14 Pro Max would result in a superior experience for sure.
What's new about the device:
Dynamic Island pill cutout
Faster Apple A16 Bionic chipset
Always-On display with 1-120Hz refresh rate
48MP camera with improved low-light sensitivity
Faster 5G connectivity
Cinematic mode at 4K24/30fps
Improved FaceTime camera
Emergency satellite connectivity
New Deep Purple color
iPhone 14 Pro Max Specs
The best new iPhone, period
Here's what makes the iPhone 14 Pro Max click and tick:
Specs
iPhone 14 Pro Max
Size and Weight
6.33 x 3.05 x 0.31 inch (160.7 x 77.6 x 7.85mm), 8.47 oz (240gr)
Display
6.7" Super Retina XDR OLED, 1-120Hz ProMotion, 2796 x 1290 pixels, 460ppi, Always-On display
Processor
Apple A16 Bionic, 6-core CPU, 5-core GPU, 16-core Neural Engine
RAM
6GB LPDDR5
Storage
128GB / 256GB / 512GB / 1TB, no expandable storage
Software
iOS 16 (with customizable lock screen, etc)
Cameras
48MP 24mm wide camera, f/1.78 aperture, 100% focus pixels, sensor-shift OIS
12MP 13mm ultra-wide f/2.2, 100% focus pixels
12MP 2X camera mode, 48mm, f/1.78, 100% focus pixels, sensor-shift OIS
12MP 3X telephoto, 77mm, f/2.8, OIS
12MP f/1.9 front camera

Video: 4K@24, 25, 30, 60fps; Cinematic up to 4K@30fps, 1080p@25, 30, 60fps, ProRes up to 4K@30fps, macro video recording,
Battery Size
Up to 29hrs video playback, up to 95hrs audio playback
Charging Speeds
20W wired charging, 15W MagSafe wireless charging
Price
$1,099 (128GB), $1199 (256GB), $1399 (512GB), $1599 (1TB)
As we already established, the iPhone 14 Pro Max has an improved camera and faster chipset in comparison with the previous iPhone 13 Pro Max, but space constraints are what has possibly forced Apple to go with a slightly smaller battery.
iPhone 14 Models
Aside from the iPhone 14 Pro Max, Apple also announced the iPhone 14, iPhone 14 Plus, and iPhone 14 Pro. The differences between the iPhone 14 Pro Max and 14 Pro are mostly be size-related, but the iPhone 14 and iPhone 14 Plus reusing most of the hardware that was used on the iPhone 13-series last year: the A15 chipset from the iPhone 13 Pro/Pro Max, old-school 60Hz displays, the old 12MP cameras, and mostly unchanged general design. The novelty here is that instead of a "mini" version of the iPhone 13, Apple went for a super-sized "Plus" one, which is expected to hit the shelves in early October.
You can check out our previews and comparisons with all the new devices right here:
iPhone 14 Pro Max Design & Colors
Some notable changes here and there
It's been a good few years since the last major iPhone design refresh, so it's only natural to expect a redesign. Lo and behold, Apple bid farewell to the display notch—on the Pro models at least—and substituted that one for an punch hole, which has been the go-to design choice on Android phones for years.

Nevertheless, in a true Apple fashion, the iPhone 14 Pro Max's so-called Dynamic Island makes rather good use of the display punch-hole: instead of trying to hide this one, Apple embraces it. The Dynamic Island is augmenting that punch-hole and utilizing it in a rather creative way. The Dynamic Island shows custom widgets and other context-specific pieced of information. For example, the area around the pill can show your currently-played music track, incoming calls or AirDrops, AirPods pairing prompts, charging notifications, and so on. Overall, props to Apple for coming up with useful ways to blend in the i-shaped punch-hole within iOS.
The biggest change since the iPhone went full-screen, and rightly so!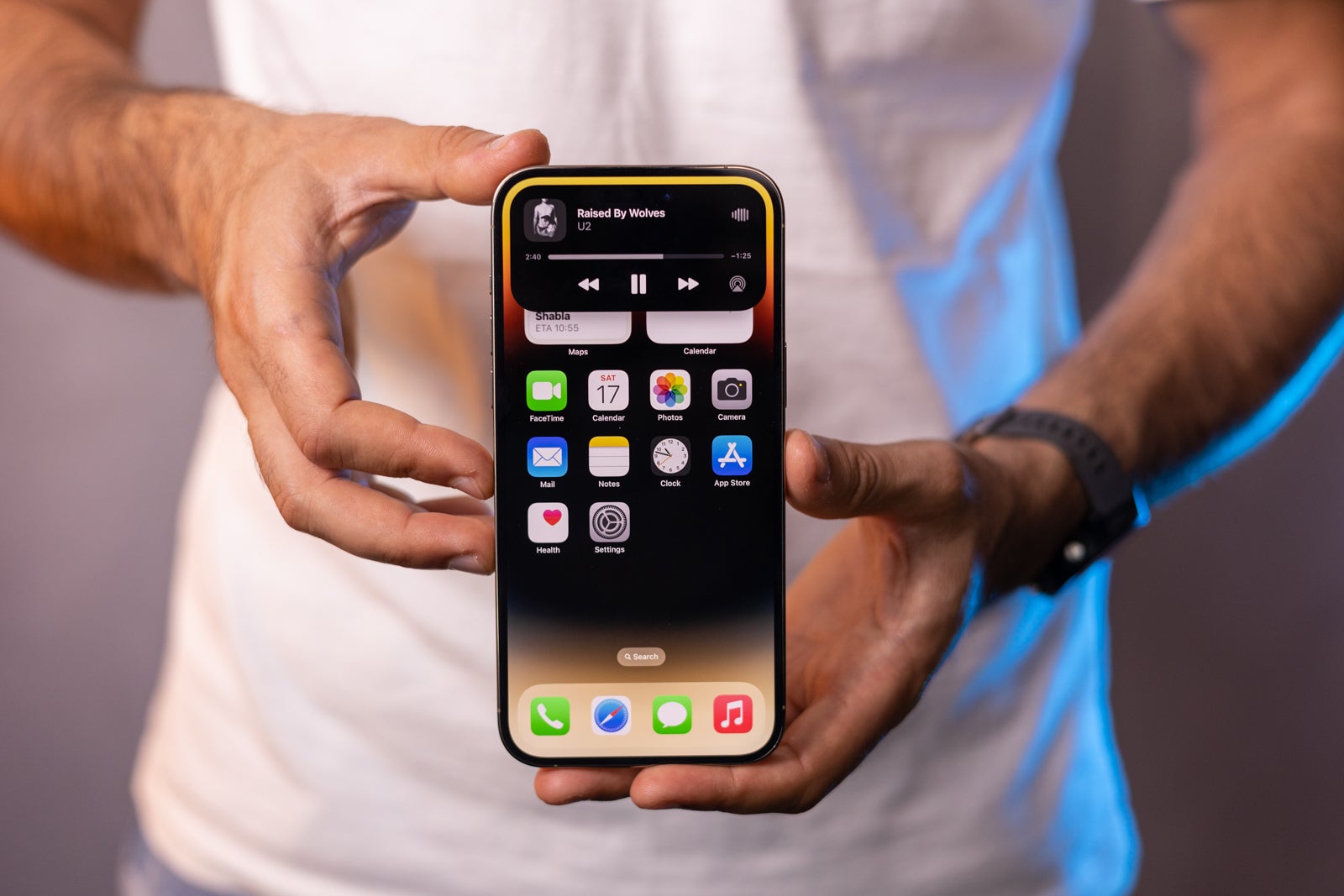 (Image Credit - PhoneArena) iPhone 14 Pro Max's Dynamic Island
Aside from the contentious new design element, the iPhone 14 Pro Max is just a smidgen narrower than its predecessor, which makes for a taller look and also potentially help with the single-handed usage of the gargantuan new iPhone. The camera island at the back has also grown exponentially due to the larger camera sensor underneath, but that's just how things are and should be a welcome trade-off.
Overall, the general design hasn't changed much, though: the flat modern look kickstarted by the iPhone 12 generation a few years ago is still alive and kicking, and we don't actually see Apple change things in another direction anytime soon. If anything, it does not only feel modern, but is also practical, as the flatter sides make it easier to fit more hardware components inside in comparison with a curved frame. What's more, with Ceramic Shield at the rear and stainless steel on the sides, the iPhone 14 Pro Max is strong and durable.
There's a Lighting cable port at the bottom, as well as a bottom-firing loudspeaker, a mute switch, IP68 water resistance, basically all the bells and whistles you'd expect out of a contemporary iPhone.
Colors-wise, the iPhone 14 Pro Max is up for grabs in:
Space Black
Silver
Gold
Deep Purple
That's a bit narrower selection in comparison with the regular
iPhone 14/14 Plus color
selection, just so you know. The Sierra Blue color got nixed, but we might see a blue or possibly green color options unveiled sometime in early 2023.
iPhone 14 Pro Max Display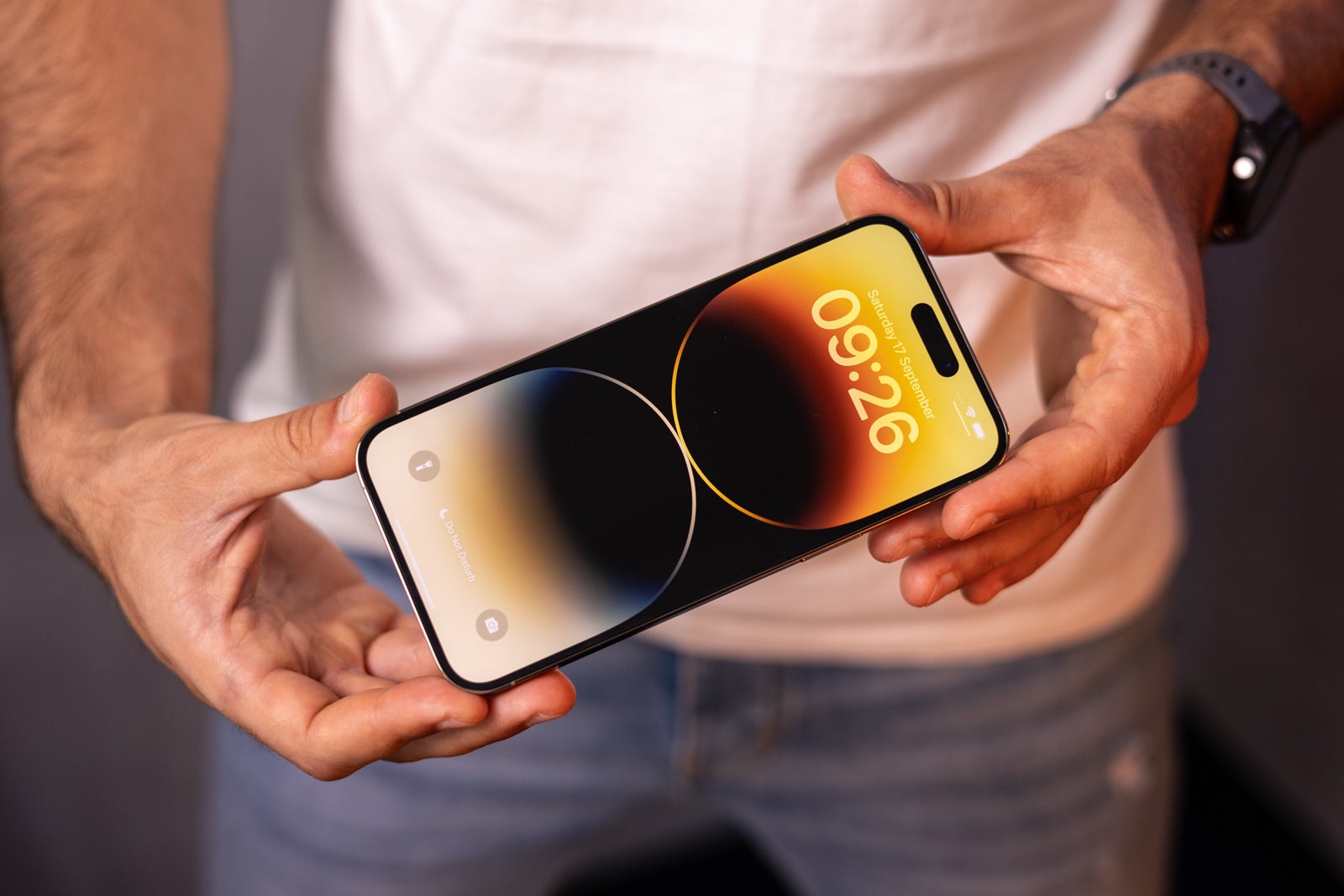 (Image Credit - PhoneArena) iPhone 14 Pro Max 6.7 inch display with Dynamic Island
Out with the old, in with the new, or
goodbye
, notch! The iPhone 14 Pro Max comes with so-called Dynamic Island, a clever hardware/software amalgam that leaves the impression of a single oval punch hole (but actually consists of dual, i-shaped punch holes). The Dynamic Island is a rather integral part of the iPhone 14 Pro Max experience as it's thoroughly used in the interface. For example, unlocking your phone with Face ID (which is the default and only biometric unlock option) shows a neat new animation, playing music gets you a waveform and a miniature album art, navigation prompts, and so much more. In fact, many ongoing notifications and alerts make use of the Dynamic Island, and its overall utility is exceptional.
In terms of display tech, the XDR OLED ProMotion display on the iPhone 14 Pro Max is mostly similar to last year's iPhone 13 Pro Max... with a few very notable differences. First up, the new phone has a slightly wider refresh rate span: 1-120Hz on the iPhone 14 Pro Max versus the "measly" 10-120Hz we had on the iPhone 13 Pro Max.
Display Measurements:
While such a difference might not sound particularly big, the display unlocks a nifty new functionality (which has been on Android for years) - Always-On display. See, having a 1Hz refresh rate option allows the iPhone 14 Pro Max to go into an always-on state that keeps aspects of the lock screen, including the subject of your lock screen wallpaper, clock face, and a few other widgets dimly lit but visible at all times. There are a few scenarios in which the always-on display won't kick in - when the phone is face down, in your pocket, hasn't been used in a while, or if you've disabled the feature with the hopes of getting some extra battery life.
As we already mentioned, this feature is well-known to Android die-hards, but now is Apple's turn to adopt it, and arguably, does it in a rather nicer and more aesthetical way. Sure, it might look distracting at times, but that's absolutely dependent on the wallpaper you choose—in my opinion, going for a darker and classier AMOLED-friendly wallpaper makes for a much better AOD experience that's in no way distracting.
Circling back on some other display details, the iPhone 14 Pro Max has an ever so-slightly-taller 20:9 screen aspect ratio, unlike the 19.5:9 aspect ratio we have on most previous iPhones. It's also much brighter, reportedly hitting a peak brightness of up to 2,000 nits in broad daylight and up to 1,600 nits in HDR mode. However, maximum brightness adjustable by the user hits slightly over 1,000 nits.
iPhone 14 Pro Max Camera
The best iPhone camera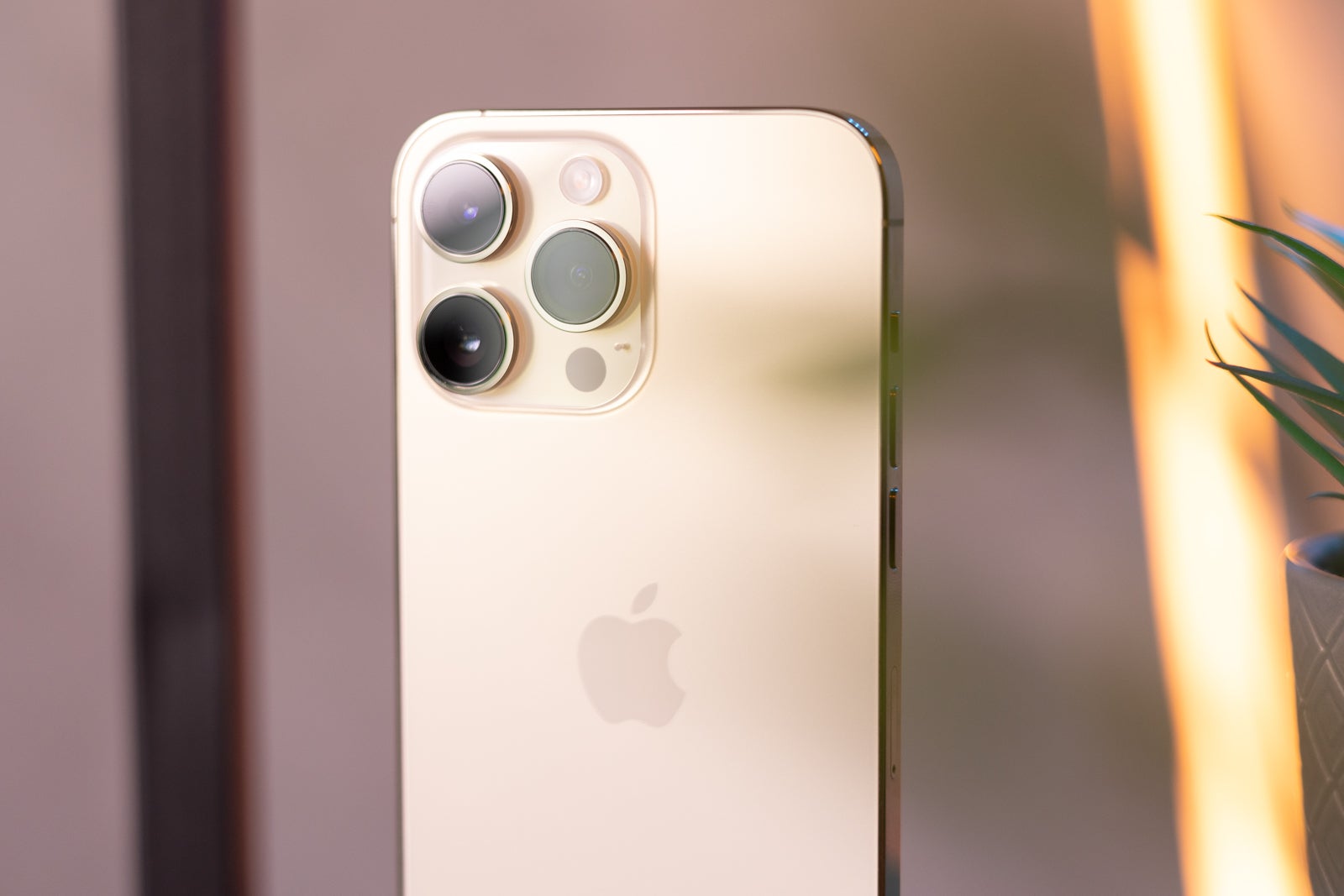 (Image Credit - PhoneArena) iPhone 14 Pro Max triple camera
For the first time on an iPhone, Apple is kind of joining the megapixel wars with a rather ambitious 48MP main camera on the iPhone 14 Pro Max, a welcome change of pace after Apple's year-long love story with the 12MP sensor.
The iPhone 14 Pro Max uses a 48MP high-res camera, which uses quad-pixel binning in order to still output 12MP images. Fortunately, quad-pixel binning greatly improves low-light image quality at the expense of spatial resolution, which basically means that you're sacrificing the full 48MP of resolution but get much better light sensitivity, which is crucial in less-than-ideal lighting conditions.
However, when you desire the full output of the snazzy new 48MP camera sensor, you can resort to ProRAW and get much better detail in comparison with the regular 12MP mode. Have in mind that this mode does best in good lighting conditions.
With this in mind, here are the full
iPhone 14 Pro Max camera
specs:
48MP 24mm wide camera, f/1.78 aperture, 100% focus pixels, sensor-shift OIS
12MP 13mm ultra-wide f/2.2, 100% focus pixels
12MP 2X camera mode, 48mm, f/1.78, 100% focus pixels, sensor-shift OIS
12MP 3X telephoto, 77mm, f/2.8, OIS
12MP f/1.9 front camera with autofocus
iPhone 14 Pro Max main camera image quality
When it comes to image quality, the iPhone 14 Pro Max is a most solid performer, with plenty of improvement in terms of detail and color reproduction, but also that distinct iPhone camera look that is instantly recognizable. It builds on the legacy of the iPhone Pro series and delivers mostly similar image quality to, say, the iPhone 13 Pro Max when shot in the default camera mode, which outputs quad-binned 12MP images.
What are the differences in image quality versus the iPhone 13 Pro Max? Well, if you're not a power camera user that shoot ProRES 48MP images, you will hardly notice any major differences, at least in bright daylight. Essentially, both of the samples below are mostly similar in dynamics, sharpness, color resolution, and overall properties, though we should definitely mention that the iPhone 14 Pro Max has an ever-so-slightly wider 24mm field of view in comparison with its predecessor.
< iPhone 14 Pro Max 1X
iPhone 13 Pro Max 1X >
Surely, the new 48MP sensor has to do wonders at night time, right? For the most part, this statement holds true. In comparison with the iPhone 13 Pro Max at least, thew new phone delivers better sharpness and detail, though some might not necessarily develop a liking to the perceived oversharpening of the iPhone 14 Pro Max's camera.
Color and dynamics are superb on the new iPhone 14 Pro Max, but iPhone 13 Pro Max users might not find major improvements here.
< iPhone 14 Pro Max 1X
iPhone 13 Pro Max 1X >
iPhone 14 Pro Max ultra-wide angle camera samples
The ultra wide-angle camera of the iPhone 14 Pro Max is just as good as the one on the iPhone 13 Pro Max, with minor improvements that will hardly be discerned by the majority of people. If anything, expect similar camera performance between the old and the new generation.
iPhone 14 Pro Max zoom camera samples
When it comes to zoom, the iPhone 14 Pro Max comes with the optical 3X and new 2X software zoom mode, which crops the main camera sensor and achieves a slightly more natural field of view for portraits. Indeed, you can use that one for portraits, and you're actually better off with that mode in favor of the 3X one. Here's a full zoom comparison of all three lenses.
iPhone 14 Pro Max Performance & Benchmarks
Top contender for the fastest phone of the year
Historically, Apple's latest chipsets have been surpassing its closest competitors, and it looks like things are unlikely to change in 2022 as well. The all-new 4nm Apple A16 Bionic chip comes along with a leap in performance compared to the iPhone 13 Pro/Pro Max's Apple A15 Bionic, which powers the iPhone 14 and iPhone 14 Plus.
The A16 Bionic chip uses the same six-core layout used in previous Apple chips. It has two performance cores for intensive tasks, and four efficiency cores, as well as a five-core GPU with 50% more bandwidth, and a 16-core neural engine capable of nearly 17 trillion operations per second... which is a number that's very hard to grasp but means superb performance nonetheless!
iPhone 14 Pro Max Benchmarks
Additionally, the iPhone 14 Pro Max comes with 6GB of RAM just like its predecessor, and we suppose that Apple has employed LPDDR5 RAM instead of LPDDR4X, but rest assured that we don't have official confirmation just yet.
Storage-wise, we have the same storage roster as last year's iPhone 13 Pro Max: 128GB, 256GB, 512GB, and a 1TB storage versions, which should be more than enough for even the heaviest of power users.
iPhone 14 Pro Max Connectivity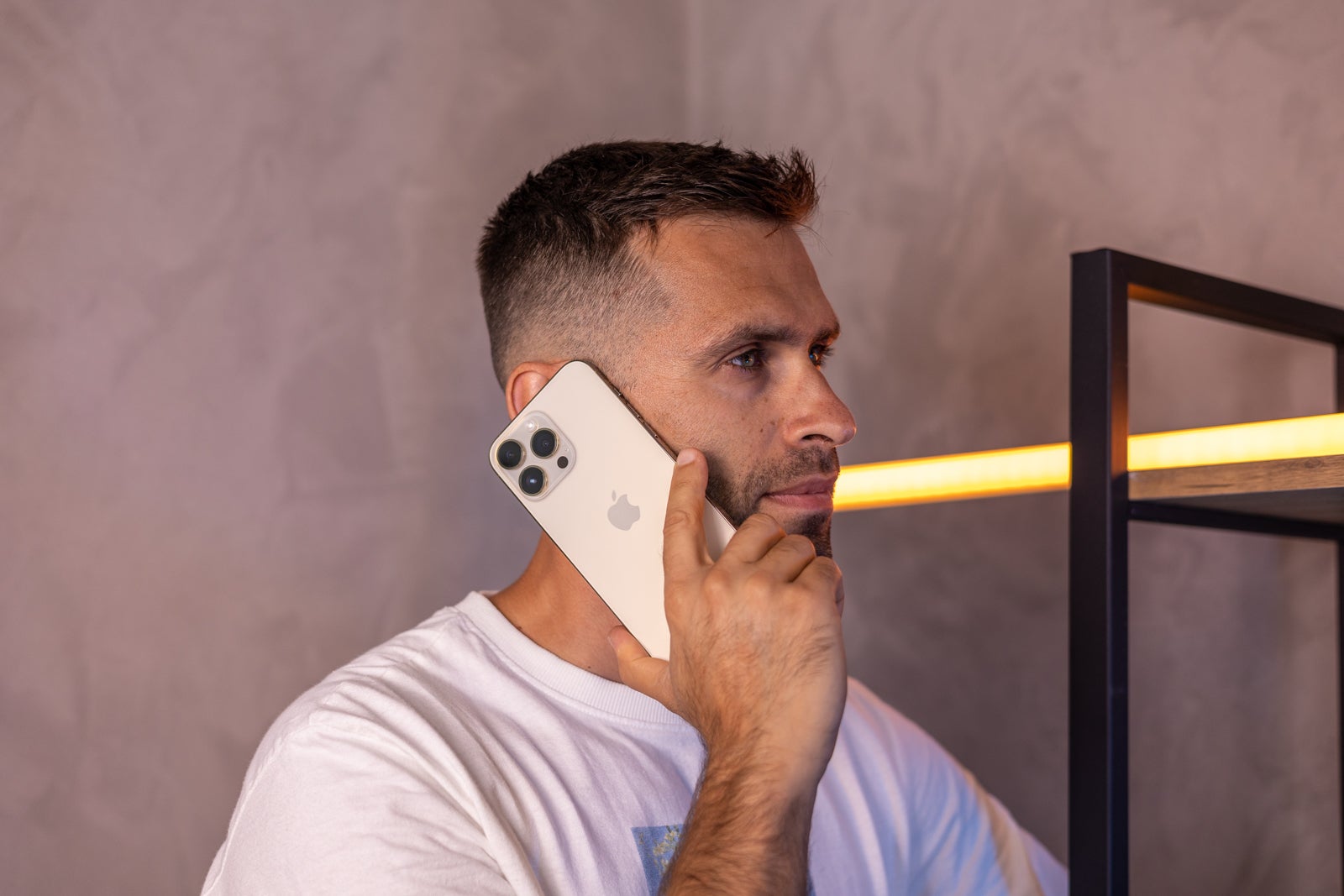 (Image Credit - PhoneArena) iPhone 14 Pro Max
Lacking a SIM card tray in the US, the iPhone 14 Pro Max require you to use an eSIM if you want to, well, use it as a
phone
. This change is only taking place in the US for now, but we can potentially see the eSIM dominance creep into other regions with future iPhones.
A rather intriguing new feature of the iPhone 14 Pro Max is the Emergency SOS via satellite, which lets you send rudimentary text messages to emergency services or send your location via Find My by utilizing satellite connectivity when there's no cell coverage. This feature is kicking off in the US and Canada and will be free for iPhone 14 Pro Max adopters for two years. As mentioned, don't expect full-blown texting or media sharing, just rudimentary texts that you'd send to emergency services, possibly including your approximate whereabouts and current condition.
And as far as hardware connectivity goes, the iPhone 14 Pro Max still comes with a Lighting port at the bottom. Wait till next year, when the iPhone 15 will most certainly switch to USB Type-C so as to conform to strict legislation in some key markets, like the EU zone.
iPhone 14 Pro Max iOS version
The iPhone 14 Pro Max comes with iOS 16. The latest version of the OS comes with mostly quality-of-life enhancements, but also brings a rather intriguing lock screen customization that allows you to personalize the looks and functionality of your lock screen. Most of the changes have been introduced with the always-on display functionality in mind. Of course, Dynamic Island's utility is fully adopted within iOS 16.
iOS 16 also brings the following features:
More filters for Focus Mode;
Edit and Undo Send, Mark as Unread in iMessage;
SharePlay in iMessage;
Improved voice dictation with an on-screen keyboard;
Quick Actions with text captured from the camera;
Photos - lift subject from background with Siri Knowledge;
Share digital keys in Wallet;
and many more...
The iPhone 14 Pro Max should technically get at least 5 years of software support, which means that you would be able to rely on it well until 2027, and probably even longer in the best case scenario.
iPhone 14 Pro Max Battery
Another battery champ incoming?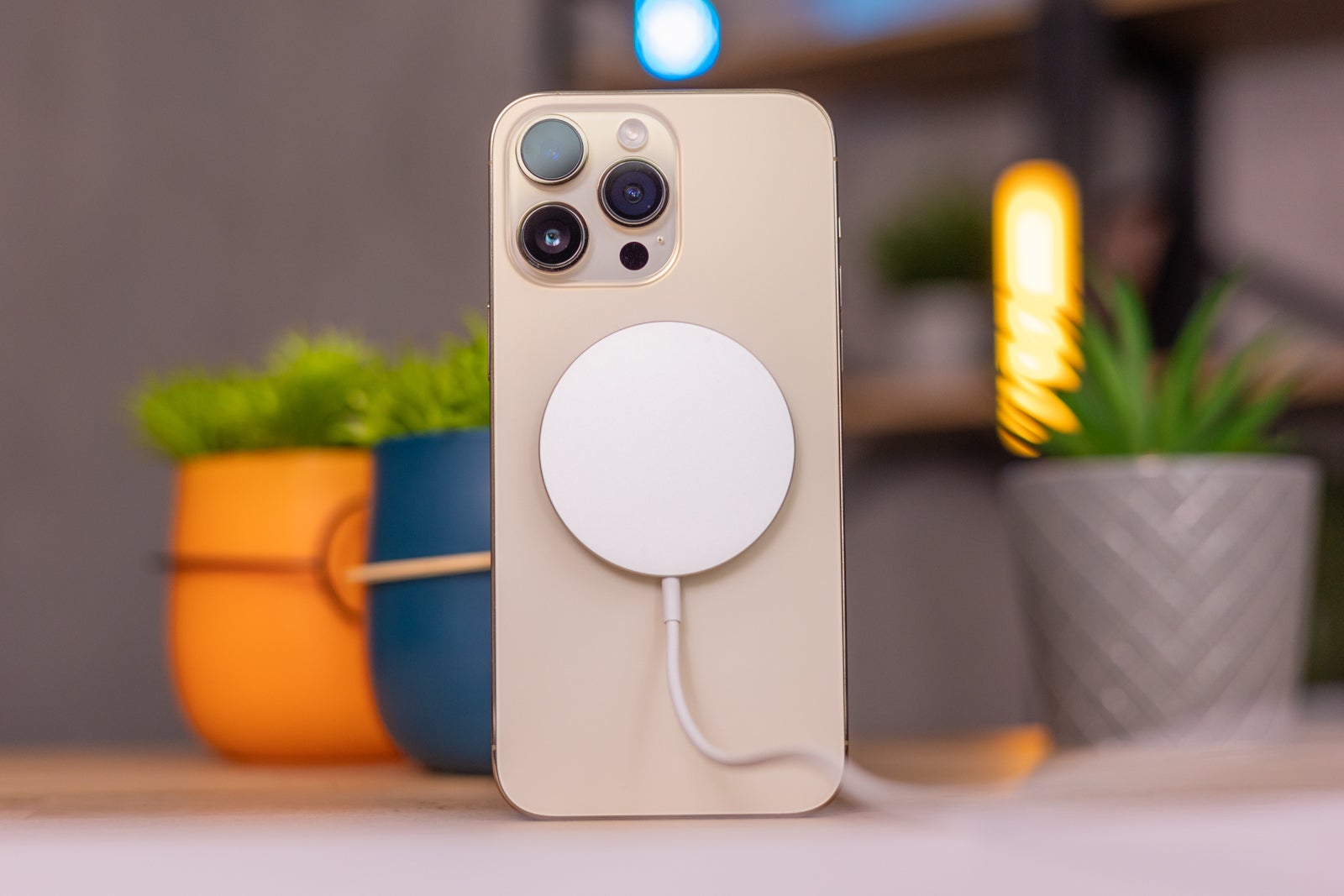 (Image Credit - PhoneArena) iPhone 14 Pro Max with MagSafe charger
It's hard to ignore the fact that the iPhone 13 Pro Max is one of the longest-lasting phones available right now, setting a new bar for all future large iPhones, but also propping up a new yardstick for the Android flagships to follow. Can the iPhone 14 Pro Max hold a candle to it?
With a sizeable 4,323mAh battery on board, the iPhone 14 Pro Max seemingly has all the right bells and whistles to last a long time. With a efficient new display and a newer, faster chipset, it surely beckons for such expectations. Our real-life tests, which are conducted at a set brightness throughout on a Wi-Fi connection, reveal that the iPhone 14 Pro Max is in the same ballpark as the iPhone 13 Pro Max, with a slight advantage in our video playback and web browsing tests. However, our 3D gaming test seems to favor the older iPhone, which lasts noticeably longer.
PhoneArena Battery Test Results:
Wired charging is still officially cited at 20W, but most likely capped at up to 30W. This would improve the charging speeds in comparison with the previous generation. Yet again, however, and this is a trend that will be sticking on, the iPhone 14 Pro Max skips the charger in the box, so you have to supply your own charger.
MagSafe wireless charging is staying, with a maximum support of up to 15W wireless charging. Of course, you can use it to attach different MagSafe accessories to your iPhone.
iPhone 14 Pro Max Audio Quality and Haptics
With dual stereo speakers on board, the iPhone 14 Pro Max retains a bottom firing main speaker and a top speaker sidekick. Last year's iPhone 13 brought lots of quality improvements to the iPhone lineup, and I'm happy to report that those have transferred to the iPhone 14 Pro Max!
Sound is rich and base is deep, with ample of power, and listening to music, podcasts, or even watching TikToks is a rather pleasurable experience. Still, for the best experience, I'd recommend not annoying people around you and using a pair of AirPods or any other wireless earbuds; of course, old-school earphones can't be used right off the bat due to the iPhone 14 Pro Max's lack of a 3.5mm audio jack.
Haptics are traditionally a strong aspect of the iPhone, and the iPhone 14 Pro Max is no different - the Taptic Engine vibrator is strong and accurate, just like on previous iPhones.
iPhone 14 Pro Max Competitors
When it comes to iPhone 14 Pro Max competitors, it's hard to think outside of the box — if you're considering the largest iPhone, you are likely already in the ecosystem, so getting a non-iPhone is hard to justify. Then again, initial data claims that the iPhone 14 Pro Max could be the most sought after iPhone for Android would-be-switchers, who wish to get the very best Apple has on display.
If you're looking for a way out of Apple's semi-walled garden, there are a few Android alternatives that you should be considering. The Galaxy S22 Ultra is one, with an S Pen stylus and a 10X periscope camera on board.
Additionally, the Galaxy Z Fold 4 is a foldable alternative that is yet unmatched by anything in the Apple ecosystem and has many party tricks, including dual displays, and an under-display selfie camera, as well as S Pen support (sold separately).
If you're willing to wait a bit, the Pixel 7 Pro could be another viable stock Android alternative, but given the Pixel 6 Pro's not-so-pristine bug and quality control record, we'd be wary of recommending a Pixel over an iPhone. That said, the iPhone 14 Pro Max has had its fair share of annoying bugs and teething problems as well, but those will be certainly resolved soon.
iPhone 14 Pro Max Summary and final verdict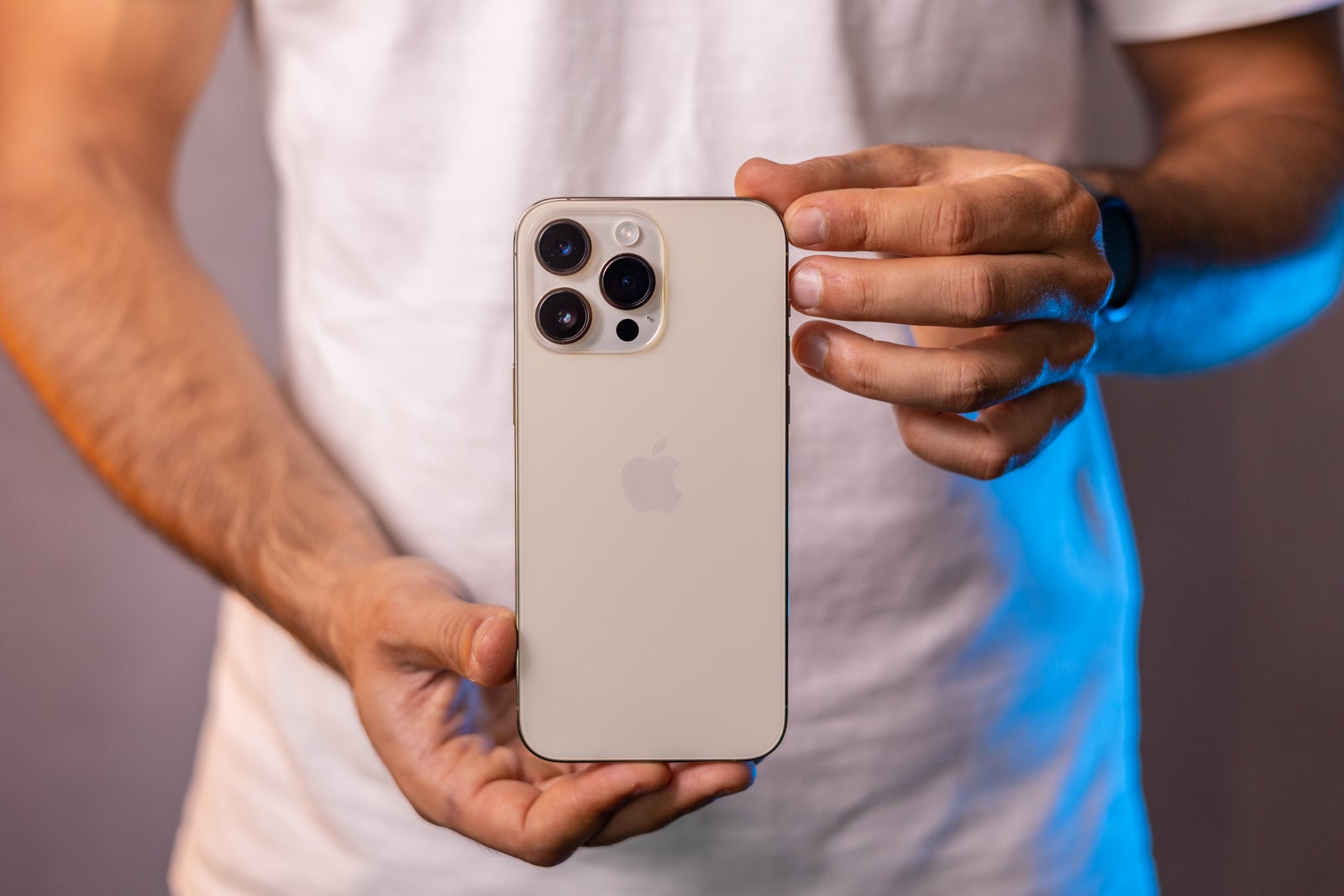 (Image Credit - PhoneArena) iPhone 14 Pro Max
There you have it, Apple's best new iPhone, by far!
It has all the latest bells and whistles, and no other iPhone comes close. It improves some core aspects of the smartphone experience, like the camera, the performance, and display utility, making it a safe, albeit not that exciting buy, especially when considering new phone categories, like foldables. The iPhone 14 Pro is basically the same phone in a smaller package that's easier to handle, but with a smaller battery and display.
Surely, this all boils down to a pretty penny, but not as much as expected— despite our anticipation for a price increase, Apple actually kept prices at the iPhone 13 Pro Max levels in the US. Starting at $1,099 for the base 128GB version and maxing out at $1599 for the mighty 1TB version, the iPhone 14 Pro Max is actually in a very good position to battle it out with any Android counterpart for the "best phone of the year award".
Should you get one? It all comes down to you and your specific use cases. If you've got a relatively recent Regardless, the iPhone 14 Pro Max is shaping up to be an excellent choice for those who want one of the most decked-out phones out there, a device that would most certainly give every other phone a run for its money.