iPhone 14 Pro vs iPhone 13 Pro: main differences
2
We may earn a commission if you make a purchase from the links on this page.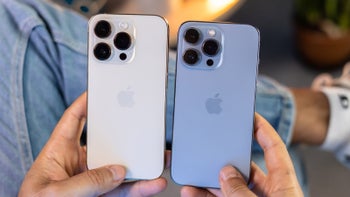 Summary
If you are looking for a flagship phone that is fast, powerful and at the same time it's relatively compact, you probably already know that the iPhone Pro series are one of very few that have all those qualities combined.
But which model should you go for: the newer
iPhone 14 Pro
, or the previous generation
iPhone 13 Pro
that can be usually found cheaper?
These two phones look similar in appearance, but the
iPhone 14 Pro
brings quite a few changes under the hood: it's got a new and faster processor, it is the first iPhone to have a high resolution camera that promises a big leap in image quality, and there is a new Dynamic Island feature that replaces the notch.
You are also getting a lot of smaller upgrades that quickly pile up, and some very cool new features like an Always-On Display option.
iPhone 14 Pro vs iPhone 13 Pro differences in a nutshell:
iPhone 14 Pro

has new pill-shaped Dynamic Island cutout instead of the notch

iPhone 14 Pro

has a brighter screen
New Always-On display option only available on 14 Pro

iPhone 14 Pro

gets newer and faster A16 Bionic chip
14 Pro comes with new, high resolution 48MP main camera
New Action Mode video stabilization
Cinematic Mode on

iPhone 14 Pro

now works in 4K
Satellite connectivity a new feature on

iPhone 14 Pro

Same-ish battery life and charging speeds on both
We tell you more about each of these new features and show you the improvement in camera quality, plus a few more tests that reveal the real difference between the
iPhone 14 Pro
and
iPhone 13 Pro
right below, so read on!
Design and Display
Similar design, but thinner bezels and improved display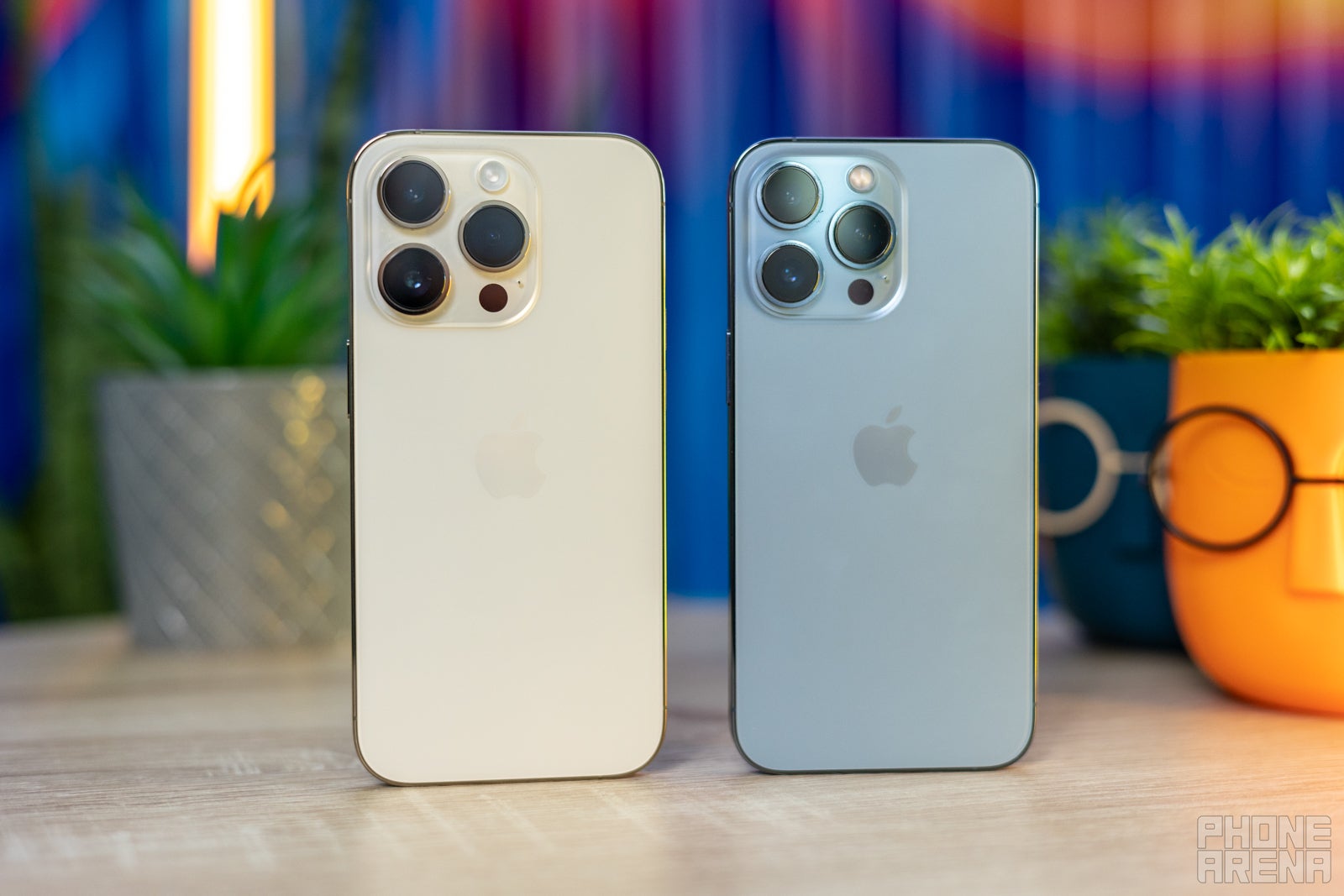 (Image Credit - PhoneArena) iPhone 14 Pro vs 13 Pro design
The
iPhone 14 Pro
has the familiar styling from the previous two generations: matte glass back, stainless steel body, flat sides.
In terms of practicality, you get the same IP68 water and dust protection on both the 14 Pro and 13 Pro, and both use the Lightning connector (that rumored USB-C iPhone should be happening in 2023 though).
The bigger change is on the front where instead of the familiar notch you have the Dynamic Island. It takes up a bit less space than the notch, but the real advantage it brings is that it expands to show you relevant information. It's a bit like a status bar on steroids: it would bubble up to remind you to look at the front camera for Face ID, or it will show status updates such as when you switch silent mode on and off, or enable the battery saving low power mode. It's not a game-changer, but it definitely feels like one cool new detail.
In terms of colors, the
iPhone 14 Pro
comes with one less option as there is no green colorway and the bright Sierra Blue model is replaced by the Deep Purple model. The
iPhone 14 Pro
colors are: Deep Purple, Gold, Silver, and Space Black. In comparison, the
iPhone 13 Pro
was offered in Alpine Green, Silver, Gold, Graphite, and Sierra Blue.
No changes to the contents of the box, though: a Lightning cable to USB-C cable will be included, but there will be no charger inside.
So... what about the display? Both phones come with a 6.1-inch OLED screen with practically identical resolution.
Display Measurements:
However, the
iPhone 14 Pro
gets much brighter, which you will appreciate when you go outside.
The other new feature is Always-On display, an update that Android has had for years and that many people wanted to see on an iPhone. Just keep in mind that if you enable this feature, it will drain an additional few percent of your battery (we measured a 5% average drop daily). The
iPhone 13 Pro
does not support Always-On display.
And when it comes to security, both phones use Face ID. Despite that new pill-shaped cutout on the 14 Pro, the sensors inside are the same, and Face ID will work just like it did on the 13 Pro.
What's new with the Apple A16 chip?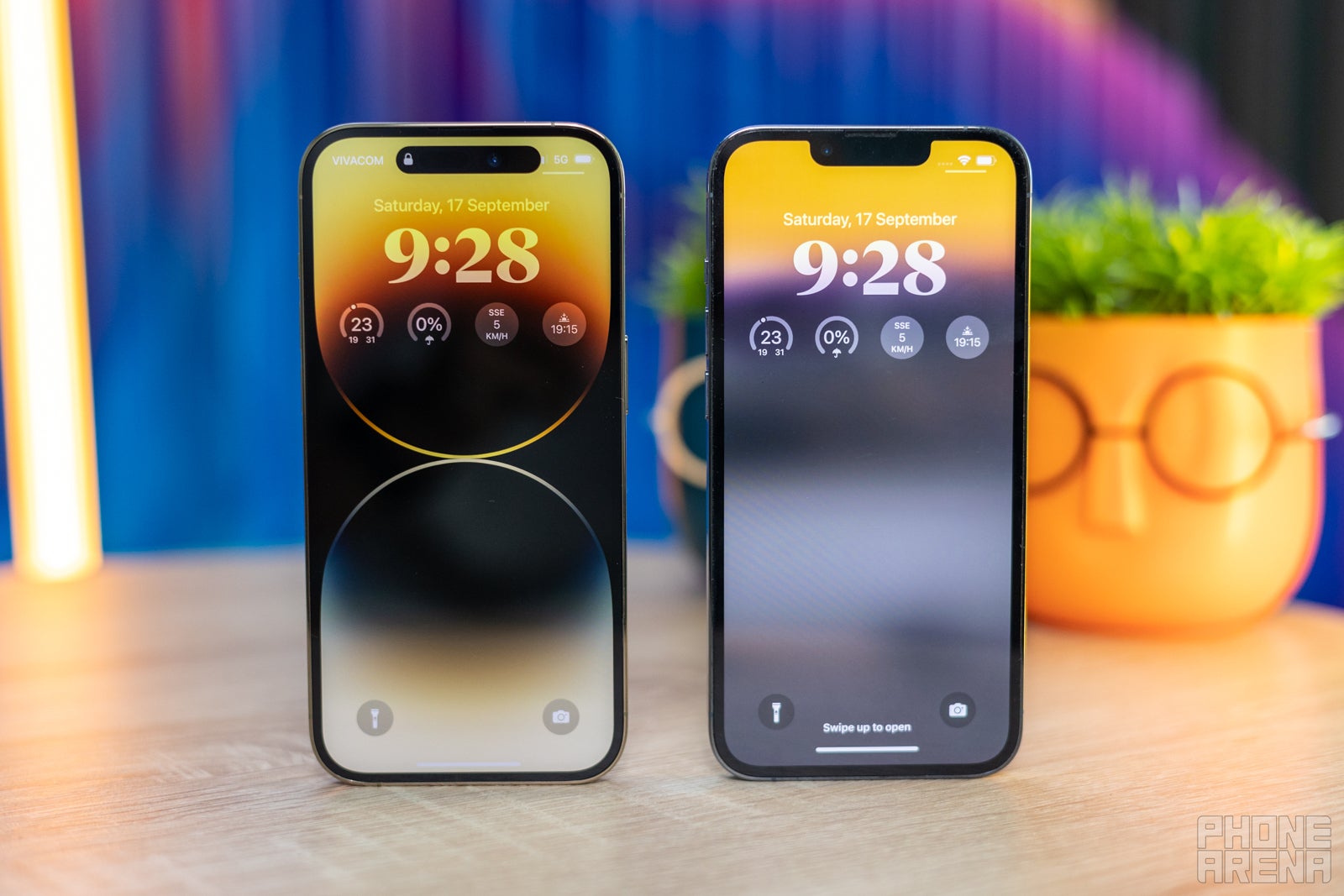 (Image Credit - PhoneArena) iPhone 14 Pro Max vs Pixel 6 Pro performance
The
iPhone 14 Pro
gets the next generation of Apple silicon, the A16 Bionic chip. This new processor is an upgrade over the Apple A15, but the jump in performance is not huge. It is built on a next generation 4nm process (vs 5nm for the older A15 chip), and it seems that most of its advantages lie in the better power efficiency.
Benchmark Results:
While we still get 6GB of RAM on board, Apple is using faster LPDDR5 memory, another upgrade over the LPDDR4X used in the previous model.
Both the
iPhone 14 Pro
and 13 Pro run on the newest
iOS 16
software. The 14 Pro launches with it, while the 13 Pro has gotten it as an update, but at the end of the day you have mostly the same software on the two. We say mostly because the
iPhone 14 Pro
comes with two new features that are not coming to previous models:
Satellite Connectivity

— this allows you to connect to a satellite in remote places with no cellular signal. It requires a clear view of the sky and you have to point your iPhone towards a satellite to lock signal, but this can be a life-saving feature.

Crash Detection

— thanks to an improved accelerometer, the new iPhone can now detect if a person has been in a severe car crash and it will automatically call 911. Once again, this feature could be a life-saver.
For software updates, Apple traditionally keeps its phones up to date for 5 or even 6 years, so both of these devices are perfectly future-proof.
New 48MP main camera sensor ups the ante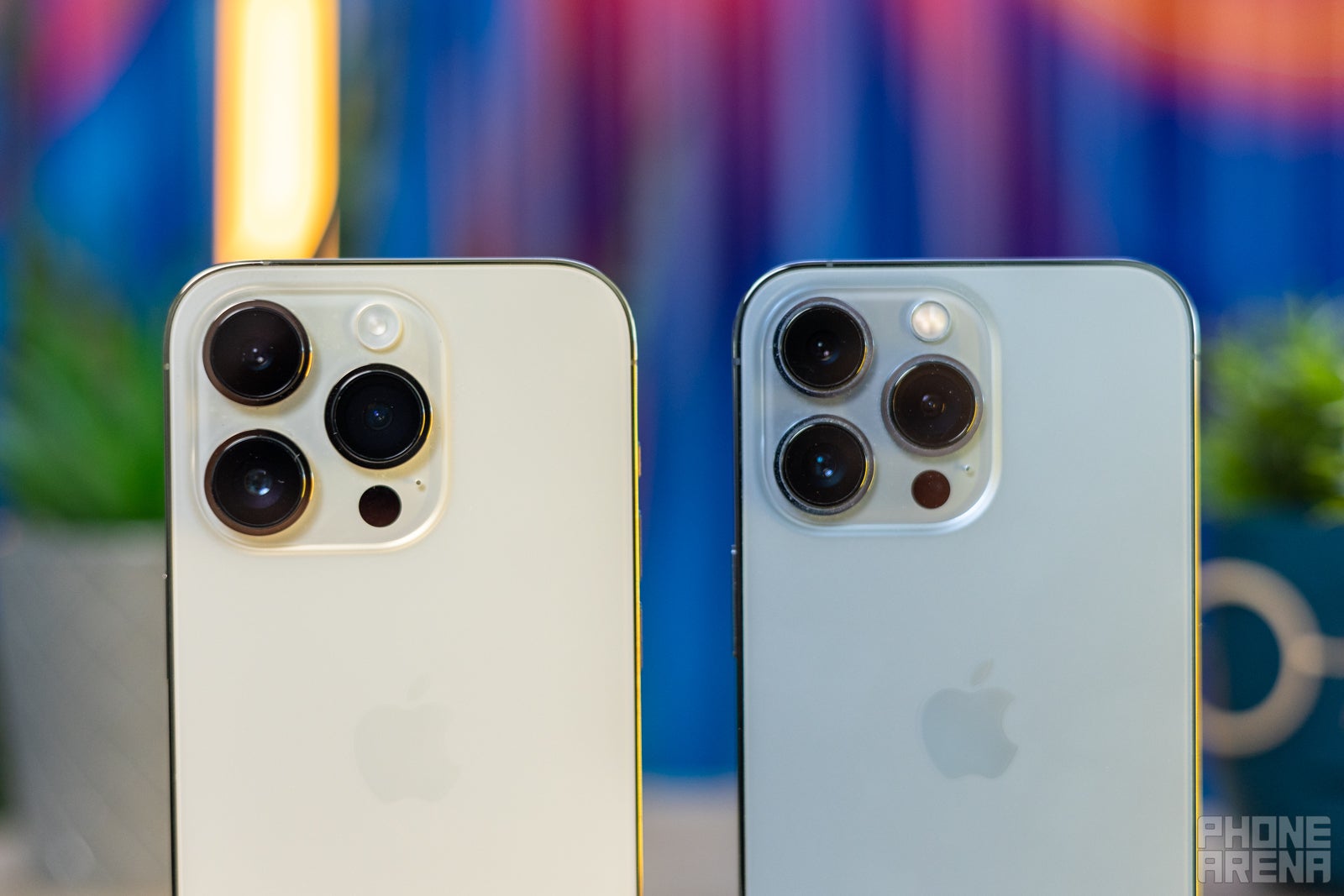 (Image Credit - PhoneArena) iPhone 14 Pro Max vs Pixel 6 Pro cameras
The big new
iPhone 14 Pro
camera feature has got to be the higher resolution 48MP sensor for the main camera. It comes to replace the current 12MP one, and because of its larger size, that camera bump on the back has become even bigger.
iPhone 14 Pro

vs 13 Pro camera expected differences:
1X camera: 48MP on 14 Pro vs 12MP on 13 Pro
0.5X camera: 12MP on both
3X camera: 12MP on both
Main Camera
< iPhone 14 Pro 1X
iPhone 13 Pro 1X >
You can also notice the slightly wider field of view (24mm vs 26mm) on the newer iPhone.
Color reproduction is about the same, but what you'd notice if you look closer is quite the excessive sharpening on the 14 Pro, which is something we haven't seen before and that we find a bit extreme.
< iPhone 14 Pro 1X
iPhone 13 Pro 1X >
The wider main camera and the improved low-light processing help the 14 Pro capture more light in even very dark conditions, and you can see in the above example that it does have a slight advantage over the previous generation iPhone. However, that extra sharpening on the new iPhone, still bothers us here.
< iPhone 14 Pro 1X
iPhone 13 Pro 1X >
In the photo above, you can see the newer iPhone capture more light, but at the same time, the white balance on the older 13 Pro model is more accurate.
It's worth mentioning that with this new sensor, the main camera can no longer focus as close as it used to.
Ultra-wide Camera
< iPhone 14 Pro 0.5X
iPhone 13 Pro 0.5X >
The ultra-wide camera has undergone a similarly small transformation, as the above images are pretty similar.
< iPhone 14 Pro 0.5X
iPhone 13 Pro 0.5X >
In nearly pitch black conditions, the
iPhone 14 Pro
is able to gather more light using the ultra-wide camera.
Front Camera
In selfies, Apple is changing the color processing and most importantly your face and the skin color now look better. The
iPhone 14 Pro
gets rid of the flat and reddish colors in faces which is great.
At night, the
iPhone 14 Pro
does a better job capturing a clean photo with the front camera.
Portrait Mode
Both iPhones captures portraits at 1X and 3X, with few changes in those modes, but the real difference-maker here is the new 2X portrait mode on the 14 Pro. We are so glad it's back! This is a super versatile focal length, just perfect for portraits, and no wonder a similar "nifty-fifty" 2X lens is the first prime lens most photographers get with their pro cameras. Good job, Apple!
In low light, there are no big differences between the two, and it's still not a great idea to use the 3X portrait mode option at night, but 1X and 2X portraits on the
iPhone 14 Pro
turn out much better.
Zoom
< iPhone 14 Pro 2X zoom
iPhone 13 Pro 2X zoom >
Apple makes full use of the higher res and bigger 48MP main camera sensor, and crops out the middle part to give users 2X quality, and this is indeed good.
< iPhone 14 Pro 3X zoom
iPhone 13 Pro 3X zoom >
You won't notice much of a difference when you compare day shots with the native 3X zoom lenses on these two iPhones.
< iPhone 14 Pro 3X zoom
iPhone 13 Pro 3X zoom >
Using the 3X mode in extreme low-light conditions such as above, both iPhone will actually use a crop of the main sensor and here you can see an improvement from the larger sensor.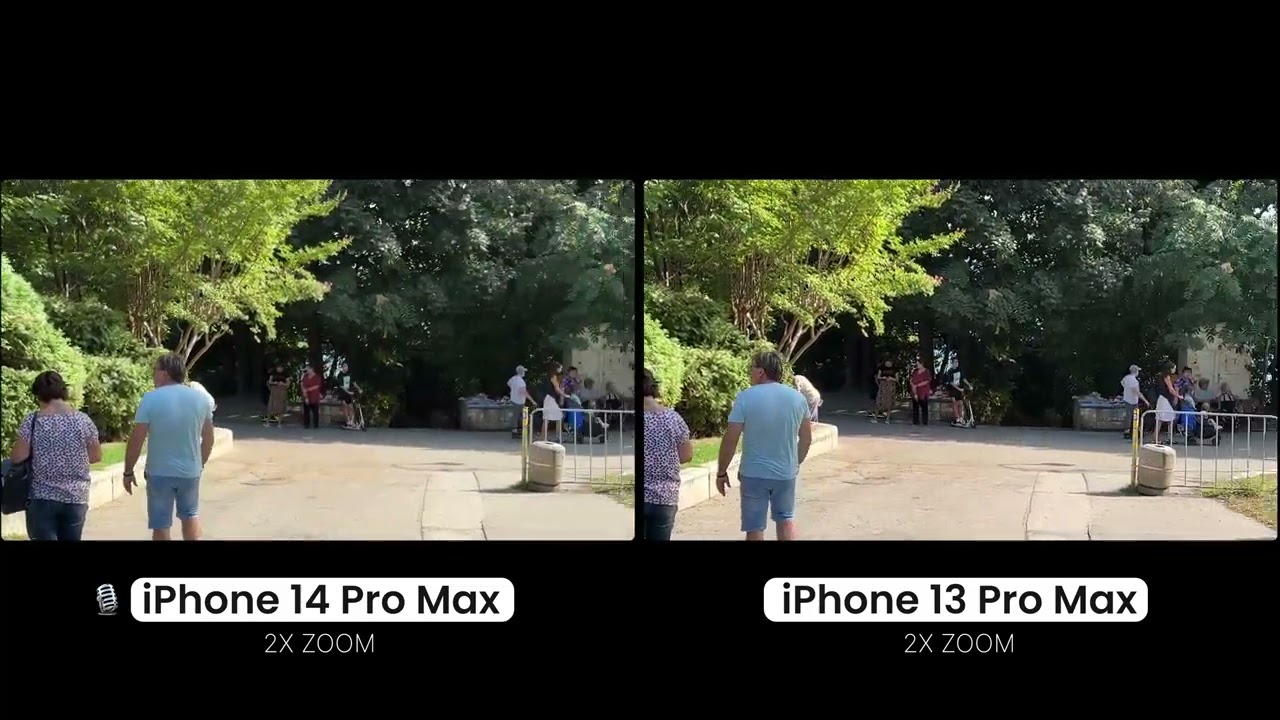 On the video side, Cinematic Mode, which launched last year but only with 1080p support, is now available in 4K resolution and you can now pick between 24fps or 30fps. Neat!
Another new video feature is Action Mode. This feature is optional and you can toggle it on and off in the camera app. At the expense of some cropping, it brings impressive, gimbal-like stabilization to video footage and will be particularly useful for sports and well... action shots!
Audio Quality and Haptics
The
iPhone 13
family altogether made a huge leap in audio quality with louder and richer sound on all four models, but the
iPhone 14 Pro
outputs nearly identical sound as the 13 Pro, so no major changes this year.
Don't forget that neither the 14 Pro, nor the 13 Pro have a headphone jack, so your good old classic headphones will only work via an adapter that you have to buy separately.
As for haptic feedback, we have had no issues with the 13 Pro and its Taptic Engine, and we have similar excellency in the 14 Pro, with no changes in this area.
Battery Life and Charging
Same battery life, same charging speeds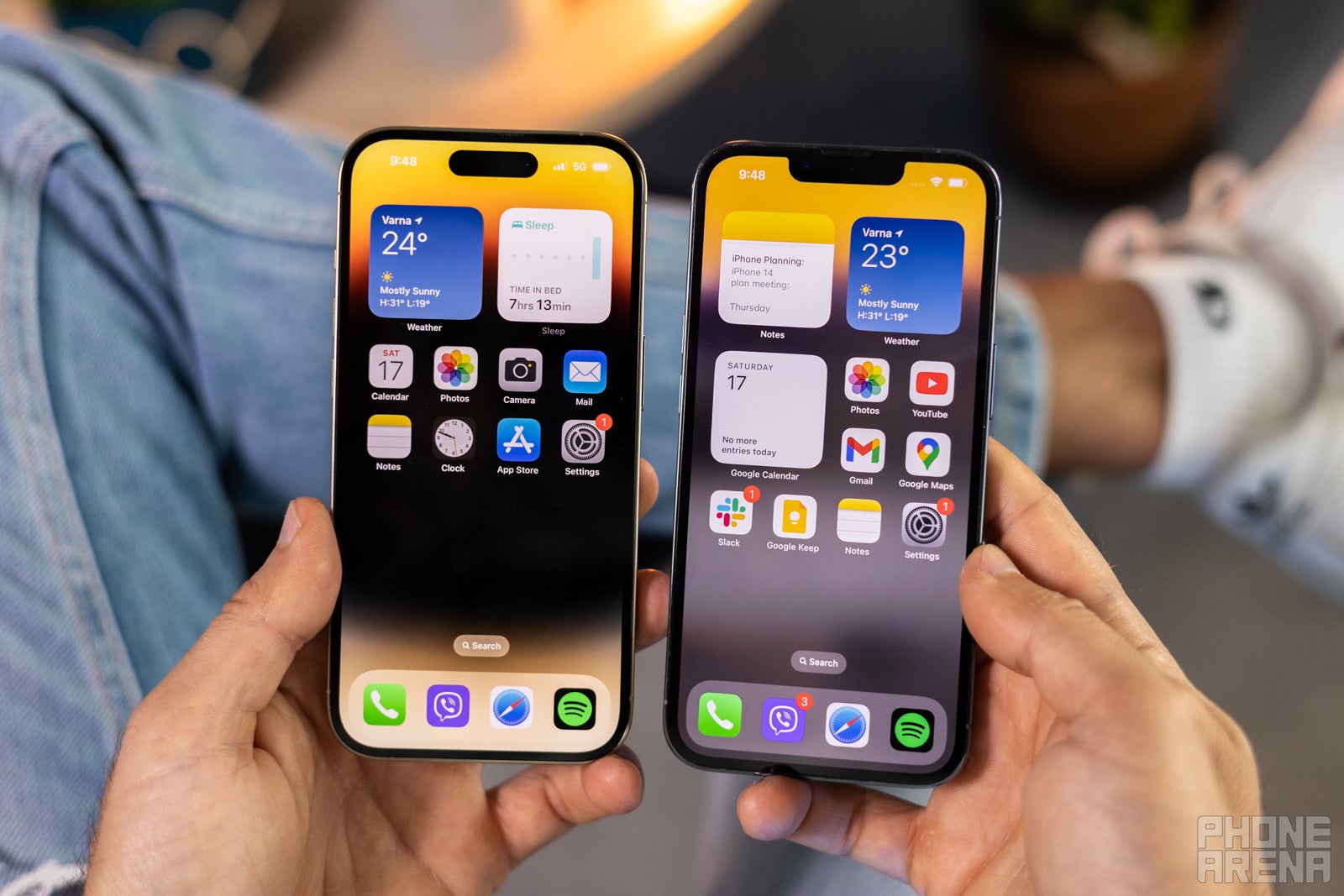 (Image Credit - PhoneArena) iPhone 14 Pro Max vs Pixel 6 Pro
The
iPhone 13 Pro
brought a noticeable improvement in battery life compared to previous models and that was mostly thanks to a larger physical capacity of the battery.
Here is how the battery size of the 14 Pro compares to the 13 Pro:
iPhone 14 Pro

battery size: 3,200 mAh (+3% bigger)

iPhone 13 Pro

battery size: 3,095mAh
Apple's official battery estimates show no change in battery life: 20 hours of video streaming and 75 hours of audio playback on both models.
PhoneArena Battery Test Results:
In our independent video test where we play a set playlist of YouTube videos over a Wi-Fi connection and with all phones set at equal brightness levels, we found the
iPhone 14 Pro
actually outlasts the 13 Pro by a tiny bit.
Keep in mind, though, that if you use the Always-on Display, it might drain an additional 5% of your battery every day, so you may actually end up having worse battery life on the 14 Pro.
As for charging speeds, there are no changes. The 14 Pro supports 20W charging officially (but it can actually top up at 23W speeds), same as the previous model, which means a full top-up with a compatible charger takes around 2 hours.
And both the
iPhone 14
and 13 series support MagSafe, the cool magnetic wireless charging tech that provides speeds of up to 15W.
Specs Comparison
Specs
iPhone 14 Pro
iPhone 13 Pro
Dimensions
5.81 x 2.81 x 0.31 inches (147.5 x 71.5 x 7.85 mm)
5.78 x 2.81 x 0.30 inches (146.7 x 71.5 x 7.65 mm)
Weight
7.27 oz (206.0 g)
7.20 oz (204.0 g)
Processor
A16 Bionic, 4nm
A15 Bionic, 5nm
RAM
6GB LPDDR5
6GB LPDDR4X
Storage
128GB
256GB
512GB
1TB
128GB
256GB
512GB
1TB
Cameras
48MP main camera
12MP ultra-wide
12MP 3X telephoto

12MP auto-focus front cam
12MP main camera, f/1.5
12MP ultra-wide, f/1.8
12MP 3X telephoto, f/2.8

12MP fixed-focus front cam
Battery
3200 mAh
3095 mAh
Charging
20W wired
15W MagSafe
20W wired
15W MagSafe
Price
$1,000 starting price
$1,000 starting price
Summary and Final Verdict
Summing it all up, the
iPhone 14 Pro
has a slightly faster processor, brighter screen, a cool new Dynamic Island feature, an impressive ProRAW 48MP photo capture, and a surprisingly useful new 2X zoom mode.
Should you upgrade from the 13 Pro? With no major changes to battery life or speed, you should consider an upgrade only if you plan on making the most out of the camera, and especially out of that 48MP ProRAW capture. Also, if enjoy having the little new conveniences like the brighter screen, Dynamic Island and Always-on Display option.
However, unless you obsess over camera quality, the new
iPhone 14 Pro
feels a lot like a 13S Pro.
If you find a great trade-in offer, then an upgrade might make sense, but we don't feel like you'd be missing out on all that much this year and you may want to hold on to that 13 Pro until next year when bigger changes are hopefully coming with that USB-C
iPhone 15
.
Recommended Stories