The best iPhone 13 Pro Max cases available right now - updated August 2022
We may earn a commission if you make a purchase from the links on this page.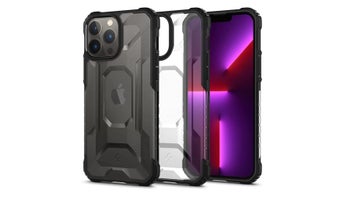 Apple's iPhone 13 series is immensely popular, but if there's one thing you need to worry about after buying the biggest and most expensive model in the bunch, it's keeping it safe and protected. The iPhone 13 Pro Max can cost up to $1,599 for the 1TB model, so for many users, throwing in the extra $20 or $50 for a good case to protect the expensive beast makes sense. If you're one of those people, and you're now rocking
Apple
's greatest, biggest 2021 smartphone – the
iPhone 13 Pro Max
, you've come to the right place!
Best iPhone 13 Pro Max cases, summarized:
Nowadays, almost all people use cases to protect the devices they carry everywhere. However, when it comes to such accessories, there is plenty of choice, as these come in many shapes and forms. Some are more classic and discrete-looking, some want to offer you the best possible protection, and some cases want to be more of a fashion accessory. Whatever the case of the... case, you'll need a good selection to make the best possible choice, especially if you've spend more than a thousand bucks on a phone, which as we said is the case with Apple's iPhone 13 Pro Max.
When it comes to choosing the case for you, you might be looking for the cheapest option there is, or one that offers great value, as it is both affordable and quality-made. We've separated this article in three sections for the three type of iPhone 13 Pro Max cases we've listed. These are
clear cases
,
soft cases
, and
rugged cases
. Most of these do support Apple's MagSafe technology for wireless charging that uses magnets to attach the charger to the phone.
iPhone 13 Pro Max clear cases
Spigen Ultra Hybrid Crystal Clear Case for iPhone 13 Pro Max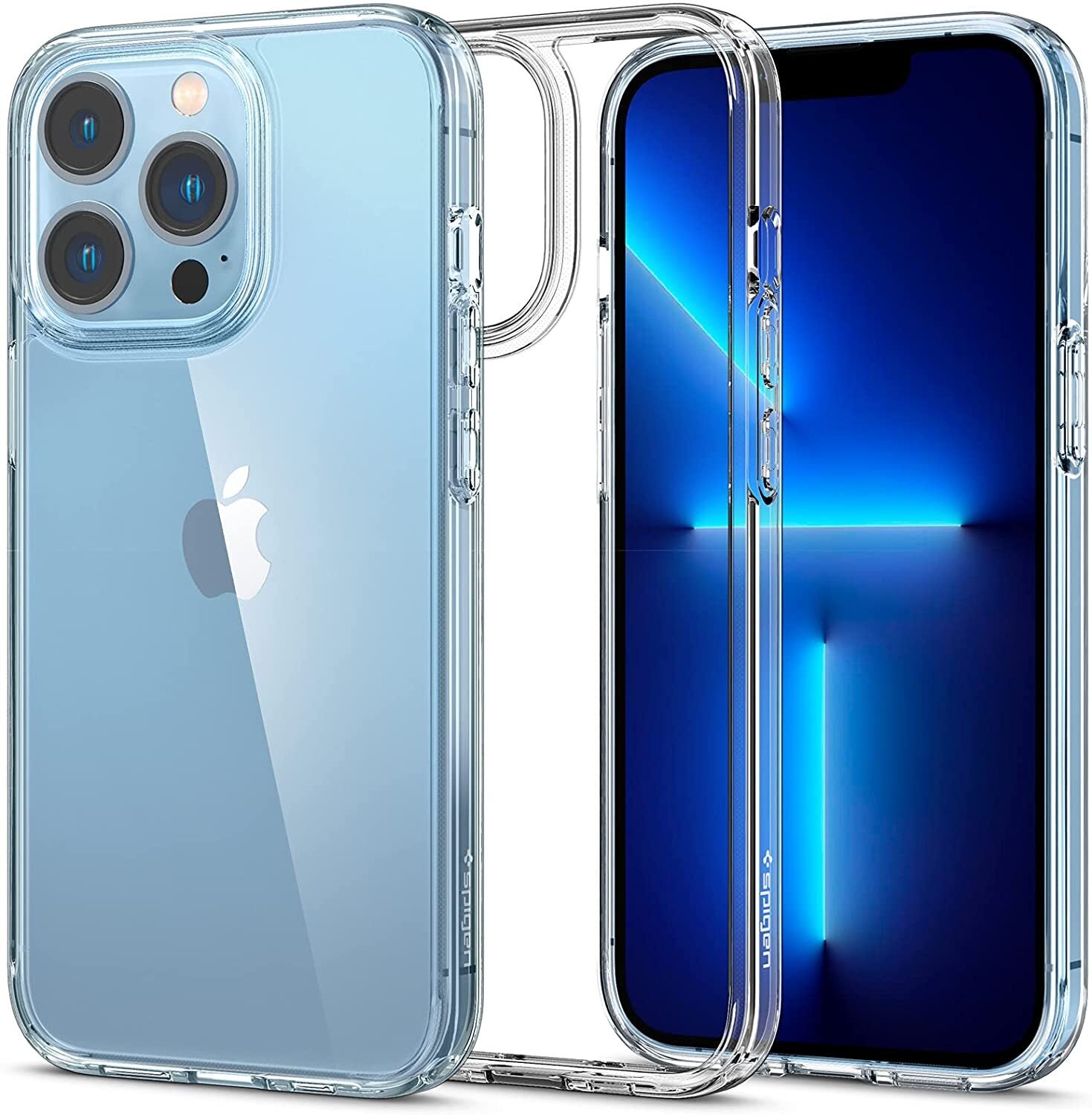 Spigen Ultra Hybrid Crystal Clear Case
We can't have a "best cases" list without Spigen – one of the most trusted names when it comes to rugged smartphone cases. Not only is this case much cheaper than the above-mentioned, but it provides all-around protection for your iPhone 13 Pro Max without covering up its back color.
This case's raised bezels keep the camera and display from coming in contact with any surfaces you place your iPhone on, and it comes in six color options for its frame, if you'd like a bit more flair. The buttons of this case are very pronounced, which makes is economically. Also, the TPU material used is made to withstand the test of time. Spigen has been in the case game for a while now, so the brand definitely knows what its doing.
iPhone 13 Pro Max Clear Case with MagSafe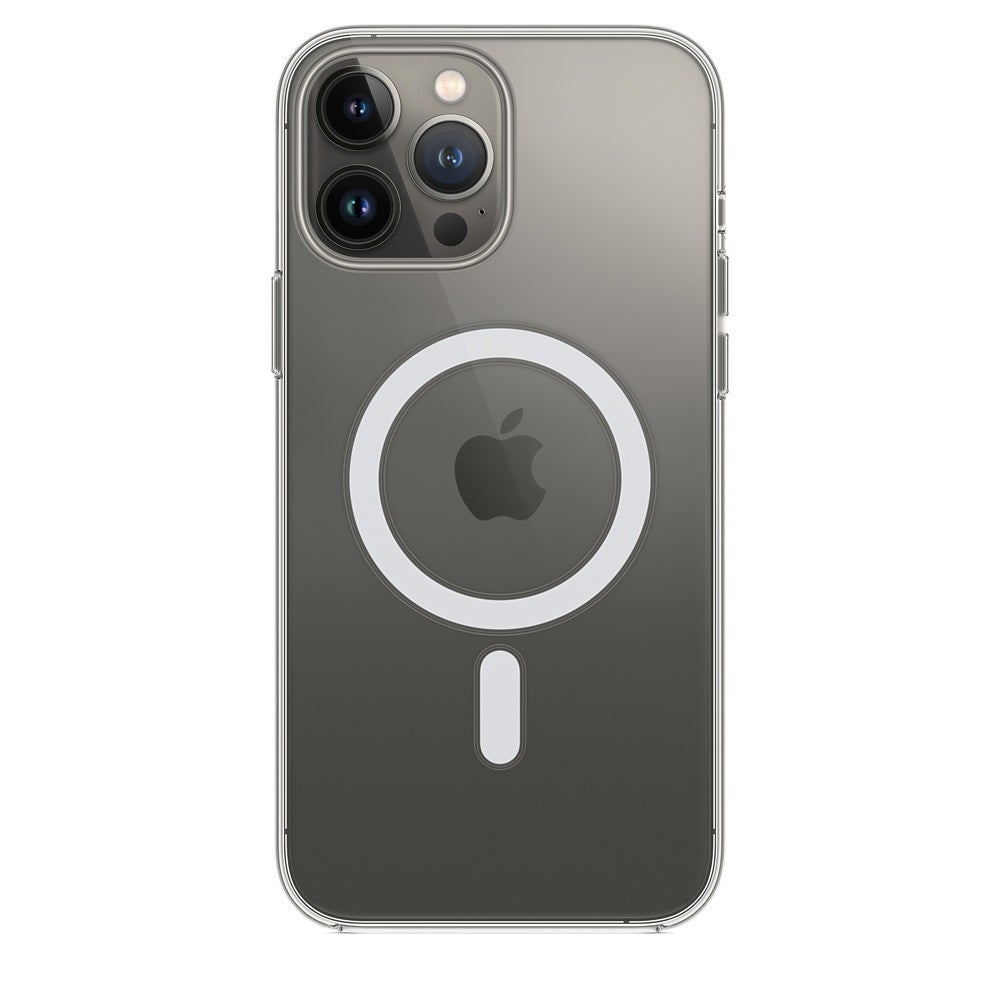 Apple Clear Case with MagSafe
Say you want to showcase your iPhone 13 Pro Max in its full glory without covering it up with a matte, opaque case. Apple once again has you covered with this clear plastic case.
As with the previous two, this one will protect your iPhone's back and sides from daily wear and tear, and has MagSafe magnets, which in this case are fully visible. MagSafe is a really cool feature of the iPhone, which makes for a much easier connecting when wireless charging.
The case itself is scratch-resistant and specially coated to prevent yellowing over time with higher-quality materials than the previous Spigen one. Still, it is much more expensive, so if you change cases often you might be better off saving the extra money. But if you are the opposite, it is better to splurge more now and not have to worry about wear and tear.
iPhone 13 Pro Max soft cases
iPhone 13 Pro Max Leather Case with MagSafe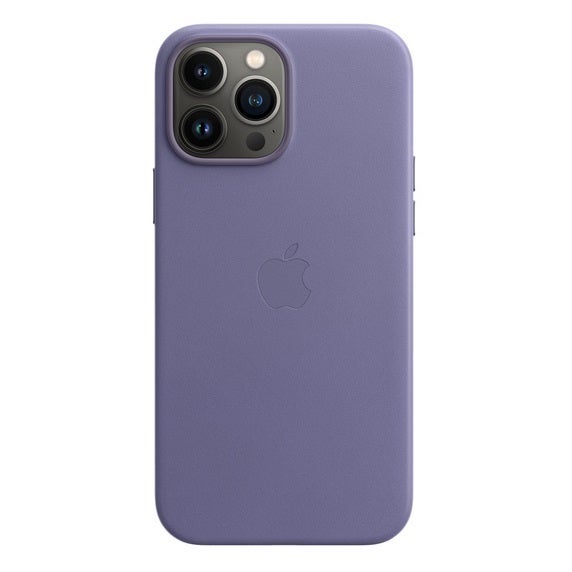 Apple Leather Case with MagSafe
It may not be the most glamorous case, but this simple leather case for the iPhone 13 Pro Max by Apple offers all-around protection for your phone. Meaning, your iPhone's back and sides are protected from daily wear and tear, so you needn't worry about where you're placing it, be it a clean table or a dirty park bench.
This case comes in five colors – Golden Brown, Dark Cherry, Sequoia Green, Midnight and Wisteria. It's soft to the touch and thin enough as to not add much bulk to the phone itself.
Wirelessly charging your iPhone 13 Pro Max won't be hindered either, as it works just fine through this case. Also, the materials used in this case are of high quality, so it should last you a long time.
And, as this case is "with MagSafe", you can easily snap onto it any one of Apple's available MagSafe accessories, such as the iPhone Leather Wallet with MagSafe.
iPhone 13 Pro Max Silicone Case with MagSafe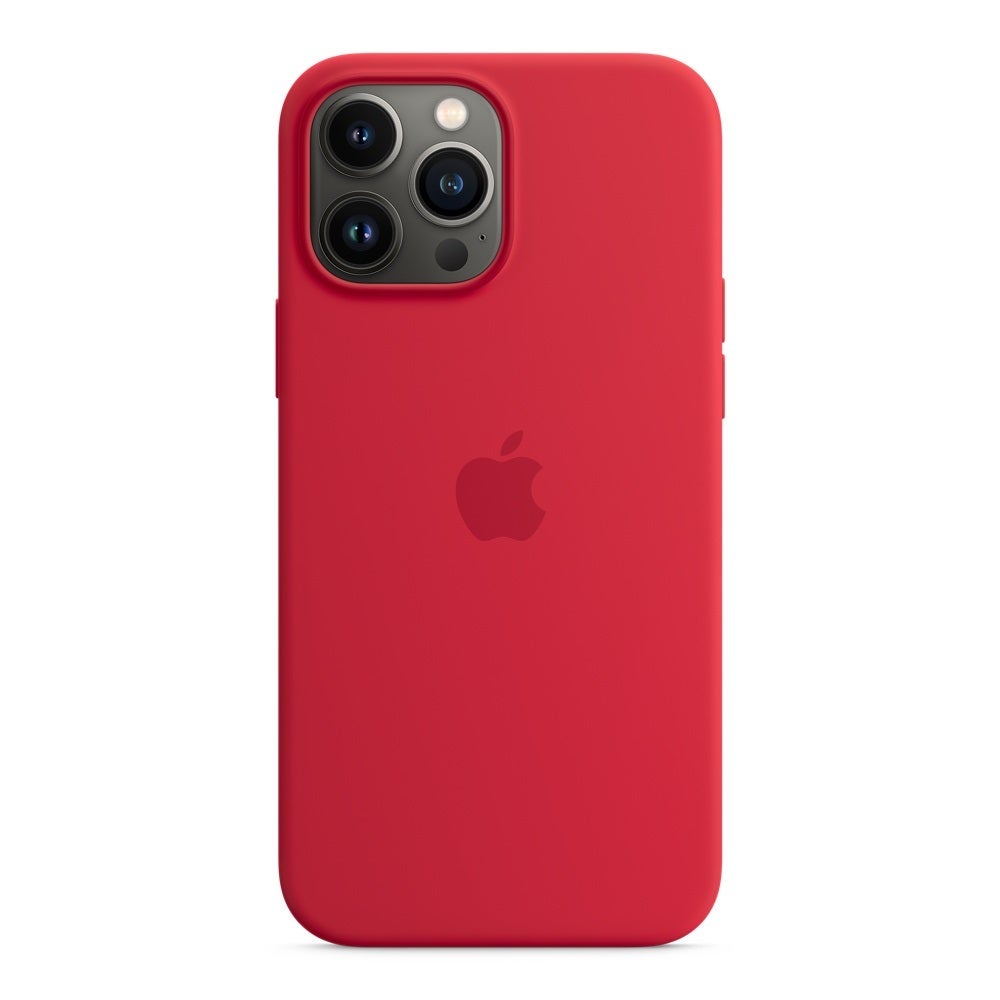 Apple Silicone case with MagSafe
If you're not a fan of leather, this silicone case from Apple offers the exact same all-around protection as the previous one, but it's made out of silky, soft rubber and comes in more color variants. It also should withstand wear and tear better than the leather Apple case. It is made of a nice material, and the case is very soft on the inside, which both absorbs drops better and protects the iPhone's delicate stainless steel rails.
This case's color options are Marigold, Clover, Chalk Pink, Abyss Blue, Pink Pomelo, Midnight, Blue Jay and Product Red. Get it in your favorite color now.
OtterBox Figura Series Case with MagSafe for iPhone 13 Pro Max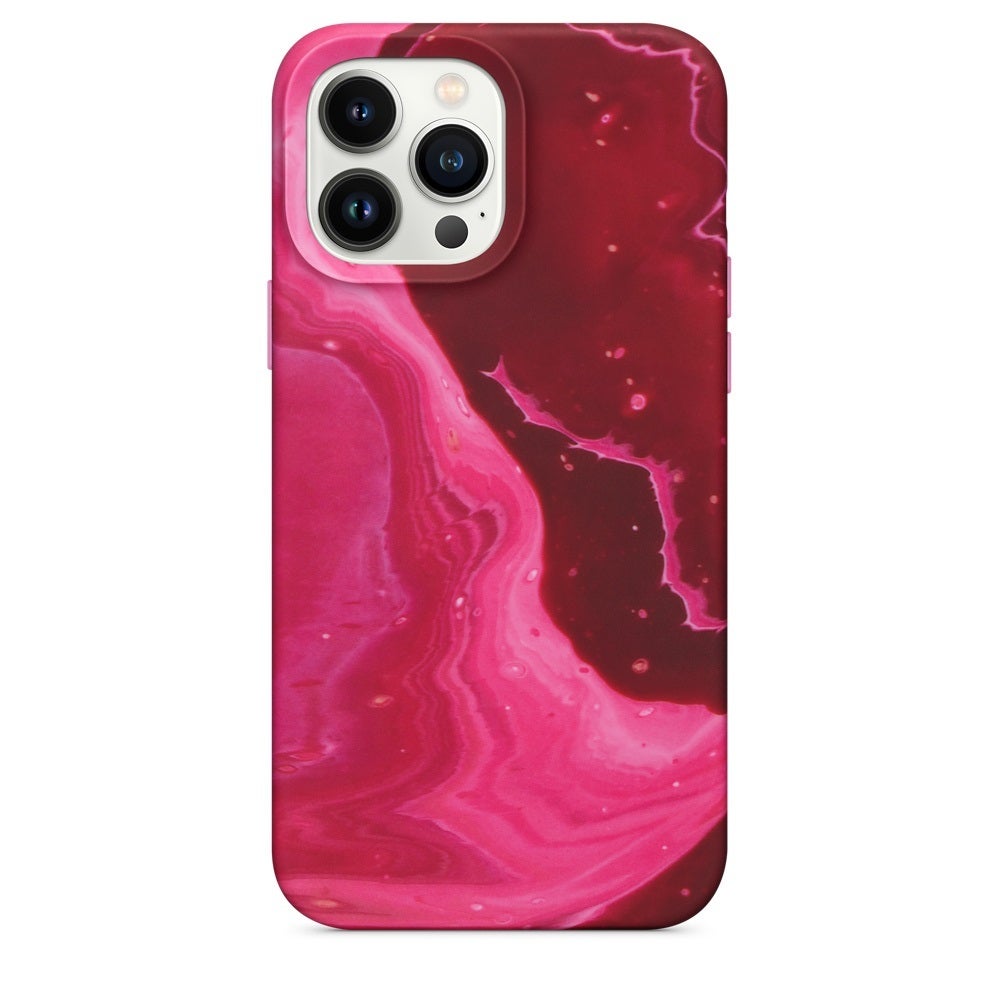 OtterBox Figura Series Case with MagSafe
If the previous three cases were too simple and minimalist for you and you want something that will really make your iPhone 13 Pro Max pop, this case from OtterBox should do the trick.
It comes in four vibrant, colorful variants named Blue, Black and White, Coral and Fuchsia. This case is definitely more artsy, so if you're the type who likes abstract designs, it might be your best pick.
In addition, the fact that this case covers the iPhone's sides and back means solid all-around daily protection for your smartphone, its cameras, and even the screen, which is likely to never come in contact with a surface thanks to this case's raised edges.
And, as the name suggests, this case is compatible with MagSafe accessories too. This is very important, as without this support you can't make use of all the iPhone 13 Pro Max has to offer.
iPhone 13 Pro Max rugged cases
Spigen Liquid Air Armor Case for iPhone 13 Pro Max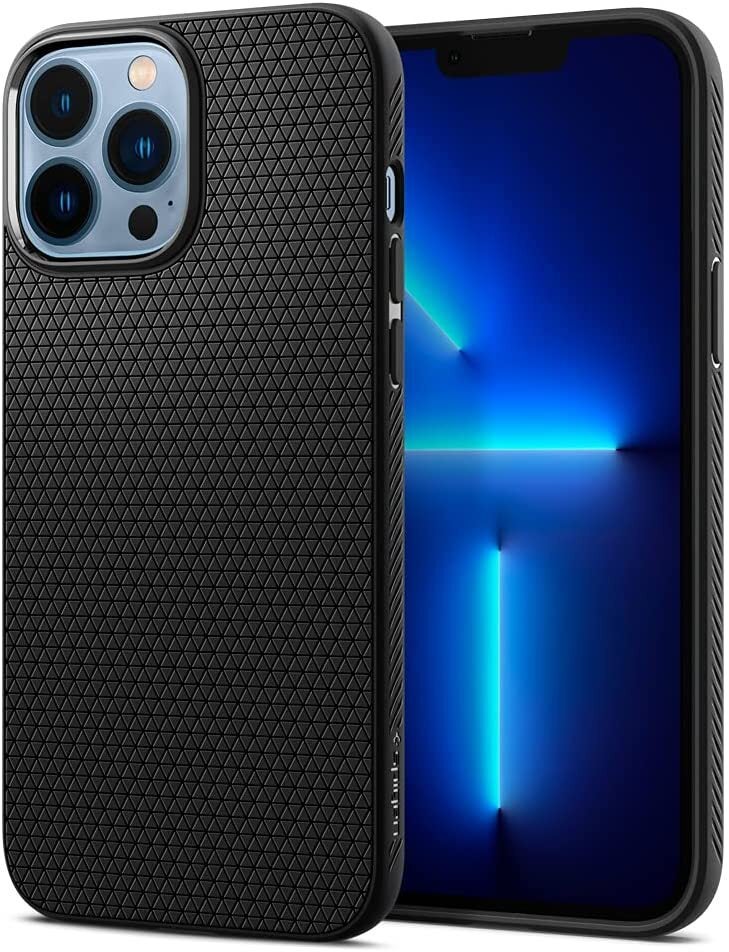 Spigen Liquid Air Armor Case
This slim and light Spigen case for iPhone 13 Pro Max will make your phone a lot grippier and much less likely to slide off surfaces. That's because of its rubberised coating and soft TPU material that covers the sides of the phone.
According to Spigen, it's packed with military-grade technology, namely what the company calls Air Cushion Technology for anti-shock protection, which basically means drop protection. In addition, you also get the standard daily wear and tear protection from scratches. Protection is key when owning such an expensive smartphone, so you better take that into account.
Spigen Mag Armor Case for iPhone 13 Pro Max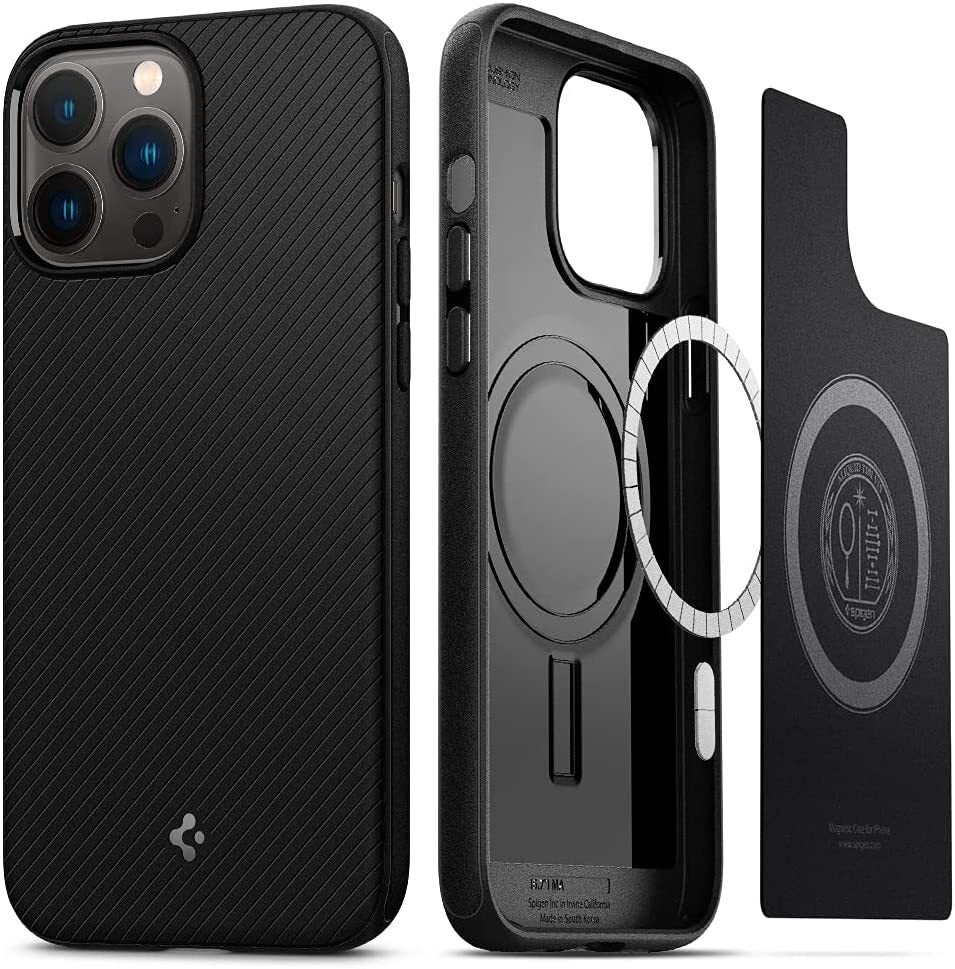 Spigen Mag Armor Case
If you want an affordable third-party case with MagSafe support, this shock absorption TPU case is a good option.
As with the other Spigen cases, it has raised corners to protect your iPhone 13 Pro Max camera and display from getting scratches from the surfaces you place your phone on. The buttons coverings are raised for easier reach and use.
Plus, it has Spigen's Air Cushion Technology for shock absorption, so once again, your phone should be safe from the occasional drop it might have to face. And all of this at a very accessible price point, what's not to like?
Spigen Slim Armor CS Case for iPhone 13 Pro Max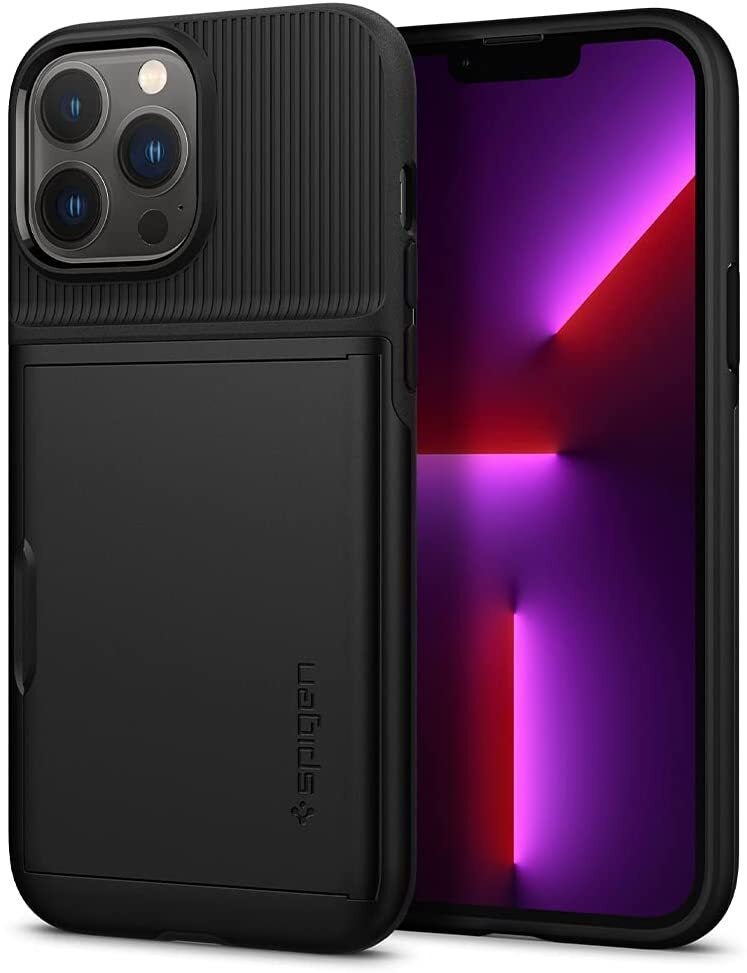 Spigen Slim Armos CS Case
Aside from the usual protection, this reasonably-priced case from Spigen includes a wallet compartment in the back, where you can safely store your credit card, documents or cash you want to have with you at all times. Apple offers this functionality as a separate leather card holder with magnets that is rather pricey, so with this case you can save a lot.
Other than that, you are presented with another great Spigen option that offers excellent protection for the expensive iPhone 13 Pro Max. It is also a very grippy case, which should limit the times you drop your phone.
Spigen Nitro Force Case for iPhone 13 Pro Max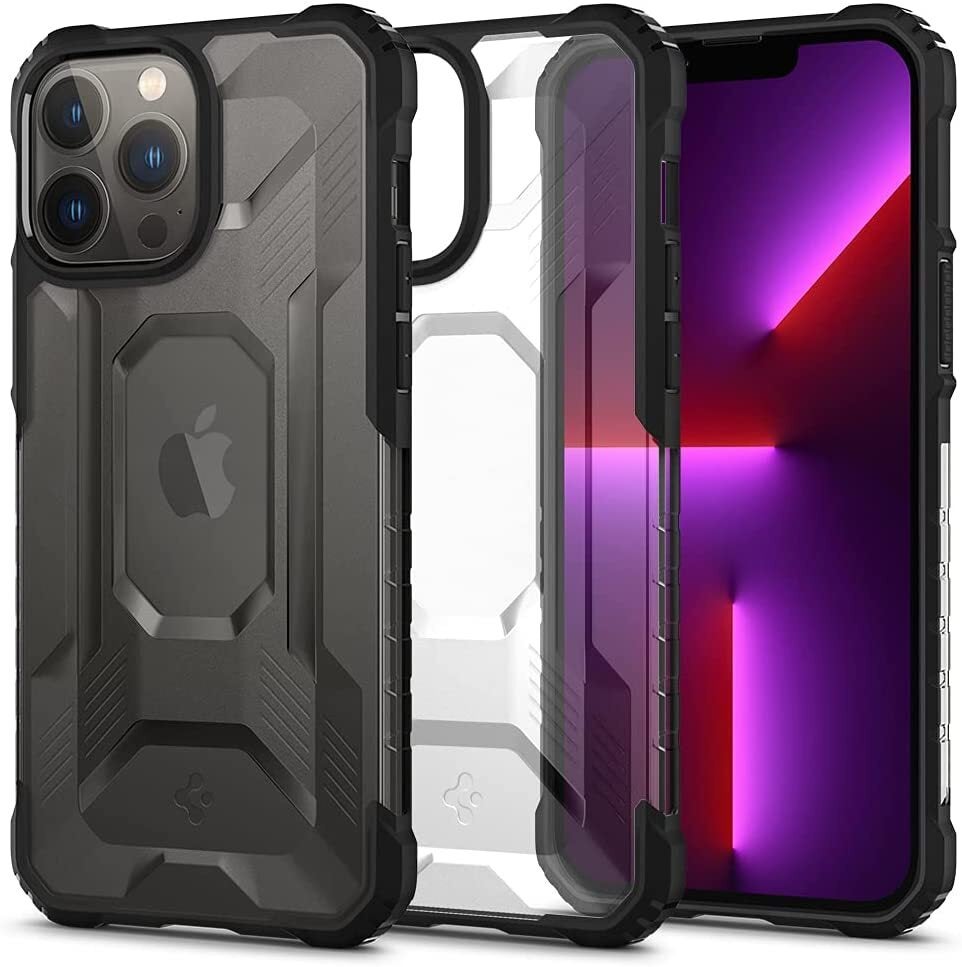 Spigen Nitro Force Case
This tough case for iPhone 13 Pro Max turns your phone into a tank of a device. With Spigen's cool signature design, featuring bumpers on all corners, this one is arguably the best rugged case you can get, if durability is most important to you. This case is semi-transparent, which allows you to see your iPhone's beautiful back clearly.
The materials used are wear and tear resistant, which should make for a slower yellowing of the transparent part of the Spigen Nitro Force. It is nice to see that it also won't break the bank.
Spigen Tough Armor Case for iPhone 13 Pro Max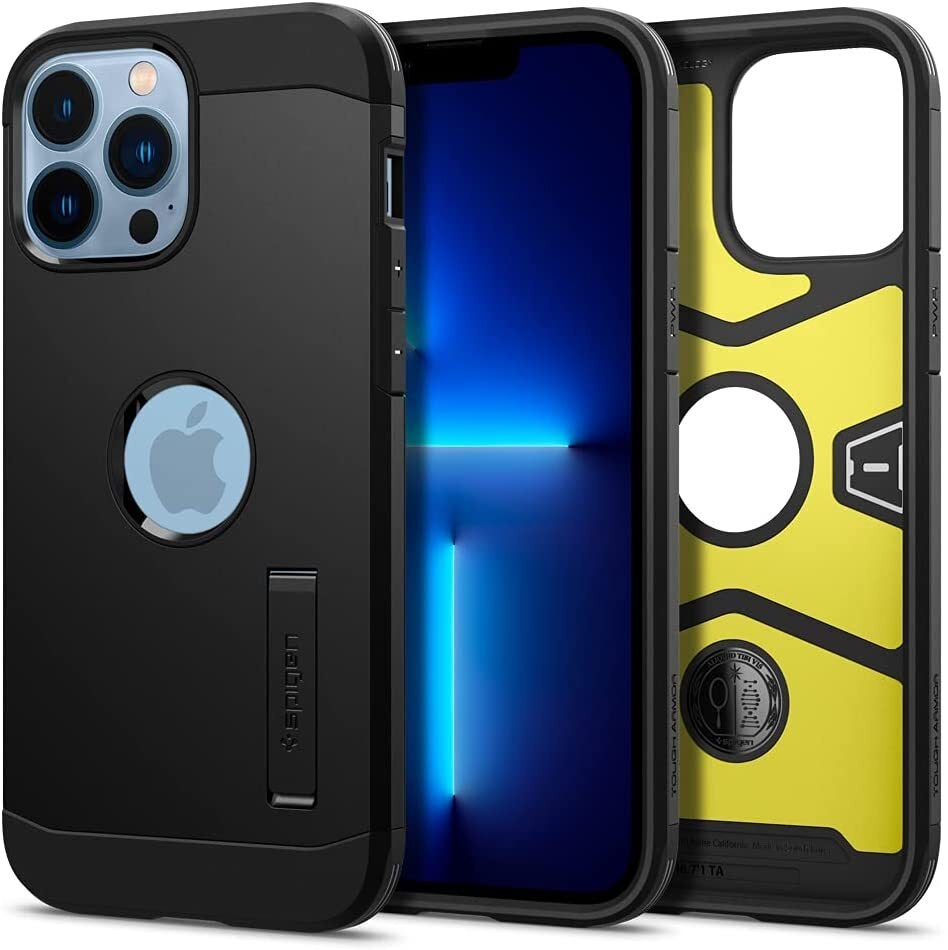 Spigen Tough Armor Case
Want a kickstand for your iPhone 13 Pro Max, so you can watch videos, movies or FaceTime with friends without having to awkwardly prop up your phone or hold it?
This is a solid option – a rugged case with raised corners that covers most of your iPhone and has a built-in reinforced kickstand for when you need it. And the kickstand functionality is actually very useful once you know it is there. You can put your phone on any flat surface while you do other stuff, like cooking and cleaning, and take a look at it from time to time. The Spigen Tough Armor case for iPhone 13 Pro Max is also affordable, which makes it an even better buy.
How to choose the right iPhone 13 Pro Max case?
Whether you want a thin and lightweight iPhone 13 Pro Max case to protect from scratches, or a rugged, tough case to keep your iPhone safe and looking like new for years to come – the options listed here are some of the best you can choose. If you're into clear and very thin cases, we recommend the Spigen one, as it is much cheaper than the Apple alternative. However, having MagSafe, Apple's offerings in this list raise a fair question, and that is whether the extra money is worth it in the long run, as this should be of a higher quality. Having MagSafe is also important, especially if you're someone that already uses this Apple wireless charging system daily and finds it convenient.
If you're someone who drops their phone often, or one with a more active lifestyle, then you're probably wondering which rugged case to choose. Out of the ones we've listed here, we strongly recommend the Spigen Nitro Force. This case has big protective bumpers and tough looks, which indicate how strong it is. Cases that combine stylish looks with good protection are Spigen's Liquid Air Armor case an all of Apple's offerings featured on this list.
As more great iPhone 13 Pro Max cases from reputable makers come out, this list will grow, so stay tuned!
Also read: