iPhone app and game reviews
1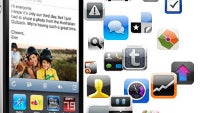 We're in the eve of what could turn out to be the most important tech event for the year - the unveiling of the next-gen iPhone. There's a lot at stake, but whatever the next iPhone is, it will still be almost as much about the hardware as about the software. And with a
massive App Store
, which encompasses over 425,000 apps in some estimates, you certainly have a world of choice.
But then again, getting lost there is even easier, so that's why we've compiled a list of
our iOS game and app reviews
in one place for you to check out. Some of those like Angry Birds Rio are fun, others like Skyfire could boost your Internet productivity, and all of them extend the iPhone's functionality in a way. So with no further ado, here are the games and apps, we've looked in detail so far:
Rocket Bunnies - propelling rabbits in space. Think of something funnier?
Infinity Blade - the hack and slash game with graphics that will make you drool.
BackStab - Tomb Raider and Grand Theft Auto combined.
The Heist - one of the best puzzlers for iOS.
Skyfire - probably the best alternative to Safari mobile.
iMuscle - one of the best apps for fitness buffs.
Don't forget to check our website at
10AM PST | 12PM CST | 1PM EST | 6PM GMT on October 4th
for the latest about the next-gen iPhone.