Rocket Bunnies for iOS Review: rocket-propelled rabbit in space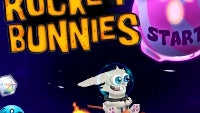 Introduction
Rocket Bunnies from Chillingo has been available on Android for a while now, but the best
space rabbit simulator
around (now that's a cool genre) recently made its way to iOS as well. Chillingo is a hugely popular mobile game publisher, which hit more than 140 million downloads from the App Store not long ago, a tribute to the quality titles it is pushing out, and Rocket Bunnies is no exception.
Packing "
60 insane levels
" and "
hare raising moments
", Rocket Bunnies is such an unusually cool time-waster that we thought to take it for a spin in its new iOS reincarnation. After all, for all intents and purposes you have to
guide a rocket-propelled bunny around the universe
, helping your hungry rabbit friends, while avoiding all the cosmic obstacles life throws at you - what other purpose for your existence do you need?
Gameplay, Graphics and Sound
Rocket Bunnies is of the
gravity physics
type game, where your moves are affected by nearby sources of pull, and you got to carefully calculate each motion in order to get to your bunny friends without being smashed, deep fried or
kaboomed out of existence
. The vast universe boils down to two galaxies, the Carrot Galaxy, and the Arachnid Galaxy, the second of which has to be unlocked, which is relatively easy. A third galaxy is in development.
You enter the Carrot Galaxy with a short tutorial how to move around. The main point is to spin around various planets or asteroids,
feeding the hungry bunnies
there, then tap on the next center of gravity, arriving there on your jetpack, and spin around it again. In the meantime various obstacles like orbiting mines, space spiders or even black holes that threaten to suck you in are in your way, and the further you go into the game, the tougher it gets to be precise and avoid them. Everything has to be done as quickly as possible for which you earn bonus stars. You can fight back too, just rearend the nasty spiders, or collect the
bunny power-ups
that boost your speed and defenses.
The graphics are fun, with a lot of fine detail and
explosion effects
, not to mention nicely animated backgrounds. All the happy bunny chirping, jetpack propulsion sounds, and explosion blasts only add to the amusing atmosphere of Rocket Bunnies.
Conclusion
Rocket Bunnies is the best space rabbit simulator game we've played on a shortlist of one, and the publisher proves it supplies one of the most entertaining titles on both popular mobile gaming platforms - iOS and Android. It's
hugely addictive
, requires little to no learning curve, and is vastly diverse, definitely worth the
$0.99
you are going to spend on it, or the $2.99 for the iPad HD version. The titles of the levels alone are worth your time - gems like "
Are you Sirius
?" and "
24 Carrot Gold
" come to mind.
Rocket Bunnies
for iOS (iTunes link)
Rocket Bunnies HD
(iTunes link)