Mad Wheels for iPhone Review
2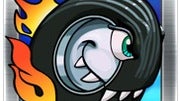 Introduction:
Do you know what makes a racing game highly unrealistic, yet a lot more fun? Why, being able to blast your opponents to smithereens, of course! That is pretty much what
Mad Wheels
is all about – you take your ride for a spin around the track while dodging the bullets and rockets that the other drivers are showering you with. However, should they be unfortunate enough to land in your scope, you have the absolute right to turn them into dust by unleashing your arsenal at them. Have we caught your attention already? Well, let us go into detail and tell you what puts the "mad" in Mad Wheels.
Playing the game:
Since Mad Wheels is above all a racing game, your ultimate goal is to make it to the finish line before your opponents do. Sure, it sounds like a fairly simple task, but
finishing first can be challenging
, especially when you reach the higher levels. The AI-controlled cars do not hesitate slowing you down with their weapons, and the further you progress through the game, the more vicious your opponents will become. Besides that, they will surely stack on ammo and take advantage of shortcuts whenever possible.
There are
nine crazy-looking vehicles to choose from
– two of them available from the beginning, four more that you unlock as you progress and three premium ones that can be purchased for an additional $0.99. Every single car handles slightly differently, but more importantly, each vehicle has its own unique set of super weapons to use besides the machine guns, rockets and land mines that every car can be equipped with. Ammunition is scattered all over the tracks, along with boosts and power-ups which can speed you up for a brief period of time or recover some of your vehicle's armor.
Thankfully, the guys that developed Mad Wheels did a good job at making sure
the game controls are easy to use
. You steer your car with a virtual joystick by pointing it at the direction, in which you want it to go. Same thing can be said about the camera that the game's developers have picked – a bird's eye view of the track lets you see where you are going while conveniently letting you be aware of what is going on behind you.
Mad Wheels offers a total of 17 uniquely-shaped tracks and three different types of terrains, which means that you won't get tired of playing it that fast. Another thing that adds variety to the game is the multiple racing modes that are available – a quick race, combat race, knockout and a head-to-head challenge against an AI-controlled opponent. However, the coolest feature of Mad Wheels is that it supports
multiplayer games over a Wi-Fi network
where you can race against up to three of your buddies. Believe us when we say that the game is über fun in multiplayer mode, or better yet, try it out for yourself. Sadly, though, there is no way to play over the Internet, which is somewhat disappointing as it would have really taken the game to the next level.
The graphics
that Mad Wheels has to offer are pleasing to the eye. The game has been drawn in its own cartoonish style, with smoke effects and explosions situated in a detailed 3D environment. That, however, does not put a strain on your iPhone in any way – the game would run without a hitch even on the 3GS.
Another thing that we liked was the soundtrack of Mad Wheels – it is composed of several rock tracks, which add some more character to the game and go really nice with its destructive theme.
Unfortunately, there are a couple of things that could have been done better in Mad Wheels. First of all, it will probably not take you more than a day to beat the game and unlock all of its cars and tracks. Secondly, changing the terrain type does not seem to affect the handling of the cars in any way so racing on snow feels just the same as driving on dirt.
Conclusion:
We think that Mad Wheels is a title that is worth checking out. It is fun and easy to play, fairly challenging and has a really cool Wi-Fi multiplayer mode. What is nice about the game is that it builds upon the tried and tested racing genre, yet adds its own twist to it, and the result from that experiment pretty much hits the sweet spot.
Mad Wheels is available on Apple's App Store and is priced at $0.99, which is a fair price considering the fun that you will have playing it.
Mad Wheels
[iTunes]