justWink for iOS covers greeting cards, from heartfelt to sassy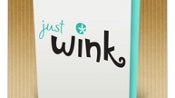 Introduction:
Greeting cards – that endless sea of boring/childish/inappropriate messages you have to browse for hours before finding the right one. Don't worry, there's an app for that – justWink, bringing a simple and straightforward idea to reality – send the right message to the right person with some humor and spices.
The application has a collection of "heartfelt, funny, bold, cute, trendy, sassy, sweet, and beautiful," as well as generally witty greetings stacked in a couple of categories for pretty much every major occasion. There are not many of those truly important events, are there? Those covered by the app are birthday (obviously, boring, if you look at the next category), funny birthday, life, thanks, congrats, wedding and baby.
Interface and Functionality:
One thing that would buy you into getting the app is the fact that it's free. The other one, though, is the interface – gorgeous drawings, clever one-liners when the app loads something and entertaining greeting cards (at least for the sender, that is), what more could you want? Our wish here would be
speed
, as just opening the animated greeting cards is a pain. Sure, we like those cool loading status one-liners ("Pretending to think", "Calibrating awesomeness" come to mind), but we're already too spoiled by the milliseconds of response time all across the iPhone. On some isolated instances the app even seemed stuck loading, but those must have been some miscalibrations in the awesomeness, so we wouldn't count this as a major drawback.
Finally, when you get to your greeting card, you get a full sense of why the following warnings appear in the app description:
Frequent/Intense Mature/Suggestive Themes
Infrequent/Mild Sexual Content or Nudity
Frequent/Intense Profanity or Crude Humor
Infrequent/Mild Alcohol, Tobacco, or Drug Use or References
It has them all, so having a sense of humor is a requirement for wannabe downloaders. With that said, you can also spice the cards up with your share of good words, sarcasms and (in)appropriate jokes. You can also attach images to cards.
Before you're ready to flood your friends with humorous cards though you'll have to quickly register an account within the app. You can then send cards via email or Facebook.
The next version of the application promises to bring reminders, which you can set for special events, but currently it lacks that function.
Conclusion:
We wish justWink had more greeting cards as currently each category holds about half a dozen, but at least all of those were very well crafted. The app has an outstanding interface and even the fact that sometimes you have to wait for a couple of extra seconds for a card to load couldn't spoil that. Finally, in the words of the developer itself – "remember... when you need the perfect card, whatever the situation, don't stress... justWink!"
Download justWink for iOS
(iTunes link)