Angry Birds Rio Review
9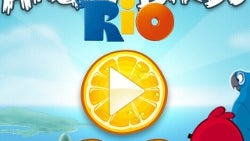 Introduction
When we first heard of Angry Birds maker Rovio partnering with Hollywood, we thought that the end-result could be something pretty amazing. And now it's here – Angry Birds Rio, named after the upcoming 20th Century Fox movie Rio, its storyline centers around the Marvelous City. But this time it's not the
evil
pigs that attacked the Brazilian city, but rather a quest to unleash the anger of the familiar birdies on a number of cages holding their enslaved brother-birds and even... monkeys! The end comes with a cinematic twist facing your feathered heroes against the villain boss. To get to this climactic end you have to go through two chapters of catapulting madness, so let's take a look at what you should expect out of Rio.
Storyline, new features
The whole
story
starts with a warehouse where smugglers have captured birds in cages. Your task? Free them. The familiar Angry Birds slingshot is present, but you're also facing a number of
new moving obstacles
such as chains and hanging lights placed wittily to get in the way of your red, white, yellow and blue birds. Except for those new objects, the ice blocks, crates and wooden blocks are all there for your crashing convenience. When it comes to the graphics, just like in the previous chapters, you can zoom out to get a better view of your caged fellows and this adds a bit of a cinematic feel. For the sole aim of our sharpshooting precision, we only wished we could actually see our birds and our goal without zooming out to God's perspective! This is only true for the phone version, though.
The second chapter starts after you free the
two macaws
, which takes you further on your exodus to the jungle where you face impish monkeys. They're actually well animated and entertaining, so you won't notice the time spent until you get to the final boss level. We'll save all the fun of finding what it's all about, but we'll just mention that you actually get to use the two macaws. Unfortunately, only in one level!
Gametime, music
In terms of playing hours, you can expect to get a lot with
60 new levels
, each with a hidden fruit making it all the more compelling and possibly worth a replay. But even if you don't replay all the levels, you'll catch yourself catapulting the birds on a
samba beat
as the music is remade to fit the Rio theme.
Conclusion
The Angry Birds narrative comes down to throwing birds at pigs, but hey, this tends to get repetitive after the 100th level, doesn't it? Rio tries to diversify this with the latest addition to the Angry Birds roster, but by adding new levels with no ground-shattering features you get more of the same, rather than a revolutionized new game. However some new ideas are definitely there, and with updates coming in May, July, October and November, we hope to see a whole new twist to the story and gameplay. Finally, Angry Birds Rio is one game suitable for everyone and for $0.99 (free on Android) you can't go wrong with even more of the familiar slingshot action, so what are you waiting for?
Angry Birds Rio
for iPhone/iPod touch ($0.99)
Angry Birds Rio HD
for iPad ($2.99)
Angry Birds Rio
on the Android Market (Free)
Angry Birds Rio Video Review: