The unreleased Google Pixel Buds 2 go up for pre-order at yet another US retailer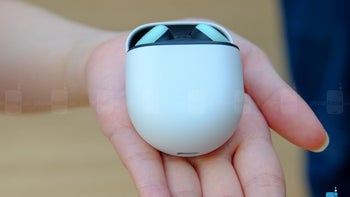 UPDATE#2:
Well, this is somewhat unexpected. Even though Abt followed B&H's suit in pulling its early Pixel Buds 2 listing shortly after publishing it in the first place, the small Illinois-based retailer is
reportedly sending e-mails
informing those who were quick to pre-order the unreleased true wireless headphones that the product is expected to arrive in warehouses "by end of April/early May."
While that might sound like little more than an educated guess, Abt actually claims the ETA comes straight from the horse's mouth. The retailer promises to "continue to work with Google to receive this product as soon as possible", so there's a decent chance nationwide sales will indeed kick off in a matter of a few weeks.
##
UPDATE
: Aaaand they're gone. There was probably nothing to this listing and Abt most likely jumped the gun without Google's approval, just like B&H a couple of months ago, but at the same time, there's rarely this much smoke without fire, so the Pixel Buds 2 must be drawing near. Maybe. Hopefully? Anyway, our original story follows below.
You may have forgotten all about this, but
Google unveiled its first-ever true wireless earbuds
alongside the
Pixel 4 and 4 XL
smartphones almost six months ago. The "new" Pixel Buds, or Pixel Buds 2,
made a pretty great first impression
, at least from a design and ergonomics standpoint, but for some reason, the search giant could only commit to a vague and distant "spring 2020" release timeframe when announcing these sleek and purportedly powerful AirPods alternatives.
Well, it's spring 2020 now, and all that potential buyers can do is join a waitlist on Google's official US website to receive an e-mail notification when the redesigned Pixel Buds will finally become available. Alternatively, you can already
pre-order the $179 "true wireless headphones" from one third-party retailer called Abt
, although there are actually no guarantees that will reduce your waiting time in any substantial way.
Headquartered in Glenview, Illinois and serving the entire country via its e-store, Abt is the second US retailer to prematurely kick off Pixel Buds 2 pre-orders after
B&H Photo Video back in February
. But B&H pulled its listing shortly after publishing it, and never even bothered to populate it with any product images or details on specs and features.
Abt, meanwhile, has full high-quality galleries for all four upcoming color options, including black,
green
,
orange
, and
white
, as well as detailed descriptions of many key selling points, so this could be the real deal. Intriguingly enough, there's no mention of battery life, and the same actually goes for
Google's own product webpage
.
That might suggest the company has been working on improving the 5 hours of endurance in continuous listening time promised back in October, which could prove a pivotal point for the battle between the $179 Pixel Buds 2 and $149
Samsung Galaxy Buds+
. Samsung's upgraded true wireless earbuds can keep the tunes going for a whopping 11 hours on a single charge, mind you, looking like
the all-around best alternative
to Apple's
massively successful AirPods lineup
.
Then again, the new Pixel Buds have a number of innovative features going for them, at least on paper, including real-time translations and a so-called "spatial vent" that can keep you "connected to the world around you" while also guaranteeing a super-secure fit and an incredibly comfortable design.
Recommended Stories