Google Pixel 4 and Pixel 4 XL Review
53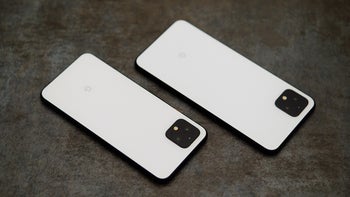 New year, new Pixel phones. Following their predecessors, this year's Pixel 4 and 4 XL pack quite a punch with their new dual cameras backed by refreshed Super Res Zoom and Night Sight to deliver even better results.
But Google's forte has always been software, and it's no different here – Google uses tons of tech magic to pull off a number of powerful features, including next-gen machine learning systems and gesture controls enabled by the first-of-its-kind Soli radar chip.
How much of these additions are truly useful? And at the end of the day, is Google's latest effort worth your consideration in this year's flagship race? Let's find out.
In the box:
Google Pixel 4/Pixel 4 XL phone
USB-C charging cable and 18W wall adapter
USB-C to USB-A quick switch adapter
SIM tool
Quick start guide and warranty
Design
This year's Pixels ditch the distinctive, two-toned look that dominated earlier models. Instead, the entire back of the phones is made of a single piece of glass that melds into an aluminum rim, giving them a clean, minimalistic look. The Clearly White model, as well as the limited edition Oh So Orange, have the matte finish with a frosted look and a soft grip. The Just Black model, on the other hand, has a glossy back that's a lot more prone to picking up fingerprints. Overall, the phones feel solid and well-built. The Pixel 4 is lightweight at just 5.7 ounces and fits into the hand quite nicely.
The Pixel 4 XL is heftier, of course, but still rather lightweight. It matches most other large flagships in size. There isn't much more to say about it – those who like big phones will enjoy using the Pixel 4 XL, and those who prefer smaller handsets won't find anything special about it.
The Pixels' thick top bezel, which houses 3D face unlock sensors and the Soli chip in addition to the selfie camera, has already garnered a fair share of disdain. But I don't think it's as bad as some make it out to be. Having a clean, unobstructed display is a merit of its own – one that feels surprisingly refreshing in a time of notches and hole-punch cutouts.
Along its edges, the Pixel 4 and 4 XL house what you'd expect from a flagship in 2019. The top holds nothing save for a mic, the bottom – a set of stereo speakers and the USB-C charging port. The left side holds the SIM tray, while the right side holds the power button (still brightly accented in the trademark Pixel style!) and the volume rocker. The best thing I can say about the buttons is that I've never given them much thought – they work well, enough said.
All in all, the Pixel 4 and 4 XL are premium phones with a build to match. They are not visually exciting, and they're perhaps even a bit dated. But interestingly, something about them feels approachable and organic. They feel at home in your hand.
Display
Of course, the part of any phone you'll look at most is the display, and the screen on the new Pixels is a strong showing compared to the competition. The picture quality is great, with excellent sharpness and crisp details. Colors are also very accurate and look natural but still vivid, while blacks look rich and deep. The settings menu offers three adjustment options for overall color, which span from more muted and natural to vivid and saturated, and a third option somewhere in between. In all honesty, the difference between them didn't seem so noticeable to me. There's also Ambient EQ onboard, which can automatically adjust the color profile based on the surrounding lighting conditions.
HDR support, Scratch-resistant glass, Ambient light sensor, Proximity sensor
HDR support, Scratch-resistant glass, Ambient light sensor, Proximity sensor
Like the case was with previous Pixel phones, the brightness is sufficient but not terribly impressive. It's fine indoors and fares well enough in the sun, but it's just not bright enough to blow you away. On the flip side, it does go very dim for comfortable viewing in darker conditions without sacrificing clarity, something that's underappreciated until you need it.
Finally, a big new feature for the screen is the 90Hz Smooth Display. Google joins the growing list of smartphone makers that offer higher refresh rates, which increases the speed at which the picture is updated, resulting in smoother scrolling. Of course, it wouldn't be Google to release a feature without any software twists, so you're not meant to control the refresh rate manually, like you can with other phones (although there's still an option buried in the Settings menu). Instead, the Pixel 4 and 4 XL will automatically vary the refresh rate based on what's on screen so you can enjoy smooth picture quality but still preserve battery life when you don't need 90Hz. It sounds great on paper, and it works well in real life, too. As far as I can tell, the 90Hz kicks in whenever something is actively moving on screen, and the refresh rate goes down once the picture goes static.
Display measurements and quality
Interface
Google's smartphone cameras are easy to notice, but the highlight of a Pixel is always, always in the software. This is probably more evident than ever with the Pixel 4 series, which arrives with some exciting new features.
Like always, this year's Pixels run the latest clean Android 10. This year, a significant change comes with revamped gesture controls, which work rather similarly to the iPhone's – swipe up for home, left or right for back. The gestures work fluidly, but they take some getting used to, like any new navigation system.
The new Google Assistant
Google's vision of Android includes Google Assistant embedded more deeply than before. A new and improved assistant is a big part of the Pixel 4's interface. The virtual assistant has a new look, with a thin strip of colorful lights replacing the white card layout from before. Assistant's new design brings it one step away from the foreground, so you can see how it interacts with everything on your phone. And Active Edge is here, too, so you can give a quick squeeze to access Assistant anytime.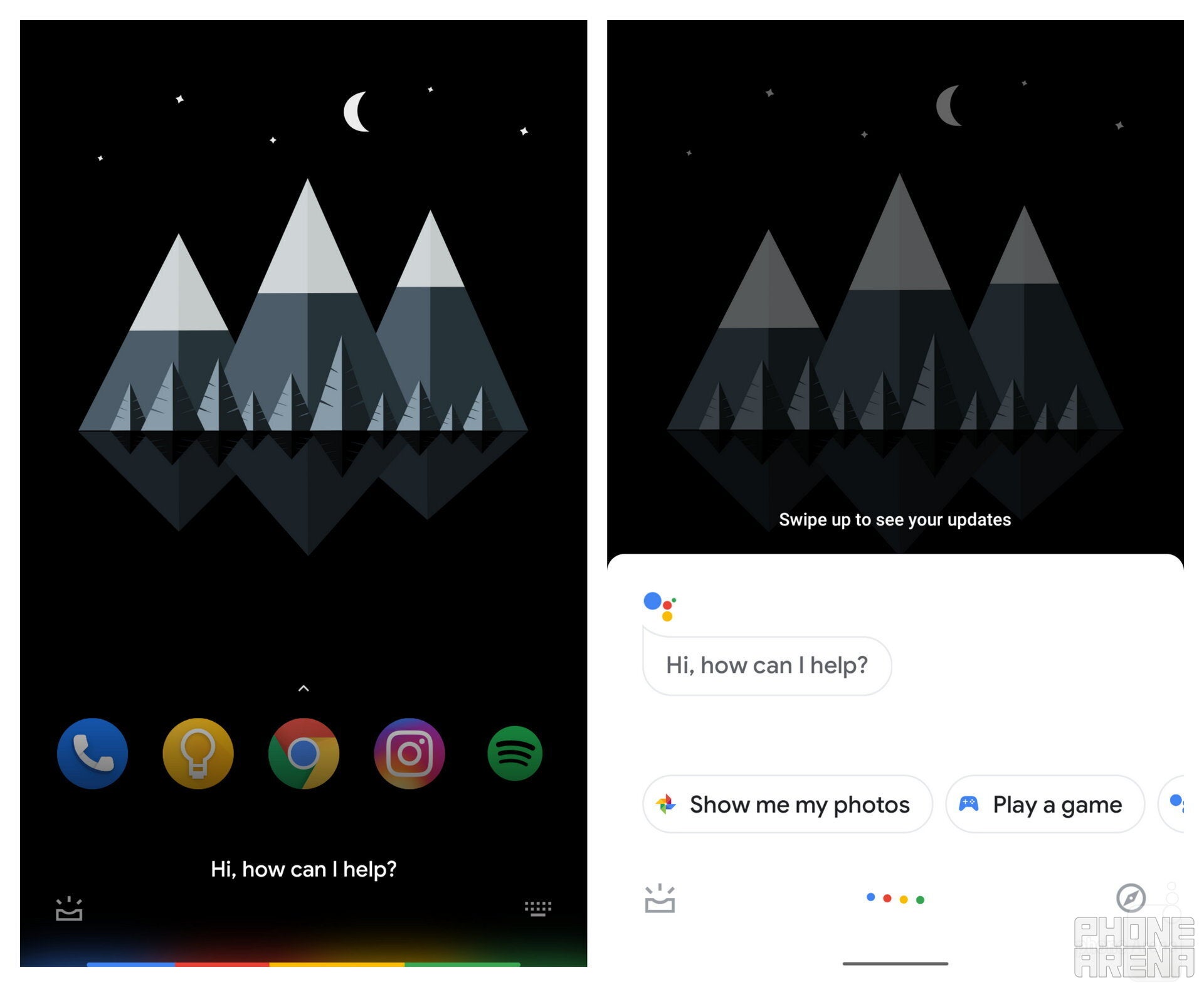 The new Assistant (left) and the old Assistant (right)
Other than aesthetics, the new Google Assistant is much more adept at understanding commands based on context, as well as correctly interpreting multiple commands issued one after another with the Continued Conversation feature. For example, if your friend texts you about the party last night, you can ask Google to show you pictures you took the night before, then filter it to just the ones you took at night, then just the ones with people. And then you can ask it to send the pictures it found right back to your friend, all with one trigger of the Assistant and without having to mention a command twice. Beyond this, it's also significantly faster, thanks to the Pixel Neural Core.
Let's take a moment to talk about that for a second, because it's important. The new Neural Core is the heart of the Pixels' machine learning capabilities. Unlike previous devices, the Pixel 4 and 4 XL can process Assistant commands and store the data they've learned about you locally. This means they don't need to send and receive data to Google servers for every command you issue, which is where the new Assistant gets its speed boost. Further, this provides enhanced security, because much of that data no longer needs to leave your device.
A next-generation recorder
This same technology also powers Recorder, Google's new voice memo app. Along with basic recording, Recorder also offers excellent live transcription. This feature taps into the loads of voice recognition data Google has to provide stunningly accurate transcription. It even performs well with my parents, who both have moderate accents. It's very exciting to see live transcription accurate enough to be viable for notetakers. And again, thanks to the Neural Core, all of this is available locally, even on airplane mode. Here's a screenshot showing how well it works.
Face unlock
Another major change comes in the form of Google's own face unlock system, which replaces (!!) the fingerprint sensor present in every other smartphone Google has made to date. So how is it? Accurate and blazingly fast. I've yet to have the phone misrecognize me, despite my efforts. As far as angles go, anything within 45-degrees of your face seems to do the trick. For distance, it won't recognize you if you're within 6 inches of it. In practical terms, it works when I'm yawning, it works without my glasses, it works when I'm looking away. Whatever the case, it just works.
Part of the reason it's so fast is because of the Soli chip. One benefit of the radar chip is that the phone can sense when you're reaching for it, which primes the sensors for lightning-fast unlock speeds. It's one of the small things that make the whole process so seamless. You don't have to think about it, you just lift it and it's open.
Motion Sense
Of course, the other, more prominent half of the Soli chip is Motion Sense, or gesture control. For now, it's limited to basically three gestures: skipping music tracks, dismissing alarms, and silencing calls. Oh, and waving to Pokemon. The gesture controls do take a bit of practice to learn the proper motion, but once I got used to it, I was able to hit almost 100% accuracy. It seems that any sharp motion that moves across the whole screen will trigger the gesture. My phone is generally sitting there on my desk when I'm working, and it did not take any getting used to absentmindedly swiping through my playlist. The system is surprisingly resistant to accidental swipes, too. Take a look: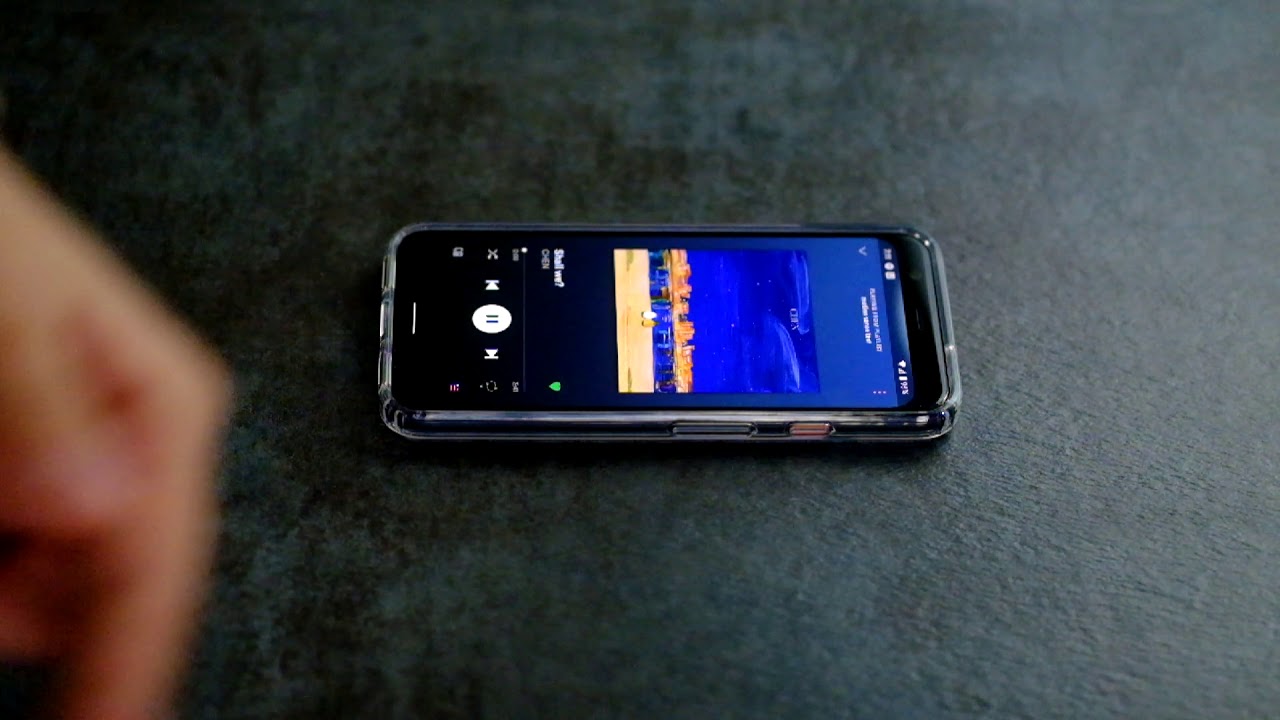 The strength of Soli-based gestures are that they're so fluid and simple. This is easily the most accurate and intuitive gesture control I've ever used, despite efforts from companies like Samsung and LG. Unfortunately, Soli, for now, is limited to monodirectional swipes in just a handful of contexts. Hopefully, we'll see even more uses for the technology in the future – it'll likely be up to software devs to incorporate the sensor into their apps. Soli is limited for now, but it shows tons of promise.
Performance
The Pixel 4 and 4 XL are equipped with a Snapdragon 855 and 6GB of RAM – both respectable specs, but not the best we've seen this year. On the other hand, the 855 chipset is not getting old anytime soon, and it's certainly more than enough to provide flagship-level performance.
Of course, specs are only half of the equation, and Google has shown that their software optimization techniques can often give performance a boost. In my real-life testing, the Pixel 4 and 4 XL perform very, very well. They run smoothly without hiccups or lag, and games with intensive graphics like Asphalt 9 run without a hitch.
I thought I'd see multitasking suffer with 'only' 6GB of RAM, which is small compared to other companies' offerings of 8 or even 12GB, but it rarely, if ever, stuttered when switching quickly between multiple apps. However, the Pixels did perform slightly poorly on RAM benchmarks compared to some of their peers. In most tests, though, the Pixel 4 series did quite well. The Pixel 4 XL performs largely similarly in benchmarks, but it lags behind its smaller sibling on graphics-intensive tests, likely due to its higher-resolution display.
Of course, specs and benchmarks are only half of the equation, and Google has shown that their software optimization techniques can often give performance a boost. In real-life testing, the Pixel 4 performed very, very well. It runs smoothly without hiccups or lag, and games with intensive graphics like Asphalt 9 run without a hitch. Games look especially nice on the Pixel 4 XL's expansive, 1440p display. The new Pixels offer a buttery-smooth experience.
Camera
A huge part of the Pixel brand's appeal is based on the fantastic photos it can take. It wouldn't be much of an exaggeration to say the Pixel line has rewritten the rules of smartphone photography. With this year's refresh, the Pixel 4 has set a new standard yet again.
For the past three years, Google has stubbornly stuck with a single-lens setup, but this year, it finally sprung for a dual-camera setup. The Pixel 4's square camera module houses a standard lens, a telephoto lens, a hyperspectral sensor for collecting additional data, a dedicated mic, and a flash module.
Aperture size: F1.7; Focal length: 28 mm; Sensor size: 1/2.55"; Pixel size: 1.4 μm
Aperture size: F1.7; Focal length: 28 mm; Sensor size: 1/2.55"; Pixel size: 1.4 μm
16 MP (Telephoto, OIS, PDAF)
16 MP (Telephoto, OIS, PDAF)
Aperture size: F2.4; Focal Length: 45 mm; Pixel size: 1 μm
Aperture size: F2.4; Focal Length: 45 mm; Pixel size: 1 μm
3840x2160 (4K UHD) (30 fps), 1920x1080 (Full HD) (120 fps), 1280x720 (HD) (240 fps)
3840x2160 (4K UHD) (30 fps), 1920x1080 (Full HD) (120 fps), 1280x720 (HD) (240 fps)
OIS, Time-lapse video, EIS
OIS, Time-lapse video, EIS
8 MP
8 MP
1920x1080 (Full HD) (30 fps)
1920x1080 (Full HD) (30 fps)
Super Res Zoom
Many will bemoan the lack of a wide-angle lens, but I'll be here cheering for the telephoto because it's what makes one of the coolest Pixel features possible – improved Super Res Zoom. With a hybrid system of optical zoom, digital zoom, and software magic, Google claims the Pixel 4 series offers up to 8x zoom at optical quality. From the test shots I've taken, they seem to be right. All you have to do is zoom in before taking the shot, and you get a picture with impossible detail.
Here's an example: I took a shot of one of my aunt's paintings from the end of the hallway, then another shot fully zoomed in from the same location. The result is incredible; you can almost see each individual brushstroke.
Here's another example: I took a photo of a lone granola bar on a green rug, with almost the entire rug in view. Then, from the same spot, I took another shot with Super Res Zoom. And hey, now we know the granola bar has 140 calories! To clarify, this only works if you zoom before taking the shot. This isn't a full photo zoomed in, this is a zoomed-in full photo.
Night Sight
Of course, another star of the show is the improved Night Sight. Now, it does even better at recovering detail from darker shots. It does an incredible job with handling exposure control, even with trickier shots with a wider dynamic range. For example, here's a shot where I intentionally created shade over half of the shot. The Pixel 4 and 4 XL do a fine job at maintaining detail and a balanced look without over- or underexposing either side. With software this good, there really is no reason to use flash.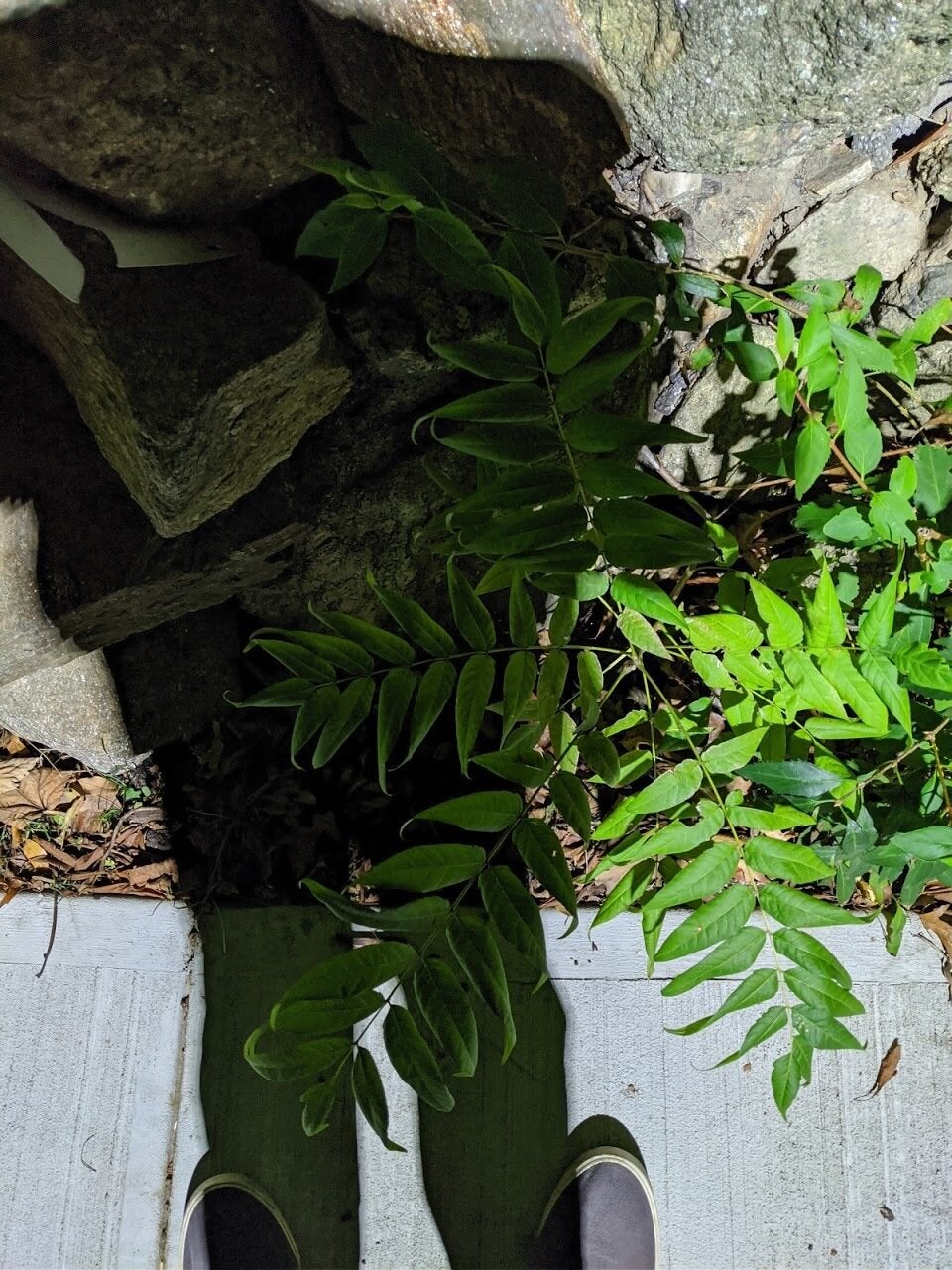 Also noteworthy is the new astrophotography mode, which kicks in automatically when you point the camera at the sky. It takes up to 16 separate photos, each 15 seconds long, and stacks them create one detailed shot. The new mode requires a tripod and takes several minutes of capturing light and processing, but it produces stunning photos of the night sky. I did get some light pollution in my test shots, but folks outside of major cities should be able to capture clearer skies. Even with a DSLR or mirrorless camera, you'd need several long exposure shots along with heavy post-processing or smart software to get shots like these. So to be able to do this automatically on a smartphone is nothing short of astounding.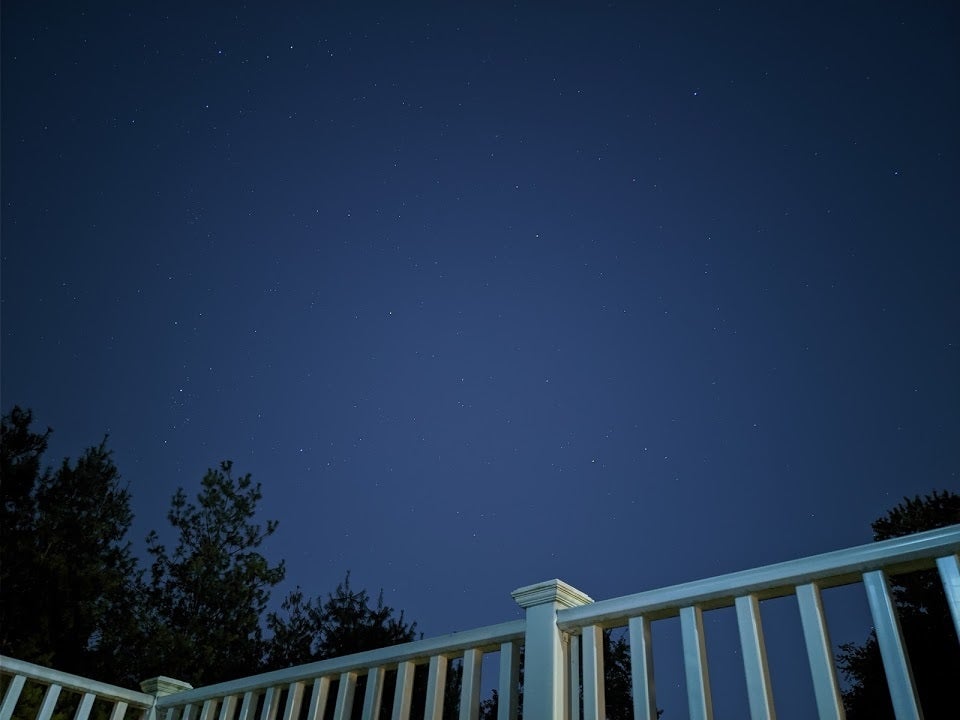 Live HDR+ & Dual Exposure Controls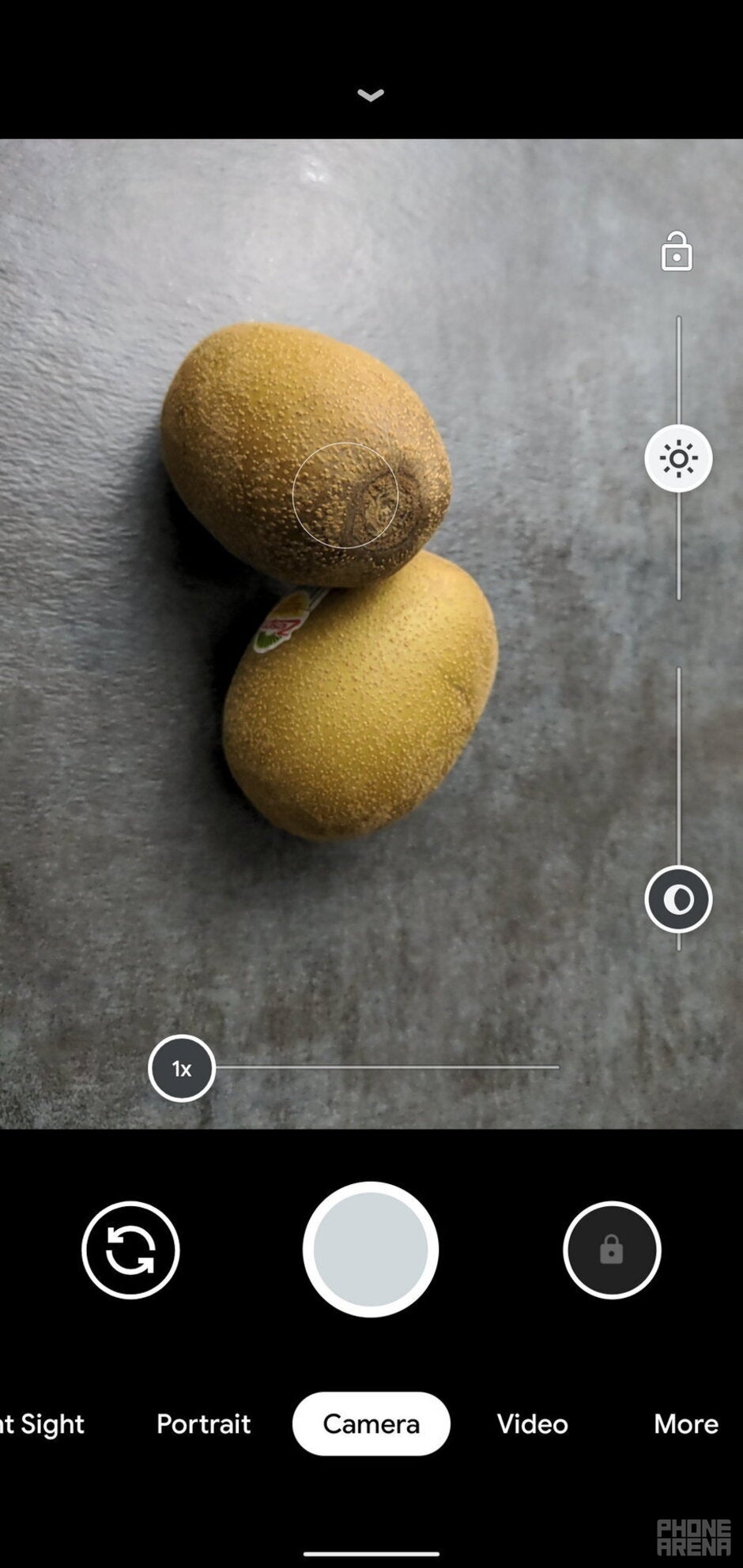 Google also introduced a number of cool features for regular shooting. HDR+ has been present since the first Pixel, but the processing time meant you couldn't be sure of the final result before taking the shot. With the Pixel 4 series, Live HDR+ uses machine learning algorithms to approximate the final dynamic range and exposure before you take the shot. In simple terms, this means you get a more accurate image of the final photo and better control over the overall look. This is a feature you don't notice until you go back – most flagships offer HDR, but fine exposure controls can be hit or miss. The Pixel 4 and 4 XL make sure you never miss.
Speaking of overall look, Dual Exposure Controls are also here, which provides separate sliders for overall exposure and shadow brightness. This is especially useful when your subject is not well lit, giving you more control over the lighting. You can also do a number of creative effects, such as creating a silhouette shot. Some advanced techniques do take some specific lighting conditions to use, but the option is always there for the advanced Pixeltographer.
Finally, another small-but-cool feature is machine learning-based white balance. The Pixel 4 and 4 XL can use their software smarts to automatically correct color casts as photos are being taken, so even photos with odd lighting will boast accurate color reproduction. I've found this to be especially helpful with darker shots, where color accuracy can tend to be lost. The Pixels rarely show such issues.
The latter three features (Live HDR+, Dual Exposure, and AI white balance) are all ones that impact the overall camera experience and improve on the technology the Pixel 4 phones use to get a wide dynamic range in the vast majority of shots. So rather than being specific modes, like Night Sight, they make sure all of the shots you take have more accurate color and balanced exposure.
Portrait Mode
Portrait mode is still great, and now offers better depth recognition for accurate subject separation and great bokeh. As you can see from our sample shots, the Pixels have excellent depth perception. Backgrounds are blurry and beautifully so – it's some of the most natural bokeh I've ever seen on a smartphone. Other than the bokeh, the subject itself is crisp and sharp. The software also intelligently retouches the saturation and exposure for lifelike, natural colors. It's quite something.
Overall Image Quality
Overall image quality in both cameras is excellent. Photos produced are sharp and vivid, and the image processing is advanced enough that it will give you an excellent shot in the majority of conditions. Color reproduction is very accurate and natural, which may make some want to crank up the saturation in editing, but I find the colors to be very pleasing to the eye. Low-light imagery in the main mode is actually fine; it would be more than acceptable if Night Sight hadn't spoiled us so. The Pixel's camera app is well organized and sparse while still being feature rich, but there's no 'Pro' mode like some other phones have. All-in-all, it's an easy contender for best smartphone camera, but what did you expect?
Selfies
Unlike the Pixel 3, this year's Pixels only have one selfie camera, an 8MP snapper at f/2.0. This one, though, is at 90°, or around 20mm full-frame equivalent, which is close to the wide angle lens on the Pixel 3. So you should still be able to fit everyone in for a groupie.
Since most of the photo magic is software-based, you can use Portrait Mode and Night Sight for selfies too! Selfies are where the portrait software really shines. It's head-and-shoulders above almost any competitor, just based on subject separation and the naturalness of the bokeh. Night Sight works well, too, but it doesn't have as many applications on the front-facing camera.
Overall, the image quality is similar to what we've seen from the back camera, which is simultaneously very impressive and a testament to Google's software prowess. There's the same rich detail, great colors, and excellent exposure, which makes for a great selfie experience.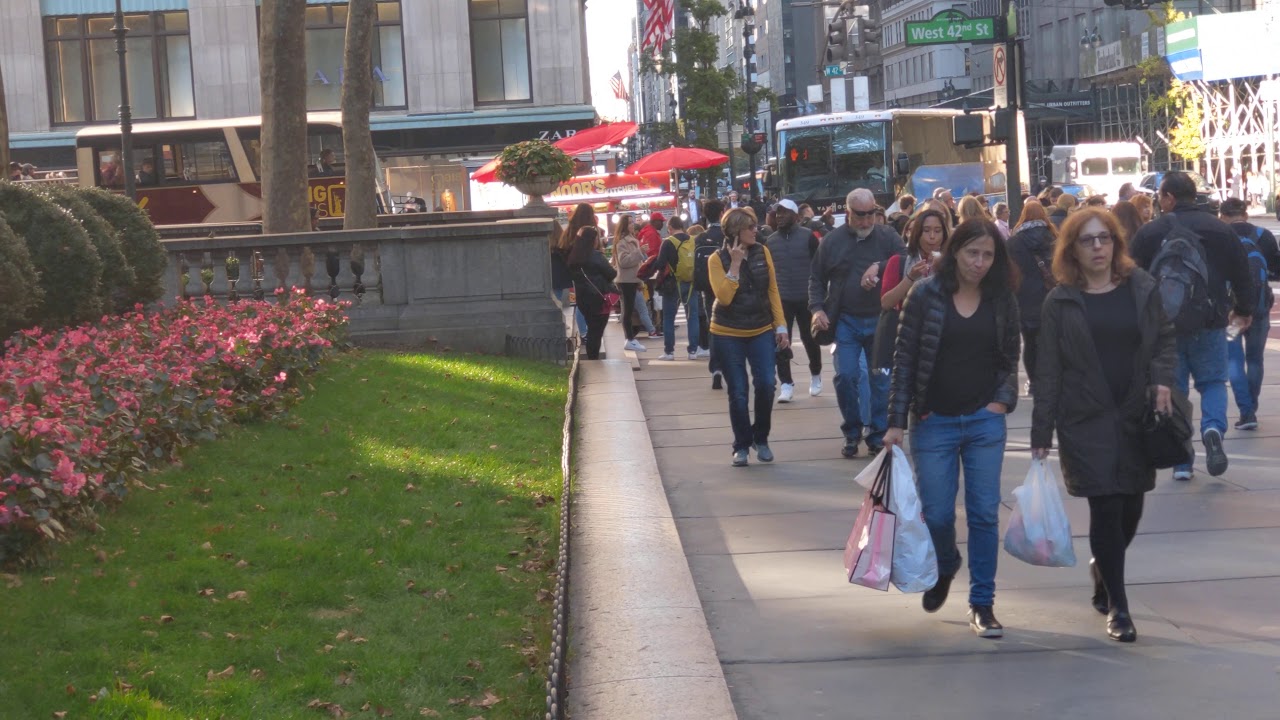 Call Quality and Media
Like the Pixel 3, the new Pixels also offer great call quality. The main earpiece is loud and crystal-clear, without any distortion even on high volumes. I never heard any complaints from the other end, either. For loudspeaker, the Pixel 4's stereo speakers provide great sound too.
Speaking of the stereo speakers, the Pixel 4 is a great device for playing music. The speakers get plenty loud, and though there is a bit of distortion at max volume, the sound overall is very clean and balanced. There's ample bass and a full treble range without any tinniness. Both the Pixel 4 and 4 XL sound pretty similar as far as speaker output is concerned, so you should enjoy great audio on either model.
Unfortunately, there's no headphone jack, though no one expected one, and not even a 3.5mm adapter or USB-C headphones in the box. Apparently, 2019 is the year Google decided Bluetooth headsets really took over. On the bright side, the Pixel 4 does support aptX HD, so your higher-end wireless headphones should sound extra good.
Battery Life
One of the surprising things about the Pixel 4 was its reduced battery capacity – a drop to 2800mAh from the Pixel 3's 2915mAh. It's not quite enough to be impressive in a 2019 flagship.
In day-to-day use, though, the Pixel 4's endurance seems more than adequate. In my experience, the phone provides upwards of 6 hours of screen-on time on average, with 11-12 hours of moderate to intense usage. I found that I rarely needed to worry about the battery dying halfway through the day.
The Pixel 4 XL fares better with its 3700mAh battery, with 7 hours of average screen-on time and 12-14 hours of mixed use. The XL model is more than up for longer nights, though it still isn't amazingly impressive.
Then again, these are Pixels, so Google's battery optimization software should learn how you use the phone and compensate to offer the best battery life. I haven't been using the phones quite long enough to reap the benefits from that, but it should only be uphill from here.
One exception to the rule seems to be the camera. The camera is usually one of the most battery-intensive apps on a smartphone, and indeed, the Pixels seem to take up 30% per hour, depending on the mode. Of course, a few photos on occasion won't affect battery life much, but I did manage to kill the battery in just four hours of intensive camera testing.
In our battery tests, the Pixel 4 XL fared below the average for flagships in late 2019/early 2020.
We first measured battery life on the Pixel 4 XL for browsing the web and that differs depending on whether you run the Pixel at the regular 60Hz or at the smoother 90Hz option.
The difference in battery drain is not significant and we definitely recommend using the phone in the much more enjoyable 90Hz mode.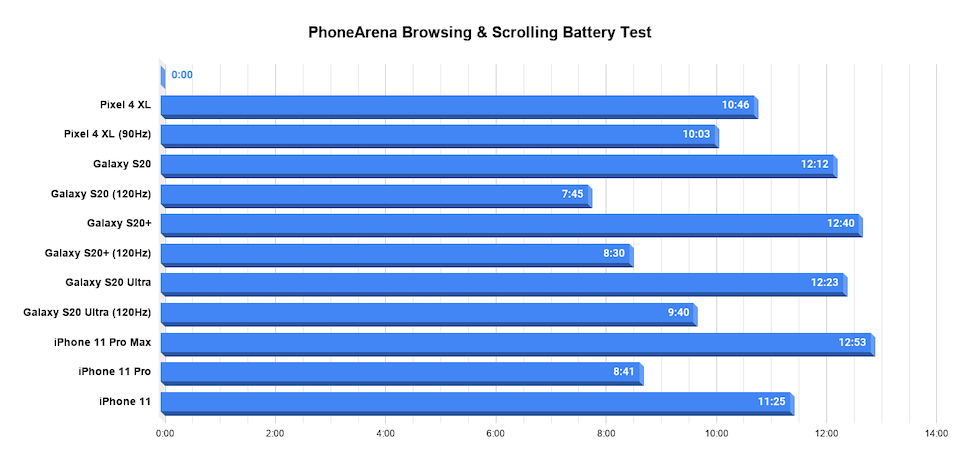 Next up, we also measured how long the battery would last if you play YouTube videos non-stop.
This drains the phone faster than just browsing the web, and you can see the change reflected in the numbers. In this test, the Pixel 4 XL did better than smaller phones like the iPhone 11 and iPhone 11 Pro, but was no match for larger phones of its own kind.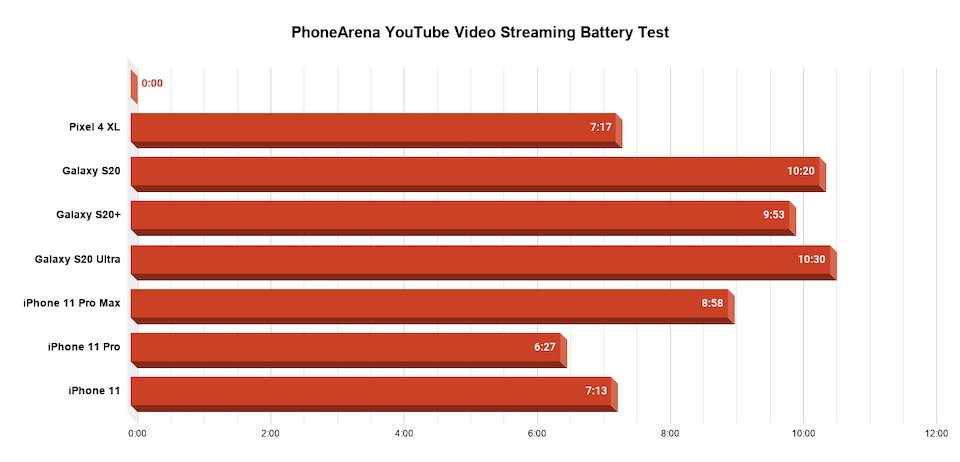 Finally, we also tested the Pixel 4 XL battery for 3D gaming. With this kind of a load, the Pixel 4 XL actually did quite well. Most games we played were only optimized for the 60Hz option, so that's what we tested: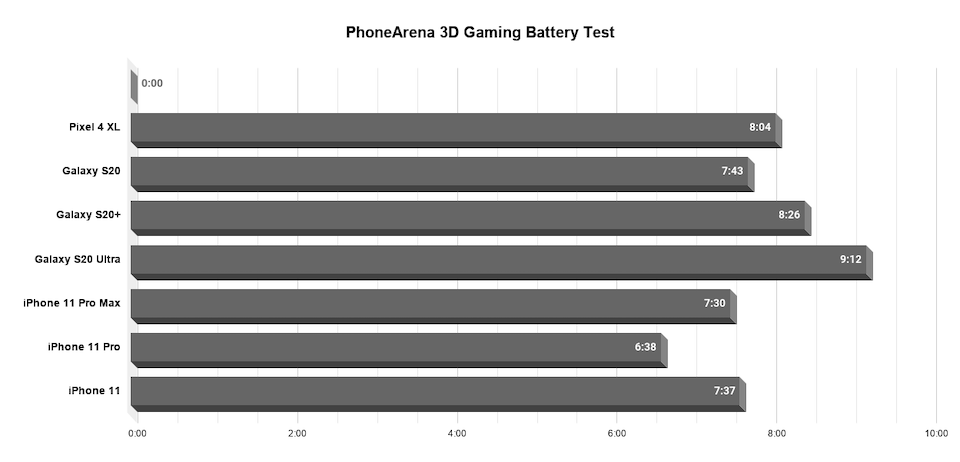 All in all, the Pixel 4 XL battery life is not on par with other phones of the same large size. The battery life is not downright terrible, but it is more similar to that of a smaller phone rather than a phone with an "XL" in its name.
On the other hand, charging is quite speedy. With the supplied 18W charger, the Pixels top up in just over an hour, or about 70 minutes on average. There's also wireless charging here, and I was able to get wireless charging speeds of up to 25% per hour. The rate may differ, depending on what wireless charger you're using.
Conclusion
The Pixel 4 and 4 XL are phone that really reflect Google's focus on 'ambient computing', or technology that's there whenever you need it and fades away when you don't. It starts before you even hold the phone, with Soli waiting for you to reach for it to speed up unlock time. It's there with the organic feel of the phone itself, and in the way Google Assistant is ready to step in and help, and then step away. It's there in the way the software learns what you want from it so it can get it to you faster. It's not just one flashy feature or new piece of hardware, it's just the little ways everything fits together into a cohesive experience. It's a bit difficult to concretely define, but this seamless, ambient experience is, to me, the greatest strength of the Pixel 4 series.
On top of the software, you get the famed camera performance, which is better than ever. There's the crisp, 90Hz screen, snappy performance, and premium build quality. These are flagship phones, and compelling ones.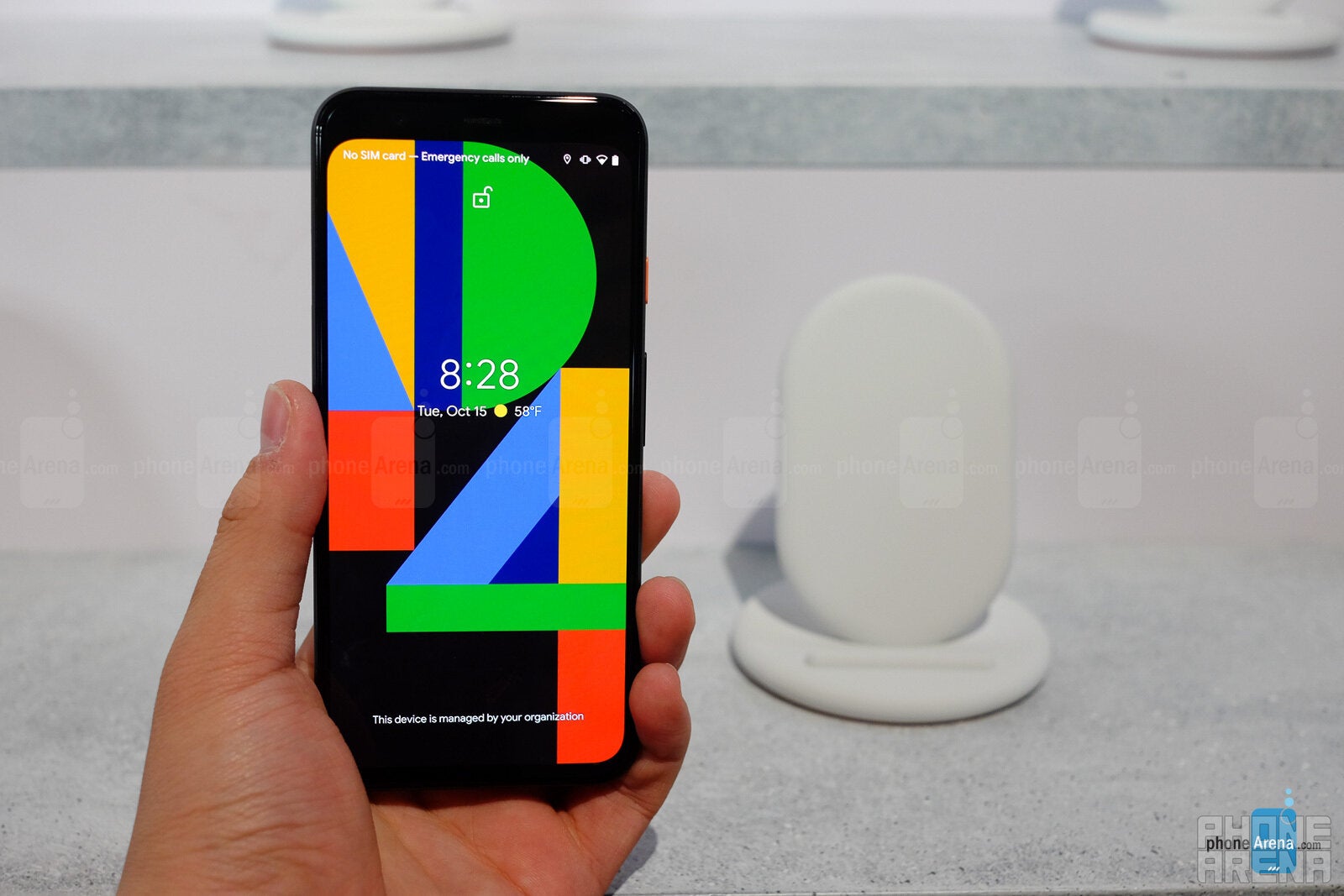 What are the downsides? Well, the obvious one is the large bezel, which some may not be able to get over. A more concrete downside is the limited 64GB base storage, which you can upgrade to 128GB for another hundred dollars, but there's no way of getting any more than that. Battery life is generally very good but not great enough to stand out. And Motion Sense is easy to use but currently limited in function.
The Pixel 4 retails for $799/899 for 64/128GB, while the Pixel 4 XL is $899/999, identical to last year's pricing. This places it squarely competitive with the likes of the iPhone 11 or 11 Pro, Samsung's Galaxy s10 and s10e, and the OnePlus 7 Pro. The Pixel has certain camera and software advantages over those, but the s10 and OnePlus 7 Pro can offer more RAM and storage at a similar or lesser price.
Overall, the Pixel 4 and 4 XL are the best phones Google has made yet. The internet giant doubled down on its strengths this year, and the blend of great hardware, excellent software, and incredible cameras may prove hard to beat.
Recommended Stories