Google Pixel Buds Hands-on: AirPods Killer?
4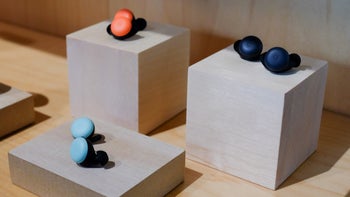 The all-new Pixel Buds, announced at Made by Google today, are Google's true wireless earbuds, designed to integrate seamlessly with Google Assistant and other Google services. Here's our first impressions after seeing them firsthand.
Design
The second-gen Pixel Buds are tiny, round earbuds with short wingtips. They felt incredibly lightweight and designed to be as unobtrusive as possible- unlike the AirPods, these will barely poke out of your ear.
Other than the size, the Buds are also really,
really
comfortable. Thanks to the unique 'spatial vent', the earbuds feel like they're not there, without the stuffy clogged feeling common in true wireless earbuds. By my estimation, these are at least as comfortable as the AirPods and miles less noticeable. (Unfortunately, the software wasn't 100% ready, so we weren't able to listen to any music or try the features directly.)
Features
Like the first generation Pixel Buds, the new earbuds offer deep integration with Google Assistant, who can be summoned with the usual 'Hey Google' or 'Okay Google'. And like their older siblings, they offer a number of powerful features like real-time translation.
Thanks to their hybrid design, the earbuds are said to offer powerful, clear sound. Google says the Buds will automatically adjust their sound to adapt to environmental noise and the volume in the vicinity. The Buds don't have active noise cancellation, but reps I spoke to told me the auto-adjustments should have a similar effect.
The Buds are said to have a 5-hour battery life for continuous usage, which can be extended to 24-hours with an included battery case. The case supports wireless charging in addition to the USB-C port on the bottom.
The earbuds also boast improved range, up to three rooms away indoors and more than a football field's length outdoors. The reps were unable to confirm exact details like aptX HD certification, but they did mention that the earbuds achieved below-average latency during testing.
The new Pixel Buds have a beam-forming mics for enhanced accuracy and clarity, along with voice accelerators that detect sound from your jawbone to respond to you more quickly.
Price & Availability
The second-gen Pixel Buds will be available by spring of 2020 in four different colors- Mint Green, Clearly White, Almost Black, and Oh So Orange. The Buds are priced at $179, which makes them competitive with the AirPods but slightly more expensive than Samsung's Galaxy Buds.

Given their lightweight, comfortable design, smart features, and (supposed) rich sound, the new Pixel Buds seem to be a worthy addition to the growing true wireless earbud segment. We're excited to try the Buds when they are released.