Best Black Friday Galaxy Watch deals recap: the Galaxy Watch 4 was super cheap!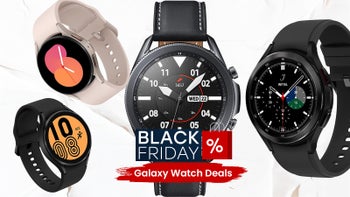 Yes,
Black Friday
is over - but don't panic. There will be another event coming, and judging by this one, the deals on Galaxy Watches will be better than ever. All we can do now is analyze all the deals that we had, and prepare for the next shopping bonanza.
The generous deals we saw were lingering a couple of days after the event! The price of the new Galaxy Watch 5 series was slashed by some $50, but the Galaxy Watch 4 models got some pretty significant discounts.
Galaxy Watch 5 Pro Black Friday deals
The newest Galaxy Watches were consistently discounted by $50 at all shops, but if you had an old gadget to trade-in (that wasn't necessary a smartwatch), Samsung offered the greatest deal for you, owing to an improved trade-in program. Last Black Friday, our favorite deal was a $70 discount on the Galaxy Watch 5 Pro. Let us remind you that this is Samsung's most recent and powerful model.
Galaxy Watch 5 Black Friday deals
The same goes for the vanilla Galaxy Watch 5 - it was just a tad down its original price, most discounts were in the vicinity of $50. The good news is that next Black Friday the deals will be better, as the successor would be out by that time.
Galaxy Watch 4 Classic Black Friday deals
Surprisingly, the Galaxy Watch 4 Classic hold its ground and didn't budge, regarding deals on Black Friday. While the regular Watch 4 was almost half price (as you would see reading further down), the Classic received minor $50-70 discounts, and those were pretty consistent around different online retailers.
Galaxy Watch 4 Black Friday deals
The actual star of the event was the vanilla Galaxy Watch 4, which was down by $160 at Best Buy, Amazon, and other online retailers in the weeks leading up to and following the event. There were various discounts on different colors and variants of the Watch 4, but nothing came near the aforementioned deal.



Also take a look at: