Best Black Friday Galaxy Watch deals to expect in 2023
We may earn a commission if you make a purchase from the links on this page.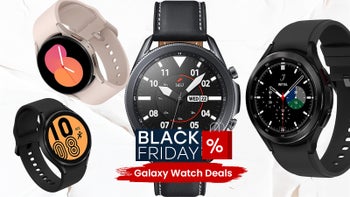 Black Friday
is coming up soon. Before we know it, deals will start flying around the virtual space, overwhelming us completely. So, if you want to feel ready for one of the most significant shopping events of the year, we suggest you look into our predictions for this year's Galaxy Watch deals.
Before we start preparing ourselves for the next big shopping bonanza, let's check out the top three Galaxy Watch offers that are live right now:
Galaxy Watch 6 Classic

Black Friday deals to expect
This year, we can expect the newest iteration of the Galaxy Watch Series, the
Galaxy Watch 6 Classic
, to get between $50 and $70 slashed off its price tag. This prediction is based on what offers we saw for the
Galaxy Watch 5 Pro
last year.
If you're looking for the best deal on the newest and latest
Samsung
wearable, we suggest you pass by Amazon, Walmart, and Best Buy, and simply enter the Samsung store. The merchant tends to offer fantastic trade-in savings options on its latest models during big shopping events.
Galaxy Watch 6

Black Friday deals to expect
The
Galaxy Watch 6
is another newly released wearable that wasn't available last year. Evidently, we can't base our predictions on past promotions. What we can say for sure is that there'll likely be a minor discount on the
Galaxy Watch 6
models. We believe most retailers will offer fairly similar discounts on this piece.
Galaxy Watch 5 Pro Black Friday deals to expect
Since this smartwatch was the latest Samsung wearable last year, it was just $70 cheaper on Black Friday. This year, of course, we can expect much more significant discounts on all Galaxy Watch 5 models, not just the Pro version.
This sleek smartwatch is often available at a lower price at online retailers. And remember we're still a long way from the next big shopping spree. So, we can probably expect discounts to hover around the $100 mark. By what amount exactly will retailers reduce the Galaxy Watch 5 Pro price tag remains to be seen, though.
Galaxy Watch 5 Black Friday deals to expect
The vanilla
Galaxy Watch 5
was just a tad down from its original price, most discounts didn't exceed the $50 mark. The good news is that you can expect some significant price cuts on the non-Pro Watch 5 series. Given that we've found a smashing deal on the Galaxy Watch 5 Bespoke Edition, we believe this one can also make an appearance during the Black Friday shopping spree.
Galaxy Watch 4 Classic Black Friday deals to expect
Surprisingly, the
Galaxy Watch 4 Classic
held its ground and didn't budge regarding deals on Black Friday. While the regular Watch 4 was almost half price, the Classic received minor $50-70 discounts. Price cuts were pretty consistent around different online retailers.
This year, we believe the
Galaxy Watch 4
probably won't be among the discounted Galaxy wearables, primarily due to its advanced age. However, the Galaxy Watch 4 Classic is still very desirable. So, we expect to see a hefty amount of money shaved off its price tag.



Also, take a look at:
Recommended Stories