Black Friday 2022 Apple Watch deals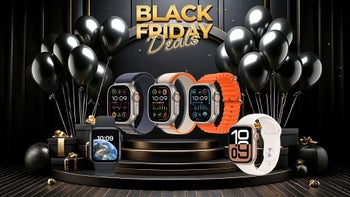 Yeah,
Black Friday
has ended, and now all you can do is wait for the next event, which is some time away, to say the least. Nevertheless, there are some takeaways from the last event, the main being that almost every Apple Watch received a discount, even the latest models. Which gives us a great hope for the next event, it will be bigger and better than ever before!
Apple Watch Series 8 and Apple Watch Ultra deals

These discounts were not huge, but that's normal for Apple products that are brand-new and extra-hot:
The
Apple Watch Series 8
and the rugged, large-screen Apple Watch Ultra are the newest additions to Apple's watch offerings.
The Apple Watch Ultra specifically has been received with glowing reviews and it's an easy recommendation for anyone who wants an extra rugged watch with a bigger screen and much longer battery life. This Black Friday deals cuts the price just enough to make the price more palatable, so if you ever wanted one, now's a great time to get this new Ultra.
Apple Watch Series 7 deals:

The Series 7 model from last year is pretty much as good as the Series 8 and saw some even bigger price cuts. The $160 discount on the 41mm green model was particularly enticing.
Apple Watch Series 6 deals
The
Apple Watch Series 6
is powered by the same processor inside the Series 8, believe it or not. It's exceedingly hard to find this model in new-old-stock condition, but if you do, it's a steal!
Apple Watch SE 2nd Generation and SE 1st Generation deals:
This year, Apple refreshed its Watch SE line - this is an affordable smartwatch and a gateway for wearable enthusiasts into Apple's ecosystem. This smartwatch comes with most of the software features and apps of its bigger and more expensive siblings, and even though it might lack things like an Always-On display and a SpO2 sensor, it's still a great device.

Does Apple Watch go on sale for Black Friday?
Of course it does! Granted, the Black Friday discounts on newer Apple Watch models might not be as huge as we want them to be, but they're still there. If you can settle for a generation or two back (which is not that big of an issue, given that most models sport more or less the same features), then you should expect some good Apple Watch deals this upcoming Black Friday.
Now, Apple itself doesn't have a good track record on discounting things, but you could find great deals on Apple gadgets (Apple Watch included) at various different places. Let's see what these are.
Where to find the best Apple Watch deals on Black Friday?
This questions is for sure tougher than the previous one. Normally, most carriers offer some kind of a discount on Apple Watch devices, and you can also try Amazon, Walmart and Best Buy, but really - all you need to do is keep an eye on this article. We will search these places thoroughly for you, and bring all the Apple Watch Black Friday deals here.
You don't have to open a dozen browser windows and keep refreshing them in order to get the best Apple Watch deal when the time comes. Just relax, pour yourself a cup of tea or coffee, and watch all Apple Watch Black Friday deals update and refresh almost in real time.