Samsung Galaxy S22 Ultra review: best features
73
We may earn a commission if you make a purchase from the links on this page.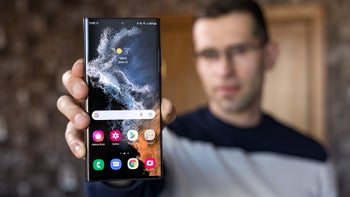 Intro
The Samsung Galaxy S22 Ultra marks the return of the faved Galaxy Note series by Samsung. Well, it's a Note in disguise, but the more you use it, the more you get it. Samsung has taken the best out of the Note lineup in the form of the S Pen and the stand-out design, and merged it with the essence of the Galaxy S series with its powerful cameras and big battery, to finally arrive at the ultimate all-in-one phone: the Galaxy S22 Ultra!
This phone truly has it all: a 4-camera system with a long-range periscope zoom lens, a built-in S Pen that doesn't come at the expense of battery size, the latest and most powerful Android processor, the newest generation Samsung AMOLED display... basically, everything it takes for a blockbuster flagship. Oh, and then add a few bonus features on top like a record-breaking screen brightness, more granular refresh rate and a few fancy colors.
Of course, all of that comes at a premium $1,200 price, but not much higher than last year's model, despite the many new features. So... should you get the S22 Ultra? And are there any caveats? Let's explore!
Design
Extra large, extra durable
The Galaxy S22 Ultra is easy to recognize in a crowd: its signature sharp edges and camera styling stand out. It's a glass and metal sandwich design, like you'd expect, with Corning's tough Gorilla Glass Victus on both front and back, and an enhanced "Armor Aluminum" frame in the middle.
In terms of pure size, the sharp edges and slightly wider form factor, make this phone appear bigger than even some quite large phones. Those looking for something more compact would definitely have a hard time with the size of the S22 Ultra (the smaller Galaxy S22 might be a better fit). Take a look at the difference in size and weight compared to last year's S21 Ultra:
Display Quality
Latest generation AMOLED panel with LTPO and more granular adaptive refresh rate
The screen is a giant 6.8 inches in diagonal, the same M11 Dynamic AMOLED technology generation that is in the S21 Ultra, with tiny bezels and an adaptive 1-120Hz refresh rate. There is a tiny punch hole camera at the center top, and the whole panel is protected with the latest Gorilla Glass Victus.
In the last few years, Samsung has ironed out the few kinks with AMOLED technology and has been the market leader in display quality, and this latest panel only extends its lead. You get beautifully balanced colors with the usual two color modes, a Vivid (the default one) and a toned down Neutral one. The big news here is that you also get the highest peak brightness on a phone to date at 1,750 nits (the S21 Ultra maxed out at 1,500 nits).
One key advantage of the Ultra model over the S22 and S22 Plus is the resolution: you get 1440 x 3080 pixels on the Ultra vs 1080p resolution on its other two sibling, and this means sharper detail. Curiously, though, Samsung goes with a 1080p default setting and you actually have to go into Settings > Display to switch to the higher resolution. Of course, the screen also supports HDR content playback, great for Netflix on the go and even some YouTube videos these days.
You also have Face Recognition, which uses just a picture, so it's not quite as secure as say Face ID on iPhones which uses a 3D depth map, but it gets the job done nonetheless and we appreciate having it.
S Pen
Lowest latency makes this almost a pen-to-paper feel
Just like a Note phone, the Galaxy S22 Ultra has an S Pen tucked neatly inside the phone, so it's always with you.
The S Pen looks very similar to the one on the Note 20 Ultra, the last available Note. However, it is now made of matte plastic rather than the glossy finish Samsung used before, and we have to say this is a look we like a lot better. A nice little touch here is that the S Pen cap matches the color of the S22 Ultra, so if you get a Burgundy phone, the cap on its S Pen will also be red, while the body is black on all models.
The big upgrade with the S Pen is its improved response time of now just 2.8ms. This is a 3X faster latency compared to the 9ms on the Note 20 Ultra. Impressive stuff and clearly the best that Samsung has done so far! Does it feel as instantaneous as writing with a physical pen on paper? Not quite! Just jotting down notes, you can still notice a tiny disconnect and lag as the writing appears a split second later.
The S Pen software on the other hand is exactly the same as we had on the Note series. The Samsung Notes app is the central hub for notes, and other cool features like lockscreen notes and Air Gestures are still present. Samsung has also improved its handwriting to text recognition.
Performance and Software
Snapdragon 8 Gen 1 in the US, but Europe gets an Exynos model instead
As always with Samsung flagships, there is a bit of a controversy with the processor under the hood. The Galaxy S22 Ultra will have the Qualcomm Snapdragon 8 Gen 1 in the US, while the UK and Europe are getting a Samsung-made Exynos 2200 processor instead, and traditionally those Exynos chips have been a bit slower and a bit less power efficient as their Snapdragon counterparts.
As you can see on the image above, the Snapdragon chip has a nearly 10% CPU advantage over the Exynos 2200 model (less in multi-core performance), and we wouldn't be surprised to see a difference in battery life and even camera quality. Of course, more testing is due, so don't rush any judgments just yet.
Interestingly, the base model Galaxy S22 Ultra has less RAM than last year: with an 8GB version being the base one vs 12GB on the previous edition (a 12GB S22 Ultra is still an option for a slight premium). Also keep in mind that different countries get different configurations of the phone.
The second thing is a strange jitter that appears every once in a while when you are scrolling. It's a micro-stutter of sorts that you notice most on vertically scrolling apps like Twitter or when browsing the web, and again, you don't see this on other phones, it's a unique Samsung thing.
Still, those two are minor faults that won't make it into a speed test that we are sure the S22 Ultra will ace. Speaking of that, here are the benchmark scores, in line with what you'd expect out of a 2022 flagship.
For gaming, this phone uses a new vapor chamber system that helps cool it down, and the vast screen combined with 120 Hertz make it an absolute dream machine for the gamers out there.
Below, you can find the 3D Mark Wildlife Extreme Stress Test, a great benchmark that runs for 20 minutes and shows not only the initial burst of performance, but actually shows you how much the phone throttles after a few minutes of gaming.
On the storage front, you have the base model with 128GB native storage, but you also get a 256GB version at a $100 price premium, a 512GB model for $100 on top of the previous one, and some markets will also get a 1TB option for $1,600. There is no microSD card on board the S22 Ultra, so it's important that you choose the right amount of storage, and for such a flagship, we'd recommend 256GB of storage as the sweet spot for most people.
Camera
Nearly identical hardware, but with software improvements
The camera specs of the S22 Ultra haven't changed much at all, they are virtually identical to the ones on the S21 Ultra:
Sensor sizes and pixel counts remain the same (the telephoto lenses have slightly smaller sensors), but Samsung says the main camera has an improved version of the sensor and it is coupled with an even wider lens than the 24mm one on the S21 Ultra.
The big camera promise here is to "break the night", and here are our first camera samples shot on a cloudy night in London:
These night samples show how the newer phone can be smarter and capture more vibrant colors even at night.
But after testing the camera on the S22 Ultra with hundreds of photos and dozens of videos, we have a kind of love-hate relationship with it.
The main camera while still mostly good can suffer from having such a wide lens as you see loss of detail at the corners of an image. There image processing has changed too: the S22 Ultra lifts up the shadows aggressively and colors often appear bleak and lacking saturation with the main camera, and often times, it seems like photos from the S21 Ultra looked more vibrant and pleasing to the eye. That's the "hate" part of the relationship.
Another feature worth mentioning is the new Adaptive Pixel mode. You have to switch to the 108MP full resolution mode to make use of it, and it essentially bundles the 108MP full-res shot with a pixel-binned photo that traditionally has higher brightness, for one superior end result. Just keep in mind that those photos each weigh at about 20MB-30MB!
Samsung also promises superb Portrait Mode quality, where the phone can recognize even individual strands of hair and separate them from the blurry background in a portrait shot. If you don't have expectations that you will get DSLR-like quality, Portrait Mode will blow you away. It's the most accurate one of any phone we tried in separating subject from background, it gives you nice, creamy bokeh and it's just great. However, it's not perfect. Flying strands of hair still often get smudged. Yes, it's better than the competition, but it's not quite as revolutionary as Samsung's marketing materials might lead you to believe.
On the video side, the S22 Ultra can record in 8K resolution as well as 4K (but you don't have a 4K120 option like you do on other phones).
Samsung advertizes smoother stabilization using the Super Steady mode, but that option still maxes out only at 1080p resolution, so you lose quite a bit of detail. The regular stabilization is still more than good enough and we prefer using that in most cases. During the day, you get beautiful lively colors and steady videos, and also absolutely incredible footage with the 3X and 10X zoom cameras. At night, the S22 Ultra benefits from an improved "clear" lens, so you get less flare from lights. Overall, this is one solid camera performer. Is it the very best? We still find it a bit inconsistent and a bit noisy compared to, say, an iPhone, but it's not too far behind.
Audio Quality and Haptics
Samsung needs to step it up with the loudspeaker quality
But what about the phone audio, the one coming from the loudspeakers? Like before, you have two loudspeakers: a bottom-firing main one and a helper speaker in the earpiece, but this time the bottom firing one is on the bottom left rather than the right. Playing Wrong Side of Heaven by Five Finger Death Punch, the Galaxy S22 Ultra sounded similar to last year's model in that it emphasizes the vocals, but it was a bit quieter at maximum volume and actually feels like a step back in audio quality.
That's unfortunate because other phones have stepped up their audio game: the iPhone 13 Pro Max in particular delivers depth and overall clarity that helps for a richer, more fuller sound, while the S22 Ultra sounds muffled in comparison. The Pixel 6 Pro also offers a deeper sound, with more oomph.
Haptics on the other hand feel nice and precise, helpful to give you extra feedback while typing, playing games, or just to keep in check with notifications.
Battery Life and Charging
5,000mAh battery with fast charging
So... what about battery life? In real-life use, we noticed that the S22 Ultra drains particularly quickly if you use the camera a lot. On a day that I started at about 9:20am with a 100% fully charged battery, using the phone here and there mostly for social media and then shooting about an hour and a half combined of photos and videos, and the phone was drained to 8% at 6pm, so I had to top it up to use it at night. Keep in mind that all of this happened using the default settings: automatic brightness, 1080p resolution, Adaptive refresh rate, Optimised power use in battery settings, and using the Exynos version of the phone.
Our first and lightest browsing test that is most indicative of casual use, showed a mediocre score for a flagship with a 5,000mAh battery: slightly north of 13 hours, worse than the S21 Ultra of last year and about on par with Google's Pixel 6 Pro.
But the YouTube video streaming test was a disappointment: we ran it twice to ensure there wasn't a glitch, but results came in consistent. At just 7 hours and a half of YouTube video streaming, the S22 Ultra did okay, but was actually outclassed by the competition with quite a margin.
It did show solidly on our 3D gaming test, though, with a respectable score of above 10 hours.
Samsung has done a bit of a back and forth with charging: it supported 45W charging speeds a couple of years ago in the Note 10 series, only to remove support in later flagship phones and limit them to 25W. But this year, the Galaxy S22 Ultra is said to get the full 45W charging goodness. Of course, in line with modern trends, don't expect a charger included in the box. Samsung has a new 45W charger that is a perfect fit for the Ultra.
And that is exactly what we used to measure fast charging (or in Samsung terms: Super Fast Charging 2.0) times.
Here is how long charging takes on the S22 Ultra:
Of course, wireless charging is also on board at 15W speeds, and the company also supports reverse wireless charging, so you can use your new Galaxy as a power bank of sorts and place a Galaxy Watch or Buds on its back to charge them up when needed.
Competitors
The Galaxy S22 Ultra is a premium phone through and through, but at least the price hasn't changed.
Here are the official prices:
The competition, at least in the US, currently comes from two places: the iPhone 13 Pro Max being the big seller, and the Google Pixel 6 Pro being probably the best Android alternative.
Samsung Galaxy S22 Ultra: Summary and Final Verdict
So should you buy the Galaxy S22 Ultra? That's a bit of a tough one. The S22 Ultra does not feel like an S series phone, it feels like a Note. So for Note users and those who appreciate the S Pen, well, it's the newest and pretty much only option in town. And a super powerful one at that!
Still, loyal fans will notice the company stepping away from things it used to value just a couple of years ago, things like the microSD card slot for once. But our big concern has got to be the battery situation: we don't know why, but this giant battery is not holding up all too well so far. We also have a love-hate relationship with the camera that can both disappoint with the main shooter and its often bleak colors, but can just as well wow us with the incredible zoom cameras.