Google Pixel 6 review: best features
12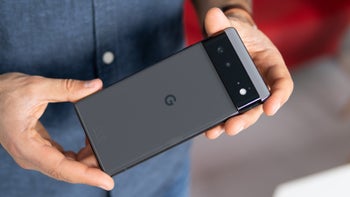 Google's Pixel 6 and
Pixel 6 Pro
were released in late 2021 and are now getting replaced by the latest
Pixel 7 series
. The good news? Stores will be looking to clear those shelves, so we can see $200 off
deals on the Pixel 6
on a constant basis!
But is it worth buying the Pixel 6 or should we just clench our teeth and spring for the Pixel 7 instead? More information on that in our
Pixel 7 vs Pixel 6
article, but here's a spoiler — the Pixel 6 is still pretty good!
It has a 6.4-inch OLED screen, it's still built with premium materials — unlike some companies who dress their "cheap flagships" in plastic —, and still has a high refresh rate screen — unlike some other companies that limit their more affordable phones to 60 Hz.
With the same Google Tensor processor that's on the Pro and the same 50 MP main camera, the Google Pixel 6 has enough going for it, and seeing as it's regularly dropped to $400 now, it's a tough deal to pass by! Let's take a good look at it.
Google Pixel 6 everything that's new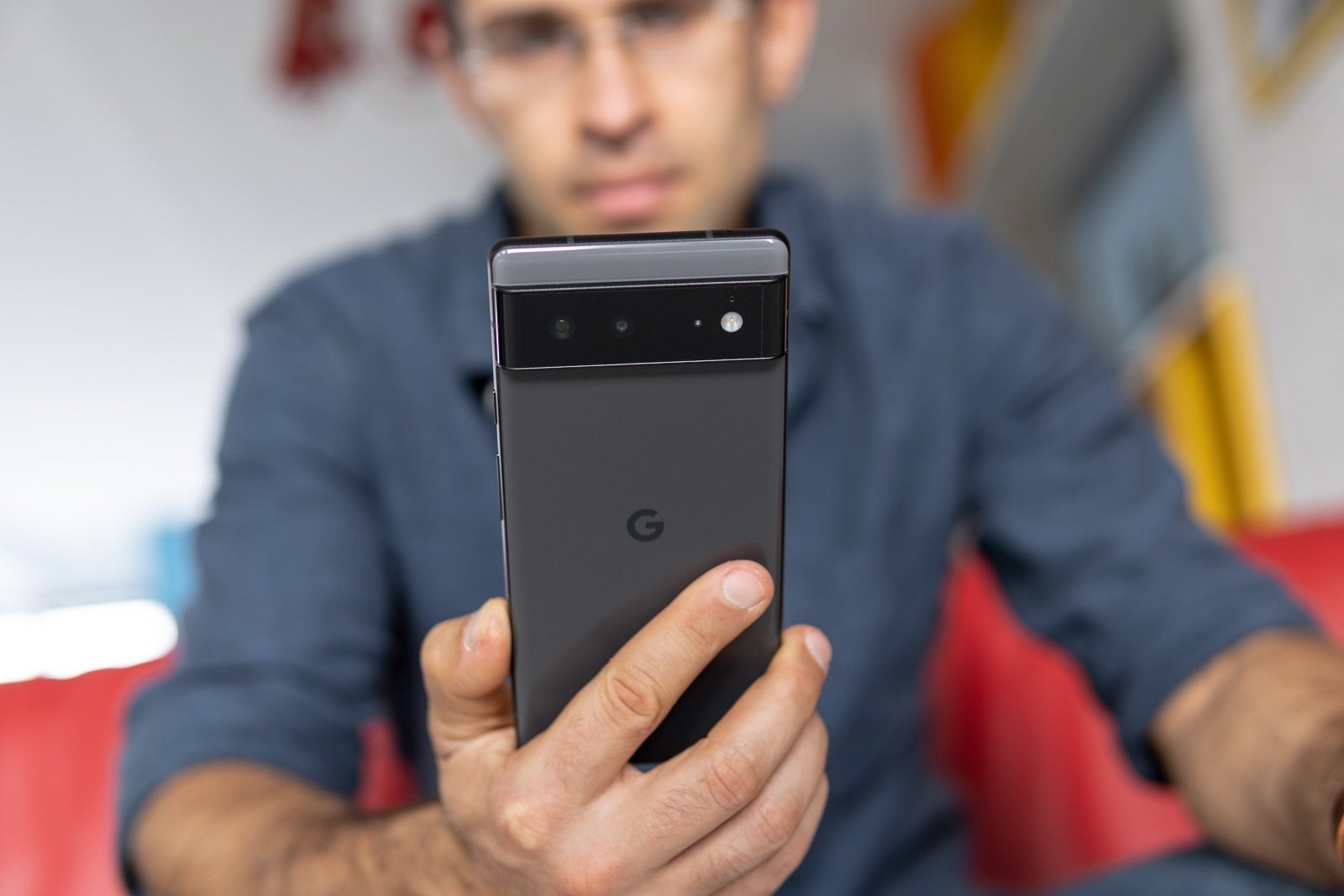 So, Google went in a really different direction with its new Pixels — it fully embraced the camera bump and the multi-camera setup, but also designed the phones to have their own signature look. You know, instead of doing something similar to everything else out there.
Fresh new look
New 50 MP main camera
New Google Tensor chip inside
Android 12 and new Pixel-exclusive Assistant features
Improved voice typing and translation
Magic Eraser to Photoshop photobombers out of your pictures
Face Unblur to clear up blurred faces
New Motion mode in camera (Action Pan and Long Exposure)
30 W fast charging, 21 W fast wireless charging
No charger in the box (only USB C cable)
Google Pixel 6 specs
For a $600 phone, the Pixel 6 packs a lot of heat — including the same Tensor chip and same 50 MP main camera as its Pro sibling.
Specs
Google Pixel 6
Size and Weight
6.24 x 2.94 x 0.35 in (158.6 x 74.8 x 8.9 mm); 7.30 oz (207.0 g)
Display
6.4" AMOLED, 90 Hz, 770 nits max brightness
Processor
Google Tensor
RAM
8 GB
Storage
128 GB / 256 GB no expandable storage
Software
Android 12
Cameras
50 MP wide camera, f/1.9 aperture
12 MP ultra-wide camera, f/2.2 aperture

Battery Size
4,614 mAh
Charging Speeds
30 W wired charging, 21 W wireless
Price
starting from $599
Google Pixel 6 or Pixel 6 Pro?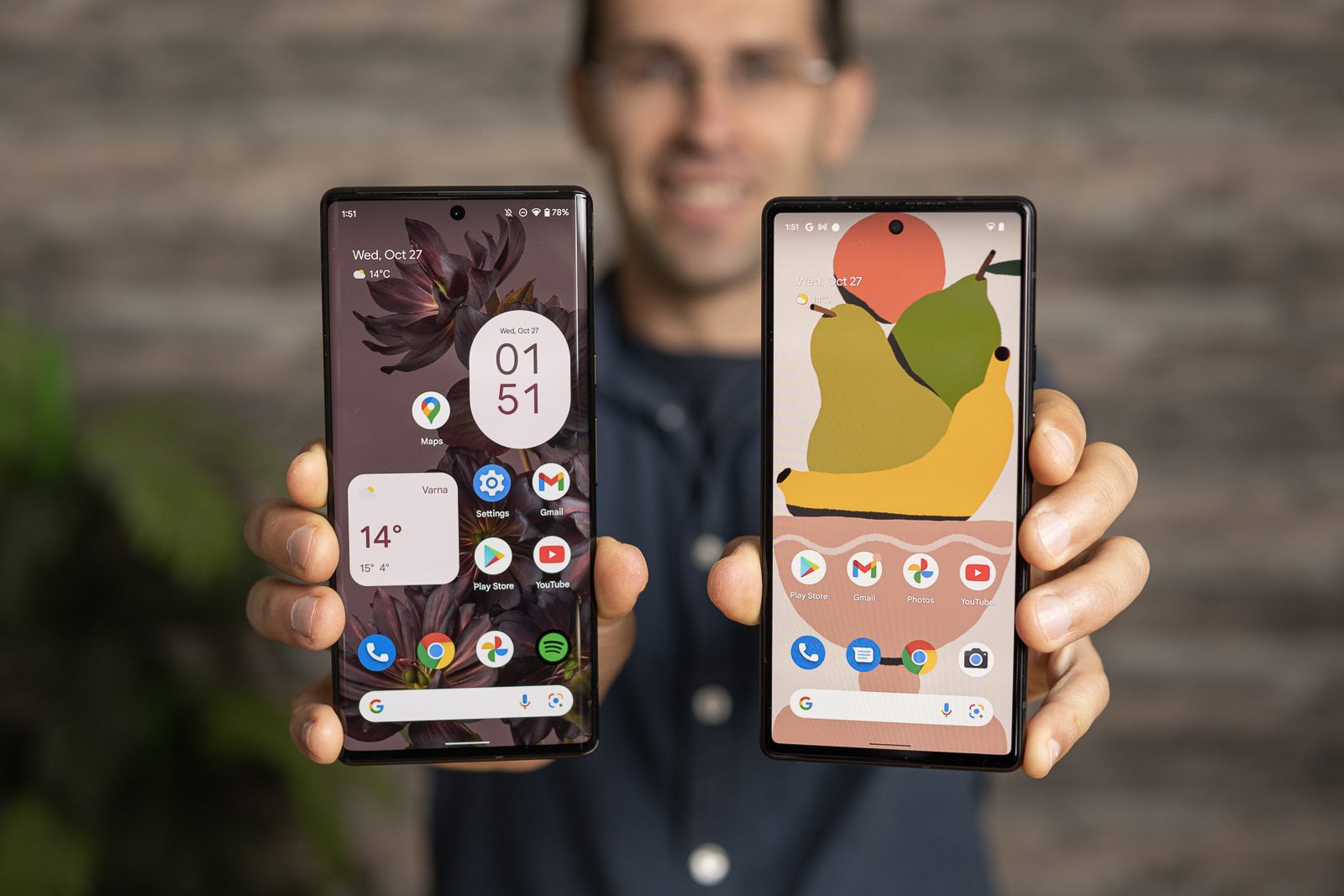 If you are simply looking for a solid Android flagship for a good price, it's pretty hard to recommend the Pixel 6 Pro over the regular Pixel 6.
Now, the Pro model does have a 4x telephoto lens camera, a slightly larger screen with curved edges, and a 120 Hz LTPO panel. So, it definitely has enough perks to warrant its asking price.
However, considering that the regular Pixel 6 gives you all the core features and doesn't skimp on performance or build quality — it's easy to choose this one over the bigger sibling.
Google Pixel 6 Design & Colors
We absolutely dig the new look of the Pixels — the camera bar on the back gives us RoboCop vizor vibes and what better phone to have that android-like look than… well, on the Pixel.
It is a metal-and-glass sandwich with tapered edges around the back to make it more ergonomic. No costs have been cut for the $600 model — the front panel is still Gorilla Glass Victus, as with the Google Pixel 6 Pro, and the back panel is Gorilla Glass 6.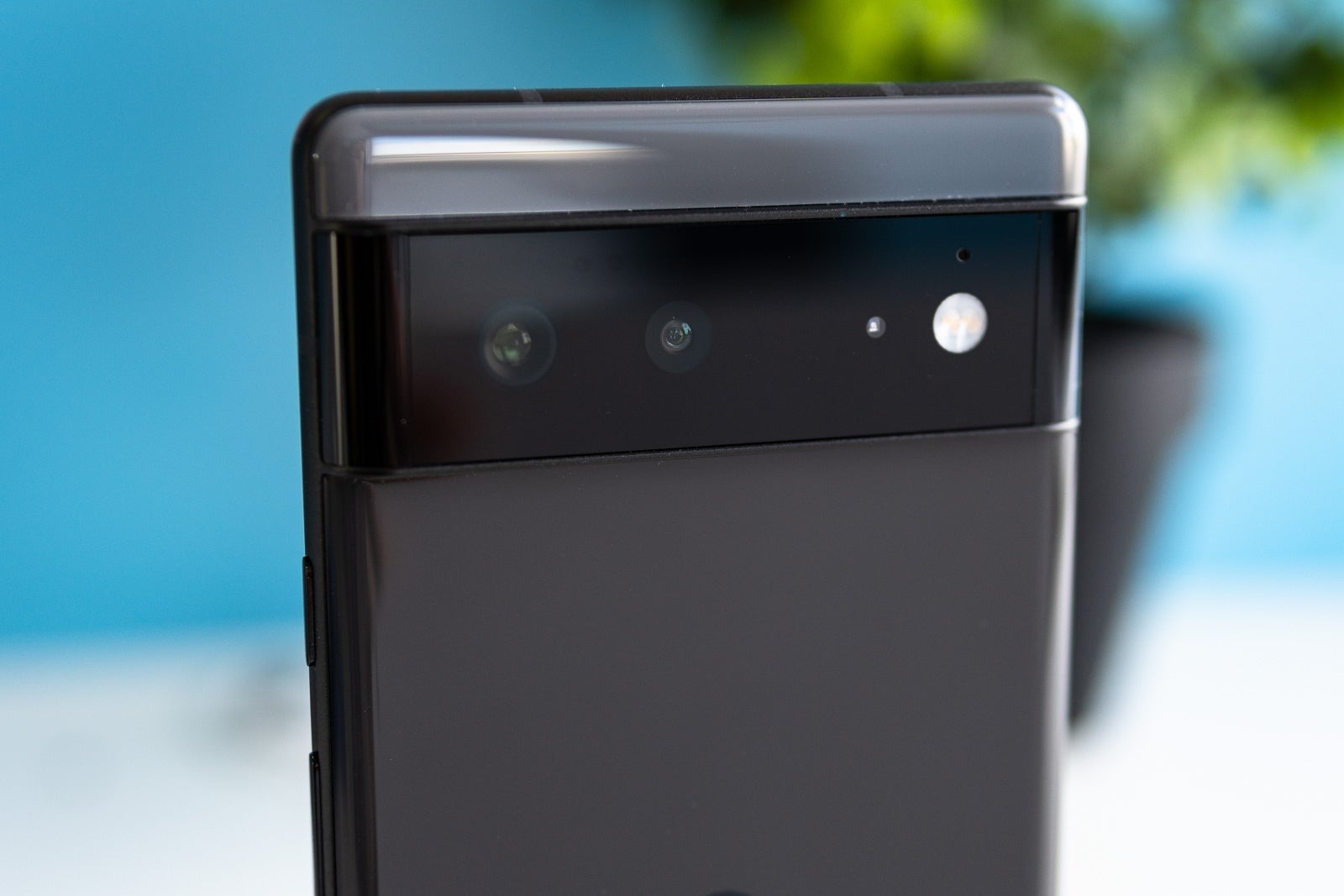 We are not a huge fans of the glossy glass back — Google missed an opportunity here. The backs of the Pixel 6 phones are already dual-tone, separated by the camera bar. The bottom could easily have been frosted glass to give it a soft finish and reduce the fingerprint smudging, while the top could've been glossy still.
Handling the phone is pretty easy — the matte frame provides a good amount of grip and it's assisted by the camera bump resting against your fingers on the back. It's not a very big phone — while not compact in any manner, it's quite easier to work with than an iPhone 13 Pro Max, for example.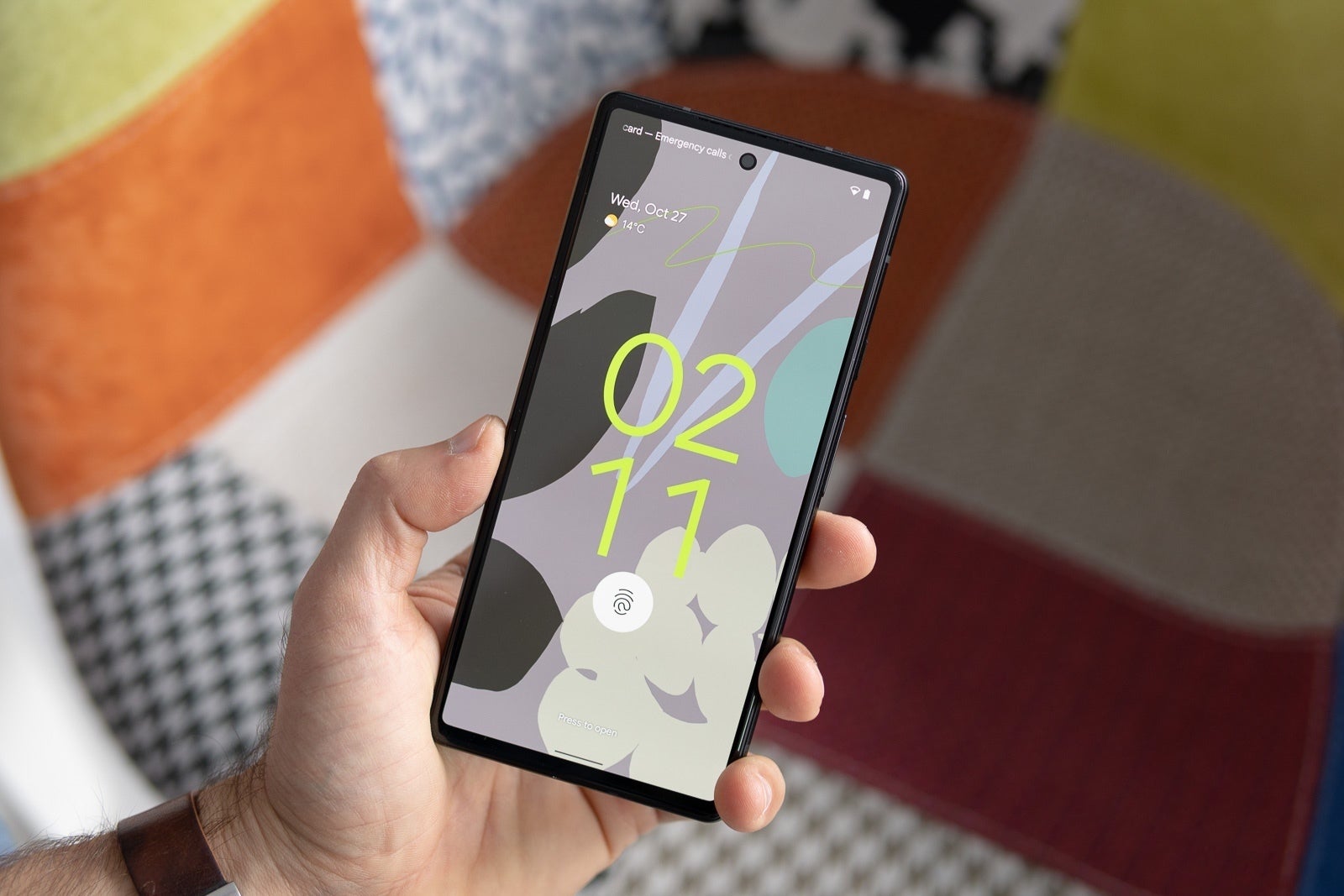 The Pixel 6 has a slightly thicker "chin" than any of its other side bezels. Google could've gotten away with increasing the size of the "forehead" and sticking a slightly bigger speaker in there.
In general, the bezels are slightly thick-ish — thicker than on a Galaxy S21+, for example — which gives the Pixel 6's front a more mid-rangey look. It sure makes it easy to handle the phone with no ghost touches, though.
The power button and volume rocker on the side feel a bit wobbly, but they do press in with a deep and satisfying click.
There's a USB C port on the bottom for data transfers and charging. Two symmetrical openings for the bottom speaker, too, but only the right one is live, the other one is just for aesthetics.
You weren't hoping for a headphone jack, we suppose. But yeah, the Pixel line has gotten rid of it for a while now.
Does the Pixel 6 have water-resistance? Yes, it is rated IP68 for dust- and water-resistance, same as most phones out there.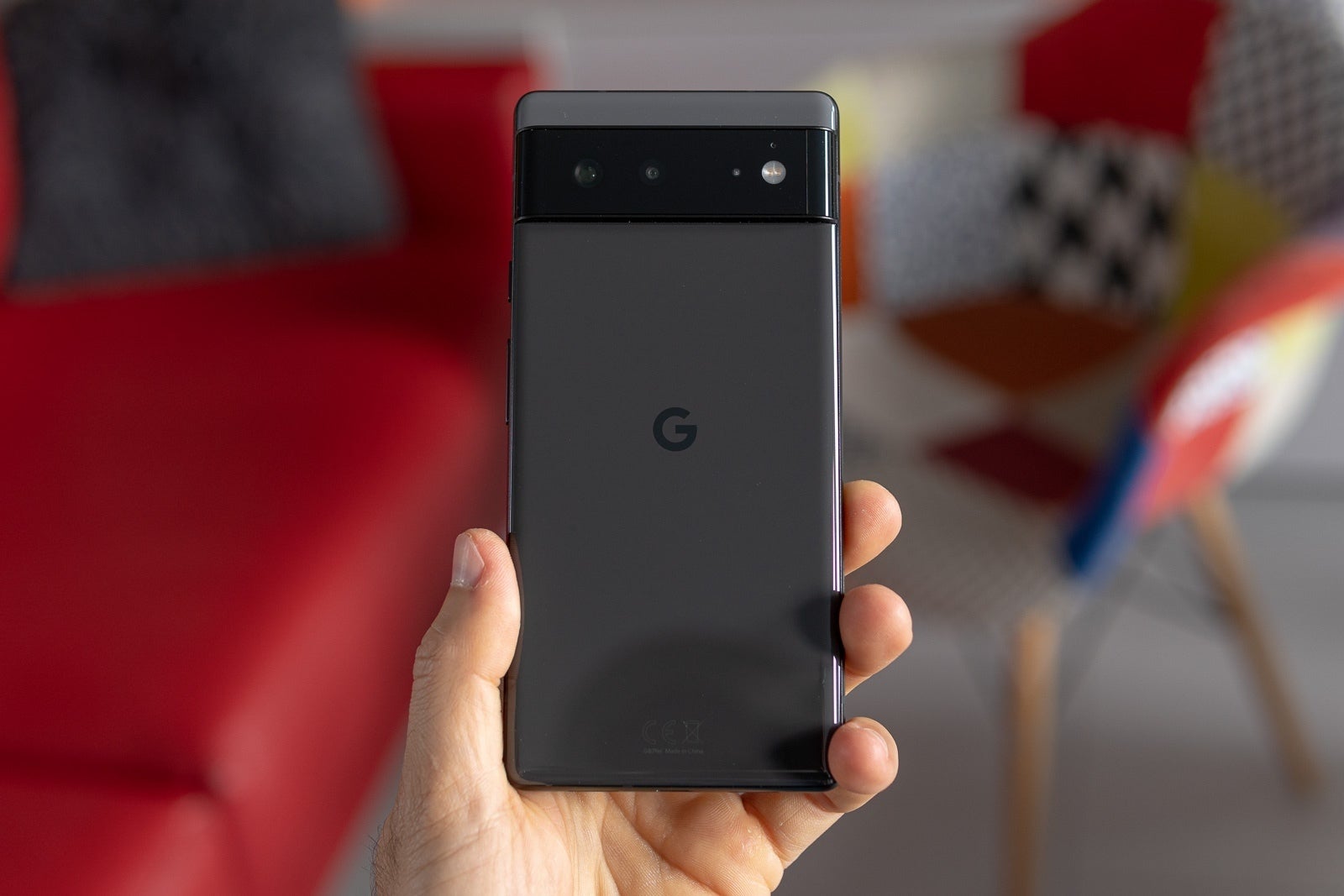 The Pixel 6 is available in
three different colors
— Kinda Coral, Stormy Black, Sorta Seafoam. If you don't speak "quirky Googlish", these translate to pink-ish, black, and teal-ish.
Google Pixel 6 display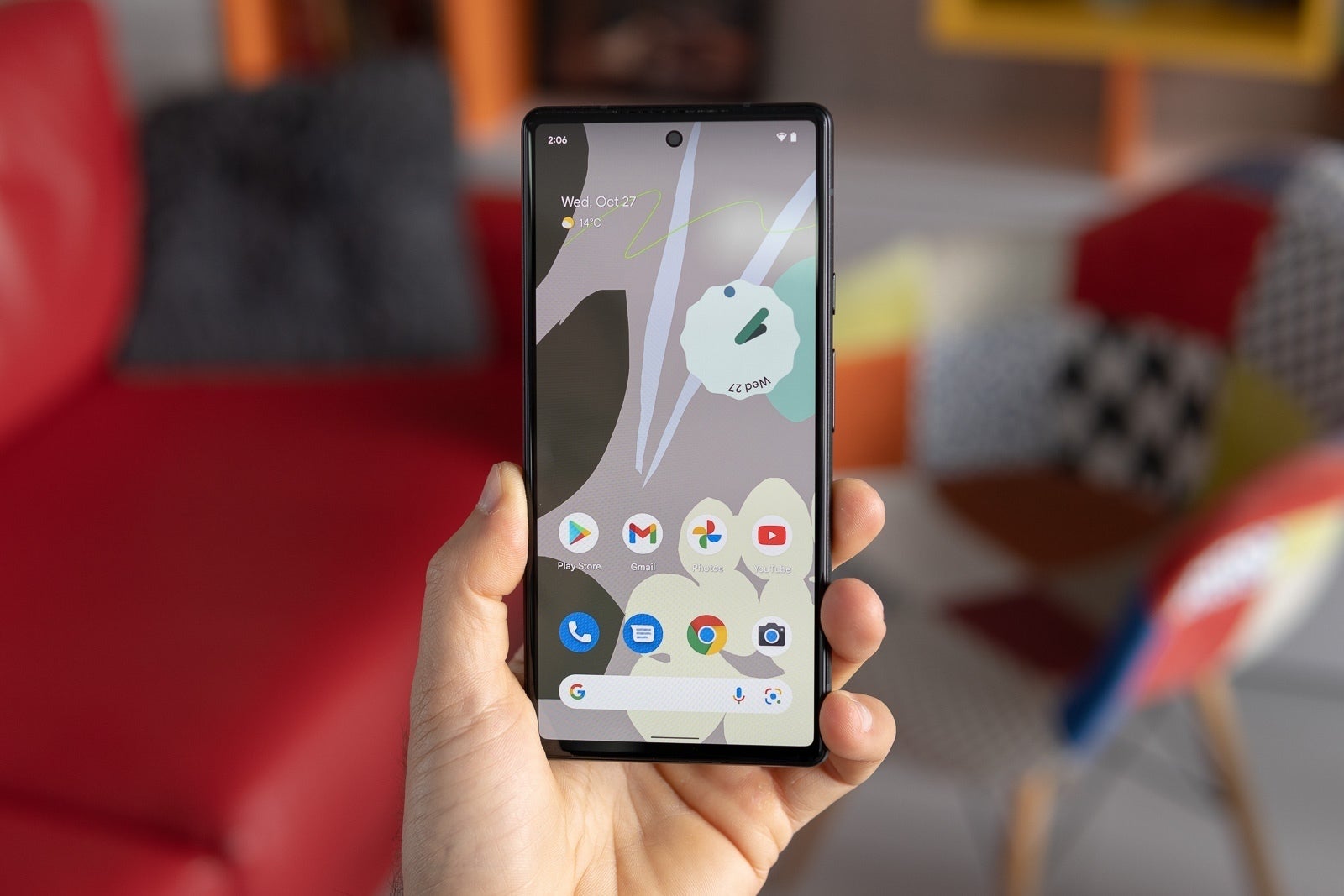 The Pixel 6 comes with a — let's call it — medium-sized 6.4-inch screen on the front. By today's standards, it's not as large as a plus-sized phone, but it's definitely not a screen you would call "compact" or "small" in any case. It's just… comfortable and big enough for most usage needs as far as smartphones are concerned.
It's an OLED panel that has three different color calibration options in the settings — Natural, Boosted, and Adaptive. No matter which one of these you pick, the colors do not go tastelessly aggressive. Personally, I stuck with Natural because it's most easy on the eyes.
The white balance is slightly on the cold side, though, thankfully there's Night Light mode to filter out the blues when the sun goes down.
Display measurements and quality
The Pixel 6's screen has a 90 Hz refresh rate — not as smooth as a 120 Hz panel, but it definitely feels more responsive and buttery when compared to a 60 Hz one. I feel that, as long as the screen goes above 60 Hz and you have a solid touch sampling rate to back it up, you can achieve that fluid feel that 2021 flagships have.
The screen gets plenty bright for outdoor viewing with direct sunlight. All in all, it's a solid experience from the most important part of a smartphone.
The only issue I have with the Pixel 6 display is visible color-shifting at the slightest change of an angle. This, of course, is best noticeable when viewing a white background and didn't interrupt my YouTube binging.
Google Pixel 6 camera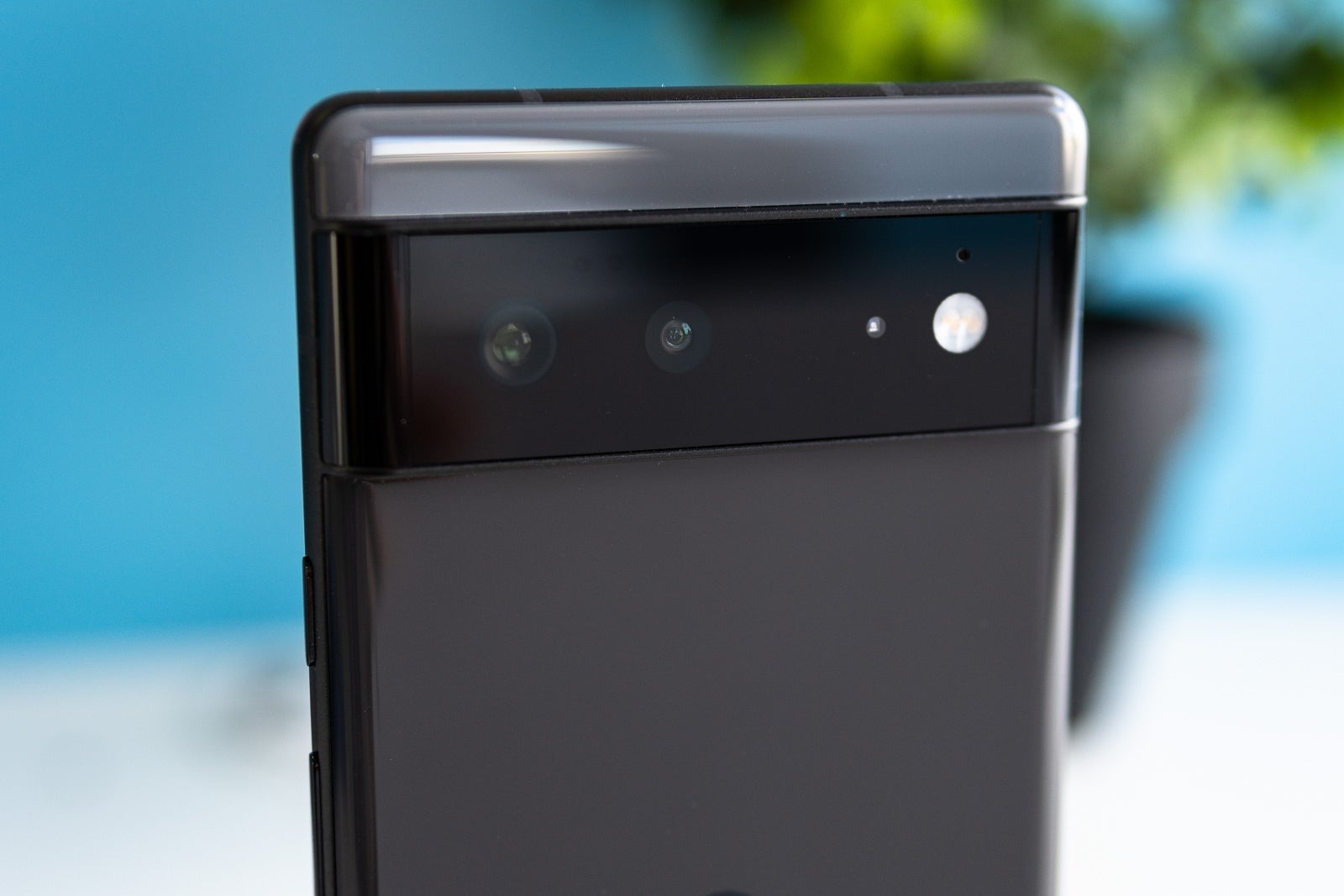 Of course, this is why we are all here. Google's Pixel Phones camera work has been top-notch since the OG Pixel came about and that was all thanks to the software enhancing the imagery captured by a 12 MP sensor. Now, we have a 50 MP sensor to work with and we were all excited to see how the Pixel 6 utilizes that.
Would you be surprised if I said it's a great camera? Of course not…
The Pixel 6 has two rear cameras — no shenanigans with a "macro lens" or "monochrome lens" to make it look like there's a triple system back there. The main camera takes fantastic photos — sharp and vibrant, with pretty accurate colors and great details that you can peep into. The dynamics are, of course, also great thanks to Google's HDR work.
And yeah, the image quality here is the same as on the Google Pixel 6 Pro as the two devices share the same camera sensors on the main camera.
Let the samples do the talking:
The ultrawide camera on the back is not really ultra… It goes down to 0.7x where competitors like Samsung phones and iPhones go down to 0.5x. So, the Pixel 6 ultrawide camera is more of a "slightly wider angle". But at least it looks good with no intense distortion around the edges. It does look a bit softer, too, due to the ultra-wide lens and the 12 MP sensor underneath.
There's also a Portrait Mode on board, and I always check that. Despite missing any fancy ToF or LiDAR sensor, the Pixel does a pretty good job at subject separation.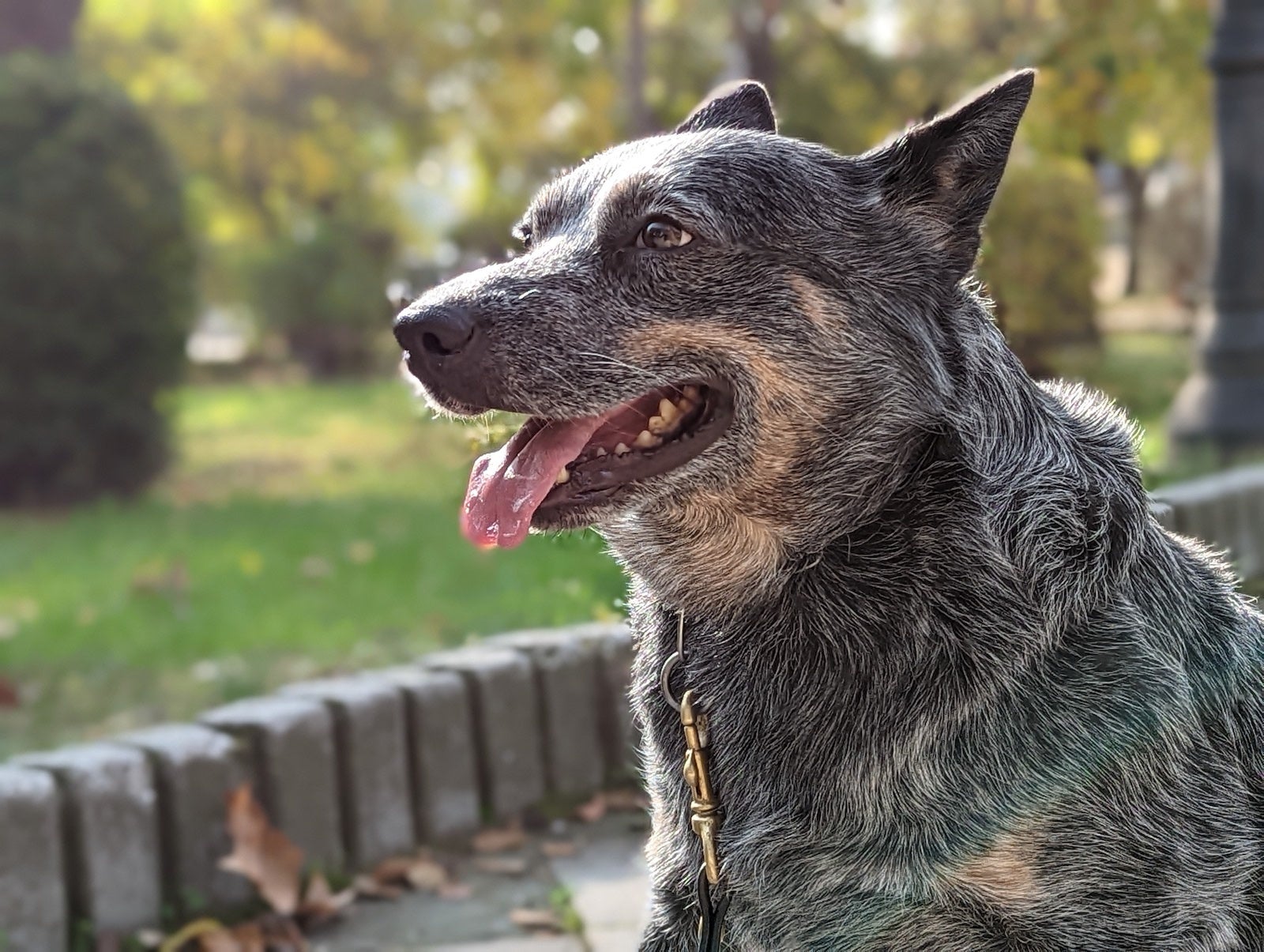 Pixel 6 Portrait Mode
There are a couple of downsides to the Pixel 6 Portrait Mode — one is that you can't adjust the amount of background blur in-camera. The phone just has one preset level and that is. You can sort of tweak it in the Photos app after, but it can't go beyond the level of blur your see here.
Secondly, since there's no telephoto lens for optical zoom, the 2x Portrait Mode is a digital crop. Honestly, I don't feel like the photos suffer from that, but still — it is digital zoom so take it for what it is.
Those two gripes aside, I feel like the Pixel's Portrait Mode is stripped down to the core, but it performs very solidly as such.
The selfie camera is not fantastic — its details can be soft and it's very easy to take a slightly blurry selfie when lighting is not ideal. Also, my skintone seems a bit pale-ish with it. But, in good conditions, and with steady hands, you can capture some good selfies for the 'gram, sure. Selfie Portrait Mode also doesn't look half bad.
Moving on to night shots — Google's Night Sight has been pretty crazy so far and the new 50 MP sensor only makes it more so. In fact, sometimes, it can make night photos look like day so you may actually want to turn it off if you would like an actual dramatic low light photo.
I tried the new Motion Mode, too. Basically, you can use this mode to simulate a long shutter effect or — conversely — take a photo where a moving object is in focus and the background is covered in artistic motion blur. It's kind of cool. It works pretty fast, which means you don't need to sit there for too long.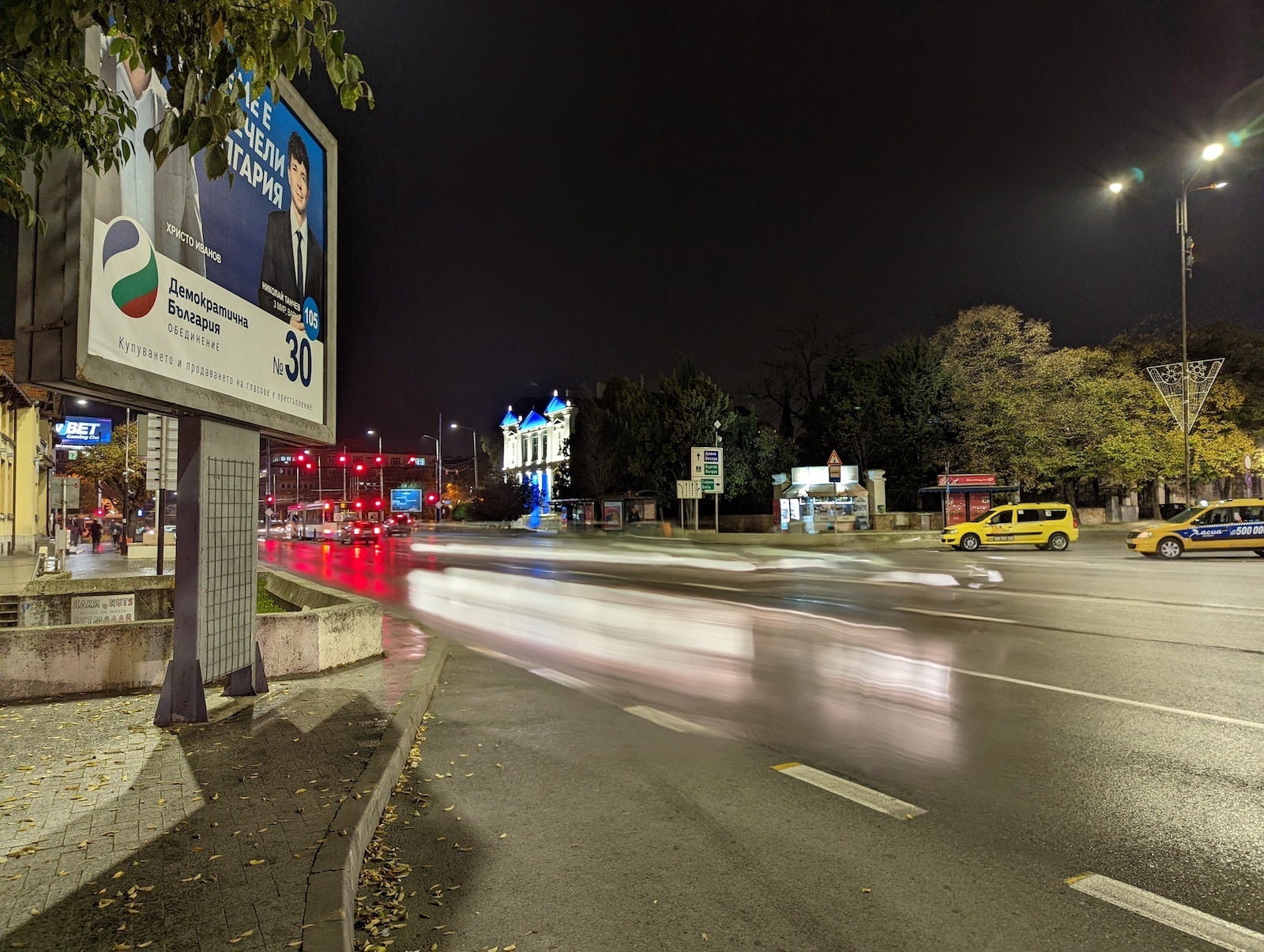 Long Exposure
But, conversely, this also means that you can't get enough objects to pass through to get a really convincing long shutter, and it's sometimes hard to capture your moving subject within a short window of time for an action shot.
Motion mode seems like a bit of a niche feature and I am not sure why it had to be featured front and center in the Camera app — but there you have it. A new toy!
Speaking of blurring, though, the Pixel 6 now features a Face Unblur algorithm. Similar to how Google's HDR+ already works — the phone captures frames before and after you press the shutter. Then, it uses AI and machine learning to find a face, figure out if it's smudged by motion blur, and "reconstruct" it by combining all of the frames it took during the process. Yeah, it does that automatically.
Google Pixel 6 performance
The Google Tensor chip is a big deal, sure, but not because it will be setting benchmark records.
See, Tensor is all about its AI-oriented cores and functionality. The extra hardware that Google needs to do its Assistant magic quickly and effectively straight on the device.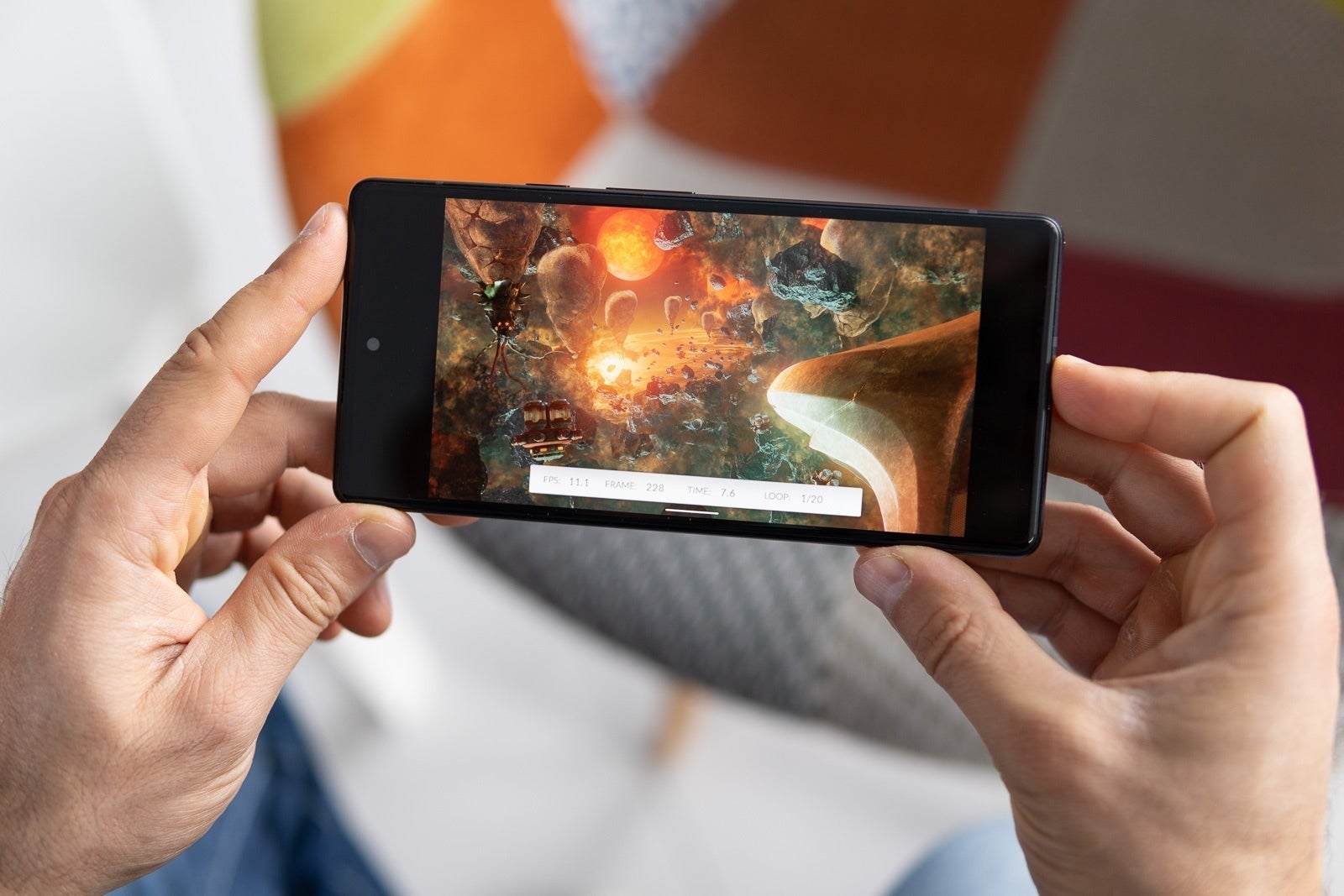 So, after we've seen the numbers, how does the Pixel 6 perform? Quite well, actually. I honestly can't complain about stutters or not being able to run the top-tier 3rd part apps from the Play Store. The Pixel 6 is a top-tier phone through and through and performs as such.
Pixel 6 and Android 12 exclusive features
Android 12 is now out and it's official, but not all Android phones are made the same. The Google Pixel 6 gets exclusive smart features, which Google claims it was only able to implement thanks to the Tensor chip and its AI-dedicated cores for on-device Assistant operations. In other words, other phones will probably not get them, which will help Google differentiate the Pixel line in a sea of Android phones.
OK, so what is new that the Pixel 6 can do?
For one, speech-to-text — the AI is now surprisingly good at taking your voice dictation (or voice typing) and trasforming it into a text message. I mean, Android was good at this before, but the Pixel 6 just takes it to a new level. It understands intonation, diction, intention. It can put its own punctuation and it remembers the names of your friends. This phone actually encourages you to use voice typing just because it does it so well.
The same tech has been improved for live translation — with the Translate app, you can now have two people holding a conversation in two different languages, by speaking into the phone. It's still a bit awkward and it looks funny, sure. But if you are stranded in a foreign country, you might just thank the heavens for that feature.
In general, the Pixel 6 is more aware of context and — for some scenarios — you can talk to it without even calling out "Hey, Google". Like, if an alarm rings, or if someone calls you, you can just tell the phone to "Stop" or "Answer" and it'll react.
Machine learning is supposedly going to improve your interactions with the Google Assistant as time progresses, too. And, Google says it's all done on-device, thanks to the power of Tensor, so you shouldn't worry about your voice recordings being stored and analyzed somewhere else…
The Photos app now has a Magic Eraser tool, which is exclusive to the Pixel 6 line, at least for now. Basically, you can tap a photobomber or any unpleasant object in a photo and the AI will delete it and "fill it up" with what it thinks should be behind it. Kind of like a healing tool in Photoshop or other image editors.
Does it work? For small objects, sure. It sometimes looks like a "bad Photoshob job", but the fact that it's a bad Photoshop job performed by an AI that figured out the edges and shape of an object and then assumed what the background behind it is, still blows my mind.
Android 12
Android 12 is a bold new redesign with lots of new customization perks. Something everyone seems to love is how the UI can pick up the dominating colors in your chosen wallpaper and then spread them around the interface as accent colors. That's a pretty cool feature only made better by Google's rich wallpapers suite, which makes sure you will never run out of cool pictures to put on your background.
The redesigned tiles in the quick settings are probably going to be… an acquired taste. Google made them way too big and now you can only have up to 8 toggles per page in the quick settings dropdown. I'm not a huge fan of that choice, but it is what it is.
Google wants you to know it takes privacy concerns seriously and it kind of went overkill with some features in Android 12. You literally have toggles for Microphone Access and Camera Access in the notifications dropdown. Presumably, if you turn this off, no app whatsoever can use the microphone or camera of your device. I tested this by trying to make a call or open the Google camera app on the phone and, sure enough, they couldn't function.
Conversely, when access is opened up, a green dot notification will let you know an app is using the camera or microphone.
There are other tidbits, nuts and bolts spread around, but I'd say Android 12 feels like a mature, serious system, that happens to run very smoothly on the Pixel 6. There are lots of little animations that make it feel like it has been polished — like when you press the power button to turn the screen off and you see it gradually "shrink" the image into the power button.
Then, there are moments where it doesn't feel like that, because you try to show that animation to a friend and it doesn't work the same way, for some reason. Or the fact that, on a fresh install, the Pixel 6 was very eager to tell me "Hey, try the new Magic Eraser!". After I couldn't find it, it turned out I still had to update the Photos app to get it. I mean… First World problems right here, but still bad presentation.
It's worth mentioning that the Google Pixel 6 phones are now guaranteed to have at least 3 years of Android updates, which means they will get up to Android 15, and 5 years of security updates.
Google Pixel 6 battery life
With all the smarts on board of this tiny thing, the battery life is pretty OK. It's not mind-blowing, 2-day endurance champ, but with regular usage it didn't feel like I was losing too much juice.
I'm talking — chatting, browsing Insta and TikTok, listening to some music. About 3.5 hours of screen on time per day and I still have about 30% in the evening, so I don't feel rushed to get to a wall outlet.
The Pixel 6 does support wireless charging (21 W fast wireless charging, at that), so you can just plop it on a Qi mat whenever you are not using it, making sure it will never run out of juice. It also supports power share, meaning you ran charge something else with it — like a smartwatch or earbuds that support wireless charging.
For wired charging, you can hook it up to the USB C port and get 30 W fast charging if the brick supports it. Yeah, you need to buy one aftermarket if you don't have one already.
Of course, there's the well-known Extreme Battery Saver mode on board, which limits your phone's functions to just the essentials. You can use that one to save juice when on a long trip or a hike, but I never found the need for it in my day-to-day.
Google Pixel 6 speakers and haptics
The Pixel 6 sports two speakers in a stereo setup — a bottom-firing driver and an earpiece that's actually another loudspeaker. They sound a bit tinny and mid-heavy, so I wouldn't say you can listen to music on them. But they do fine for YouTube videos, especially the talking head kind. They don't get too loud, but the alarm did manage to wake me up.
All in all, OK speakers, but not ones that will wow you. The Pixel 6 Pro is slightly louder and thicker-sounding and the iPhone 13 series really knocks it out of the park this year.
As for haptics, the Pixel 6 clicks and clacks confidently and precisely. Google has had good haptic motors for a while now, and the Pixel 6 is no exception. And it knows this, as Android 12 is laden with different vibration feedback moments.
Google Pixel 6 competitors
The biggest competitors will either be other year-old flagships, or midrange phones from this year (like the
Pixel 6a
).
The Galaxy S21 is Samsung's "small flagship" for 2021 and it does have a 120 Hz AMOLED screen and triple camera, with an actual telephoto lens, so it beats the Pixel 6 in those areas. On the other hand, its back is plastic (oops, we mean "glasstic"), its screen is slightly smaller at 6.2", and it has Samsung's take on Android — OneUI. Not that that is bad, it just caters more towards the customer that wants to dive into Samsung's ecosystem to get the most out of it.
The Galaxy S21 has an MSRP of $799, but since it's a bit of an older model right now, you can find it at a discount regularly.
OnePlus did have the OnePlus 9 and OnePlus 9 Pro back in 2021, and they were pretty nice phones. Alternatives to the mainstream that still offer snappy performance and elegant looks. Though, their cameras don't really compete with the Pixels and Galaxies.
The OnePlus 9 is pretty solid — it has a 6.5", 120 Hz OLED screen, and a glass back though with a plastic frame that imitates metal. There's a triple camera module on the back, but treat it as a dual cam — wide and ultra-wide. That third camera is just for show (2 MP monochrome sensor).
In general, it's a solid flagship, but its Hasselblad-branded camera doesn't outperform the Pixel 6. It's just "good".
Apple's iPhone 13 was (is) a pretty good phone — enough that we believe it's still worth buying over an iPhone 14. The Apple A15 chip is simply overkill, but its 6.1-inch OLED screen is stuck to 60 Hz, and also the slow Lightning port is getting on tech fans' nerves by now.
But it's undeniable that it's solid, it's part of the Apple ecosystem, and it'll be the Pixel 6's main competitor despite selling for more cash.
Google Pixel 6 summary and final verdict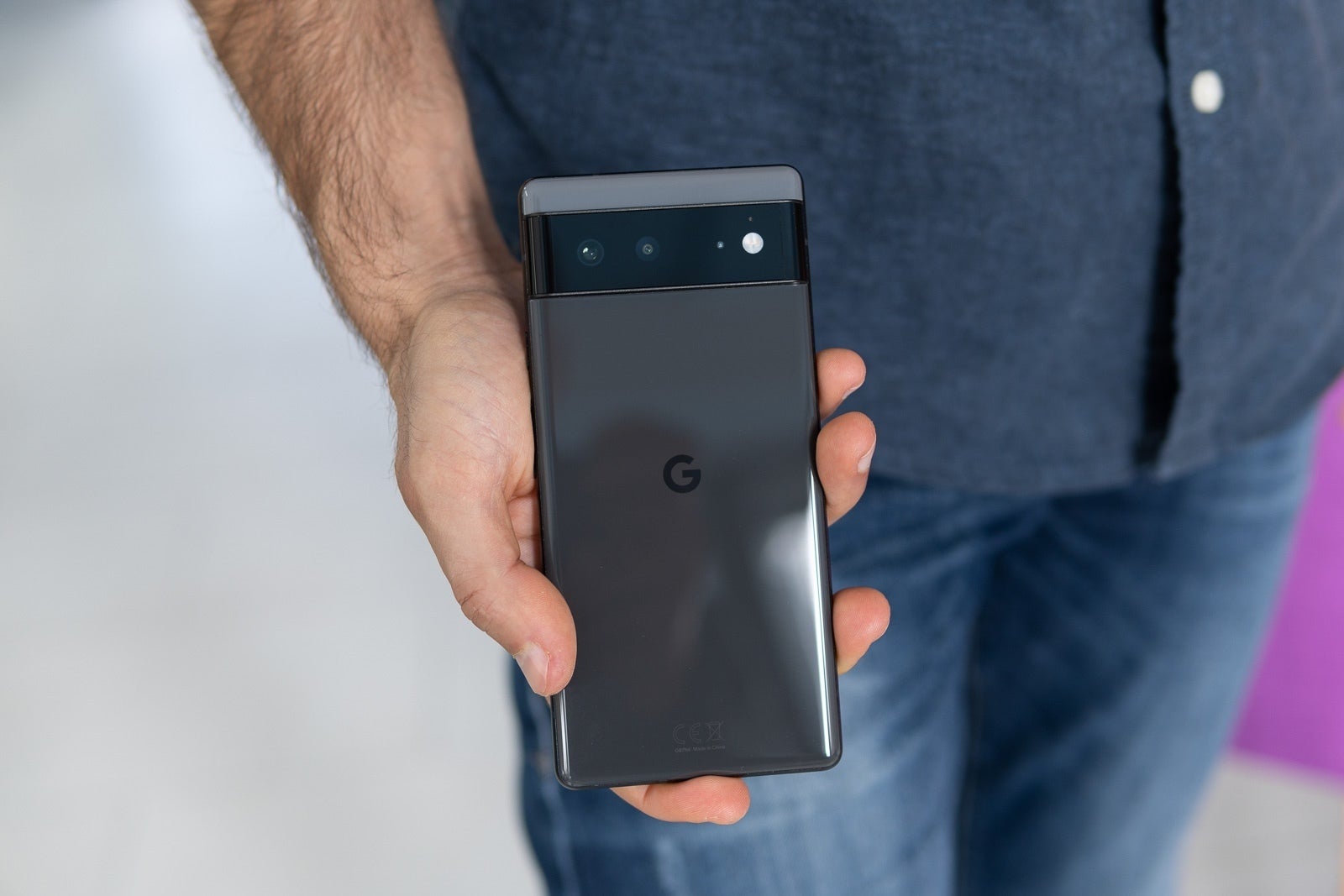 Pixel fans had a rough year in 2020, when Google decided to launch the Pixel 5 instead of… well, a "real" flagship. It was an upper-midranger at best with an admittedly great camera, but lacking in a lot of areas. And still priced at $700.
We believe that the Google Pixel 6 offered tons of value and undercut a lot of its competitors with its original $600 price-tag. It has the same software experience and powerful hardware as the Pixel 6 Pro, with the same awesome camera that takes fantastic photos in both day and night. It's a much better Pixel phone than 2020's Pixel 5, which launched at a steeper price, too.
Now that we can find the Pixel 6 at a $400 price point, it's still an amazing offer. It still has 2 more Android updates to go, 4 more years of security patches guaranteed. Sure, the Pixel 7's camera is slightly better, but hey... it's $400! If you are looking for a high-performance Android flagship that doesn't cost an arm and a leg, the Google Pixel 6 is right up your alley.