Samsung Galaxy S22 review: top features
26
We may earn a commission if you make a purchase from the links on this page.
Intro
Samsung's
Galaxy S22 devices
are still around and can be bought at varying discounts during promo periods quite often. It's a trio of phones — as is regular of Saomsung nowadays — the
Galaxy S22 Ultra
is undoubtedly the real heavy-hitter. But if you don't feel like spending money for camera or S Pen features you may not need — the
Galaxy S22+
is offers a big screen of the same quality, but with those bells and whistles cut. Going further, the Galaxy S22 offers a more compact option and is the most affordable in the family. It still has a pretty AMOLED panel and cameras that are as good as the S22+, though.
With the smaller body comes a smaller battery and yes, so the phone isn't suited for prolonged heavy usage. However, as it is, the Galaxy S22 is a great pick for non-powerusers who don't mind charging every night (or plopping the phone down on a wireless charging pad from time to time).
So, is the Galaxy S22 still a good choice in 2023? Let's take a look at its features and performance, battery life, and camera quality. Spoiler: we think it is!
Galaxy S22 Design
One for the compact phone lovers
The design of the Galaxy S22 is not a huge departure from the S21 series — hey, if it ain't broken, no need to fix it. The S22 looks a bit bolder, with a more boxy look (though the sides are still a bit rounded) and a huge selection of colors. Yeah, if you are shopping retail, the
Galaxy S22 color
list consists of Green, Pink Gold, Phantom Black, and Phantom White. But if you shop from Samsung.com, you get access to 4 exclusive colors — the fan-favorite Violet, joined by Graphite, Cream, and Sky blue.
It's worth noting that the S22 has a glass back rather than the plastic one Samsung used in the S21! Actually, both the front and back are shielded with the latest Gorilla Glass Victus Plus, and the mid-frame is made of aluminum, and so are the buttons.

The uniform bezel around the display is a pleasure to behold — it's thin enough to make room for a lot of screen, yet it's just the right thickness to keep ghost touches at bay.
The camera bump is nested in a vertical slab of metal on the back, much like with the S21 series. It houses three lenses as Samsung isn't cutting corners with the camera features of the Galaxy S22.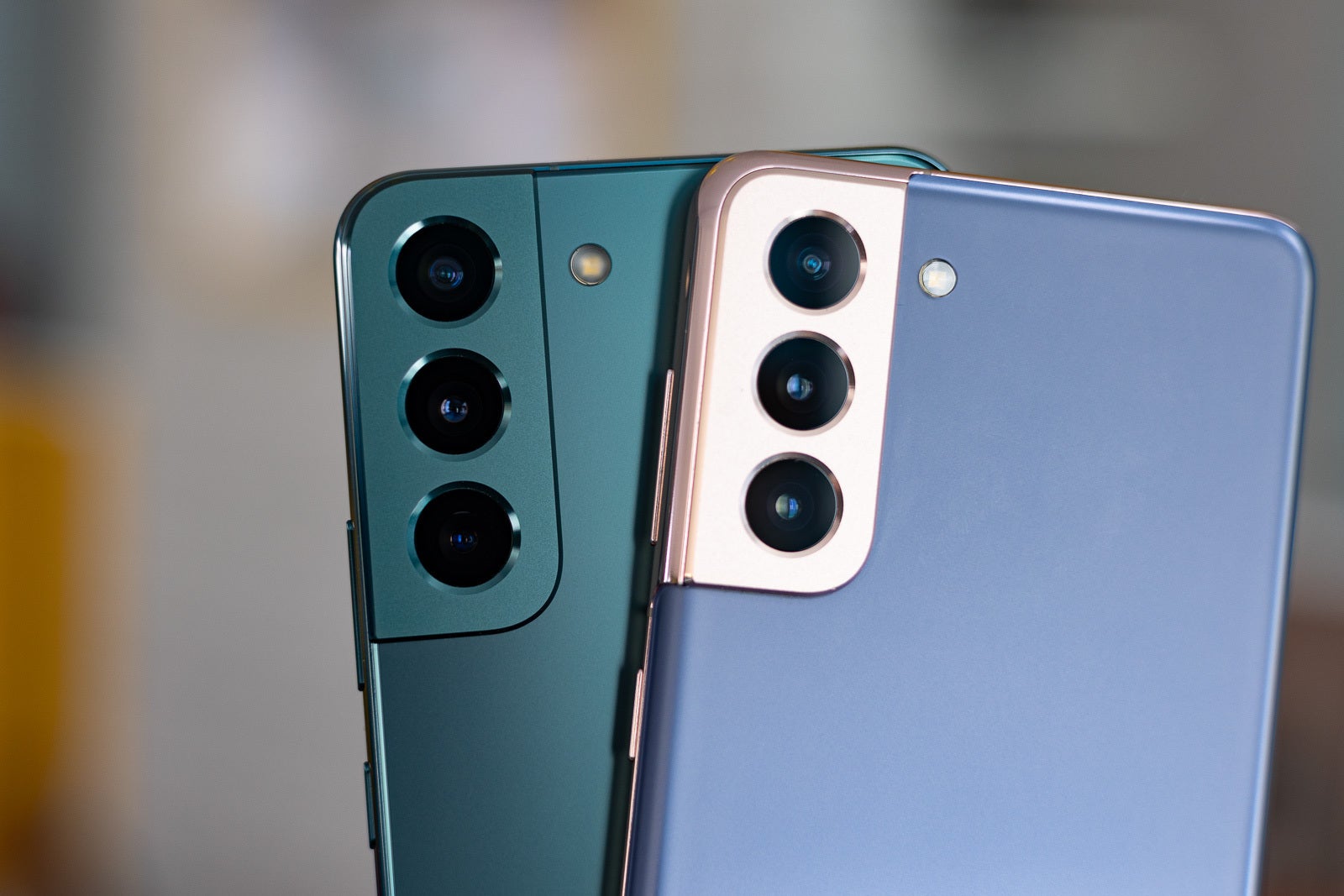 Let us also give you the exact dimensions of the Galaxy S22, notice how it is considerably smaller than the S21 and only very slightly bigger than the compact champ from a few years ago, the S10e:
S22 dimensions: 146 x 70.6 x 7.6mm
S21 dimensions: 151.7 x 71.2 x 7.9mm
S10e dimensions: 142.2 x 69.9 x 7.9mm
The S22 has also shed a bit of weight, it's 167g versus 171g on the S21, a tiny difference but still.
IP68 water and dust protection is very much here still, ensuring your Galaxy will survive a bit of rain and an accidental drop in water (rated to survive up to 30 minutes in up to 5ft deep fresh water).
Galaxy S22 Display Quality
Wider, super bright screen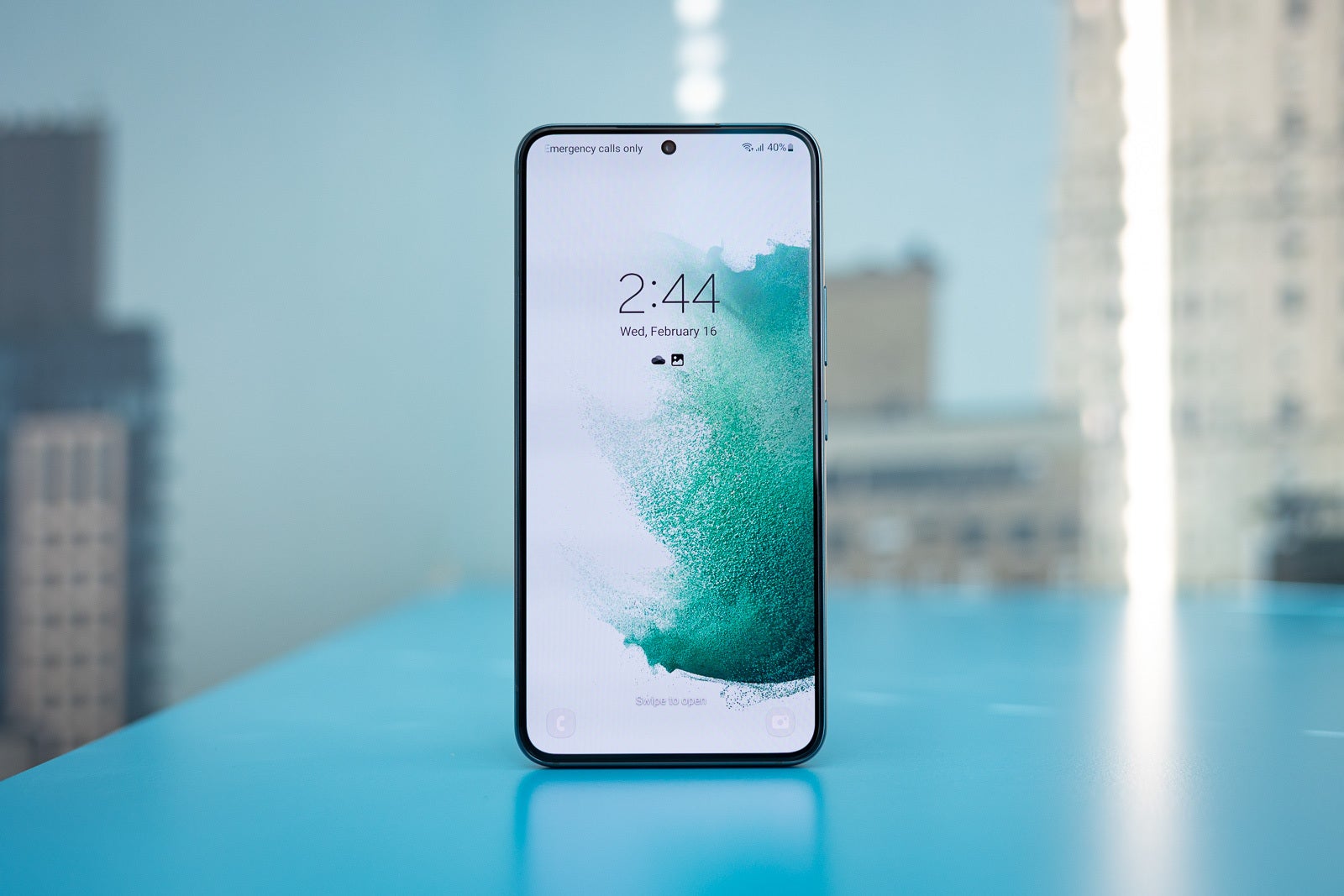 The screen is smaller, but not too small at 6.1 inches in diagonal. An interesting detail is that it is not as tall as on the previous model, and now you have a 19.5:9 aspect ratio, while the previous S21 had the taller 20:9. By the way, this new ratio just happens to be the same as on iPhones.
The resolution is 1080 x 2340 pixels, not quite as high as the 1440p QHD+ you get on the S22 Ultra, but you don't really need to go nuts with the smaller screen. The S22's screen density still amounts to 422 pixels per inch, which is so sharp that you can cut yourself while scrolling.
As for colors, Samsung's Dynamic AMOLED is just gorgeous... no surprise here — Samsung's displays have been consistently excellent for years now. Of course, it goes up to 120 Hz for that buttery smooth refresh rate, too.
Display measurements and quality
AMOLED screens improve very gradually, and this year the key new spec is higher brightness. The S22 can reach a max brightness of 1,500 nits, higher than the S21 which maxed out at 1,300 nits and way higher than the 800 nits on the iPhone 13. Naturally, you get full HDR video support for the occasional Netflix movie (and even some YouTube videos are shot in HDR these days).
For biometrics, Samsung uses an ultrasonic in-screen fingerprint reader. Our impressions are that it is basically identical to the one on the previous S21, which is to say accurate and fast enough (even if not the fastest in the industry). You also get face recognition using the front camera and 2D images, so not quite as secure as Face ID, but we are definitely glad to have this option.
Galaxy S22 Performance and Software
The Snapdragon-Exynos divide lives on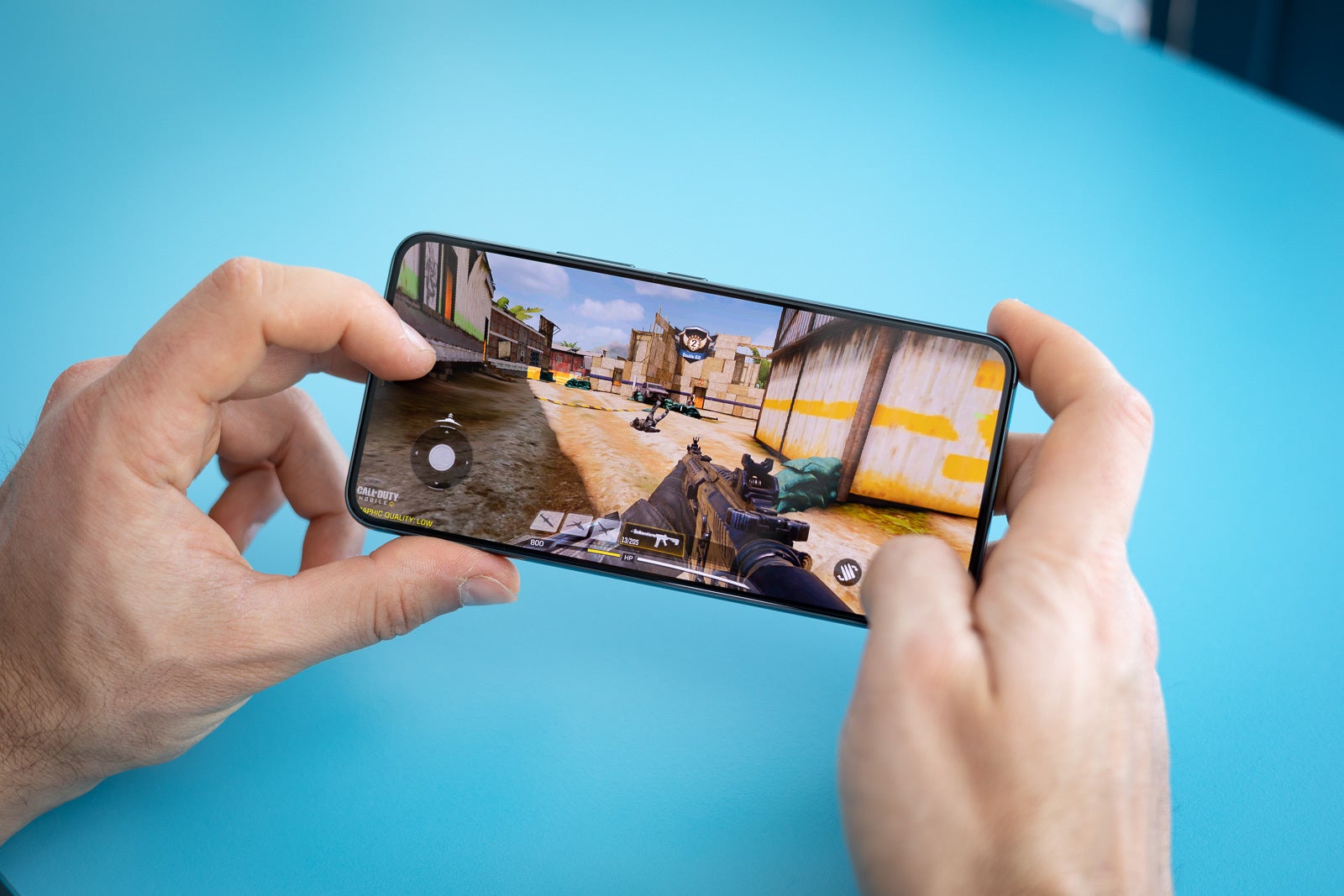 In the United States, the Galaxy S22 comes with the Qualcomm Snapdragon 8 Gen 1 chip, while the UK and Europe are getting a Samsung-made Exynos 2200 processor. Reports point to the Exynos having slightly lower numbers on raw benchmarks, but in general, the phones perform similarly. That means — snappy and fast.
As for storage, you are getting a 128 GB base model as well as a 256 GB version that will cost a bit more. You cannot expand it as there is no microSD card slot on the Galaxy S22, so choose your storage wisely. In our experience, 128 GB is still good enough for most people out there, especially in a time when everything is being backed up to the cloud.
In terms of software, the Galaxy S22 now gets Samsung's One UI 5 on top of Android 13 as an update. As is usual, Samsung's interface is chock-full of customization options, extra features, bright colors, and transparent elements. It is a vibe of its own.
Samsung has previously promised 3 years of software updates, but it's changing that now and the Galaxy S22 will benefit from 4 years of major OS updates and 5 years of security updates. This means that the S22 should be getting Android versions 14, 15, and 16 some time in the future, which is great! No other Android phone maker goes to such lengths and even Google only promises 4 years of OS updates.
Plus, Samsung has been quite quick to push out Android updates to its old phones over the past year. Sure, there was a couple months' wait time, but — in the grand scheme of themes — Samsung acted with impressive speed, giving us hope for the future of the Galaxy phones. Remember the meme "Hey, Android 10 is out, this means I am finally getting Android 9 on my phone!"? It seems this punchline is now dead, and that's a good thing.
Galaxy S22 Camera
Finally, a real zoom lens
Apart from the usual main and ultra-wide cameras, Samsung pulled a weird trick with the S20 and S21. Those phones did not have a "true" telephoto lens, but instead used a 64MP sensor that barely had any zoom (1.1X) and just cropped in to achieve an advertized 3X zoom level. This changes in the Galaxy S22, the first in a while to get a "true" 3X zoom lens.
Take a look at the camera specs of the S22 below, if you like to nerd out over camera sensor sizes and megapixels.
Camera Specs
Galaxy S22
Galaxy S21
Main (wide) camera
50MP, 23mm, f/1.8 aperture, 1/1.56" sensor size (1um)
12MP, 26mm, f/1.8 aperture, 1/1.76" sensor size (1.8um)
Ultra-wide
12MP, f/2.2 aperture, 1/2.55" sensor size (1.4um)
12MP, f/2.2 aperture, 1/2.55" sensor size (1.4um)
Telephoto
10MP, 3X native zoom
f/2.4 aperture, 1/3.94" sensor size (1um)
64MP, 1.1X zoom (3X hybrid)
f/2.0 aperture, 1/1.7" sensor size (0.8um)
Front Camera
10MP, f/2.2 aperture, 1/3.24" sensor size (1.22um)
10MP, f/2.2 aperture (1.22um)
To save you the number crunching and comparison, let's just say that for the most part the camera hardware on the S22 is remarkably similar to the S21, with a slightly larger main sensor being the other notable change.
Paradoxically, the improvement of the actual camera performance is... not so clear-cut. If we put the S22 photos next to S21 photos, they look slightly colder, a bit too oversharpened and... in general not necessarily better?
But the S22 camera can stand on its own two feet quite well. We took it out for a longer stroll and took a bunch more samples, which honestly we can't complain too much about. Dynamics are awesome, colors look good... sharpness is a bit too much, let's be honest. But otherwise, solid photos — just look at this:
There is a lot of hype around the new Samsung Expert RAW 16-bit capture that should provide enthusiasts and professionals with more creative potential. Essentially, if you are feeling up for it, you can take and export RAW photos straight from the phone and enhance them with your Adobe Lightroom superskills.
On the video side, Samsung officially teases "breaking the rules of light", basically saying that we should expect better low light photos and videos. And yeah, Night Mode for photos is great on these phones — as great as it was before. To tell you the truth — sometimes it's a bit too good, making things look a bit too bright for a night shot. Thankfully, turning it off is just a tap away, and the camera is still capable of taking very clear, bright, colorful pictures even with Night Mode off.
Improvements in night video are also noticeable. I took a long clip, testing the standard camera, then zooming in far, then switching to ultra-wide and back to the main camera. You will notice, around the end of the clip, the ultra-wide camera does not have the night vision enhancement. So, it makes it immediately obvious how good this new main camera is.
Galaxy S22 Audio Quality and Haptics
No headphone jack. We kind of feel it's weird to point this out in 2022, as everyone seems to be sacking it, but a few models still hang on to this "archaic connector". There are also seemingly no headphones included in the box with the S22. This means that if you want to use wired headphones, well, get a dongle or a pair of USB-C headphones.
As before, the Galaxy S22 has stereo speakers — a bottom firing driver and an earpiece that doubles as a tweeter. Well, I say tweeter, but the two speakers sound pretty balanced with no major discrepancies between them.
And as before, they need an upgrade. Samsung made these speakers "good enough" a couple of years ago and doesn't seem to have revisited their sound. The Galaxy S22's sound, while not terrible, is being outclassed by other flagships — Google's Pixels and Apple's iPhones. I'm not saying I always listen to music straight from the phone... but it's nice to be able to.
Galaxy S22 Battery Life and Charging
The smaller battery might be the biggest compromise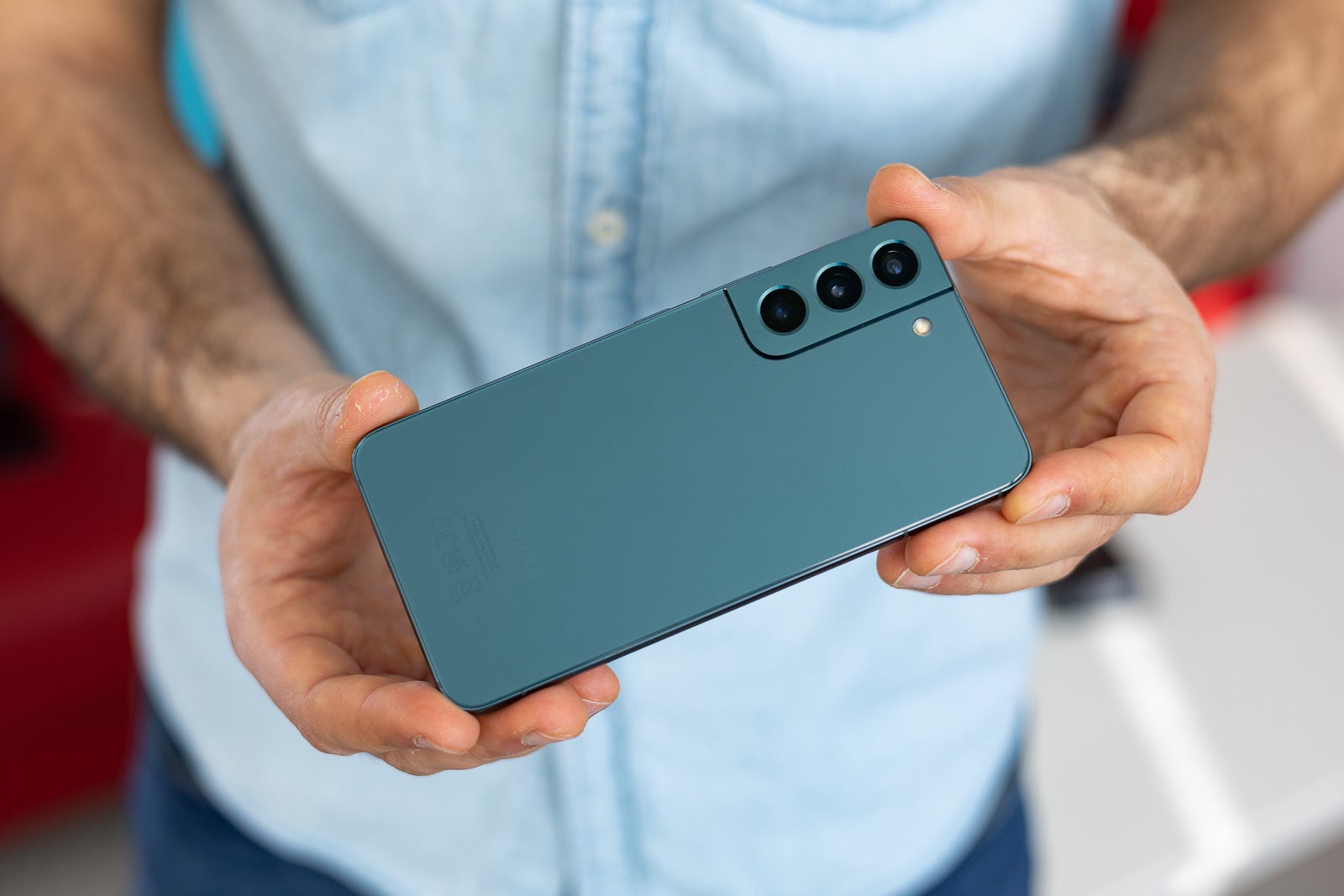 Users are never happy when companies cut battery sizes, but that's just inevitable with the much smaller Galaxy S22 size, and it comes with a 3,700mAh battery, a downgrade from the 4,000mAh cell used on the S21 (a 5% decrease in size).
Since last year's Galaxy S21 was just okay in terms of battery life, we approached the Galaxy S22 a bit worried.
And indeed, don't expect wonders out of a smaller battery, but not quite a huge decline either:
Galaxy S22 PhoneArena Battery Test Results
As you can see, with the reduction in battery life, the S22 has lost a bit of battery life compared to its predecessor in certain tests. We are getting 7 hours and 26 minutes of continuous YouTube video streaming on the S22, just 10 minutes short of the results of the S21. However, interestingly, for web browsing, the phone is now actually far better optimized, scoring way higher, which is a great sign.
However, I didn't feel this phone is great for "heavy users". As I was walking around with the camera open, taking samples, or testing how different games work, the battery took a noticeable dip. I am of the belief that "powerusers" typically gravitate towards the bigger phone anyway, and the Galaxy S22 is meant for those that want the more casual smartphone experience that happens to have power on tap. So, this may or may not be a problem for you.
Bottom line, the S22 needs daily charging, it has none of that "two day battery life" promise.
And while Samsung's main hero, the Galaxy S22 Ultra, is getting faster charging this year, the compact S22 model sticks with 25W charging speeds, same as last year. No charger in the box, of course, so you'd need to use an older charger or consider spending $20 bucks on a
good charger
.
Wireless charging is still very much here with 15W speed, and you also have support for reverse wireless charging to top up another device, but with the smaller battery here, that's probably best used for short charges or smaller gadgets.
Galaxy S22 Alternatives and Competitors
Finally, the Galaxy S22 price has remained the same as last year's model in most markets. Expect to pay $800 for the base unlocked phone with 8GB of RAM and 128GB of storage, and $50 on top of that for the 8GB/256G configuration.
The biggest rival has got to be the $800
iPhone 13
, which opens the gate to the lucrative iOS ecosystem with trendy Apple Watches, AirPods and blue bubbles. And of course, those looking for a super compact phone, will also compare the S22 to the iPhone 13 mini.
The $600
Pixel 6
looks like a steal, despite some issues with the sluggish fingerprint scanner, and it also has the advantage of faster Android updates and a larger screen.
But honestly, the big competitor to the Galaxy S22 is not a phone by another brand. It's Samsung's very own
Galaxy S21
, which still looks like incredibly good value with discounts and at least so far, it might just be the wiser buy unless you're dead set on getting the latest phone out there.
Summary and Final Verdict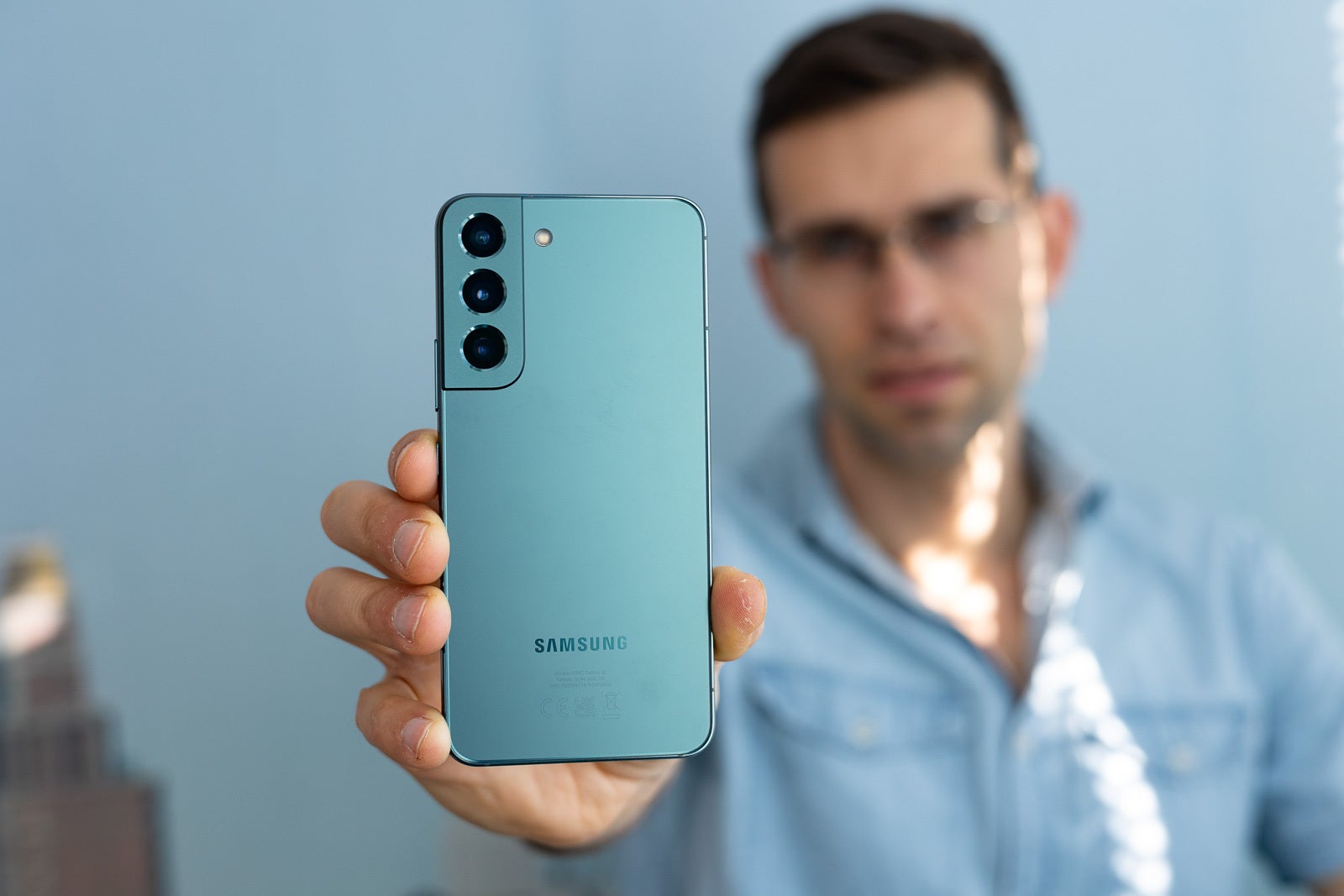 So should you buy the Galaxy S22? It's a solid entry — it's compact, it's powerful, it has a great camera. And it has the promise of long support and updates, and it doesn't hurt that the phone itself looks very good.
Plus, it's constantly the main star during discount events, especially now that we are so near the launch of the Galaxy S23 series. If you are out for a small phone that can do it all — you can do a lot worse than a Galaxy S22.
Recommended Stories