Google Pixel 6 Pro review
54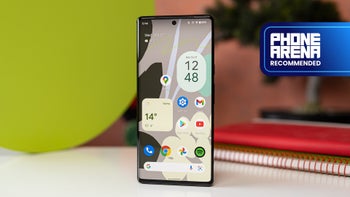 The super-savory Google flagship recipe is back with a bang, and my, what a loud bang that is!
After the lackluster
Google Pixel 5
, expectations were set quite high for Google, which simply had to make a homerun with the Pixel 6 series, the bird Phoenix of the somewhat shaken foundation of the Google Pixel flagship lineup.
Judging from my experience with Google Pixel 6 Pro, this seems to be just the case — the Google Pixel 6 Pro is essentially a reboot of the Pixel lineup that serves as a shining beacon for Android and Google in particular. What's more, and while some will disagree, it finally feels as if Samsung and Apple aren't the only two companies capable of offering an outstanding flagship phone for the US market.
For the first time ever, Google has come up with a device that seemingly doesn't lack any contemporary new feature, has no immediately visible flaw, and actually feels interesting enough to be considered by regular folks, not just Android die-hards and tech enthusiasts.
Update:
In early October, 2022, Google announced the successor of the Pixel 6 Pro—the Pixel 7 Pro. With refining changes here and there, it's an excellent follow-up to the Pixel 6 Pro. Read more in our dedicated
Pixel 7 Pro review
or in the
Pixel 7 Pro vs Pixel 6 Pro comparison
.
Pixel 6 Pro pros and cons


Pixel 6 Pro Unboxing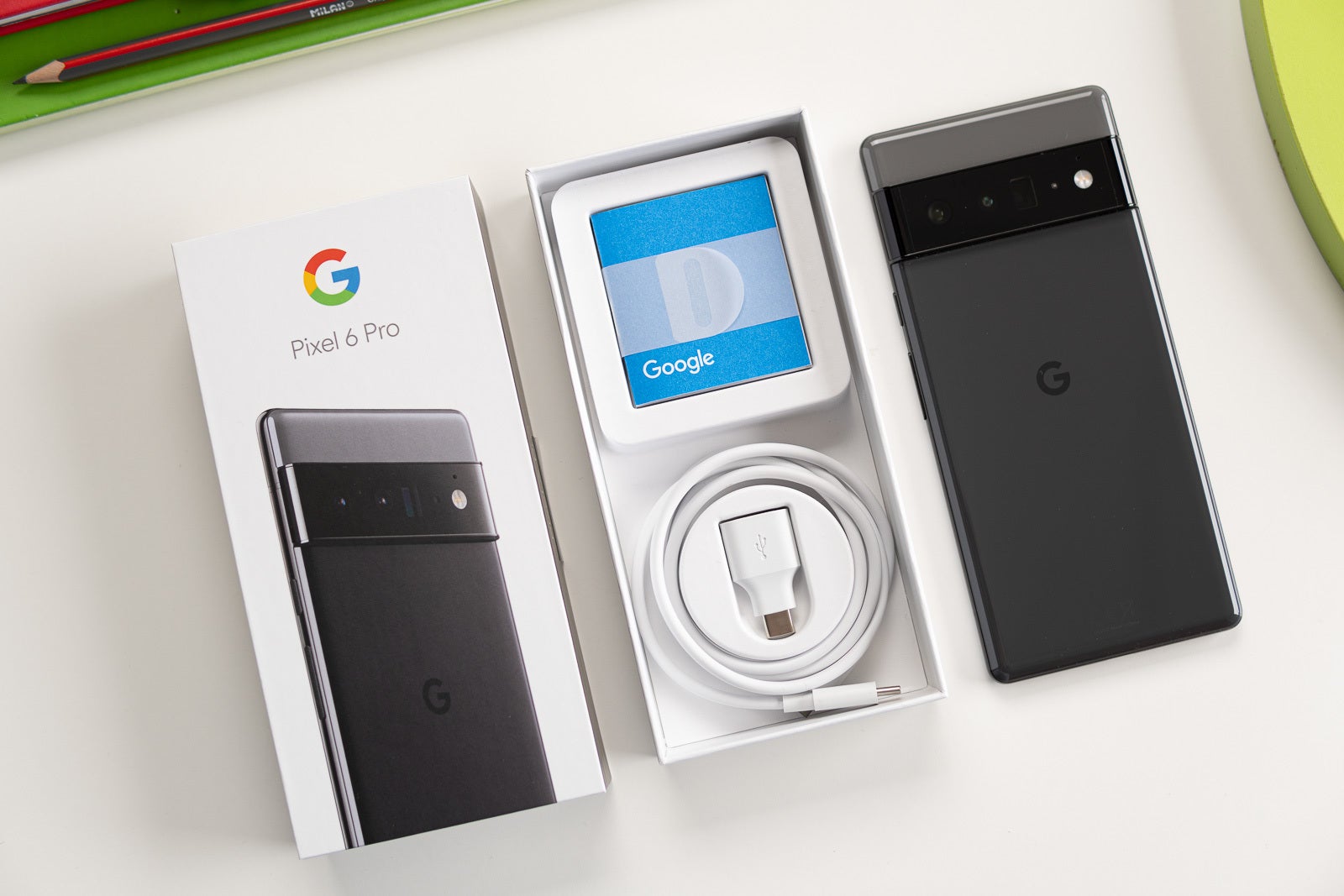 The phone—Pixel 6/Pixel 6 Pro
USB Type-C to Type-C charging cable
Quick Switch Adaptor (USB Type-A to Type-C) for data transfers
Documentation
SIM ejector tool
Pixel 6 Pro Specs
Here are the Pixel 6 Pro specs:
Specs
iPhone 13 Pro Max
Size and Weight
6.45 x 2.99 x 0.35 inches (163.9 x 75.9 x 8.9 mm), 7.41 oz (210.0 g)
Display
6.7" OLED, 3120 x 1440 pixels, 19.5:9 ratio, 512 PPI, 120Hz
Processor
Google Tensor, octa-core, 5nm
RAM
12GB
Storage
128GB, no expandable storage
Software
Android 12
Cameras
50MP wide camera, f/1.9 aperture, sensor size: 1/1.31"; pixel size: 1.12 μm
12MP ultra-wide camera, f/2.2 aperture, pixel size: 1.25 μm
48MP 4X zoom camera, sensor size: 1/2"; pixel size: 0.8 μm
Battery Size
5,0003mAh
Charging Speeds
Wired: 30W, Wireless: 23W
Price
starting from $899
Pixel 6 Pro Models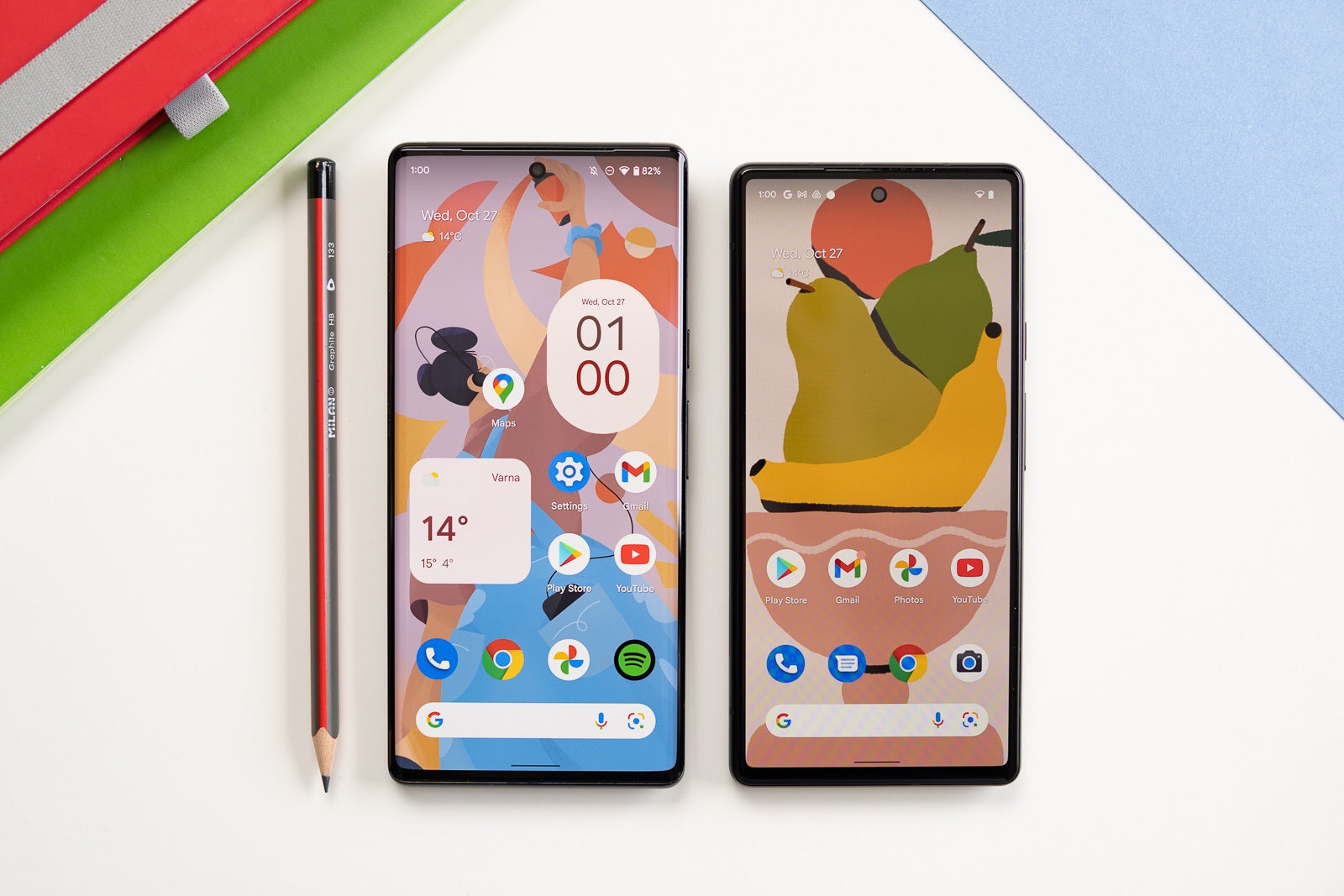 Aside from the Pixel 6 Pro, we also have a regular Pixel 6. With a smaller size, one less camera, and a flat 90Hz display, it's a more affordable phone that still shares most of the features that make the Pixel 6 Pro intriguing, like the Tensor chip and the great image quality.

Read our:
Pixel 6 Pro Design & Colors
The Pixel 6 Pro is one exceptionally well-built device. It feels sturdy and posh, and while I may over-sexualize an inanimate object, the sexy curves of the Google Pixel 6 Pro implore and beckon you to touch it.
I've never imagined I will be saying this, but the glossy glass back is a welcome change in contrast with the matte or plastic backs of previous Pixel phones: aside from looking shiny, the Google Pixel 6 Pro simply sticks to your skin, asserting a steady grip. The curved rear glass also helps with the overall handling: as much as I love the industrial design appeal of straight edges, there's nothing better than curves when it comes to comfort.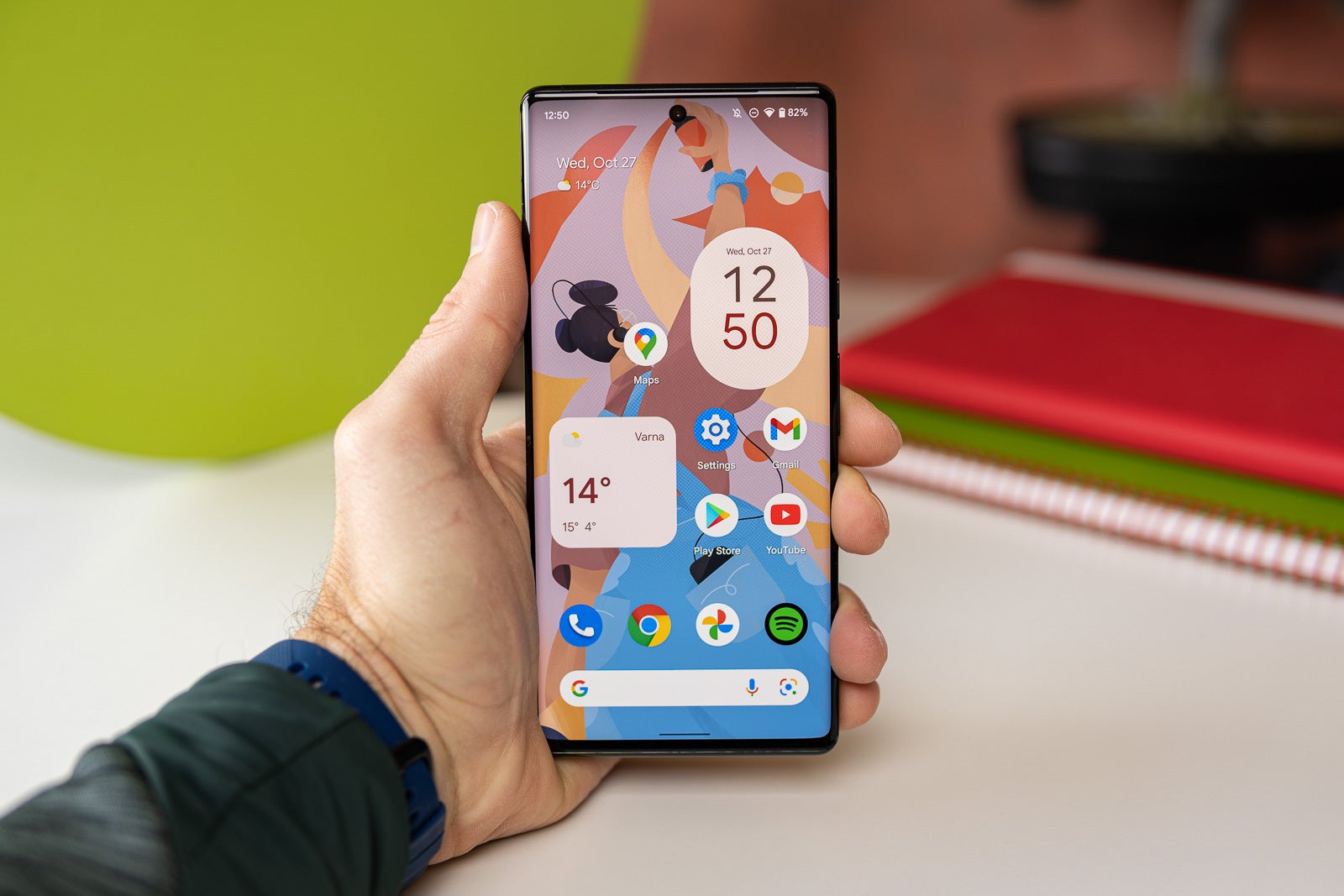 At the same time, it's not such a fingerprint magnet and allows for wireless charging, so it's a win-win on all fronts. Yet, the camera strip itself is a lint and dust magnet, accumulating tons of pocket debris and often requiring a quick wipe to preserve the pristine appearance.
The curved display is certainly a personal preference, and while I love how easy gestures are on such a screen, it definitely feels somewhat dated, as most manufacturers gave up on curved displays already.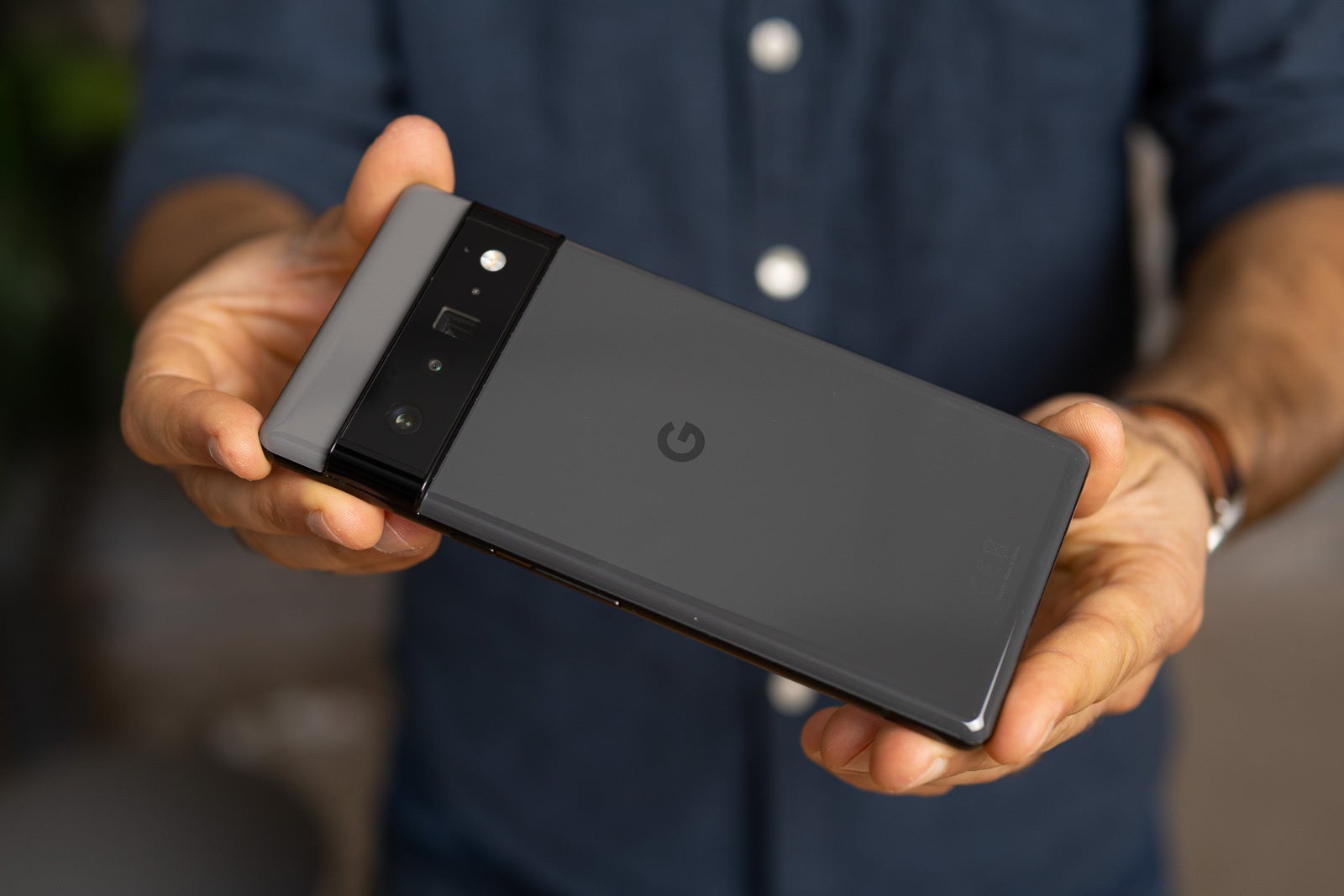 To my surprise, the phone doesn't feel top-heavy at all due to the imposing camera bar at the back of the phone. Stretching from side to side and protruding quite high, you'd think the camera bar would be quite imposing in person, and I guess it is, but after a while, it no longer strikes as something out of the ordinary and it's business as usual on the Pixel 6 Pro.
What's impressive here is how Google has made this large phone feel so manageable, even with a single hand, though I wouldn't recommend handling it with no case on. The Pixel 6 Pro is a large slab of glass and metal but it isn't that heavy, unlike the iPhone 13 Pro Max and the Galaxy S21 Ultra, in fact it feels quite light for what it is.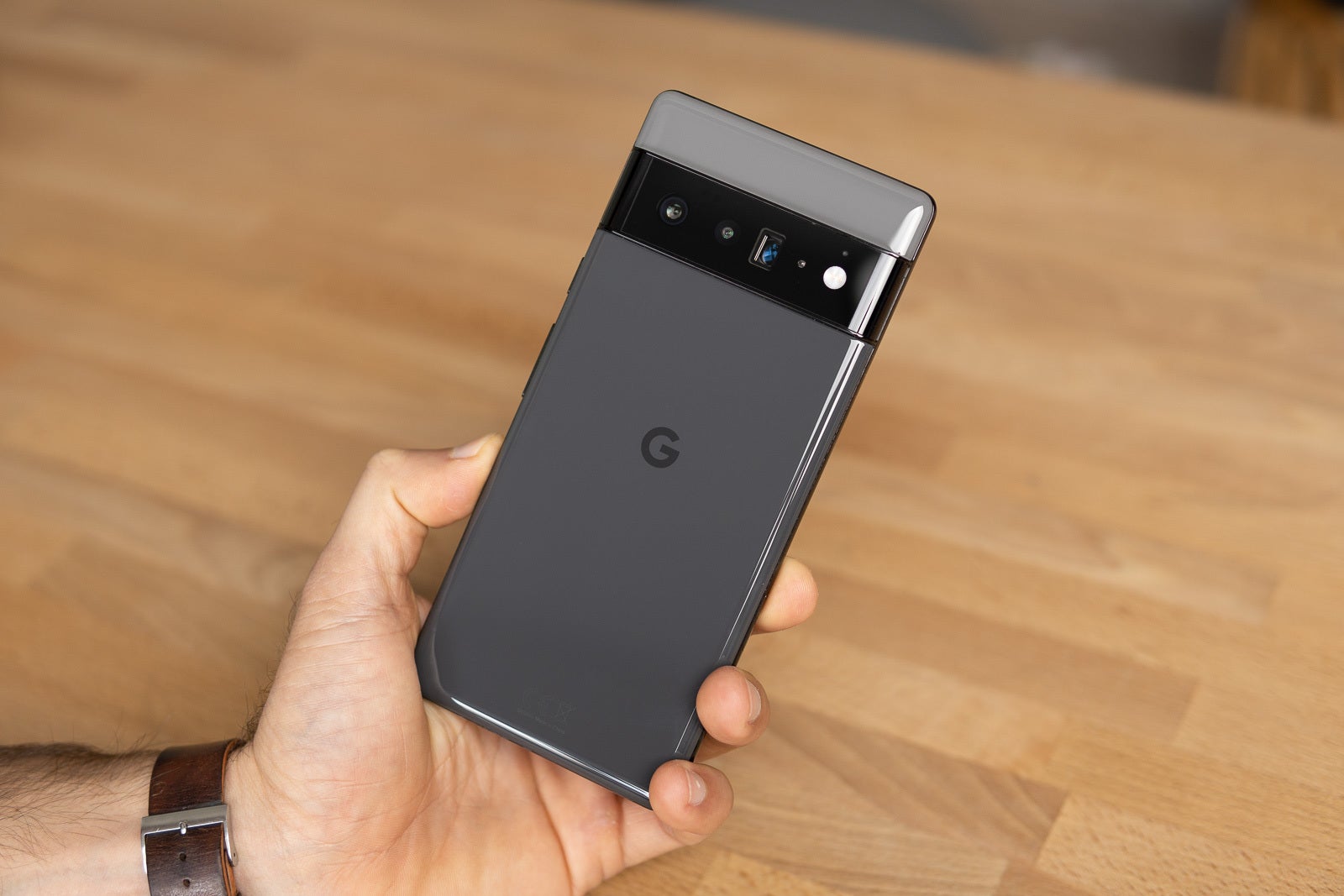 As far as colors go, I had the pleasure of reviewing the Stormy Black Pixel 6 Pro, which gives off strong stealthy vibes and definitely looks better in person, but I secretly admire the Sorta Sunny color option, which exhibits tons of personality. The Cloudy White seems okay, but I'd have loved it if Google came up with a panda-like black-and-white version once again.
Finally, we have water- and dust-resistance on the top-end Google Pixel to match the iPhones and Galaxies out there. With an IP68 rating, the Pixel 6 Pro isn't afraid of some water or dust, but the phone isn't completely proofed against these elements, so you should probably abstain from dunking it in the swimming pool if possible.
The 6.7-inch P-OLED display of the Pixel 6 Pro is excellent. Unlike the smaller Pixel 6, which has an FHD+ display, Google has outfitted its new crown jewel with a high-resolution QHD+ display. With a resolution of 1440 by 3120 pixels, it's tack sharp.
What complements the already great display is the smooth adaptive refresh rate that varies between 60 and 120Hz, depending on the content you're viewing. Thanks to this, the Google Pixel 6 Pro matches the iPhone 13 Pro Max and Galaxy S21 Ultra in this contemporary display feature.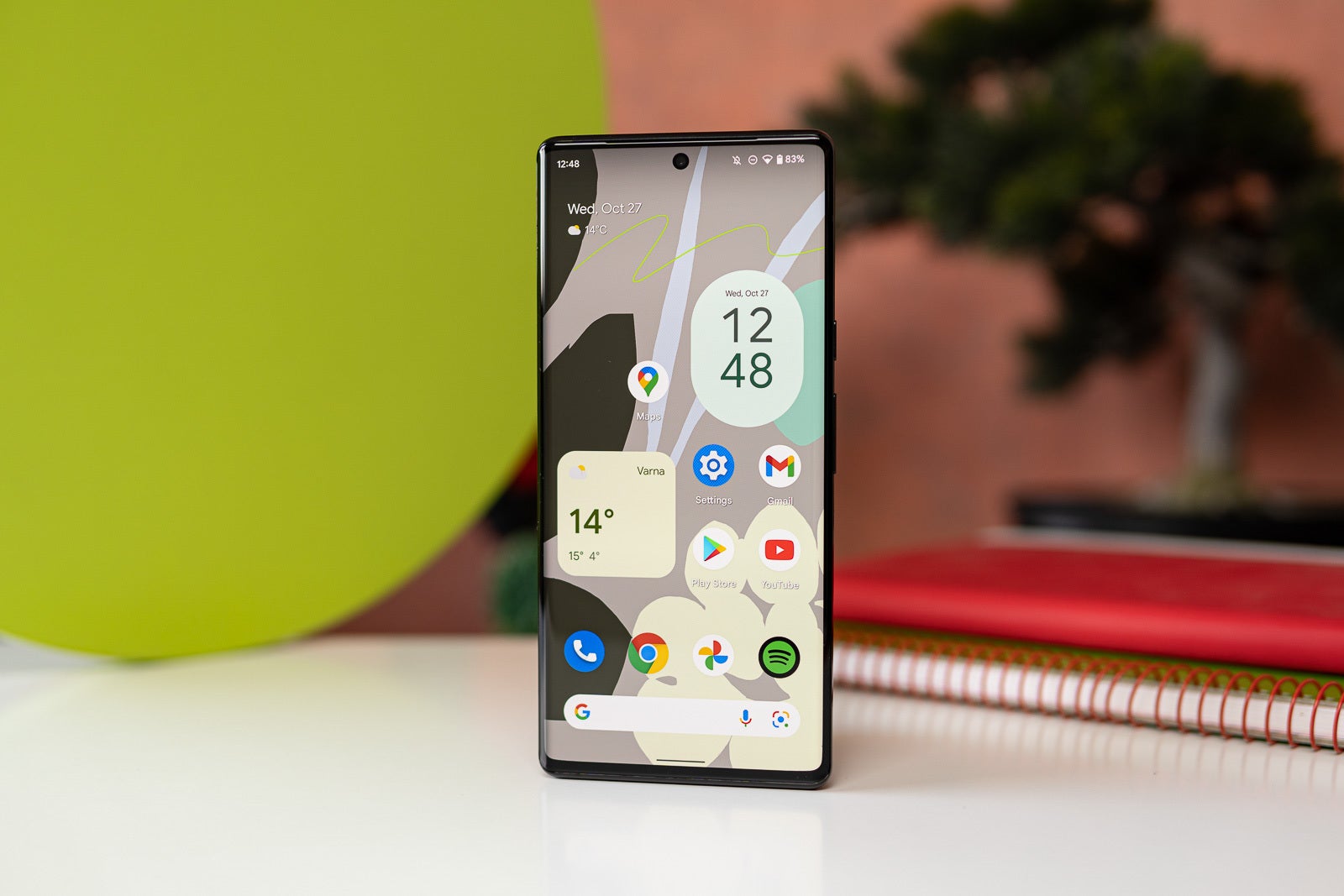 In terms of color reproduction, the HDR10+ compliant display of the Google Pixel 6 Pro is superb, as most high-end OLED displays these days are. By default, the Pixel 6 Pro arrives with the Boosted color profile enabled, which provides punchy, vivid colors, but if you're a sucker for more natural-looking displays, you can always choose a more muted color profile for the display.
In terms of brightness, the Pixel 6 Pro doesn't disappoint. With a maximum measured brightness of 777 nits, it's technically not as bright as other flagship Android phones, but I had no issues with screen legibility under the everyday sun. At the same time, the minimum brightness can go as low as 1.8 nits, which goes easy on your eyes when using the phone at night time.
Display measurements and quality
Pixel 6 Pro Camera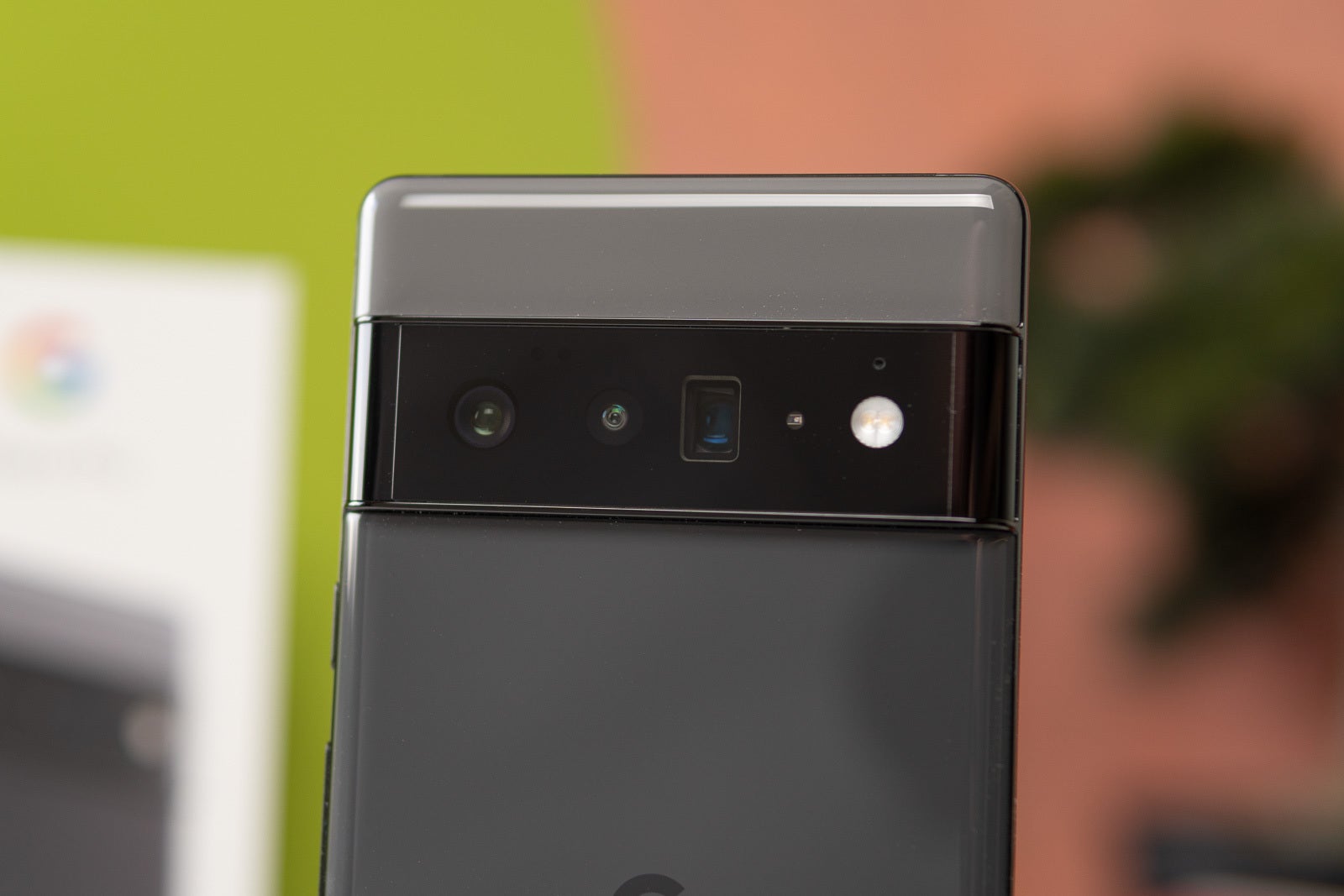 A Pixel's main attraction is the camera, and in this particular case, the Pixel 6 Pro comes with the big guns on deck.
A 50 MP Octa Quad Bayer wide-angle camera with 1.2 μm pixels, ƒ/1.85 aperture, and backed up by a large 1/1.31" camera sensor, the main camera of the Google Pixel 6 Pro definitely has the technical prowess to continue the tradition for exceptional Google Pixel photography.
Aided by a 12MP ultra-wide and a 48MP 4X camera, laser autofocus, and OIS, the Pixel 6 Pro is a versatile camera phone. By default, it gives you easy access to a bunch of digital zoom levels: 0.7X, 1X. 2X, and 4X, while 20X has to be pinched in with your fingers.
One of the 'issues' here that only got surfaced after using the phone for a while is the not-so-wide ultra-wide camera. It's a 0.7X one, so it's not as wide as the ones on the Galaxy S21 Ultra or the iPhone 13 Pro max, meaning you can't fit as much content in the scene as those key competitors that's Google is going after.
But hardware is half of the picture, and software has historically played a large role in the Pixel's photographic prowess. Magic Eraser is one of the most intriguing new camera features, allowing you to use computational photography to your advantage and intelligently get rid of distractions on your photos, like random people ruining your architecture shots. Magic Eraser and Fce Unblur are definitely my favorite new quality-of-life additions to the Pixel camera app.
Motion Mode is another intriguing addition that lets you emulate long-exposure shots by using computational photography to your advantage. Aside from Motion Mode, the Pixel also comes with Face Unblur, which intelligently sharpens faces that might have come off as blurred in your shots.
But what about the image quality, this essential aspect of any modern smartphone?
The Pixel 6 Pro comes along with exceptional detail and sharpness with the main camera and the telephoto camera, as well as superb dynamics and quite punchy colors. For good or bad, some photos tend to be a tad underexposed as the Google Pixel 6 Pro prefers to err on the side of preserving those precious highlights. Additionally, the 4X telephoto camera feels surprisingly usable, though using the 20X super-res zoom is almost guaranteed to give you some noise and artifacts, but that's to be expected.
What I applaud here is that you get really consistent results when switching between the different cameras in terms of colors. Often times on many other devices, the ultra wide-angle camera would produce a colder image, while the main camera will come up with a warm image, which is far from ideal. The Pixel 6 Pro is capable of preserving the overall color coherence across the different lenses to the best of its abilities, which is rather important and made a rather good impression on me.
And when the lights go down, the Pixel does an excellent job at maintaining its camera prowess. Night Sight makes it so boring and easy to capture great photos, and even if you have scenes with lots of vibrant and bright artificial lighting, the Pixel's low-light camera mode does a superb job.
The selfie camera of the Pixel 6 Pro captures lovely selfies, with a decent amount of detail and true-to-life colors.
Pixel 6 Pro Performance & Benchmarks
Why, hello, Tensor chipset, it's nice to meet you!
Hopping on the custom chipset bandwagon, Google has adopted its own Tensor chipset inside the Google Pixel 6 Pro. Named after Google's Tensor Processing Unit, it's an octa-core endeavor built by Samsung on a 5nm manufacturing process.
Now, the Tensor isn't a record-breaking powerhouse, in fact it's slower than most of its direct competitors in various synthetic benchmark tests, but that's not the point of the custom chip. The deal with the Tensor is that it brings efficient machine-learning on board the Pixel 6 Pro and unlocks a ton of nifty user-friendly features, like live translation and transcribing, as well as various camera features that we will cover later on.
In terms of regular everyday usage, with moderate app use, lots of picture-taking and some social media, the Pixel 6 Pro proves to be quite the snappy performer, with a seemingly endless reserve of processing power available on demand. There's some throttling involved when heavy gaming is thrown into the mix, and the phone struggles to sustain its processing pace for longer periods of time.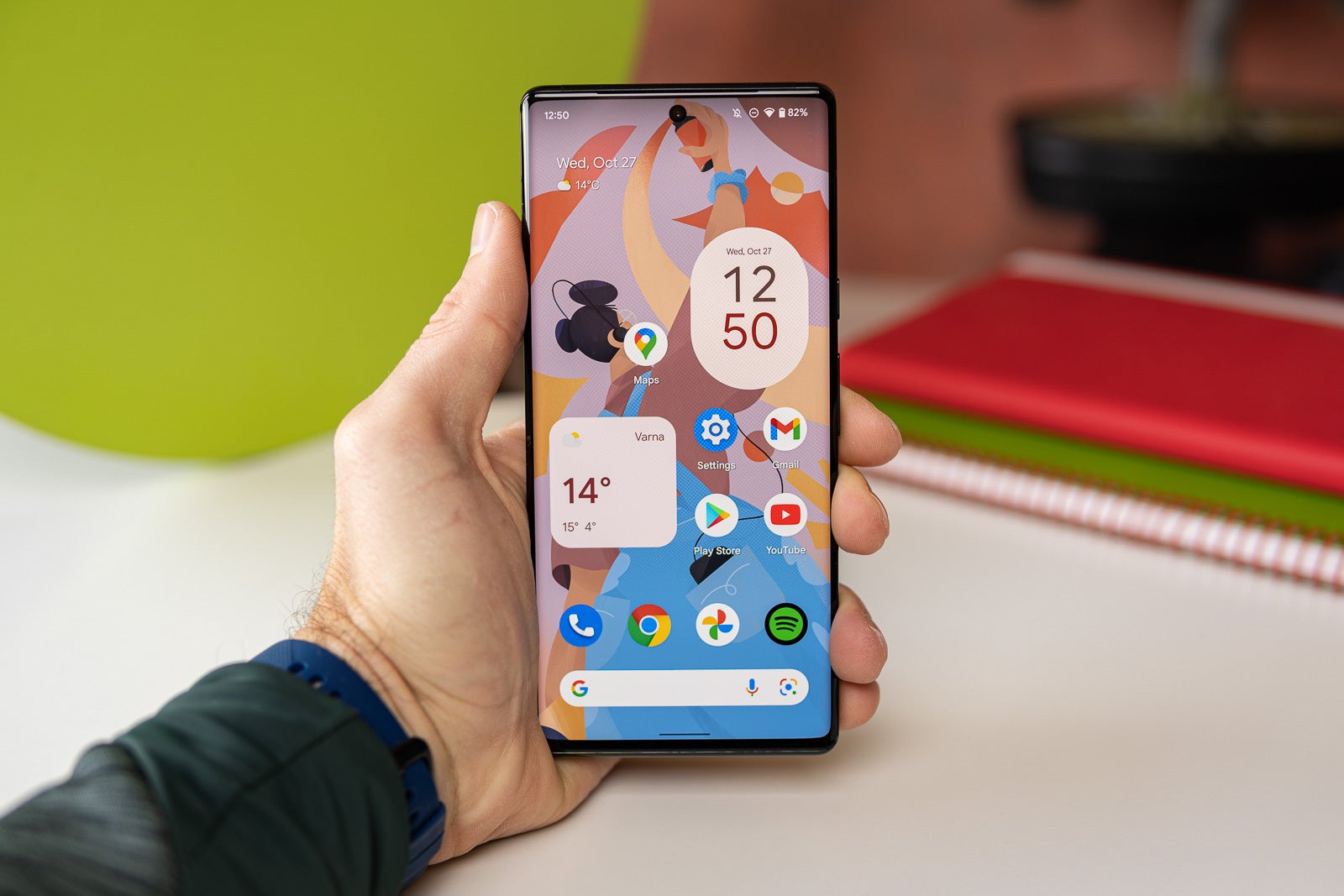 Surely, the Pixel 6 Pro won't be setting any benchmark records, but it doesn't really need to play 'catch' with the flagship phones competition: offering a fluid experience is much more important. Android phones have both literally and figuratively lagged behind the iPhones in terms of raw performance in recent years, and it doesn't feel like the Pixel 6 Pro will be the one to overturn that.
However, the Tensor is certainly a step in the right direction for Google. Taking a page out of Apple's book and controlling both the software and hardware aspects of the device proves to be quite a good move for Google and the Pixel 6 lineup as a whole.
With 128, 256, or 512GB of native storage on board, the Pixel 6 Pro offers more than enough storage space for all your videos and photos, which is nice since the Pixel 6 lineup doesn't come with unlimited Google Photos space as previous Pixels did. That's a shame, and you'll need that extra space on your phone, so going for 256GB or more is recommended if you intend on keeping the Pixel 6 Pro for years down the road.
Pixel 6 Pro Software and features
The Google Pixel 6 Pro comes with Android 12 out of the box, but it subsequently received Android 13 in September 2022, which brings minor improvements over Android 12. For a more complete picture on both versions of Google's operating system, make sure to check out my separate
Android 12 review
, as well as the newer
Android 13 review
.
Previously, I had
reviewed Android 12
separately, but experiencing it on the Google Pixel 6 Pro felt like it clicked in place. Not that Android 12 on a Pixel 3 or a Pixel 5a is vastly different, no; it's just that the redefined user experience of the latest Android goes perfectly with the aesthetics of the new Google Pixel.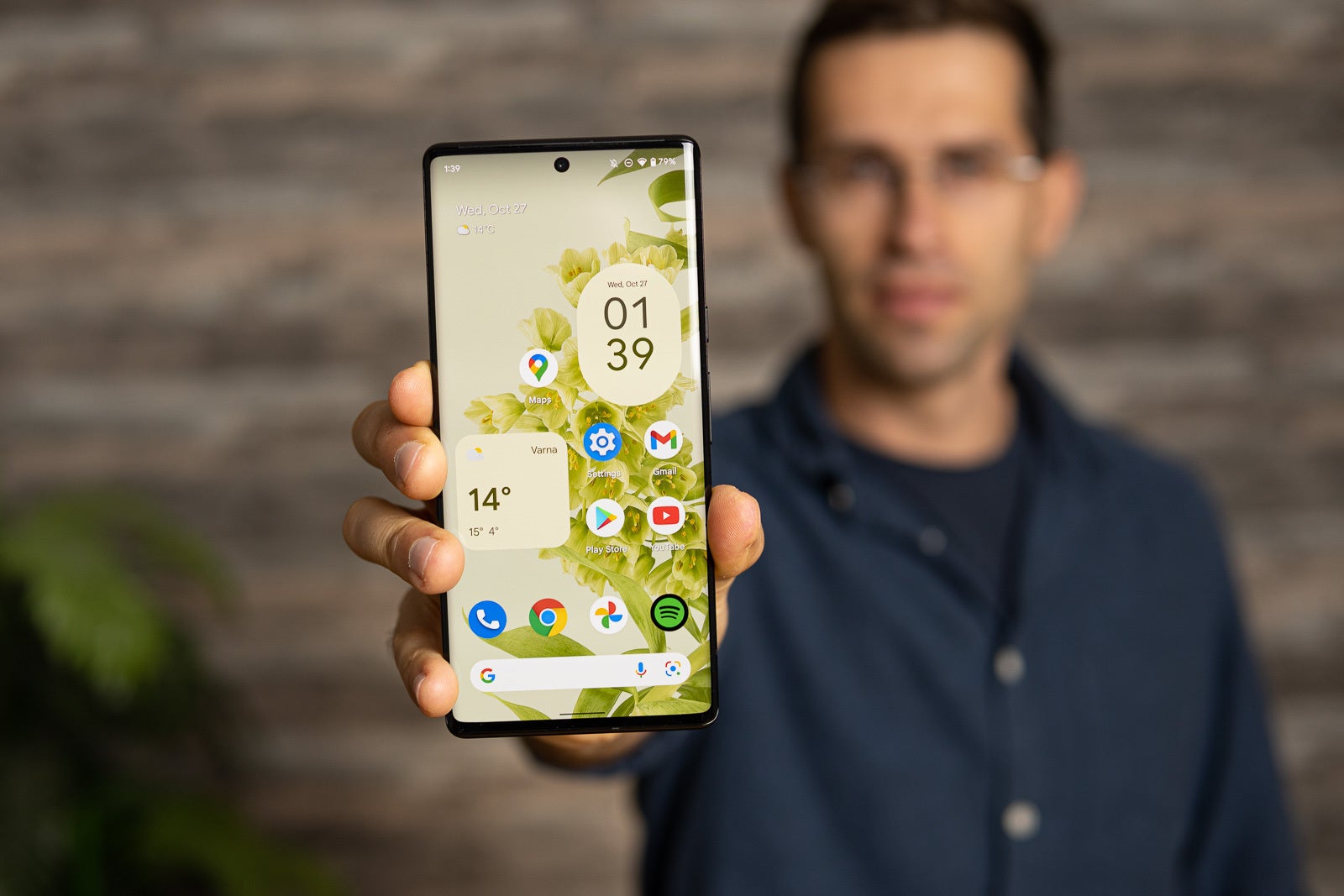 The new interface feels fresh and intriguing, just like the Pixel 6 Pro, and it's reinvigorating to see Google simultaneously pay such attention to both the design and interface of a phone. The expressive always-on display, the interface colors that adapt to your own needs, and the ever-so-useful Google Assistant are more than welcome.
However, there's a few aggravating aspects of Android 12. You can't disable the 'At A Glance' widget and only enjoy the colorful new ones, you can't customize the position of the bottom Google search bar, you're only limited to four quick toggles when you swipe down the notification shade, the brightness slider is also only available after at least two swipes, and so on.
There are lots of small but aggravating elements of Android 12 that might somewhat sour the flavor of this new Pixel phone, but all of these would hopefully be fixed in the future. There's reportedly an Android 12.x mid-cycle software update coming in a few months, so here's to hoping.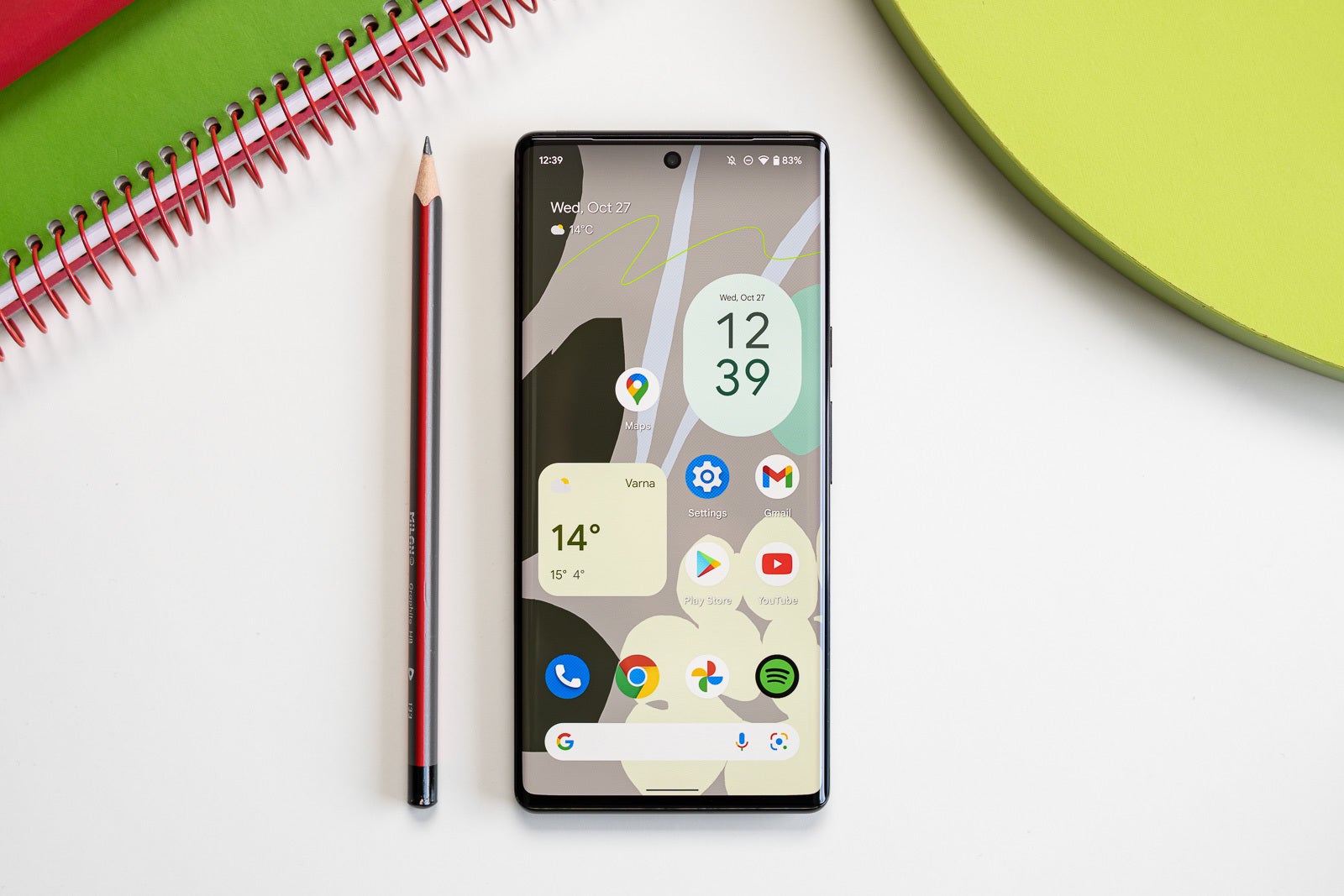 Another novelty display feature is a first for the Pixel lineup - an in-display fingerprint sensor is taking care of the biometrics in the absence of the rumored face unlock feature. So far, so good, but the very nature of the fingerprint scanner is the problem here.
The sensor is question is optical, which isn't as good as an ultrasonic one. If you've ever used a Galaxy S21 or a Galaxy S20, you might draw some conclusions as to how fast or accurate the fingerprint sensor on the Pixel 6 Pro is. I often have to re-position my fingerprint before a successful scan can be completed, and even then it would take up to half a second before the phone gets unlocked.
That's not ideal, but necessary, because the Google Pixel 6 Pro doesn't have other biometrics on board. As using Google Pay or other banking apps, not to mention unlocking the Google Pixel 6 Pro, requires you to use the fingerprint sensor, you might find it a bit aggravating to deal with its slowness multiple times a day. At least I did.
Pixel 6 Pro Battery
The Pixel 6 Pro comes with a 5,003mAh that's promising great battery life and is actually the largest one ever fitted on a Pixel phone. How does this translate to battery life in real usage?
Battery life on the Pixel 6 Pro is great, but not as good as the Galaxy S21 ultra, and definitely not as good as the iPhone 13 Pro Max. The phone will easily last you a whole day provided that you don't stress it out of the ordinary. Still, I am content with the battery life of the Pixel 6 Pro, as it's way better than average.
Our benchmark tests corroborate that: in our proprietary browsing test, the Pixel 6 Pro scores a bit over 13 hours, which is a great result for a QHD+ display running at 120Hz. The Pixel 6 Pro endures for 9 hours in our YouTube test, and finally, nearly 4 hours and a half in our gaming test. Overall, with more conservative usage, the phone might last you even longer. And if you're in a tight spot and need to squeeze out every ounce of battery juice, the Extreme Battery Saver Mode will come in handy.
Thanks to the glass back of the phone, we have wireless charging, which is as convenient as it gets, especially for cord-cutters eyeing Google's new phones. Surely, wireless charging isn't as fast as wired charging, but having more options is great, especially on such premium devices as the Pixel 6 Pro here. In our testing, the phone can fully charge itself in 119 minutes, slower than many rivals.
Pixel 6 Pro Audio Quality and Haptics
There's no headphone jack on the Pixel 6 Pro, this is the reality we live in. The dual speakers on the Pixel 6 Pro are quite loud, producing a rich sound that's pleasing to the ears. Base sounds are deep and not tinny at all, making media consumption a joy. Call quality is excellent.
Pixel 6 Pro Summary and final verdict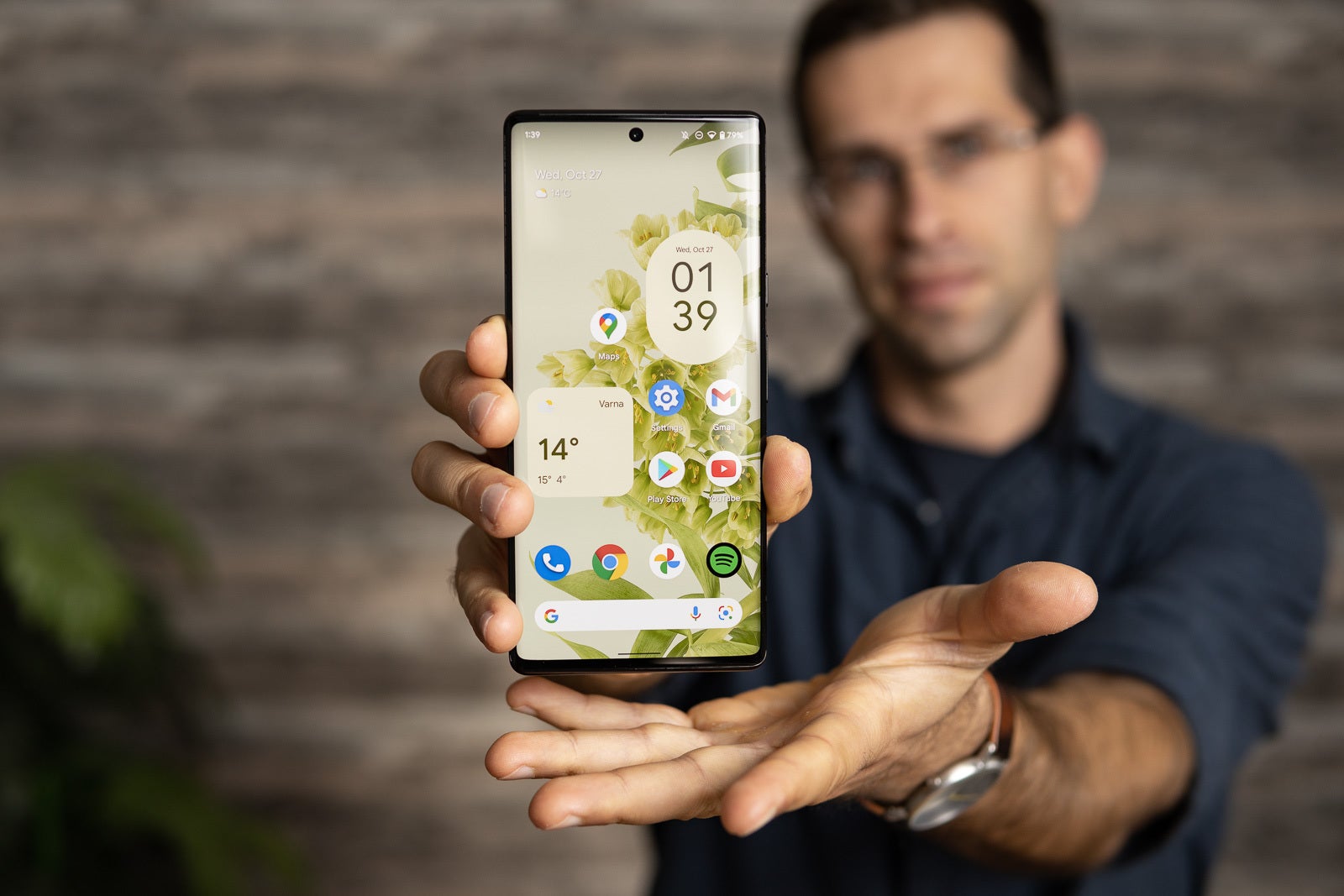 Overall, the Google Pixel 6 Pro is an intriguing device, and it wouldn't be an overstatement to say that it's actually the perfect Android device right now, with just the right price tag attached to it. Despite a few minor shortcomings of the Pixel 6 Pro, it's the phone to consider instead of the Samsung Galaxy S21 Ultra or the iPhone 13 Pro/Pro Max. In fact, it's the perfect device to intervene and break the ubiquitous Apple/Samsung duopoly that's currently dominating the premium phone segment in the US.
With excellent performance, good battery life, superb P-OLED display, and a great camera package, the Pixel 6 Pro brings back the "wow" factor that was somewhat lost in the most recent Pixel phones. The Pixel 6 Pro is certainly a device that isn't late to the game, but instead up there with the competition, while simultaneously keeping the pricing surprisingly adequate and attaining an insane bang for the buck.
Starting at $899, the Google Pixel 6 Pro is the best premium Android smartphone money can buy in late 2021, and certainly the best phone Google has made so far.