OnePlus 10 Pro Review
17
We may earn a commission if you make a purchase from the links on this page.
Intro
OnePlus has traditionally had two big releases every year, one in the spring and another one in the fall, but last year, it skipped the fall release, so we didn't get the customary "T" model with upgraded specs. The reason for that is that OnePlus itself is changing: it is
integrating tighter with parent phone maker Oppo
, and now, after a long wait, the first flagship phone under that new closer partnership is here and... it looks striking!
This is the OnePlus 10 Pro: a big, 6.7" flagship phone with a brand new look that definitely took some camera inspiration from the Galaxy S21 series, but it's about more than what's on the surface. This phone sticks to OnePlus essentials that made the brand great with a clean software that feels incredibly zippy, probably the fastest fingerprint scanner in the industry, top-shelf processor, and charging so fast that it leaves Samsung and Apple in the dust. Pair that with the aggressive pricing of $899, and you're seemingly in for a treat.
But the one question that OnePlus has to answer remains the same this year as in previous times: is this camera finally good enough? And can it rival the very
best phones
out there? Is OnePlus finally bringing enough to the table? Let's find out!
Design and Display Quality
Heavy inspiration from Samsung
Not much has changed in comparison with the OnePlus 9 Pro. The OnePlus 10 Pro is still a narrow and tall slab that's still perfectly manageable even if you don't have palms the size of an NBA player. It's also not too heavy, especially compared to your Pro Max iPhones and Ultra Galaxies. Put simply, it's a tall and narrow slab that is still big, but within reason.
You have two colorways to pick from, both with a subtle matte finish and a rather imposing camera slab housing the triple cameras at the back. In terms of colors, the device comes in black and green, which OnePlus calls Volcanic Black and Emerald Forest, respectively. We had the pleasure of reviewing the green model, which definitely looks and feels great.

The rest is your typical 2022 flagship situation: no headphone jack, no microSD card slot, Gorilla Glass Victus on both the front and back, aluminum frame, a single USB-C port at the bottom, and then what's not so typical is the 3-way OnePlus alert slider so you can quickly switch between silent, vibrate and ring modes. IP68 water and dust protection is available as well.
The great thing about OnePlus is that it still includes a ton of accessories in the box. You get the zippy 65W fast charger in the US (but the 80W one in the rest of the world) and the signature red cable, you get a free silicone case, a very useful pre-applied screen protector on the phone, a SIM tool, a selection of OnePlus stickers and the usual user manuals.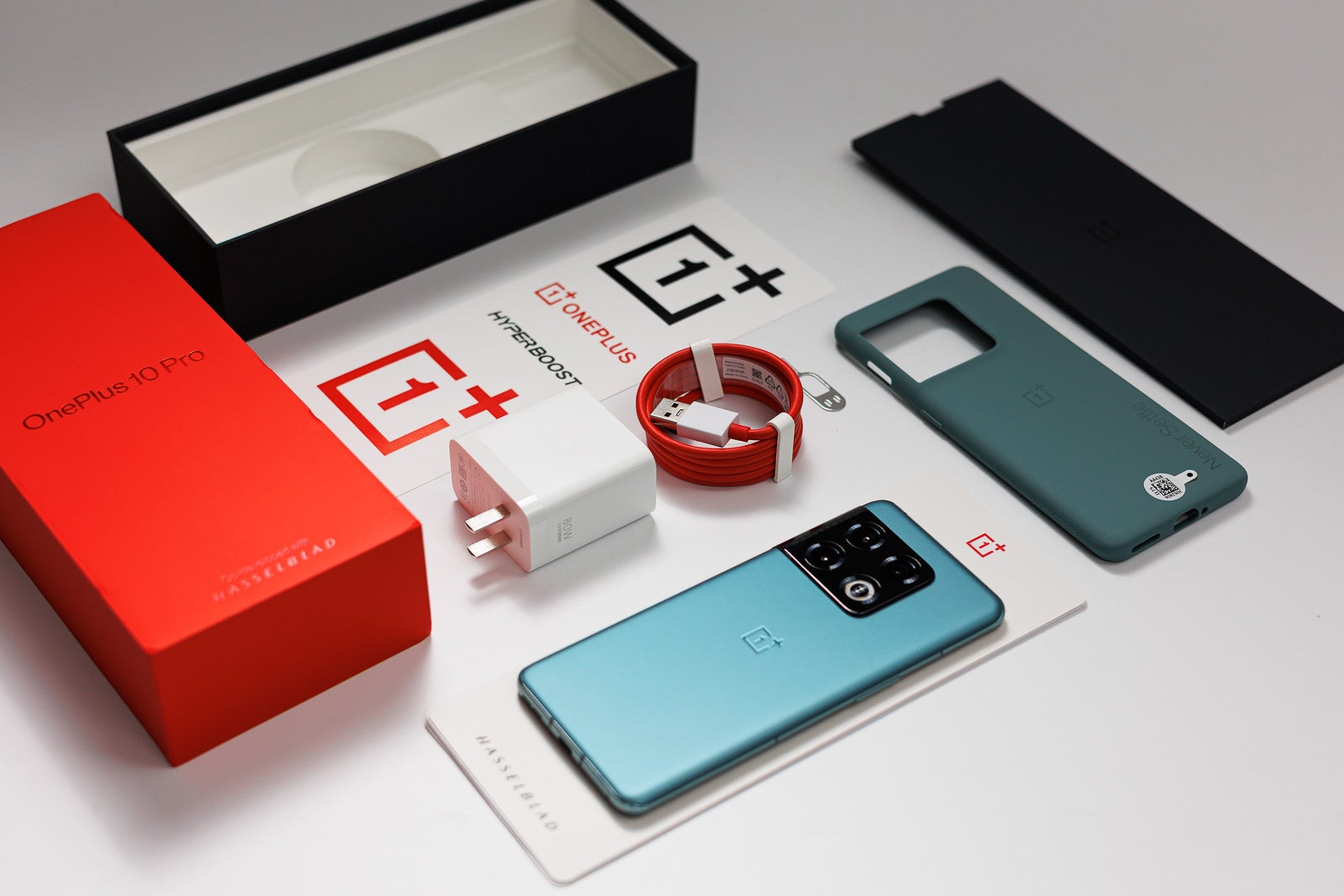 A phone is something you use for hours every single day, so having great display quality is absolutely essential. Thankfully, OnePlus checks all boxes with a gorgeous 6.7-inch OLED screen with refresh rate that automatically modulates from 1Hz all the way to 120Hz for smooth scrolling thanks to the LPTO 2.0 technology. Max brightness is an excellent 1,300 nits (but the Galaxy S22 Ultra can hit an advertised 1,750 nits of brightness, if you were wondering), though in regular conditions you should expect around 750 nits of max brightness.

HDR support is included and most importantly the colors are properly calibrated out of the box. OnePlus says that the screen has been properly calibrated at both a lower and a higher brightness level (100 and 500 nits) so that you get a seamless color reproduction no matter the display brightness. In a typical OnePlus fashion, there's also a bevy of available screen modes that let you further customize the color depth and temperature, which is always a neat option to have.
It's a bit strange that while the max resolution is 1440 x 3216 pixels, the phone defaults to 1080p, obviously for battery saving reasons, but it only takes a tap on a button in the settings to fix that. As a matter of fact, the Galaxy S22 Ultra is similar in this regard.

Display measurements and quality
Next up, in terms of biometrics, the 10 Pro features an optical type fingerprint scanner under the screen, which is as fast as these in-screen fingerprint readers get! It's accurate and nearly instantaneous, which is truly impressive. If we had to pick a direct comparison, it has got to be with the ultrasonic fingerprint scanner used on Samsung's Galaxy S series, but OnePlus is significantly faster, while Samsung's solution feels sluggish in comparison.
The company has moved the fingerprint a bit higher on the 10 Pro compared to previous OnePlus phones, and we found that a good move, making it easier to reach. The only thing with optical fingerprint readers is that they have to light up in order to work, so they can blind you a bit if you use them in bed at night, but I usually slightly tilt the phone away from my face at night and this problem is easily avoidable.
The front camera serves double duty for face recognition as well, and that also works faster than you'd expect, it's nearly instantaneous. Keep in mind that we have image-based face recognition here, so it's not quite as secure as Face ID on an iPhone, but it can be helpful and you can set it to work with a mask.
Performance and Software
Big leap for gamers, not so much for CPU performance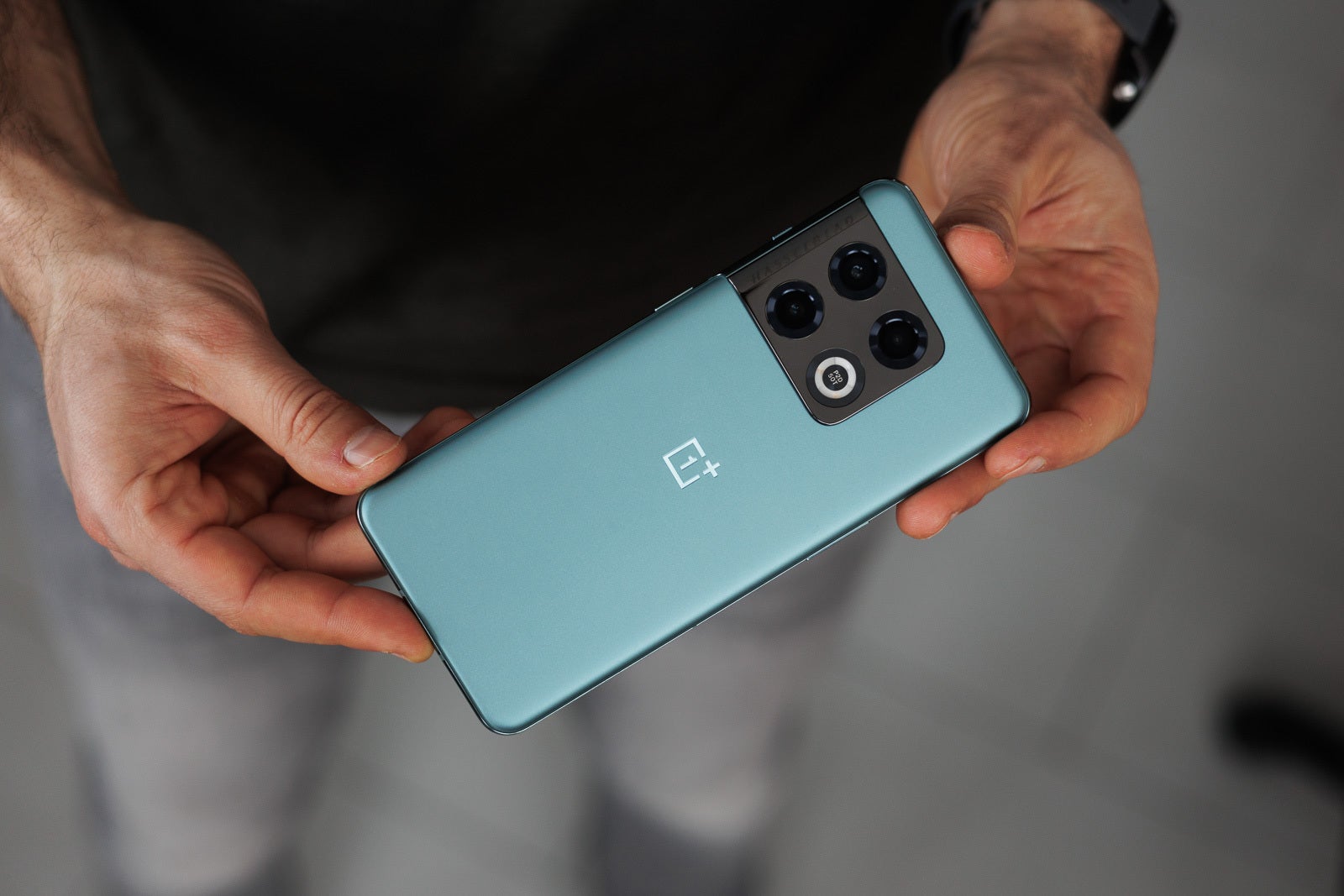 With the latest Snapdragon 8 Gen 1 processor under the hood, the OnePlus is as powerful as Android phones get in 2022. Unlike rival Samsung which uses different processors depending on the market, you get Snapdragon everywhere on the OnePlus and that's great. OnePlus has also developed a beefy thermal cooling solution that aims to rein in the hot new Snapdragon, which is notorious for the higher operation temperatures it could hit under heavy load.

We ought to say that benchmarks don't really do the OnePlus justice: it's incredibly fast and animations on it are incredibly smooth. In our opinion, this is as fast as Android gets at the moment and not least thanks to a brilliant gesture navigation implementation. Good job, OnePlus!
In GPU benchmarks, we were worried we would see the phone overheat, and it did indeed get quite warm, but so far we haven't seen really bad overheating issues. In the 20 minute Widlife Extreme Stress test, the phone throttled more noticeably after 10 minutes. Playing engaging games like Minecraft is a joy and the phone rarely gets warm even after longer gaming sessions.

Unlike the Chinese version of the phone, which comes with Color OS, this here OnePlus 10 Pro is equipped with the good old Oxygen OS 12.1 interface based on Android 12, which is streamlined and customizable. There aren't many differences with older version of Oxygen OS, but the new shelf housing your widgets is a noteworthy addition. It's also worth mentioning that OnePlus promises three major Android updates and four years of security updates.

Camera
It's not a stove top, it's a camera system, I swear! (but it sure looks like you can cook on it)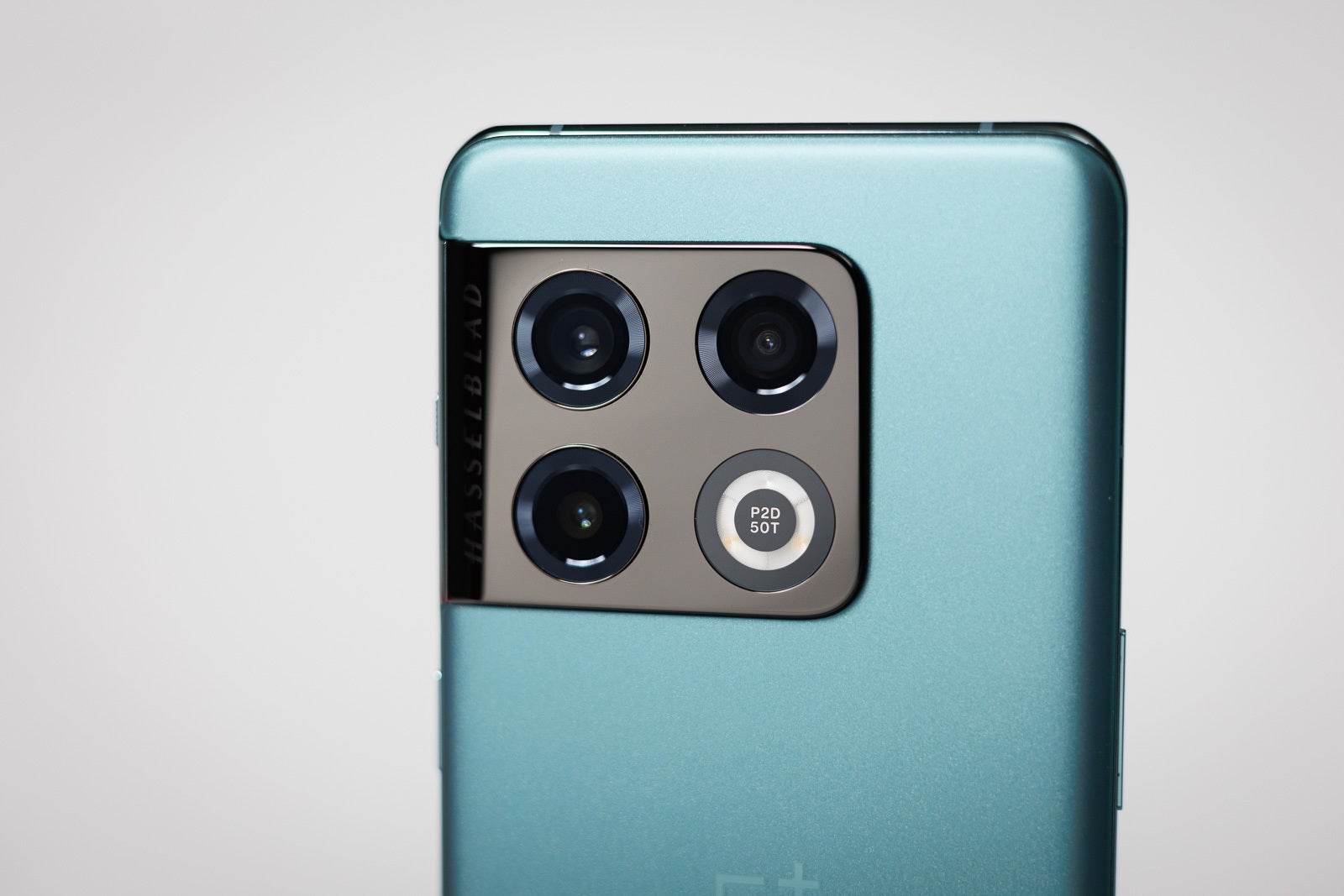 Yes, the iPhone might have been the phone that started this design trend, but with a squarish form and four circles, the camera system on the OnePlus sure looks a bit like a kitchen item. Not only that, but it kind of blends with the frame of the phone, much like the Galaxy S21 Ultra. But we don't mind, OnePlus might not have a super original design, but it has its spin on popular trends, what really matters is whether this camera is finally the one to bring OnePlus on par with the big guys.
Let's get the technicalities out of the way first, the camera specs:
| Camera Specs | Resolution | Sensor Size | Pixel Size | Lens |
| --- | --- | --- | --- | --- |
| Main | 48MP | 1/1.43" | 1.12µm | 23mm, f/1.8 |
| Ultra | 50MP, Samsung JN1 | 1/2.76" | 0.64µm | 14mm, f/2.2 |
| Tele | 8MP | - | 1µm | 77mm (3.3X), f/2.4 |
| Front | 32MP | 1/2.74" | 0.8µm | f/2.2 |
In terms of hardware, the OnePlus 10 Pro is a logical evolutionary step in comparison with the OnePlus 9 Pro, and while there's nothing revolutionary and truly remarkable, the phone is quite well-equipped as per 2022's standards. The ultra wide camera now actually features a much smaller sensor, but one with a wider, 14mm field of view and a cool new 150-degree, fish eye shooting mode. The 3.3X zoom telephoto lens is the same we had last year, and doesn't seem that much improved, but that's okay as it takes great photos. The Hasselblad branding, however, still remains and suggests greatness, but let's see if that's really what you get.
There's now a dedicated 10-bit color mode and a so-called RAW+ mode that captures even wider, 12-bit color. Both features capture extra information and should be a boon for those willing to meticulously edit their photos in Adobe Lightroom or another post-processing app.

Image quality
Overall, the OnePlus certainly stands out with its intuitive camera app and the overall versatility it brings. The main camera takes lovely pictures, with lots of detail, great dynamic range, and moody colors with a slight hint of deep contrast that evokes callbacks to the Pixel 6 Pro. The ultra-wide camera is good as well, though the dedicated fisheye mode is mostly a gimmicky party trick. The 3.3X telephoto is a bit soft in terms of sharpness, and finally, the selfie camera takes some lovely and detailed photos.

A criticism that needs to be addressed is not technically specific to OnePlus but plagues most other Android flagships as well: colors often tend to change when you switch between the different cameras, sometimes in an almost negligible way, but often drastically. An iPhone is more consistent in this regard.
Another "issue" that is kind of weird is the fact that the OnePlus 10 Pro wouldn't automatically switch on its Night Mode. It's not much of a hassle to do that manually, but the fact that it's not automatic is enough to lift an eye brow or two. Come on, it's 2022, even iPhones do that these days!

Video quality
When it comes to video recording, the OnePlus 10 Pro comes with a bunch of resolutions and options: 8K video! 4K at 120fps! AI video recording!
All of that is great, but first the details. Yes, you do have 8K video, you can only record it at 24fps, but as you'd expect it is a bit cropped in and you can only use the main camera, plus the files are quite large. For 4K, you have the same field of view as in 1080p, so no cropping. You can use all three cameras while recording 4K30, then you lose the ultra-wide camera at 4K60, and finally at 4K120 you can only use the main shooter.
This new 4K 120fps option is absolutely great for those who edit videos in post and want to capture incredibly detailed slow motion. Unfortunately, the phone gallery app will not slow down 4K120 recordings for you, you have to do it in post. It would have been nice to be able to get 4K slow motion right in the camera / gallery apps, but no such luck.
OnePlus has also implemented a new zoom slider that allows very smooth zooming motion, and we love the idea (we have seen such an interface in some dedicated third-party camera apps). The only thing missing is quick shortcuts to switching between the three cameras, but not a huge deal. Finally, you also have an Ultra Steady video stabilization but that only works in 1080p 60fps resolution, and you also have an AI mode that boosts the colors, but that one also only functions in 1080p mode.
One thing we noticed is recording videos with the selfie camera only works at 1080p resolution (while others offer 4K), and if you have bright highlights, they are completely blown out into white. We have seen other cheaper phones do a much better job at this.
Audio Quality and Haptics
We already mentioned there is no 3.5mm headphone jack here, but you can still use USB-C headphones or
wireless headphones
.
You also have dual loudspeakers that get very loud, but distort a bit and at the highest volumes lack a bit in clarity and depth. Still, they are among the better ones we have heard and they definitely amplify the experience of watching videos or playing games.
OnePlus takes pride in the new haptic feedback motor in the OnePlus 10 Pro. The haptic feedback is excellent, strong and precise, and definitely the best one OnePlus has ever put on its devices.
Battery Life
Big battery, big numbers
The most remarkable thing about the OnePlus 10 Pro might just be how the company managed to cram in a 10% larger battery in the body about the same size as last year's model. The 10 Pro comes with a huge 5,000mAh battery, a jump from the 4,500mAh battery on the 9 Pro, that elevates the OnePlus flagship to the same battery heights as the S21 Ultra / S22 Ultra models.
That's great news, and in our testing we can confirm that this larger battery delivers the goods. Below, you'd find results from our independent battery tests, where we set each phone at the same level of brightness, putting them all on an equal playing field.
*OnePlus 10 Pro results: YouTube test was performed under default settings. Browsing and 3D Gaming tests were performed under "high performance" mode.
The results, however, came out solid. The OnePlus 10 Pro holds its ground well on all three tests, but really stands out in the YouTube video streaming test where it outlasted the competition easily with an impressive scores of 10 hours and 47 minutes, better than even the iPhone 13 Pro Max which was about 20 minutes short of that. The OnePlus also stood its ground well in 3D gaming, but wasn't quite as impressive in just the web browsing test.
Charging speeds
Equipped with a charger in the box, the OnePlus 10 Pro is a rarity on our current flagship market, and we love that. However, while the rest of the world gets the 80W fast charger, the US market will have to make do with the "measly" 65W one. Fortunately, the difference in charging speeds isn't that big - 34min for the 80W charger and respectable 32min for the less powerful 65W charger.

And charging speeds are, as you'd expect, incredibly fast! We got from 0 to 50% in about 11 minutes, and a full charge takes less than half an hour. You no longer need to charge your phone at night, simply top it up for some 20 minutes, and you'd have enough juice for a full day. We have measured charging speeds in 5 minute intervals below, take a look.
OnePlus 10 Pro charging speeds:
in 5 mins — 26%
in 10 mins — 45%
in 15 mins — 62%
in 20 mins — 76%
in 25 mins — 88%
in 34 mins — 100%
The 10 Pro also supports super fast wireless charging at speeds of up to 50W. You do need a OnePlus charger for that, but we think the speeds are well worth it.
Competitors
Finally, when it comes to rivals, you know the usual suspects in the premium segment: the iPhone 13 Pro Max, the Google Pixel 6 Pro, and the Galaxy S22 Ultra. The OnePlus stands its ground in terms of battery life and in our opinion, it has the fastest and most refined Android interface. While it lacks some of the advanced features you get in Samsung's One UI, OnePlus makes up with gesture navigation that is zippy and smooth, and it has a reputation for staying fast for years while others like the Pixel have witnessed performance drops a few short months after their launch.
And judging by the $899 starting price, the OnePlus 10 Pro is aggressively priced to shake up the high-end phone market, where prices above $1,000 are the norm and not the exception.

The
iPhone 13 Pro Max
might work better for people who value iOS, Face ID and all the whole ecosystem with iMessage, the Apple Watch, AirPods and so on. Not to mention that it's due to get 5 or 6 years of software updates, while Android phones only get 3 years. If you record a lot of video, the iPhone also remains the best video camera on a phone, and a bonus feature is that it has incredible loudspeakers, if you care about that. But it's also an enormous phone that is very heavy and might just not be comfortable to carry around and use for many people. The OnePlus has a more reasonable size and the open Android ecosystem in its corner.
As for the
Pixel 6 Pro
, you'd be saving some money with the $900 Google flagship and it has proven to have a clean software, fast Android updates and the camera chops (especially with night photography), but it has a slowish fingerprint scanner and some users report problems with battery life and the phone slowing down with time. We cannot tell if this will happen to you and it might not, but reports are out there.
Finally, the
Galaxy S22 Ultra
has grown wider and is certainly an extra large device, which you should consider, but if you're fine with that, it seems to have it all: the new S Pen, the huge battery, the more versatile camera, with our doubts being mostly around the rough-around-the-edges gesture navigation in One UI.
Summary and Final Verdict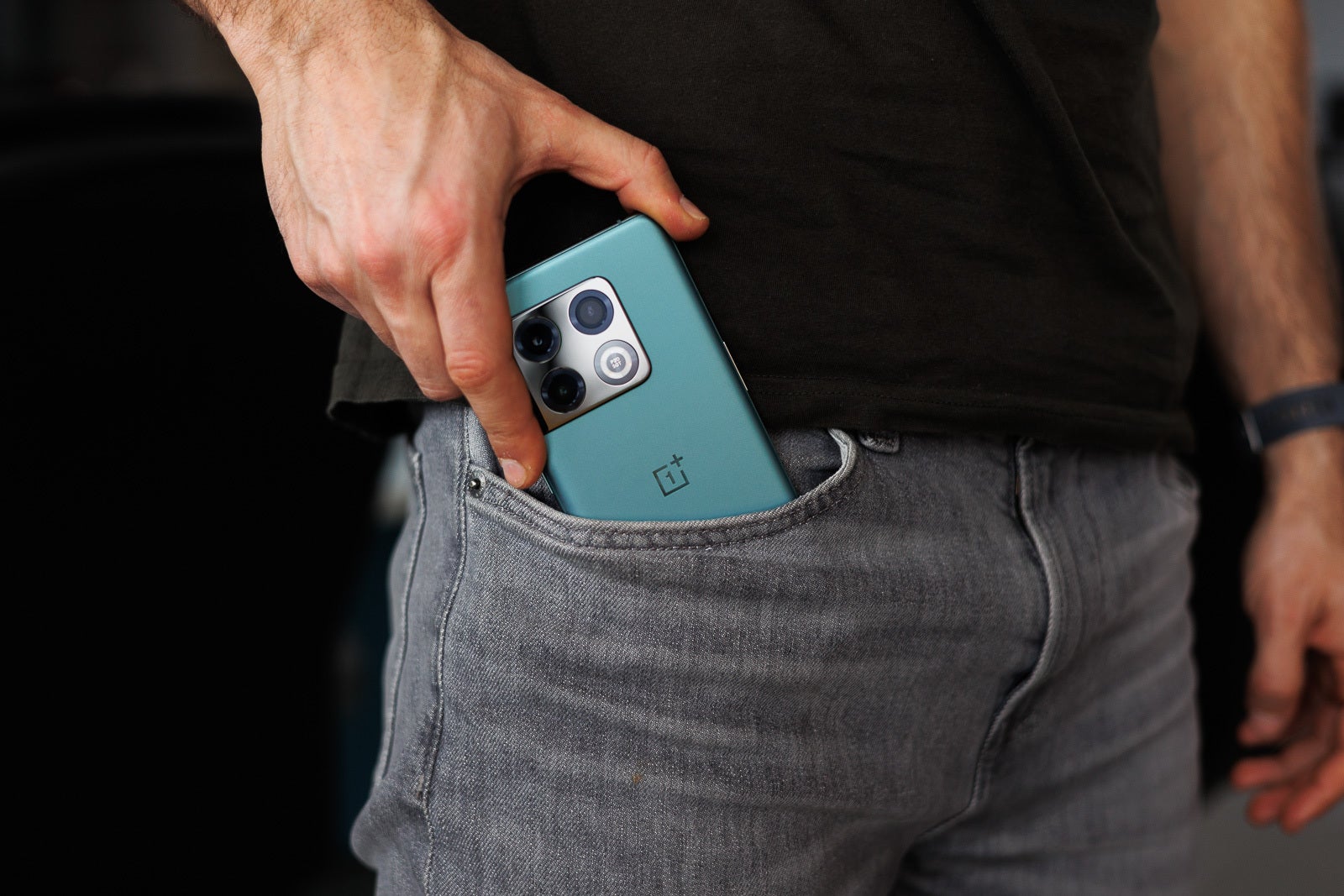 At the end of the day, the OnePlus 10 Pro is a step forward, but not a giant leap. We certainly hoped for more in the camera department and while you do get some neat options like 4K120 and 8K video recording, stabilization is still not on par with the best and the color science has room for improvement. On a personal note, with all the hype and expectations around it, I can say that this phone definitely lacks the wow factor. But maybe, it's just us reviewers getting extra picky.
There is also a lot to love about the 10 Pro. Its speed is — we feel — unmatched in the Android camp and the interface and particularly the animations and gestures have a refinement we usually associate with one fruit company. We also appreciate the new design and our hats go off to OnePlus for keeping the cool little touches like the Alert Slider. The 10 Pro also adds the Snapdragon 8 Gen 1, which is a nice step up, probably most so for gamers.
Should you buy it? Well, for what it's worth, the OnePlus 10 Pro is shaping up to be more of what you already love about OnePlus, but not quite the breakthrough one might have hoped for. If your phone is aging and you are not after the ultimate camera, though, it should be well considered.