Samsung's '12 Days of Deals' are kicking off tomorrow with freebies for Galaxy Note 9, Tab S4, and more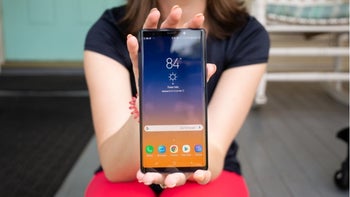 In addition to AT&T, which continues to offer
some pretty sweet freebies
with purchases of select Galaxy smartphones after the Black Friday and Cyber Monday frenzy, Samsung also plans to stay in a gift-giving mood for a little while longer.

The device manufacturer's already traditional "12 Days of Deals" promotion is set to come back tomorrow, November 29, running through Monday, December 10, to make sure everyone gets their hot new gear delivered to their doorsteps well before Christmas.

Samsung has obviously not revealed its full slate of last-minute holiday offers yet, merely highlighting deals will expire every 24 hours, with new ones instantly replacing them each day during the promotional period at 12:01 a.m. EST.
The swim-proof fitness band is normally priced at $200, currently fetching 50 bucks less, although you can also opt for a $49
Samsung Gear Sport
or $99
Gear S3 Frontier
smartwatch to go with your promotional Note 9, S9, or S9+ purchase. Those two are typically a little costlier, at $280 and $300 respectively, but
a number of retailers
have been
offering killer discounts
on them recently. Nonetheless, $49 and $99 prices are essentially impossible to beat.
Meanwhile, Android tablet believers will be happy to hear the Wi-Fi-only
Samsung Galaxy Tab S4
is looking at a productivity-enhancing keyboard book cover gift tomorrow, between 12:01 a.m. and 11:59 p.m. EST.

The Tab S4 is already bundled with an S Pen as standard for $650 and up, with the keyboard accessory separately setting you back 150 bucks. That's a great way to begin this series of discounts, but the question is whether you should hurry and pull the trigger tomorrow or wait and see what Samsung has in store for the other 11 days of Christmas-anticipating deals. Now that's a tough one...