Samsung Galaxy S9 and S9+ Review
99+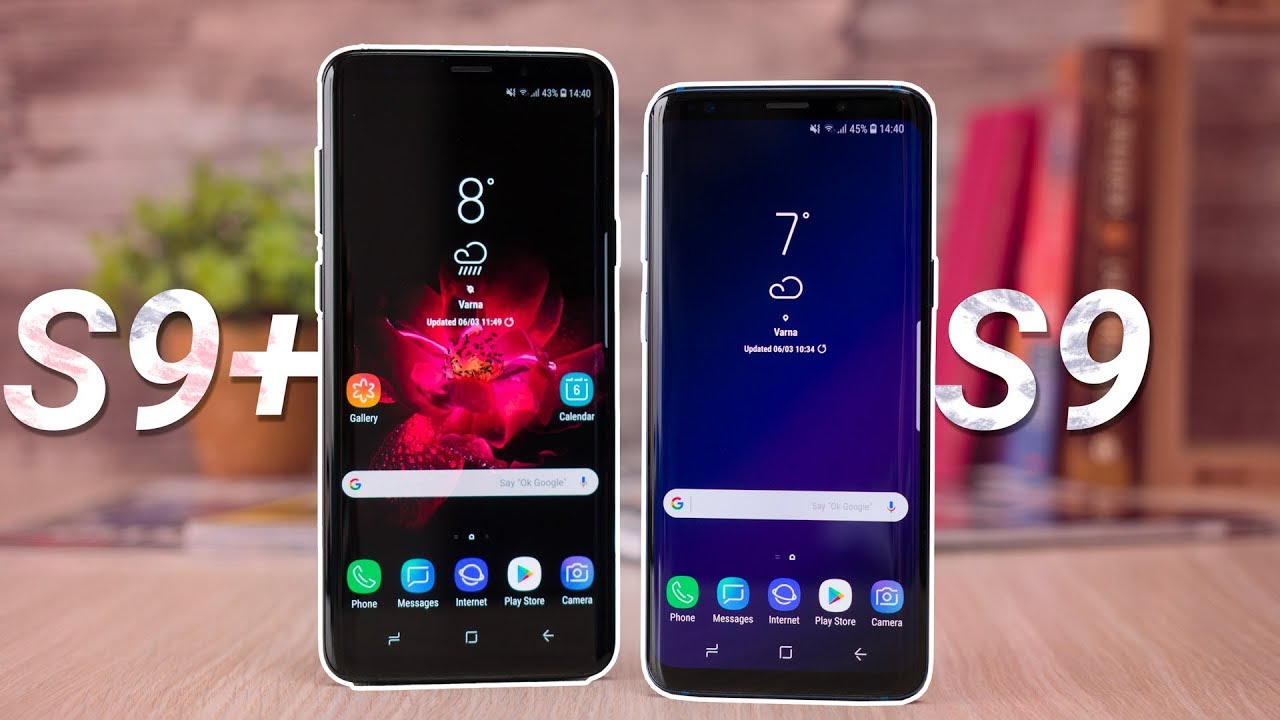 You can now read:
Samsung completely reinvented its flagship smartphone last year with the
Galaxy S8
and
S8+
, as it not only came up with the superb Infinity Display design, but also thoroughly reworked its user interface software to look and work better than ever. Understandably, this year the company is holding onto this strong foundation, and is looking to polish the experience even further, by introducing the Galaxy S9 and S9+.
The long-running Galaxy S high-end smartphone series marches on, as the company succeeds in reaching record revenues amid top-level leadership disturbance and challenges in developing markets. Not to forget the
Note 7
affair, the memory of which is now fading, but could be quickly... reignited with just a single mishap. The worst seems to be behind Samsung, though, as both the
Galaxy S8
and
Note 8
turned out be superb, non-exploding products on top of their game.
With the beautiful Infinity Display, superb design, and incredible feature set, there are many reasons to like the
Galaxy S9
and its bigger variant, the
S9+
. What's more, attention seems to have been paid to some of the problematic areas in the S8, so it's curious to see if Samsung has managed to fill the gaps. Well then, let's take a look!
Design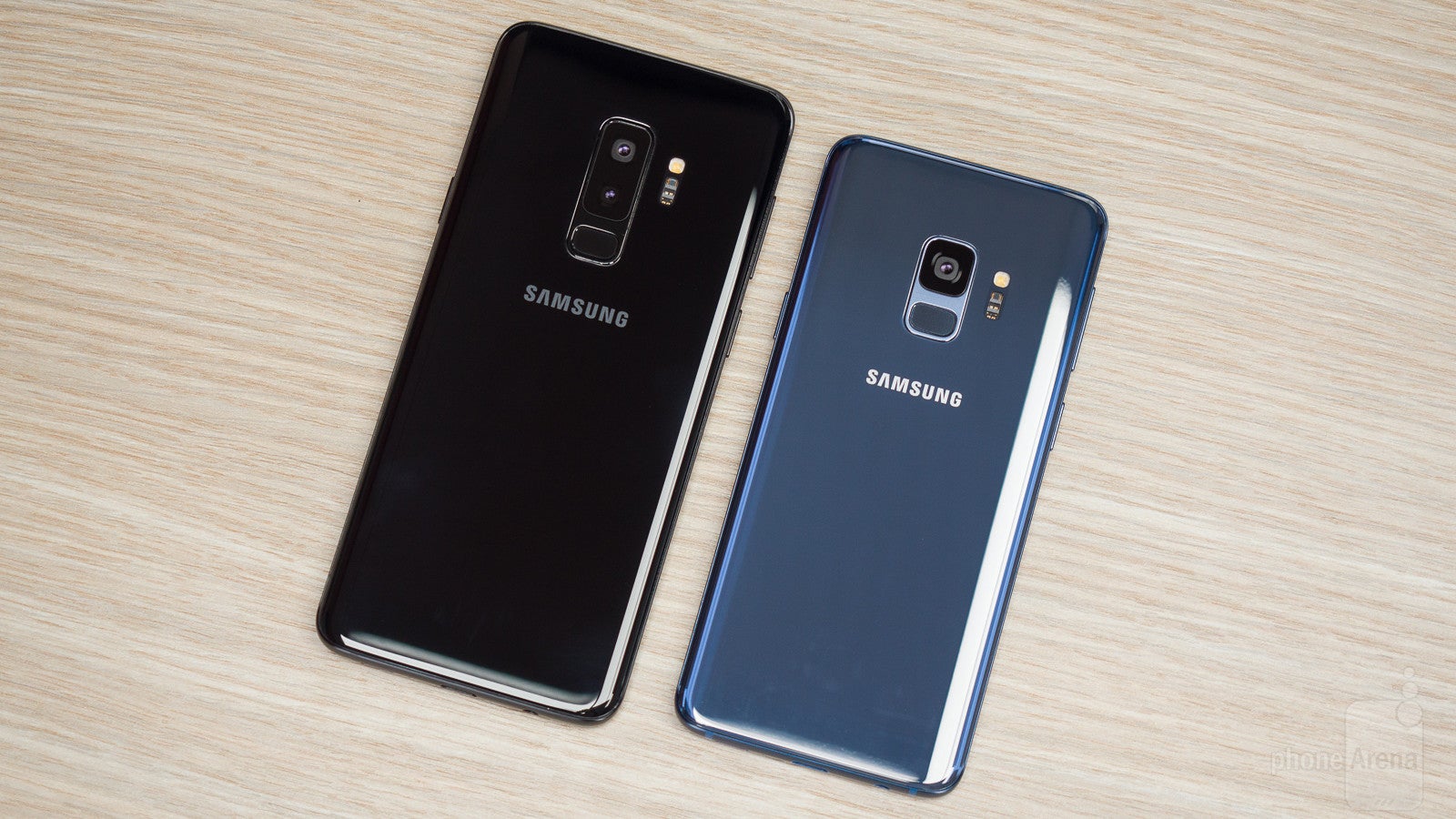 Externally, the Galaxy S9 and S9+ don't differ much from their predecessors. In fact, you may easily mistake an S9 for an S8. Samsung says the top and bottom bezels have been reduced even further, but the difference is mostly negligible.
While the S9 and S9+ are still made almost entirely from glass (and are just as water- and dust-resistant with IP68), there's been a change in the metal frame's design - it has to do with the finish, which is now somewhere between the high-gloss finish of the S8 and the matte frames of past devices, like the S7. So, it's neither very matte, nor entirely polished. Whether you like this or not will be personal preference. With this new frame, however, we do notice that its edges have become somewhat sharper. If you compare the in-hand feel of the S9 and the S8, the S8 definitely feels smoother and more seamless, while the frame of the S9, although still nice, is a tad harsher.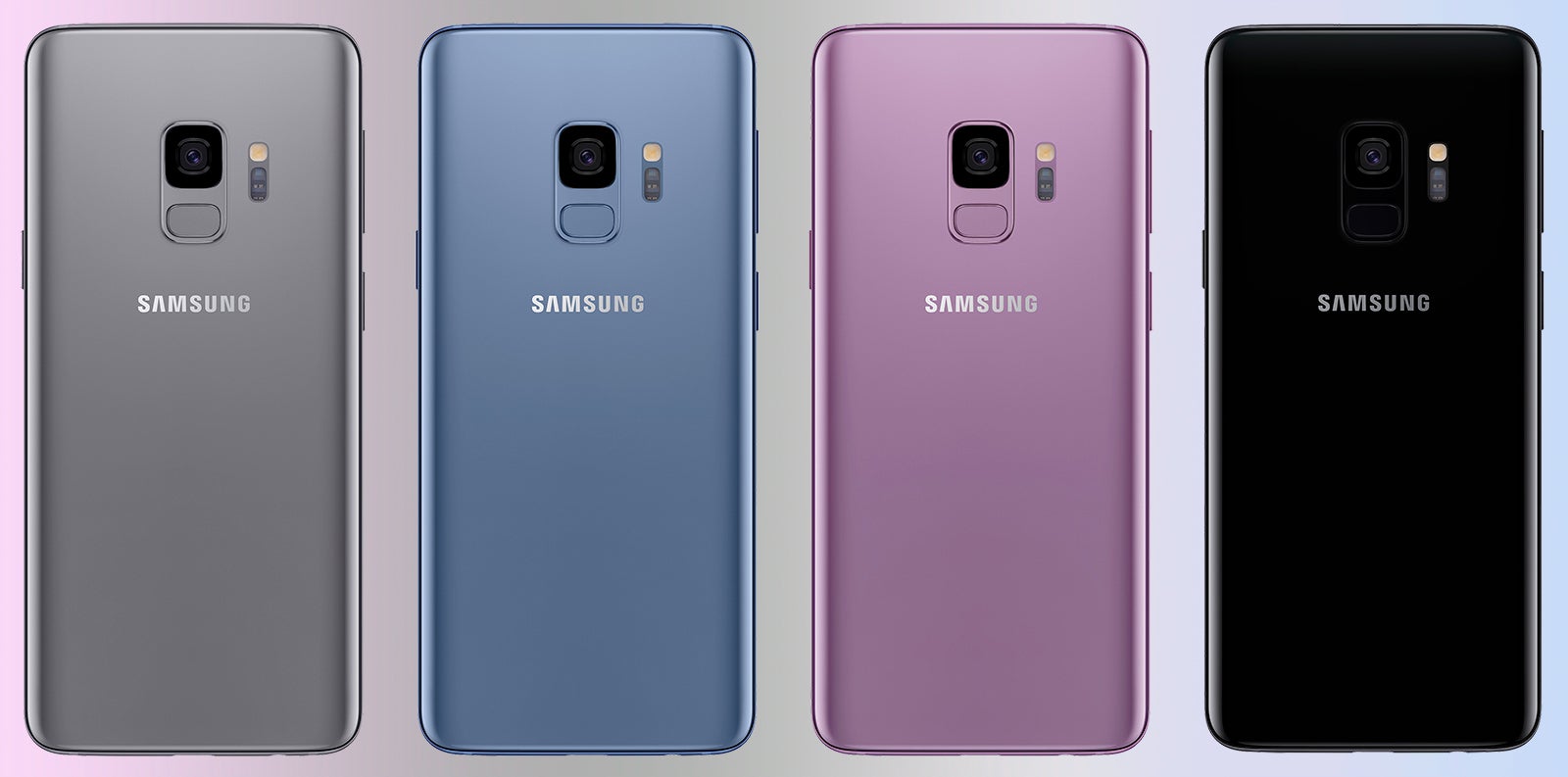 There are just two more design changes to talk about, but they are important: first, the fingerprint sensor has been re-positioned below the camera, so it's now considerably easier to reach and find by touch. This is an especially important change for the S9+, where the higher position naturally makes the fingerprint scanner harder to reach. And second, there's good and bad news concerning the color variants. The bad news is the Arctic Silver (light gray) color is unfortunately gone, but the good news is it's replaced by a darker gray variant (kind of like Space Gray), which does look rad in its own way. The black color option continues on, and it's just that – black, while the blue and orchid/lilac color variants have more saturation to them now. While in the S8 they were quite toned down and easy on the eye, on the Galaxy S9 they seem a bit more vivid and saturated – not to the point of looking toy-ish or cheap, but maybe just not as mature and accessible as on the S8.
As before, the Galaxy S9+ has a bit larger dimensions to accommodate a more spacious screen, but thanks to the relatively narrow body and overall smoothness of the device, it doesn't come off as being too massive.
Display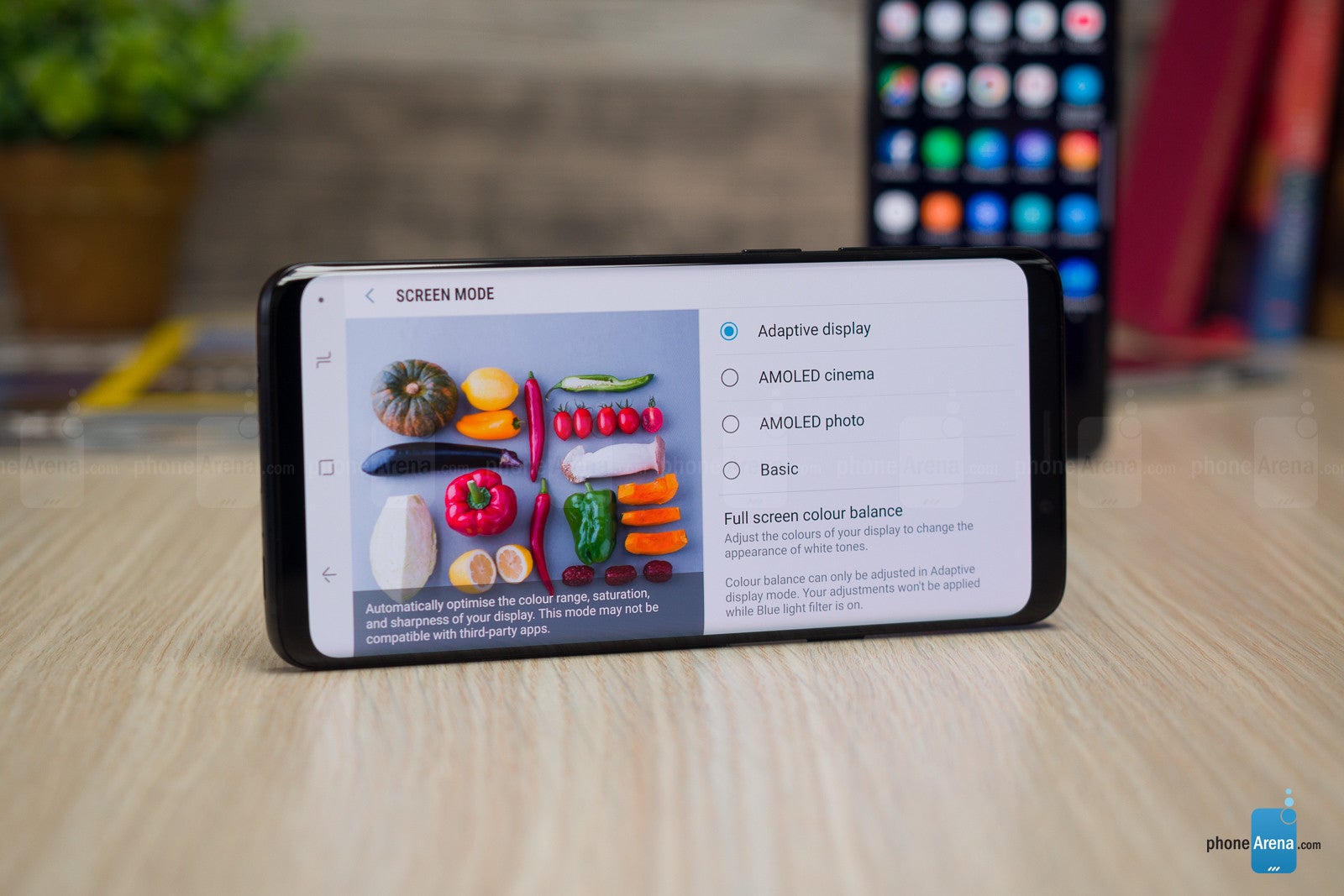 Now more than ever, the displays of Samsung's top duo are curved at the edges just for aesthetic purposes. Basically, the same as on the S8, the Galaxy S9's curved screen might've as well been flat; however, while there's no meaningful difference in terms of the viewing experience, the slightly curved shape of the display panel is what has helped Samsung make the device so narrow and easy to hold; not to mention the impressively thin frame.
Screen sizes in the Galaxy S9 and S9+ remain the same as in their predecessors: 5.8" and 6.2", respectively. Resolution is also unchanged, at 1440 x 2960 pixels, guaranteeing superb screen clarity and legibility. One small change Samsung mentions is that it's managed to hide the various cameras and sensors in the top bezel, for a cleaner look. Other than that, the screens are a joy to look at. Text and graphics are very sharp, colors are clear and vivid, but it may still be a smart idea to use some of the included display color modes to get a more natural-looking image.
Display measurements and quality
Unfortunately, the built-in blue light filter feature doesn't support the more natural looking color profiles of the display, and automatically switches to the over-the-top Adaptive Display mode, but at least Adaptive Display has a bunch of color balance controls going for it, so you can customize it somewhat to your liking.
Stereo speakers & bundled earphones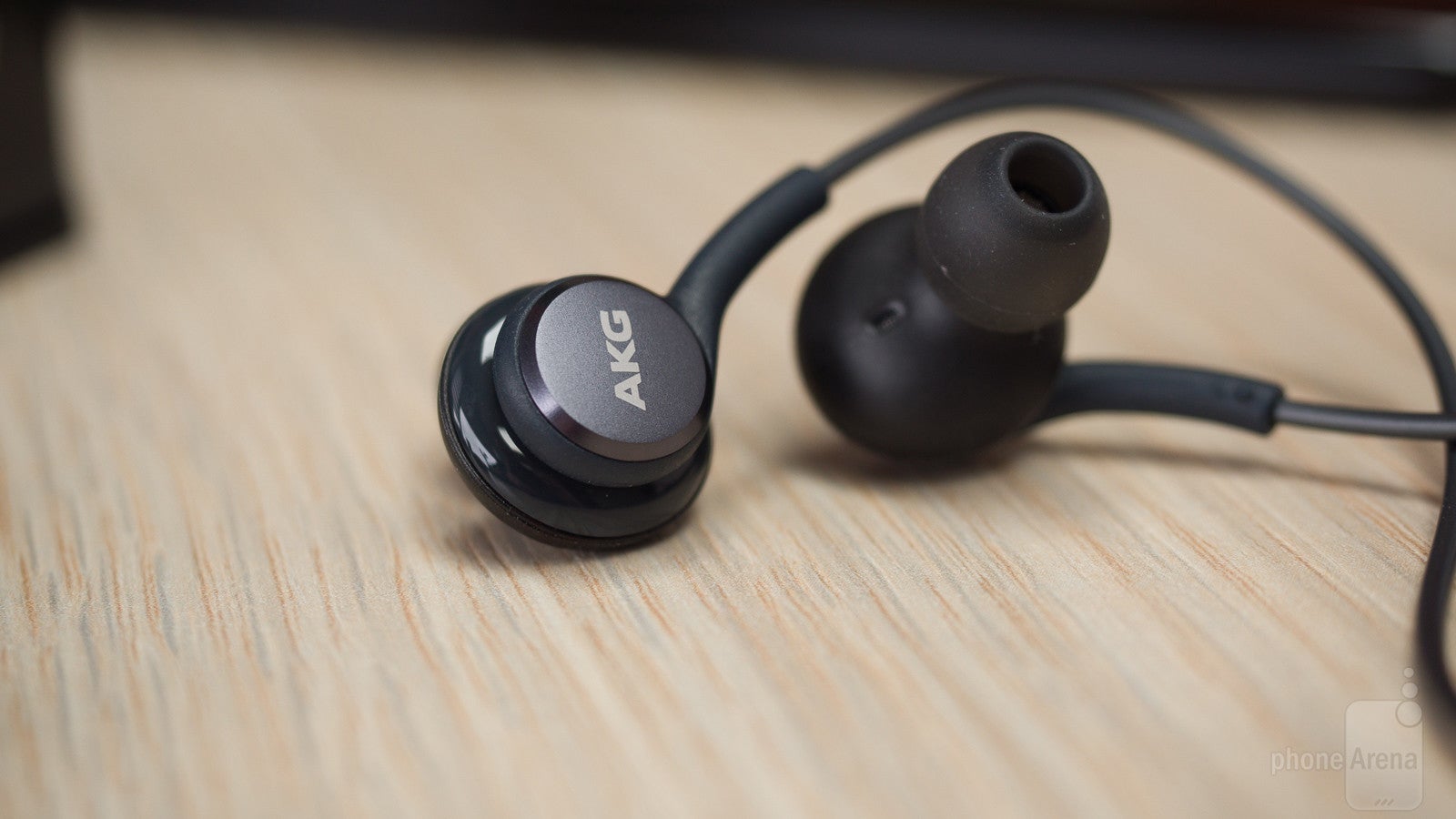 A pleasant surprise is there are stereo speakers on the S9 line now – a first in a modern Samsung phone. Just like on the iPhone, one is positioned on the bottom, while the other is the earpiece. Samsung has done a great job here, as the new stereo speakers sound pretty much as good as those on the newest iPhones, which is to say - they are industry leading. With these new speakers, we're sure that media like games or YouTube video will be that much more enjoyable.
The earphones that come in the box of the Galaxy S9 and S9+ are the same as before; they are AKG-branded and are capable of outputting some pretty decent tunes. However, these in-ear headphones have the tendency to not fit tightly and easily enough, and are quick to slightly slip out of the ears. With that, low frequencies are dramatically reduces, leaving you with what is mediocre sound at most. However, this may be more a question of ear anatomy than exclusively poor design. We're curious to know what your experience is with these earbuds.
Interface
Samsung Experience is almost the same as before
Oh boy, this one has been known by many names: TouchWiz, Nature UX, Grace UX, Samsung Experience… and it's been loved and hated for almost a hundred years. Legends tell of a UI so great, it would eat all available system resources in a single gulp! Bards sing of features, as many as the stars in the night sky!
Whether you believe those stories or not, it's a scientifically proven fact that while many smartphone companies out there are increasingly minimising their software efforts, Samsung's own user interface has survived to this day; and it's been getting better and better every year. 2017, in particular, was an especially productive year for Samsung's software team, which came out with Samsung Experience on the Galaxy S8. It was a thorough rework of the user interface which felt miles ahead of the previous version. Just like with hardware, Samsung has been building upon the foundation here, instead of reimagining it. Because of this, the Galaxy S9 looks and runs almost like an exact copy of the S8. Aside from the several new software features, which we'll be discussing below, we've found most other changes to be relatively minor and cosmetic.
Some of the bigger new features have to do with security, and others – with our friend, Bixby. Samsung's virtual assistant is being upgraded with new capabilities, and Samsung seems particularly proud of its Live Translation feature where you just point the camera at foreign language text, and Bixby returns a rough translation. It's far from perfect, but it's definitely better than nothing.
Fingerprint and face scanning
The new location of the fingerprint scanner is better, but face unlocking is still not good enough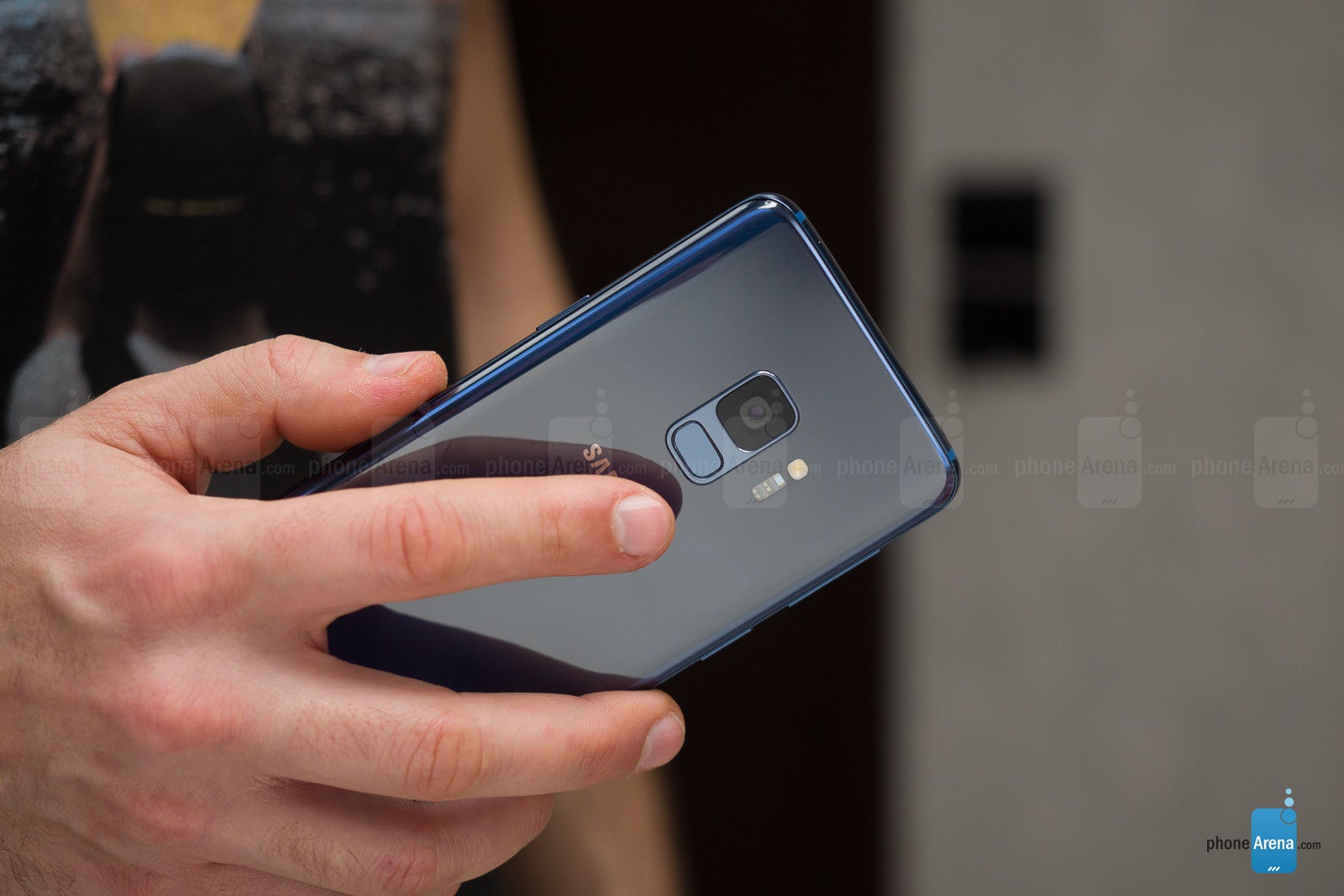 There's a lot going on in terms of biometric security on the Galaxy S9 and S9+. Perhaps most importantly, Samsung has heard user feedback and moved the rear-mounted fingerprint scanner to a new position – right below the camera, where it's easier to reach without accidentally smudging the camera lens. The old position was less than ideal, but wasn't that bad on the compact Galaxy S8. However, the new placement is indeed better and more hassle-free, especially on the bigger S9+.
In addition to that, the Face Recognition and Iris Scanner features are back, and Samsung says they've been enhanced to be faster and more secure. But the more intriguing thing here is the new Intelligent Scan mode. To understand what it does, let's first take a look at Face and Iris recognition:
Face recognition:
There isn't too much fancy tech in this one. The phone uses the front camera to record a picture of you, and then does some clever processing to be able to recognize that it's you, when you want to unlock your phone, while restricting access for others. Face recognition is fairly quick in normal lighting conditions (though it normally takes about 2 seconds to recognize you, which isn't ideal), but it fails in darker environments. Also, it's not too secure, and can be fooled by a good-quality photo of the user. Therefore, Samsung won't let you use Face recognition to authenticate critical things like mobile payments.
Iris scanning:
This one is a bit more complex and makes use of some additional sensors positioned in the top bezel of the Galaxy S9 and S9+. The iris scanner can be very quick, or it can easily fail, depending on how you look at it, literally. It's very secure, but people having any kind of epileptic symptoms are advised to avoid it. The iris scanner is not the most convenient face unlocking system ever, because it requires you to focus on how you look at the phone, keep your eyes in a certain way, and hold the phone in a certain way. On its own, it's not ideal, but it definitely works better than the one in the Galaxy S8.
Intelligent Scan:
And now for the big daddy – when you have to technologies that seem to cover each other's weaknesses, it makes sense to combine them in some way, and that's what Samsung has done. Intelligent Scan uses a combination of Iris scanning and Face recognition to deliver both faster and more secure unlocking solution. To be clear, Intelligent Scan is not as fast, secure, or generally reliable as Face ID on the iPhone X, but it's overall a much better experience than face recognition or iris scanning alone. It tries to determine the optimal way to unlock the Galaxy S9 by looking at both you and your environment. Because of this very nature, it works better in general, but is also inconsistent, as success rates and speed will depend on lighting conditions.
Performance and Memory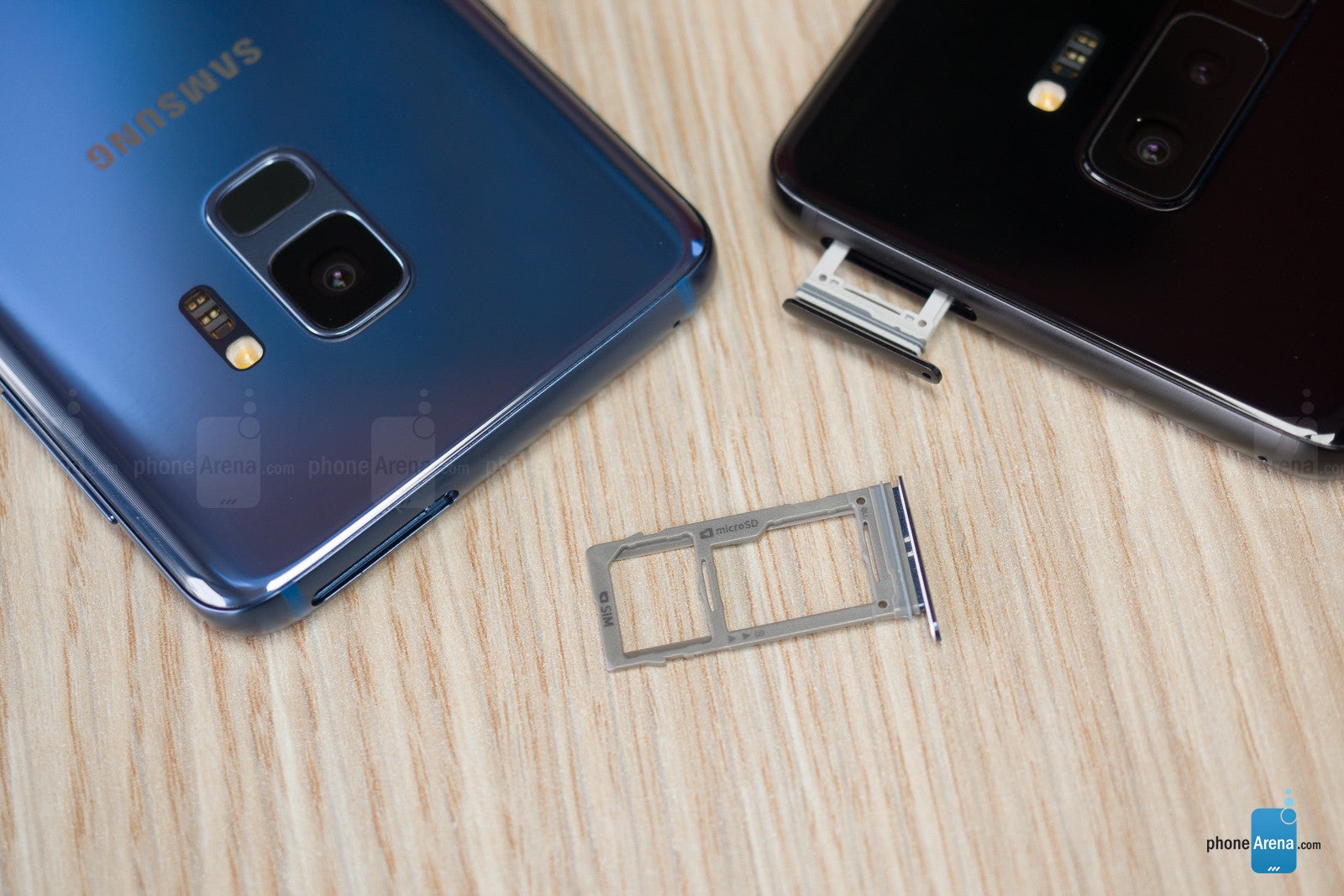 As usual with Samsung smartphones, the US market will see a Snapdragon 845-powered Galaxy S9, while internationally, the phone will feature the new Exynos 9810 SoC. Both of these 64-bit chipsets are built on 10nm process and have powerful octa-core CPUs. Performance-wise, this should be one of the fastest phones ever, and for the most part it is – things move quickly, without hiccups. According to some benchmarks we've run, and to our own personal experience with using the phone and playing games on it (the Exynos-powered S9 series), the handsets generally perform quite well, as expected, perhaps leading the market for Android, but they are not iPhones yet – especially the 3D graphics performance leaves a lot to be desired.
RAM memory gets a slight upgrade, but only on the Samsung Galaxy S9+, which now sports 6 GB RAM, while the S9 remains at 4 GB. It looks like this year Samsung is willing to differentiate the S9+ from the S9 a bit more, and the extra amount of RAM is a good step towards justifying the higher price. You can expect the 6 GB of RAM to be helpful in extending the useful lifespan of the Galaxy S9 plus; and, if you're used to jumping in and out of apps constantly, it might come with slightly fewer hiccups.
Storage-wise, Samsung's new phones again come with the nicely balanced option of 64 GB, and there's also the good old microSD card slot, in which you can insert cards of up to 400 GB in capacity, preferably reserved for media storage.
Internet
The Samsung Internet browser is on board once again, and it continues to be a great option that's speedy and reliable. Due to Samsung's contract with Google on licensing Android, Chrome is pre-installed as well, if you'd rather pick it instead of the Samsung one. Both apps can serve their purpose just fine.
Samsung's Internet browser can sync important data such as bookmarks, history and open tabs with Samsung Cloud, but aside from maybe a Samsung tablet, chances are you don't have other computing devices that run Samsung Cloud. On the other hand, Google's Chrome also syncs this data, and if you happen to also use Chrome on your notebook and/or desktop PC, you'll have access to it. The same thing is possible with the Firefox browser that's found in the Play Store.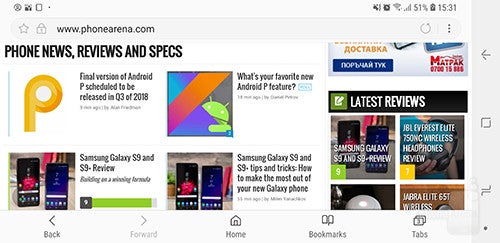 Camera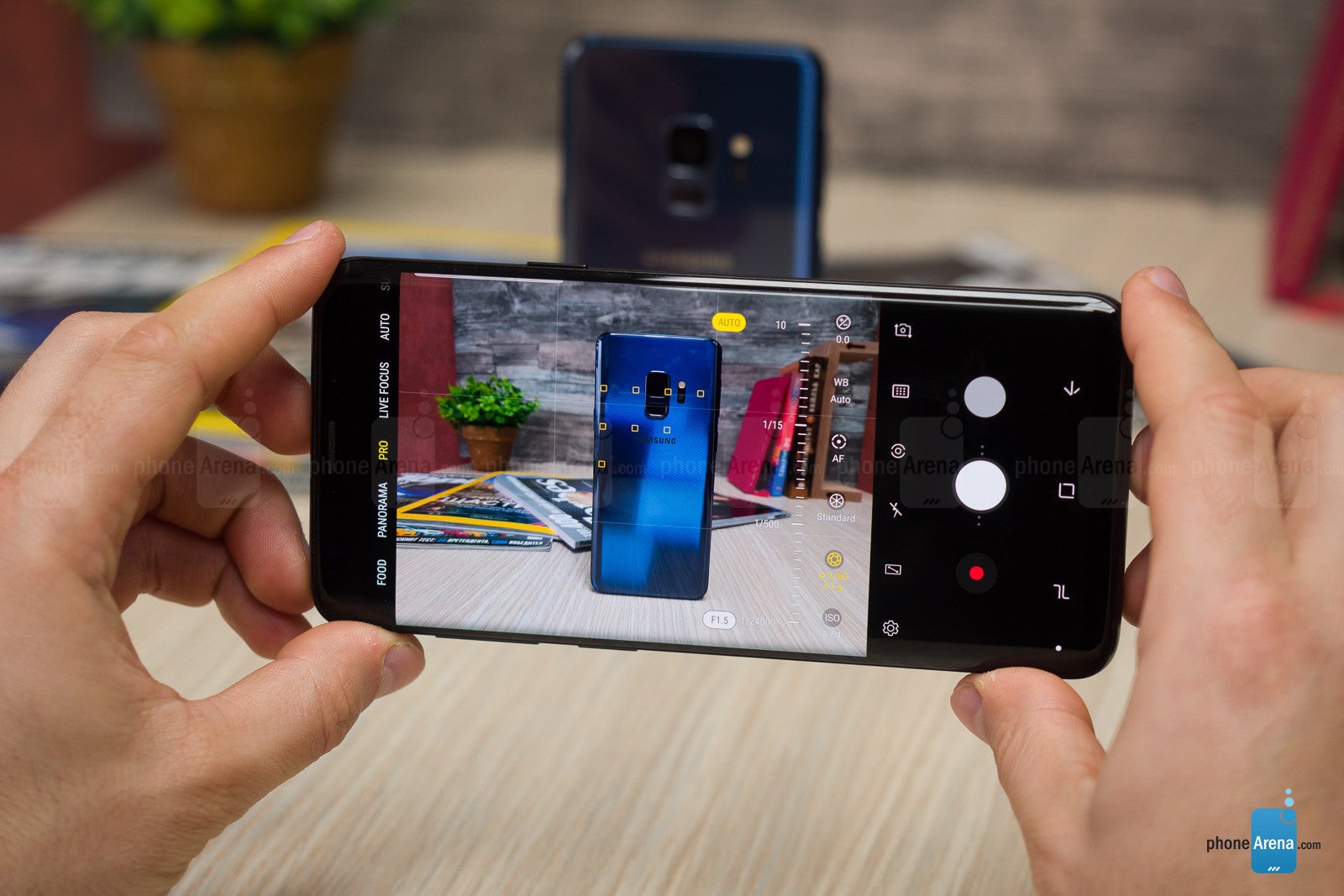 It's easy to tell a lot of Samsung's focus has been on improving the camera performance, not that it wasn't already superb with the Galaxy S8. The S9 and S9+ are the first phones to come with a variable aperture that can switch between F2.4 for brighter environments, and F1.5 for low-light scenes. This allows the S9 and S9+ to capture more light when needed; however, we didn't find its results to be too different from those of the Galaxy S8. Actually, the difference is hardly there. The new models keep the slightly warmer color profile of their predecessors, but aren't as aggressive with the sharpening. As a result, S9 pictures look a bit softer and have slightly less noise, but other mostly comparable to the previous generation.
The bigger upgrade is on the Galaxy S9+, which gets the dual-camera setup from the Note 8. The secondary camera is again a telephoto lens, which allows you to do a two-times zoom in without quality loss, and also to take some very good-looking portraits.
There are also a couple of new video recording modes: 4K at 60fps, and Super Slow Motion! 4K at 60 frames per second is, well, 4K video, but much smoother, and while it looks and sounds great, it's capped at 5 minutes max. That may be a good thing, though, considering how much space 4K video tends to occupy.
The other interesting new feature is the improved slow-motion mode. The GS9 and GS9+ can now record 960fps slow-mo video (just 0.2s are turned into 6s slow-mo footage) at 720p resolution. The phone is capable of automatic motion detection, which sets the appropriate part of the clip in slow-motion without you having to do almost anything. However, it's a big hit or miss, as very fast-moving objects through the target area may sometimes not be detected by the phone. A manual setting is available as well, but it's also a bit tricky to get right, because of the extremely short moment that's captured for slow-motion. The resulting effect can definitely be cool, but overall, the 960fps super-slow motion mode is a bit of a hassle, and the quality of the resulting video is relatively low.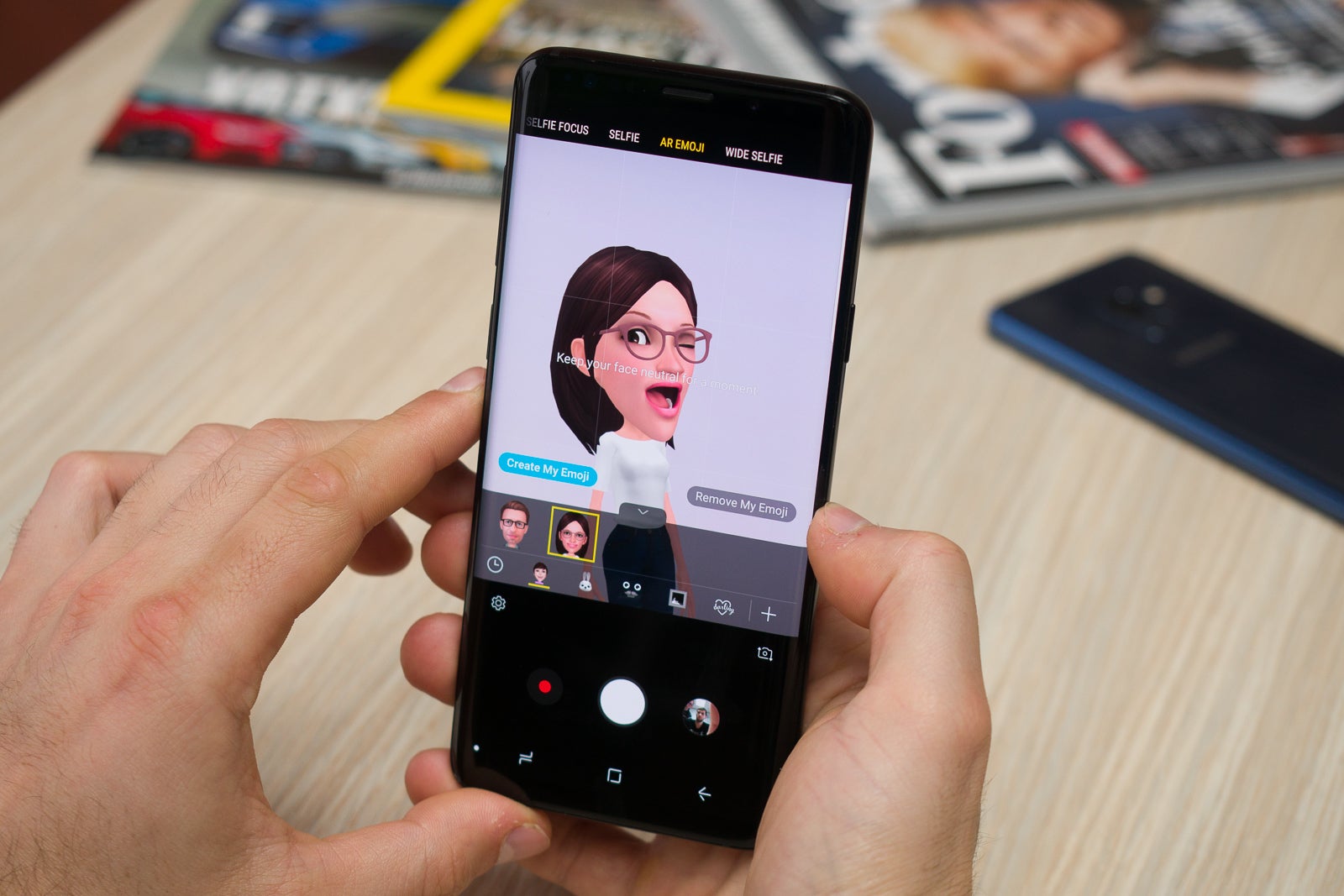 The AR emoji feature
AR emoji is a big new feature living inside the camera app. With it, you can take a picture of yourself, and it'll generate an animated 3D avatar that can be further personalized to look a bit more like you. You can then play with it in real time, a la Apple's Animoji, and record video with it, but the cooler part is it automatically generates stickers from the 3D avatar, which can be used in different messaging apps, and are correctly seen on the other end of the conversation. This is a superb feature, but still a bit underdeveloped, as all 3D avatars kind of look similar, and the real-time animations are a somewhat stiff and limited.
Battery life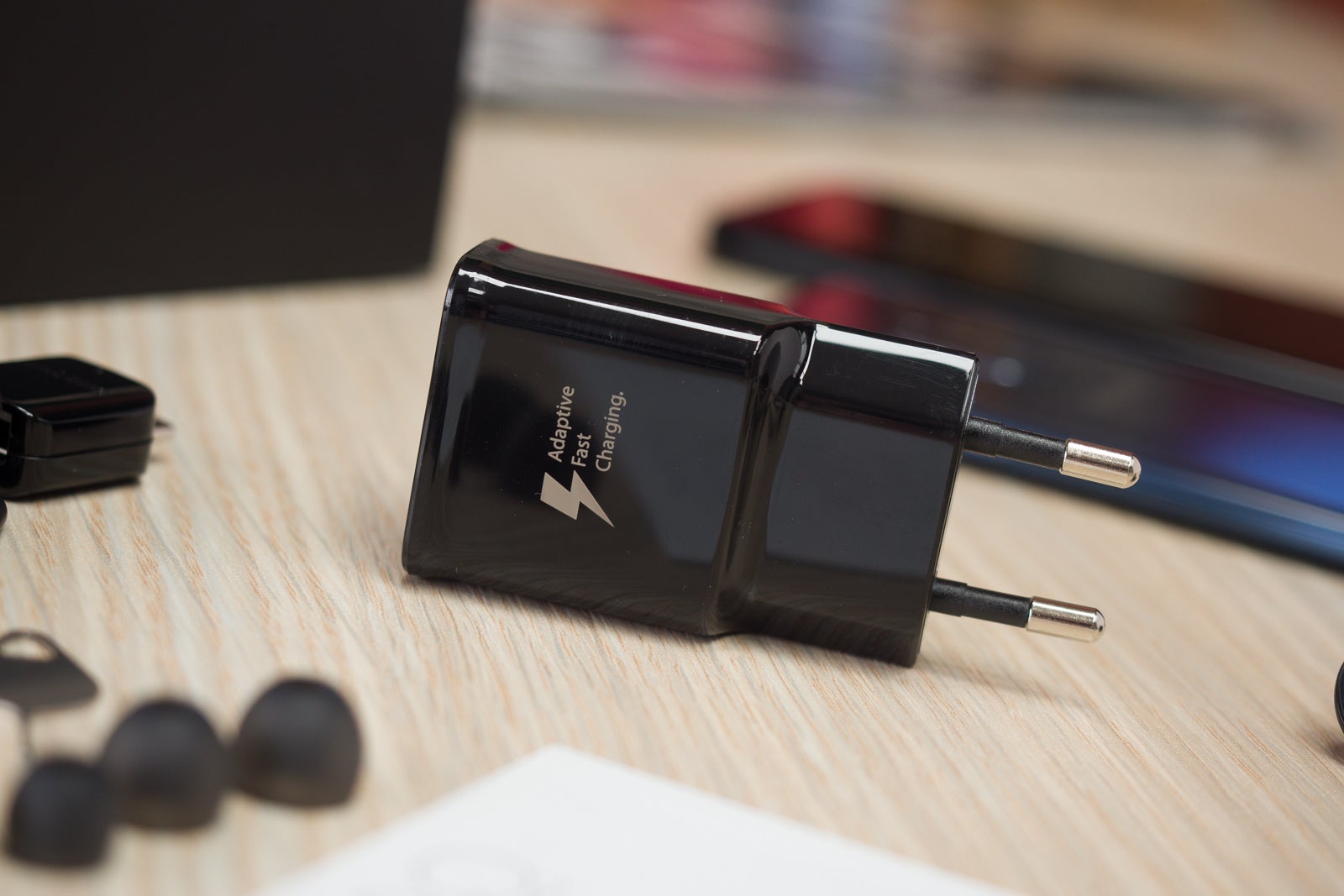 With identically sized bodies, Samsung couldn't fit bigger batteries in this year's S9 and S9+. As a result, their capacities remain identical, at 3000mAh for the S9, and 3500mAh for the S9+. Our battery test results show near identical battery life for the S9+, and a slightly shorter one for the S9, compared to the previous generation. The S9 managed to run the test continuously for 7 hours and 23 minutes, while the S9+ did so for 8 hours and 5 minutes. This kind of longevity is still more than enough to get you through the day, so we wouldn't worry much about it. With an hour more or less, it'd still be best to charge nightly at this point.
It's a great thing that Samsung includes its awesome Adaptive Fast Charger in the box with its flagships, so this guarantees your phone will be up and running in no time. Both the Galaxy S9 and S9+ charge from 0 to 100% in about an hour and 45 minutes… about 5 minutes more, than the S8 series. And of course, there's also wireless charging if you'd invest in a charging pad.
Conclusion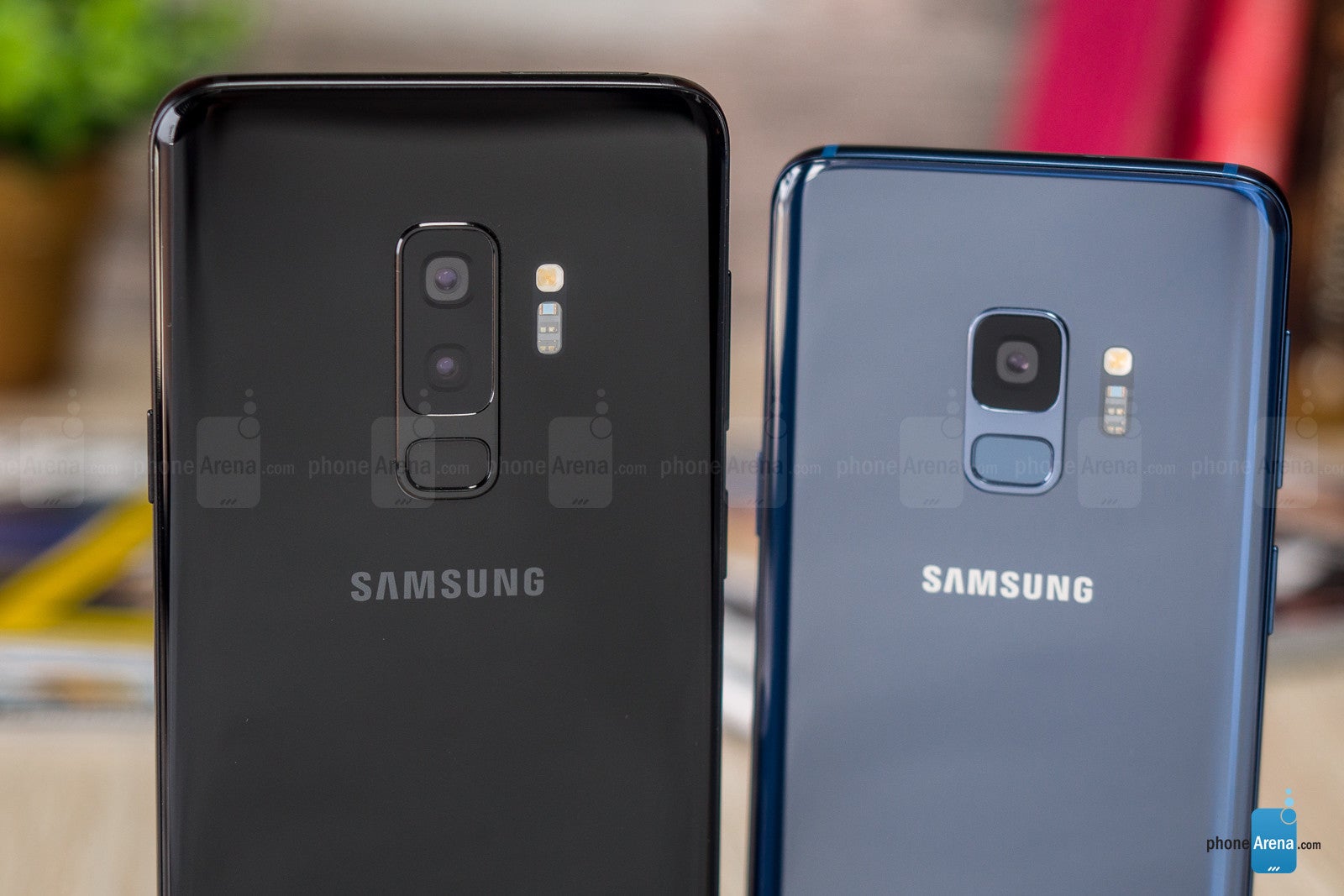 The
Galaxy S9
and
S9+
are subtle upgrades to last year's S8 line. The most significant improvements are found in the fingerprint scanner position, the new intelligent face scan feature, the AR Emoji 3D avatars, and the camera, but only for the S9+, which gets the secondary zoom camera of the
Note 8
. In any case, if you're a current
Galaxy S8
user, we'd say an upgrade to the S9 would be completely unnecessary, but that's expected. For owners of older devices, like the
S7
or
S6
, the Galaxy S9 will feel like a major step forward.
Samsung has once again managed to craft desirable handsets with the S9 and S9+; one can hardly find anything remotely as elegant, as advanced, and as polished, all in a single product, on the Android market. The closest it gets to that are LG's
V30
or
Google's Pixel 2
, but each of these has certain drawbacks that position them a step below Samsung's impressive package.
Galaxy S9 and S9+ Price and Release date
Samsung is going to release the Galaxy S9 and S9+ on March 16 across most markets. If you happen to be in a market that doesn't get the new phones with this initial launch, don't worry, because it shouldn't take more than a month until all regions receive them.
In the US, pretty much every major carrier is going to sell the dynamic duo, at slightly varying prices. If you could pay upfront for the phones, it might be best to purchase them from Samsung directly, as it currently offers the best prices: $720 for the Galaxy S9, and $840 for the Galaxy S9+. AT&T, Sprint and Verizon bump these prices up a bit (by $70-80), while T-Mobile is sticking with Samsung's suggested pricing. These prices are competitve with what Apple's charges for its iPhone 8 series and the iPhone X, so we believe the Galaxy S9 and S9+ will be met with warm reception, not to mention that Galaxy S prices tend to fall somewhat after a couple of months on the market, so you should soon be able to find them even cheaper on places like Amazon.
You can now read:


Samsung Galaxy S9
Samsung Galaxy S9+
Perks
Verizon
$799.99 or
$33.33 per month for 24 months
$929.99
or $38.74 per month for 24 months
up to $350 off when you trade in your current device
AT&T
$790.20
or $26.34 per month for 30 months
$915
or $30.50 per month for 30 months


T-Mobile
$719.99
or $30 per month
$839.99
or $30 per month with $120 down
$360 trade-in offer for iPhone 6s and up, or Galaxy S7 and up
Sprint
$792
or $33 per month for 24 months
$912
or $38 per month for 24 months
Galaxy Forever program is included with all S9 and S9+ purchases. Up to $350 off with an eligible trade-in.
Samsung (unlocked)
$719.99
or $30 per month for 24 months
$839.99
or $35 per month for 24 months
up to $350 off when you trade in your current device
Best Buy
-
-
$100 off if you preorder through Verizon, AT&T, or Sprint on March 2nd only. After that, discount may be lower on some of the carriers. Up to $350 off when you trade in your current device.
Recommended Stories