Samsung Gear S3 frontier smartwatch review
45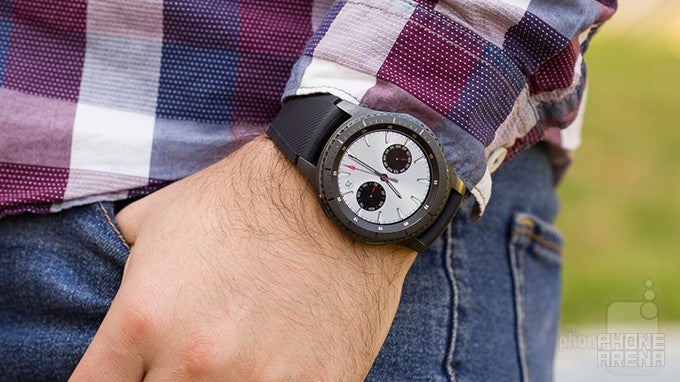 Update

: You can now read our Galaxy Watch review!

Introduction
I have a confession to make – I don't like watches. I don't like how they get bumped against doors and get caught in my clothes, I don't like how they remind me of school, where I had to instantly get from one class to another, I don't like the idea that they're intended to serve as a fashion accessory (not unlike a peacock's plumage), and I particularly don't like that they can't do much beyond telling the time – something that my phone does perfectly.
But when I reviewed the
Samsung Gear S2
smartwatch last year, I actually enjoyed it. The wearable looked good and felt okay on my wrist, but above all, it could do much more than to tell me that I was late for my weekly editorial meeting. That's why I'm now excited to test the Samsung Gear S3 frontier, which comes with a bigger battery, a built-in speaker, and a dedicated GPS for improved location tracking. Let's find out if it is worth the $350 asking price.
In the box:
Samsung Gear S3 frontier smartwatch
Magnetic wireless charging cradle
Wired charger (connects to the cradle via microUSB)
Regular and small-sized rubber wrist band
Quick Start Guide
Design
The Gear S3 frontier is a smartwatch made for adventurers – thick, solid, tough. The rotating bezel is as reliable as before.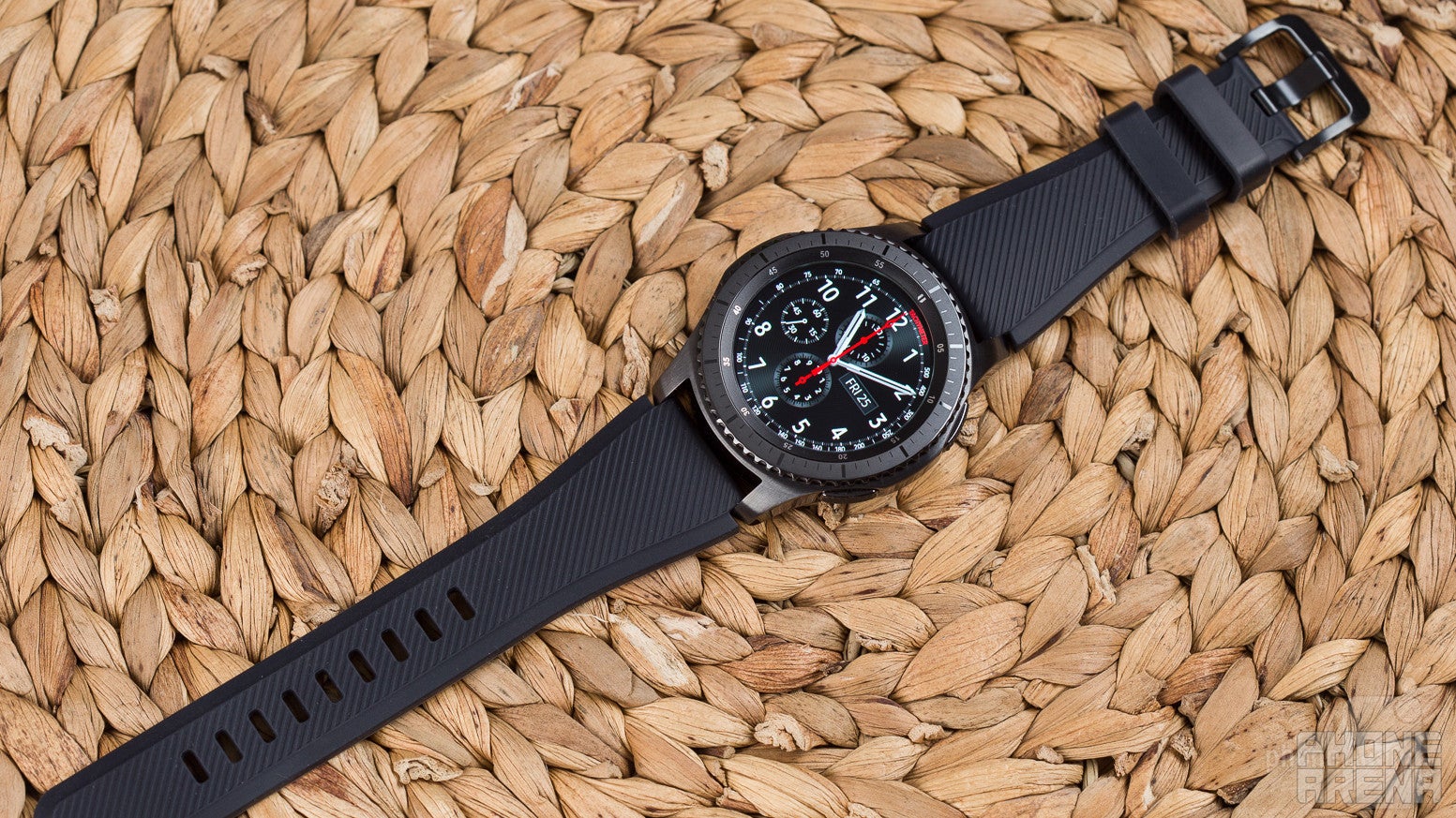 This is no kids' watch, that's for sure. It doesn't look great on a lady's hand either, unlike the Samsung Gear S2 from last year. Made of stainless steel, the Samsung Gear S3 frontier is big and solid, with a manly look, and is noticeably on the heavy side. It wraps around the wrist with a thick rubbery band providing a tight, secure grip, further strengthened by a metal clasp. So if I were planning on spending a weekend in Bear Grylls's company, this would be an ideal smartwatch to wear.
The rugged look and feel of the Gear S3 frontier come as no surprise. Samsung is advertising its smartwatch as IP68-certified and compliant with MIL-STD-810G standards for durability. Or in plain words, the wearable is resistant to water and dust ingress, as well as to unexpected falls and extreme temperatures. Keep in mind that the watch is not suitable for use while swimming, but giving it a quick rinse under the tap after an exercise will do no harm. Meanwhile, the raised bezel surrounding the screen protects its scratch-resistant surface against physical damage.
About the bands the Gear S3 frontier comes bundled with, it is made of what Samsung calls "active silicon". The material is grippy, meaning that it holds on tightly to the wearer's wrist. I wouldn't call this the most comfortable or most beautiful band I've ever tried, but I grew used to it over time. Besides, given the fact that the smartwatch is meant to appeal to active, sporty people, I'd give its stock band a pass.
I should point out that wearable is compatible with standard, 22-mm wristbands, so if you're not happy with the stock band, you're free to exchange it with one of your own. A leather band, for instance, would be a lot more suitable to wear to a fancy dinner, and Samsung has offerings priced at $30 apiece.
On the right side of the Gear S3 frontier are positioned its Back and Home buttons. Both are readily accessible and easy to feel without looking. But to navigate your way through the user interface, you'll be mostly using the rotating bezel. This is a design approach I really liked when testing the Gear S2 last year, and I'm happy to see that it is as reliable as it was back then. Each twist results in a satisfying, tactile click, and the ridges on the bezel's outer rim make it easier to feel. My only complaint is that I had the bezel rotate by accident a couple of times, when it got caught in my running jacket's sleeve during an exercise.
Display
Bright and crisp, the screen on the Gear S3 frontier is a pleasure to look at.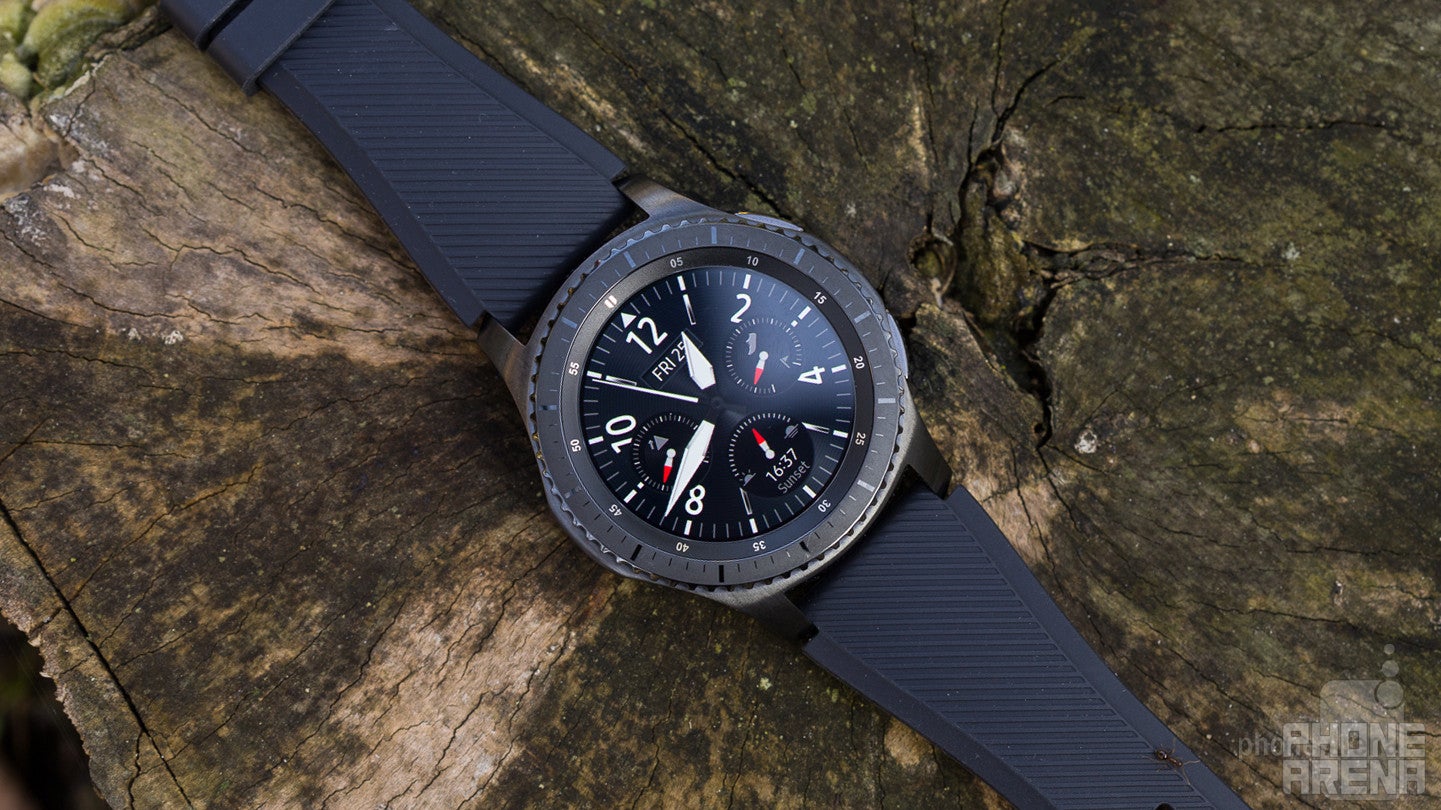 A round smartwatch is a classy smartwatch, and the Gear S3 frontier falls into that category. On its front we have a 1.3-inch circular Super AMOLED display, protected by the scratch-resistant Gorilla Glass SR+, which is designed specifically for wearables.
To sum it all up, the screen is a pleasure to look at. That's not only due to its high resolution – 360x360 pixels for 278ppi. It is also because it displays graphics in high contrast. Notifications, for example, are nice, sharp, and clearly legible, as text is shown with white letters against a black background. Colors are bright and vivid, making watchfaces, apps, and widgets look their best. And no less importantly, I've never experienced issues with outdoor visibility.
One thing I should mention is that the Gear S3 frontier has the option to leave the display always on. When not in use, the screen dims down after a timeout period configurable between 15 seconds to 5 minutes. This does have a serious impact on battery life, but it makes the watch feel more like a watch. If you choose to disable the option, the screen will turn on automatically when you lift your hand or turn your wrist – gestures that work pretty well, in my experience.
As far as sensitivity goes, the Gear S3 frontier performs better than I expected. Moisture can easily make a touchscreen unusable, but the sweat accumulated after a 1-hour workout wasn't enough to cause any troubles. Still, keep in mind that the touchscreen will start acting up if it gets too wet.
Recommended Stories