The LG G7 ThinQ can be yours for only $240 with carrier activation or monthly installments
2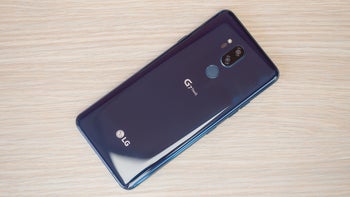 Even though LG has released no less than four high-end phones on the heels of the
G7 ThinQ
, including a
V35 ThinQ
,
V40 ThinQ
,
G8 ThinQ
, and
5G-capable V50 ThinQ
, last year's
notched 6.1-incher
can still be a relatively smart purchase at the right price.
$240 sounds pretty right for a Snapdragon 845-powered handset with 4GB RAM and 64GB internal storage space, and that's exactly how much Best Buy is charging at the time of this writing with an upfront Verizon activation or a two-year device payment plan. The latter option entails coughing up $10 a month instead of the standard $31.25, while the former has no special requirements.
Both new and existing Verizon subscribers looking to add a line to their accounts or upgrade their phone are eligible for a massive $510 discount as long as you don't have a problem making a one-time payment of 240 bucks. How great is the value proposition here? Let's just mention the
G7 Fit
starts at $310 right now with half the local digital hoarding room of the $240 LG G7 ThinQ, as well as a vastly inferior Snapdragon 821 processor, and a single 16MP rear-facing camera.
In contrast, the first of the G7s rocks dual 16MP shooters on its back, as well as a top-notch (pun intended) 3120 x 1440 LCD screen, and a state-of-the-art Boombox speaker. It goes without saying this thing can't hold a candle to the
V40 ThinQ
or
G8 ThinQ
, but those bad boys are also significantly pricier with or without carrier commitments. You may want to hurry if you're interested in the LG G7 ThinQ, though, as the phone is already listed as "discontinued" over at B&H Photo Video. Ergo, Best Buy's inventory could be fairly limited.

Check out the deal here