LG G7 ThinQ Review
53
LG smartphones and comic book superheroes – they're quite alike if you think about it. Pretty much every recent LG flagship has stood out with a "superpower" of sorts – a peculiarity that made it distinct, unusual, unique even. For instance, the
LG G4
could be personalized with stylish leather back covers; the
LG G5
tried to win our hearts with its modular design; the
LG G6
had the taller, 2:1 display aspect ratio before it was cool; and the new
LG G7 ThinQ
(pronounced "thin-cue") promises convenience through deep integration of artificial intelligence. AI abilities aside, the LG G7 also comes with a superbright display, a superloud speaker, and a superwide dual camera at the back. Indeed, we have a "superphone" on our hands, but what could be its kryptonite? Our in-depth review holds the answer.
Design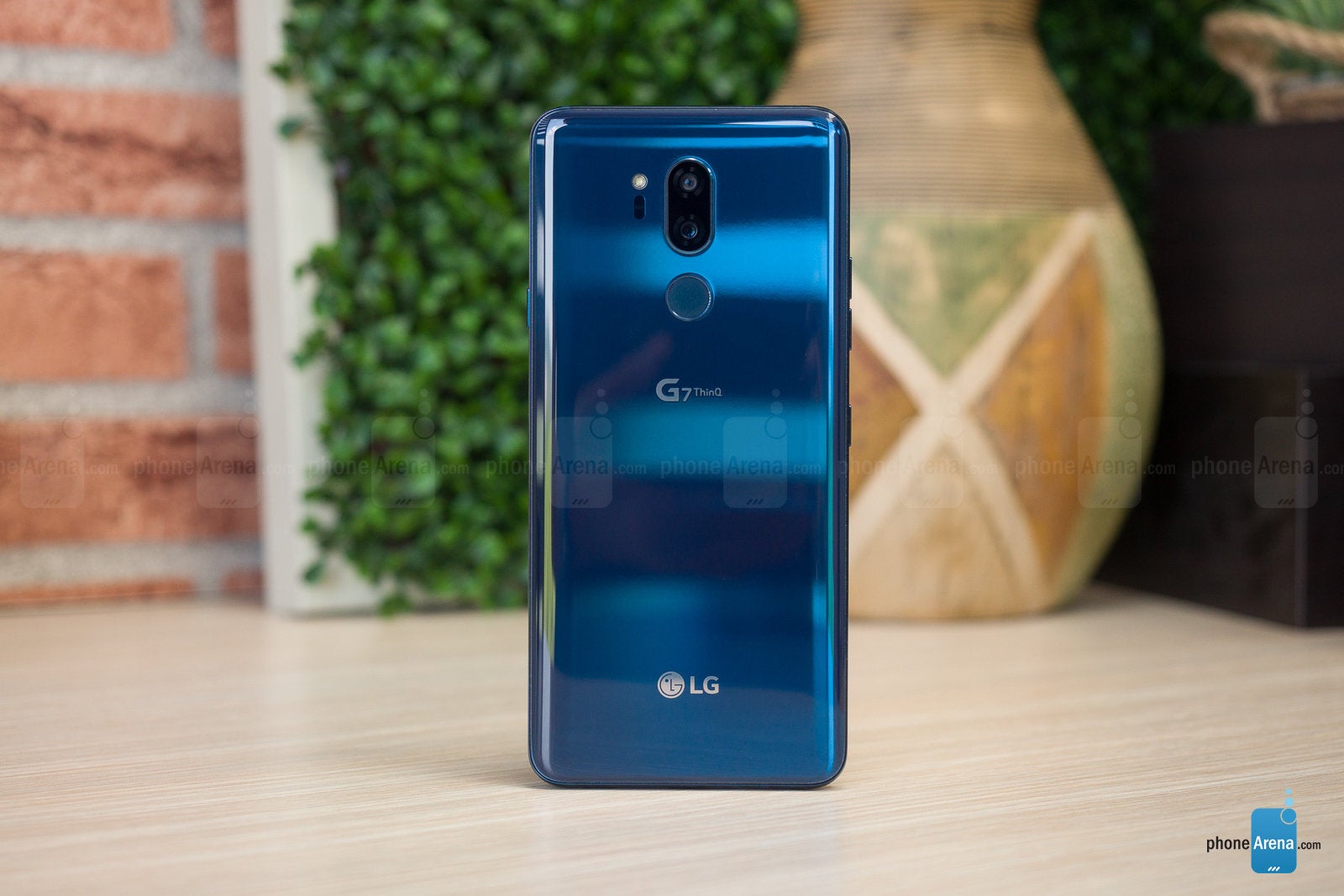 The LG G7 looks and feels every bit as premium as a 2018 flagship smartphone should. Its front and back are protected by Gorilla Glass 5, while a metal frame wraps around its perimeter. The phone is neither too light, nor too heavy for its size. It feels solidly built, I don't find it slippery in my hand, and the IP68 water resistance rating indicates that a dunk in the pool won't do it any harm. Operating the G7 single-handedly can be a challenge, though, much as the case is with many other phones of this caliber.
At the back of the LG G7 is located its dual camera, confined within a housing that bulges very, very slightly, without making the phone wobble. Below is a fingerprint scanner that is fast, reliable, and easy to reach without looking. The fingerprint reader on the LG G7 does not double as a power button. Instead, the latter has been relocated to the right side of the phone, and pressing it twice can be used as a handy camera shortcut once you enable the option in the settings menu.
The LG G7 can be had in one out of four colors: black, grey, rose, or blue (though availability varies, depending on the market and on the carrier). All of them have the same highly reflective and eye-catchy finish to which fingerprints stick so easily. Probably that's why LG throws a cleaning cloth in the box.
Overall, there is absolutely nothing wrong with the way the LG G7 has been put together, but at the end of the day, it doesn't do much to distance itself from the competition. True, it does have the characteristics of a premium phone, but it could use more character. Though if that's the kind of looks the market demands, we can't blame LG for following trends instead of trying to set new ones.
New Second Screen, a.k.a The Notch
Speaking of trends, it is time to address the elephant in the room: yes, the LG G7 has a notch at the top of its display. It is a design feature that has been subject to much ridicule – and one of the reasons why LG's flagship looks so similar to many phones that have and will come out this year.
But despite the criticism, the G7's notch is nothing to be concerned about. In fact, it allows LG to squeeze even more display area on the front without making the phone itself bigger than it is. Within the cutout reside the phone's earpiece, front camera, and various sensors, while the additional screen space on the sides – the New Second Screen, as LG calls it – hosts the clock, notification icons, and status information.
The good thing about the notch is that it doesn't get in the way, be it while watching video, playing a game, browsing the web, or simply scrolling down your Instagram feed. Most apps wrap around it or simply avoid it without issues. Those who find it distracting can "hide" it by applying a background to the area on its sides, thus making it blend with the upper bezel. I didn't.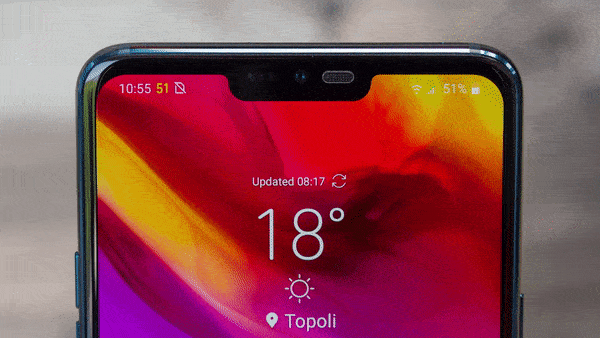 The different notch styles
Dedicated Google Assistant button
On the left side of the G7 ThinQ, LG has added a dedicated Google Assistant button. This lets you access Google Assistant from most screens, while a double press launches Google Lens for visual object and landmark recognition. And if you hold the button down – just as if you were using a walkie-talkie – you can speak out your queries directly without the need for the "OK Google" hotword. For the record, the button gets disabled while the camera is in use – a case where an accidental press may be critical.
LG hasn't added the option to link this button to a different function, but you do have the freedom to disable the key if you want to. I didn't. In fact, I found myself using the assistant more because of its super-convenient walkie-talkie mode. And the button is distanced enough from the rest to prevent accidental presses.
Display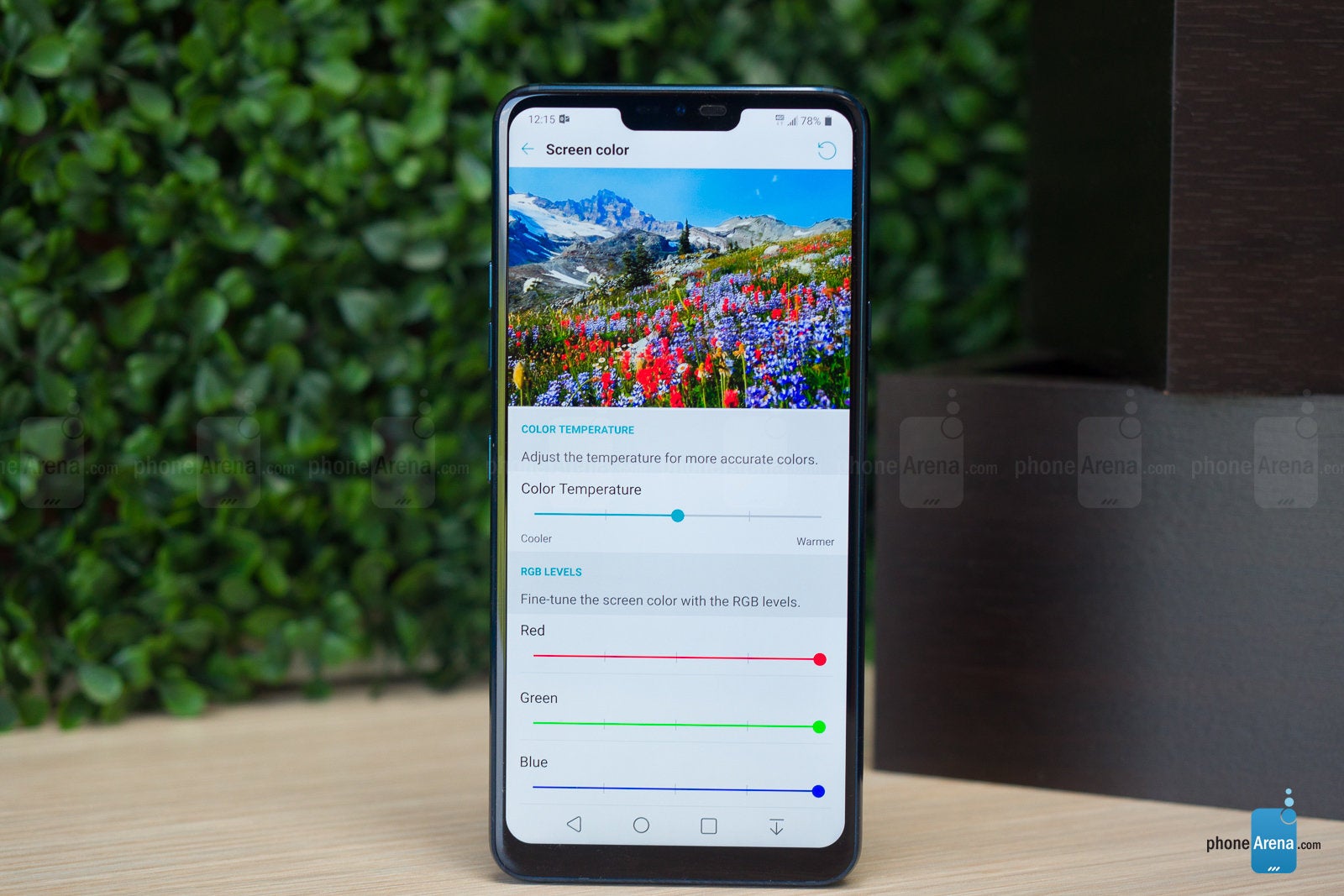 The 6.1-inch IPS LCD display with a resolution of 1440 by 3120 pixels is one of the LG G7's key selling points. It is the largest and tallest on a G-series phone so far – with a 19.5 to 9 aspect ratio – and even with the notch and on-screen buttons, there's still plenty of space for apps and content. I had only a few instances where apps didn't fill the entire height of the screen, and a tap of a button was enough to fix the issue.
Colors exhibited by the LG G7, while not entirely accurate, are bold, saturated, and very likeable. Whites do have a blueish tint, though, and while most people won't be bothered by this, those who are can enable Comfort View for a warmer, more accurate color reproduction.
Brightness is the screen's most touted specification. By adding a fourth, white sub-pixel to the traditional red, green, and blue ones, the LG G7 is able to hit the remarkable 1000 nits of brightness, making this the brightest smartphone screen we've ever tested. Brightness is critical when it comes to outdoor visibility, and after almost two weeks of use, I can confirm that the G7 doesn't disappoint in this respect. Its screen is clearly legible even under bright sunlight.
But there's a catch – a few of them, actually. Firstly, the G7 can't maintain that 1000-nit brightness level for prolonged periods of time due to the high power consumption and the heat that is generated. Secondly, color accuracy gets thrown out of balance at such high brightness levels.
As previous LG flagships, the LG G7 supports the useful Always-on Display feature, which shows the current time and pending notification icons on the lock screen while on standby. You can also access the music player and various toggles without waking up the phone. Alas, AoD has a small, but noticeable impact on battery life.
Display measurements and quality
Software and interface
Android 8 Oreo comes loaded on the LG G7 ThinQ. To no surprise, it has been heavily customized by LG – the software looks very different from what you'd find on a Google Pixel phone, for example. It has its quirks and peculiarities, as new users would quickly find out, but anyone who's handled an LG G6 or an LG V30 should feel right at home, as the experience is nearly identical in day-to-day use.
LG's software is characterized by its lack of an app drawer. Instead, all apps are placed on the home screen. We also find the Floating Bar feature introduced with the V30, giving you quick access to apps, contacts, or features. The on-screen buttons can be rearranged and the height of the on-screen keyboard can be adjusted. A double tap on the screen can be used to wake the phone. Gallery files and notes can be locked to keep them safe from prying eyes. All in all, the LG G7 is not a phone lacking in features that both regular folks and power users can appreciate.
Some things I would have changed if I could, though. For example, I can't access my notifications with a swipe down on the home screen. Instead, I get a universal search bar. It can find strings of information even inside an app's data, such as the contents of an email – sounds cool, but in practice, this feature is rarely needed. Fingerprint gestures haven't been implemented either.
Artificial intelligence
"So where's the AI?"
you may be wondering. Well, there's the dedicated Google Assistant button that we've already mentioned. There's also the integration of Google Lens, which lets you perform visual searches by pointing the camera at an object. There's the Smart Bulletin that can deliver a daily briefing in the morning. And there's an AI scene recognition feature in the Camera app that we'll explore in detail later on. But there's not a whole lot beyond that.
Frankly speaking, LG's ThinQ initiative and AI implementations feel like a bet on buzzwords to draw attention, and ultimately, the LG G7 does little to convince us that it is beneficially smarter than other smartphones. Sure, Google Lens support and a dedicated Google Assistant button are nice having, but at the end of the day, there isn't a single "killer" AI feature that makes the G7 a phone worth owning. With LG investing so heavily in artificial intelligence, we expect ThinQ-branded phones to get smarter in the future, but at this time, their AI abilities are hardly groundbreaking.
Processor, memory, and performance
The Snapdragon 845, Qualcomm's fastest chip to date, powers the LG G7. The phone delivers outstanding benchmark scores as a result, and its real-life performance is nearly flawless. The phone also comes with 4GB of RAM and 64GB of storage, plus a microSD card slot for storage expansion. The LG G7+ modification, which is to be available in some parts of the world, provides 6GB of RAM and 128GB for your files.
As you'd expect, the LG G7 handles most games without issues. Anything from casual titles like Monument Valley and Crossy Road to more demanding games like Minecraft and Riptide GP Renegade runs well. Even PUBG is very playable at high graphics settings. For games that don't run quite flawlessly, LG lets you tweak resolution and graphics settings in order to get a better framerate.
Camera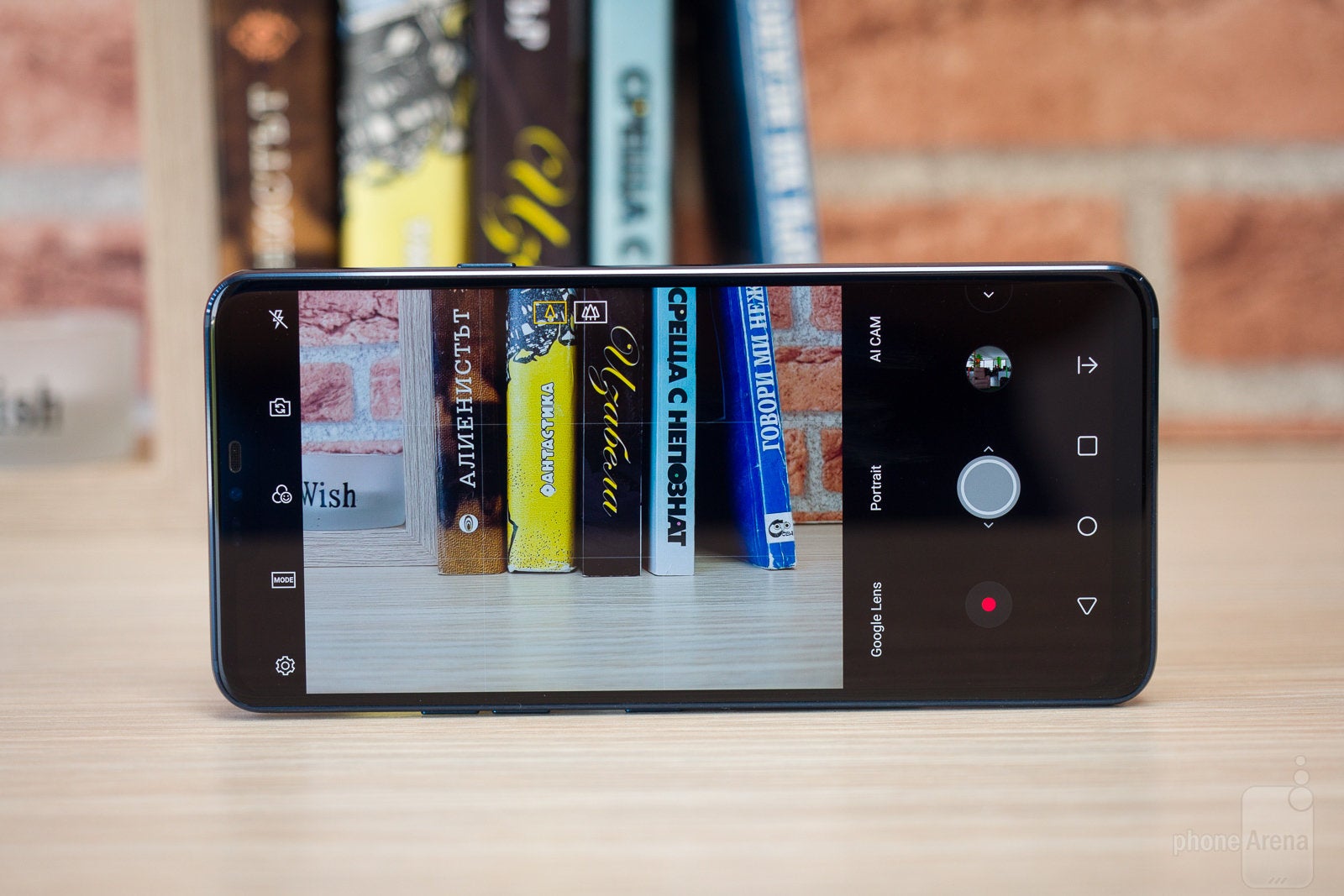 First, let's get the specs out of the way: the LG G7 boasts a dual main camera comprised of one regular cam and a secondary wide-angle shooter. The main cam has 16MP of resolution, OIS, and F1.6 fixed aperture, but small for a high-end phone 1.0-micron pixels. Meanwhile, the wide-angle cam – which uses the exact same sensor, by the way – has a 107-degree viewing angle, allowing you to fit more in the frame without having to step back.
As before, the camera app is rich in features that experienced photographers may appreciate, including full manual controls for both photos and video, as well as support for HDR10 4K video recording. On the downside, we can't switch back and forth between the regular and the wide-angle camera while shooting video like we can on the G6 and V30. On top of that, the preview in the viewfinder tends to be darker compared to the photo taken, especially with HDR activated.
Image quality
I must have taken several hundred shots with the LG G7 throughout my testing, and many of them turned out splendid. This is definitely a phone with plenty of potential when it comes to photography and video recording, but as the case is with many things, there are a few caveats.
As expected, the G7 excels in favorable conditions: daytime photos are detailed enough while slight boosts to color, contrast and saturation add metaphorical salt and pepper to the scene. Image quality rivals that of the best shooters right now, and I'm confident that most people would find the G7's images very likeable.
In low-light situations, there's a noticeable drop in quality – noise becomes more prevalent, and fine detail gets smudged easily. But such photos are still usable, though not as good as what the competition can produce. A suggestion to activate the new "Super Bright" low-light mode pops up when appropriate. This combines data from four pixels into one for greater light sensitivity, but while it can be useful in some situations, it doesn't help much in others. It feels like a higher-quality image sensor would have been of greater benefit.
Quality aside, the best thing about the LG G7 is that you always have its wide-angle camera at your disposal. Even though the viewing angle is narrower than on the V30 or the G6, I found myself using the G's wide-angle camera more than with those two other phones. The wide-angle lens does introduce some distortion around the corners, but it is well within the tolerable limits. All in all, the wide-angle cam is definitely one of the G7's strongest assets. Its two drawbacks: lack of autofocus means you can't take good wide-angle close-ups, and its lower light sensitivity means that low-light wide-angle shots are much noisier.
LG promises improved photos thanks to the G7's AI CAM mode. It attempts to recognize what the camera is pointed at and then applies the settings it deems optimal depending on what it "sees" in the frame. And indeed, if you're taking a photo of flowers, AI CAM will give colors a slight boost. If you're taking a photo of a scenery, the color of the sky gets tweaked a little. If you're taking a photo of a document, contrast is improved for better legibility.
Alas, the results from AI CAM are a mixed bag. Photos of food and flowers do look lovely, but objects that are naturally colorful may be given an unnecessary saturation boost. Some scenes look better when given a contrast boost, while others look unnatural and uninspiring. Camera settings applied by AI CAM can't be undone after the fact, and the mode may take several seconds to figure out the scene. LG has chosen not to activate AI CAM by default when you launch the camera, and right now, it seems like that is for the better.
Portrait mode

For the first time on a G-series phone we have Portrait mode, which adds blur to the background of your photos to make the subject stand out better. And the results are great, actually: the border between the subject and the background is well defined, while the strength of the effect can be adjusted to your liking, be it before or after the shot has been taken.






Selfies

The LG G7 has a single 8MP camera at the front. Its viewing angle is wide, though not as wide as with the selfie snappers on the V30 or the G6. Selfies taken in daytime do look awesome, and you can add flare by applying the aforementioned Portrait mode. Low-light shots, on the other hand, are noisier and more susceptible to motion blur.






Video

By default, the LG G7 shoots video at 1080p resolution and 30 frames per second. At this setting, both digital and optical image stabilization are combined to produce smooth, steady footage. Continuous autofocusing works quickly and reliably. Switching to 4K, however, disables the software image stabilization. Footage is still steady enough, though not as much as it could be.

As far as video quality goes, much of what was said about still images applies here as well. Daytime video looks good, but low-light footage is noisy. Sound is loud and clear, though, as long as your hands don't accidentally muffle the phone's microphones on the sides. Again, you can't switch between cameras once you've started recording video, which is a bummer.


Boombox speaker and call quality
The Quad DAC LG introduced with the G6 is also in use here on the G7. It promises high-fidelity audio reproduction while wired headphones are used – yes, the G7 still has a headphone jack! The DAC is capable of driving high-impedance, audiophile-grade headphones with ease.
Unlike other high-end phones, the LG G7 does not have a stereo speaker arrangement. It uses a sole speaker instead – the so-called Boombox speaker is situated at its bottom. What's unique about it is that placing the phone on a flat surface "amplifies" sound, as if by magic, making the G7 one of the loudest phones we've tested. We have a whole article dedicated to
how LG's Boombox speaker works
, so check it out if you're curious. But when the phone is simply held in the hand, the sound is just average, both in terms of loudness and quality.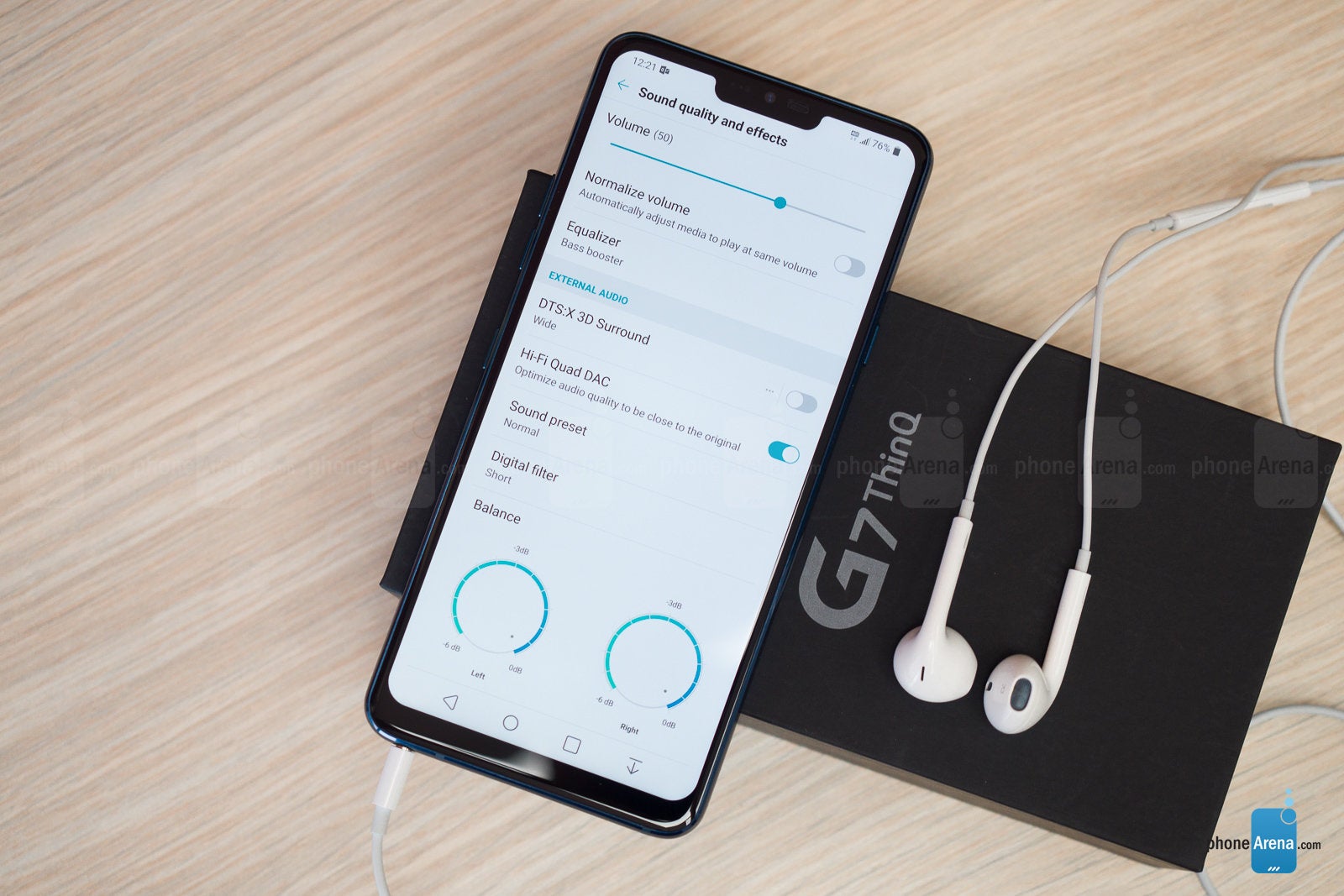 And before we move on, we're happy to report that the LG G7 sounds great during phone calls. The slightly offset loudspeaker doesn't pose any issues, whether the handset is held to the left or right ear. Out of curiosity, we put the call on loudspeaker and placed the G7 flat on a table. The powerful vibrations of its Boombox speaker did not affect the call in any negative way.
Battery Life
With its 3,000mAh battery, the LG G7 clocked about 6 hours and 30 minutes of use time when subjected to our custom battery benchmark. This puts it ahead of last year's LG G6, but behind most current high-end phones, including the Galaxy S9, the iPhone X, and even LG's own V30 smartphone.
In real life, the LG G7 lasts through a day of moderate use, and it looks like most owners will have to charge theirs every single night. Heavier users may need to give it a quick boost in the afternoon or in the evening. Disabling the Always On Display feature could be an easy way to boost battery life with this one.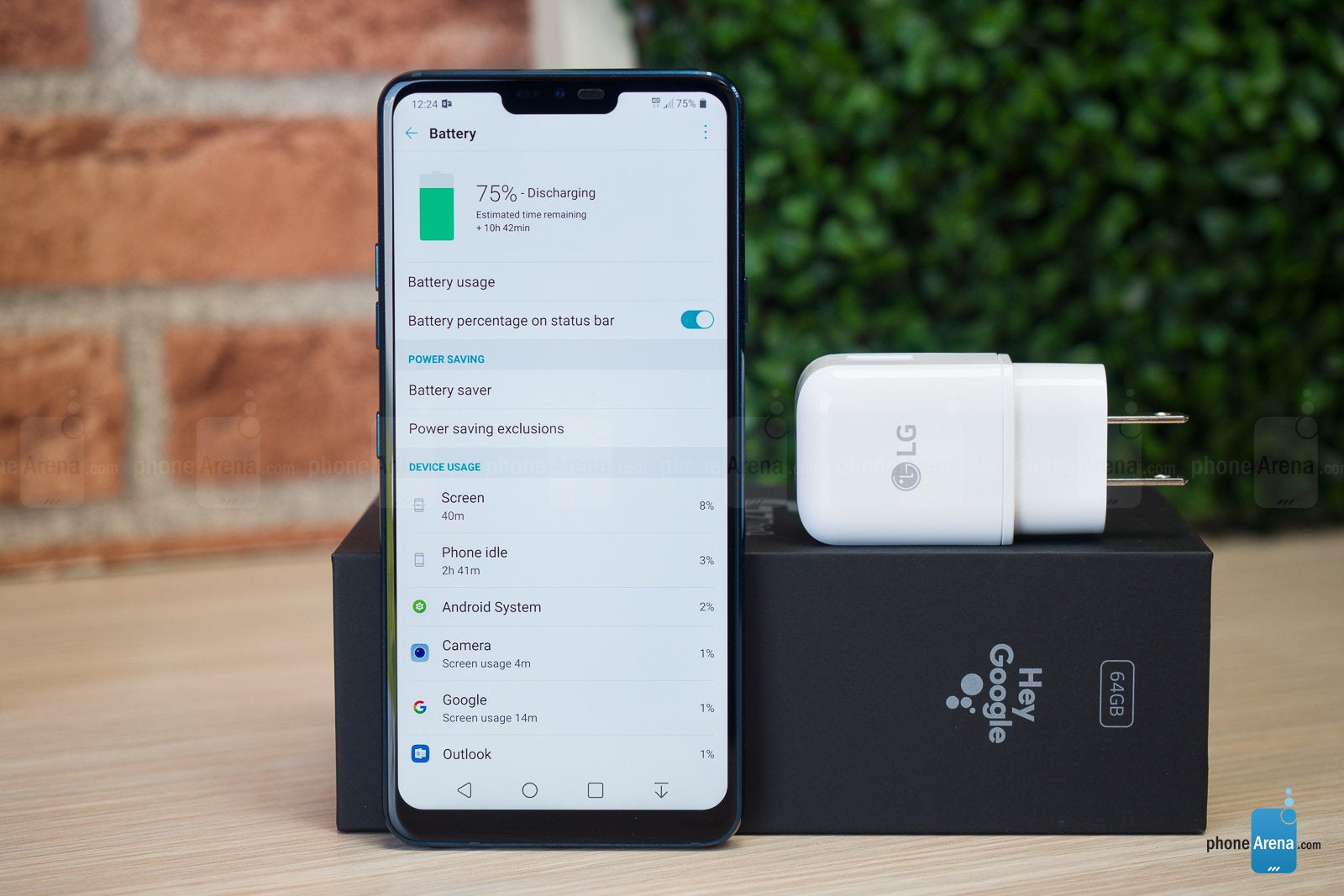 Thankfully, LG is shipping the G7 with a fast charger in the box – a full charge takes about 1 hour and 47 minutes. Having a rapid charger is also nice for quick battery level boosts – before you leave home for a night out, for example. And with wireless charging on board, you can charge the G7 conveniently on a Qi-compatible charging pad.
Conclusion
Here's the thing about the LG G7 ThinQ: despite the silly name, it is a phone worth owning. It is worth owning for the awesome wide-angle camera, for the large and bright display, for the fast Snapdragon 845 chip, and for the extra-loud Boombox speaker. Its design may lack originality, but the premium look and feel you'd expect out of a 2018 flagship are definitely there. And at a full price of $750, the LG G7 is not terribly expensive either.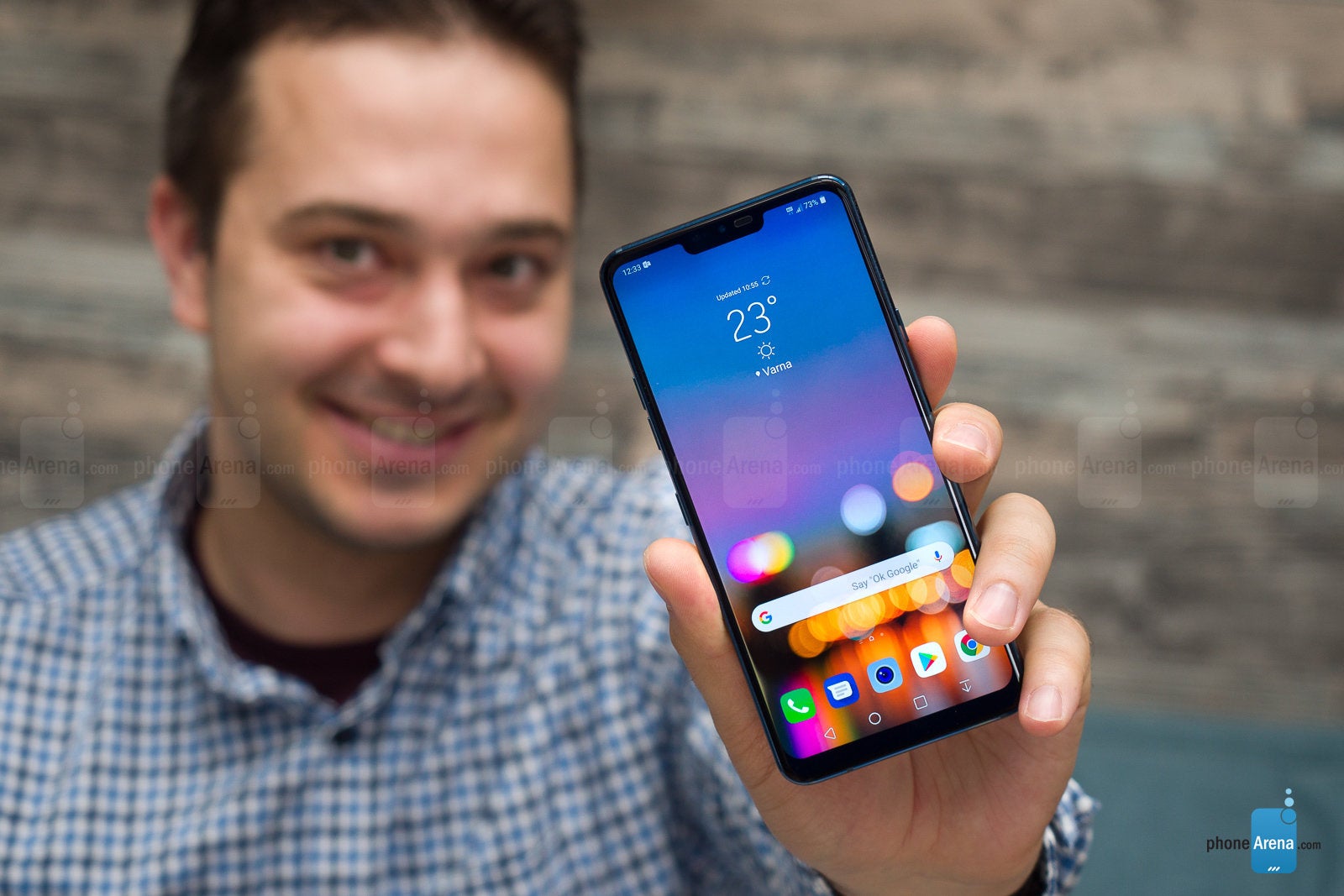 At the same time, I'm not sure what LG was thinqing when it decided to bet the house on AI. Sure, having a phone with artificial intelligence sounds all sorts of cool, but in practice, not a single AI-based feature on the LG G7 feels like a solid reason to pick this particular phone over a competitor's offering. The whole ThinQ initiative has all the marks of a work in progress – of a concept that would take years to fully unfold its potential.
But if buzzwords are what it takes for LG to sell a lot of G7 units, then may the ThinQ brand live long and prosper. At the end of the day, the LG G7 is a solid, feature-packed, and reasonably priced Android flagship, and I plan on keeping it in my pocket for at least a bit longer. If you plan on doing the same, then I doubt you'd be disappointed.
Update

: Read our LG G8 ThinQ review!