Sprint's first 5G devices get a release date and some killer introductory deals
9
Mere hours after Verizon kicked off actual
Galaxy S10 5G sales
and more than a month after Big Red flipped the
5G switch in parts of two markets
for the Moto Z3 only, Sprint is finally following suit with a number of exciting related announcements.
The "Now Network" will begin to take pre-orders for its first two 5G-enabled devices tomorrow, May 17, with commercial availability then set for May 31 in four major cities. A slew of other early 5G markets are vaguely scheduled to join the ultra-high-speed party in the "next few weeks", but let us first focus on the 5G products Sprint is throwing in the arena against the (temporarily) Verizon-exclusive
Galaxy S10 5G
.
Super-aggressive deals for early LG V50 ThinQ and HTC 5G Hub adopters
As expected, the
V50 ThinQ 5G
that recently
made its debut in Korea
following a short "optimization" delay is slightly cheaper than Samsung's first 5G-capable smartphone, at a recommended retail price of $1,152. If that still feels a little rich for your blood, Sprint can hook you up with a massive "limited time" discount, letting you have this Snapdragon 855 beast at only $24 a month without needing to pay a dime upfront as long as you don't mind signing an 18-month lease.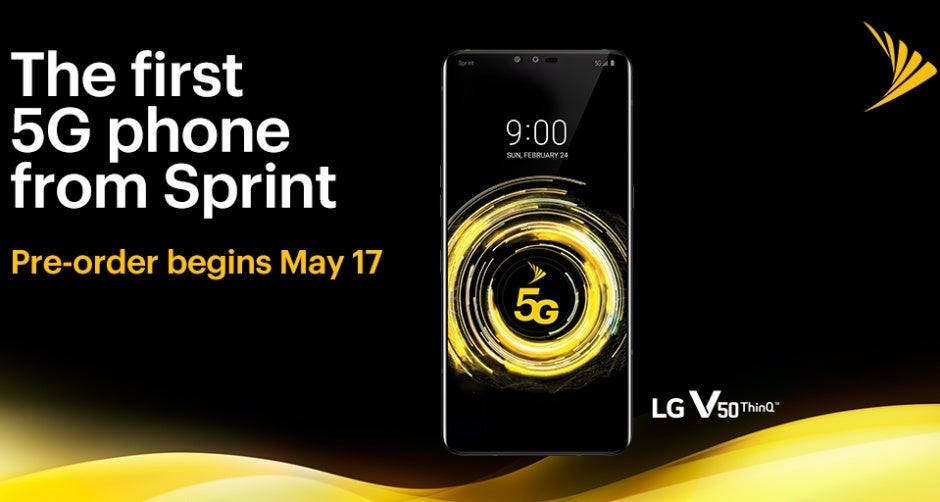 That amounts to an incredibly affordable grand total of $432 (with monthly bill credits), although it's important to remember leasing a handset is not the same thing as owning it. That being said, 5G technology is widely expected to undergo some drastic changes over the next couple of years, so you might not want to hold on to the LG V50 for long anyway.
Right now, of course, the 6.4-incher is a pretty impressive slab with a large 4,000 mAh battery on deck, as well as three rear-facing cameras, two front-facing shooters, 6GB RAM, 128GB internal storage, and an optional dual display case that Sprint is oddly staying mum about. Perhaps it's not coming to the US?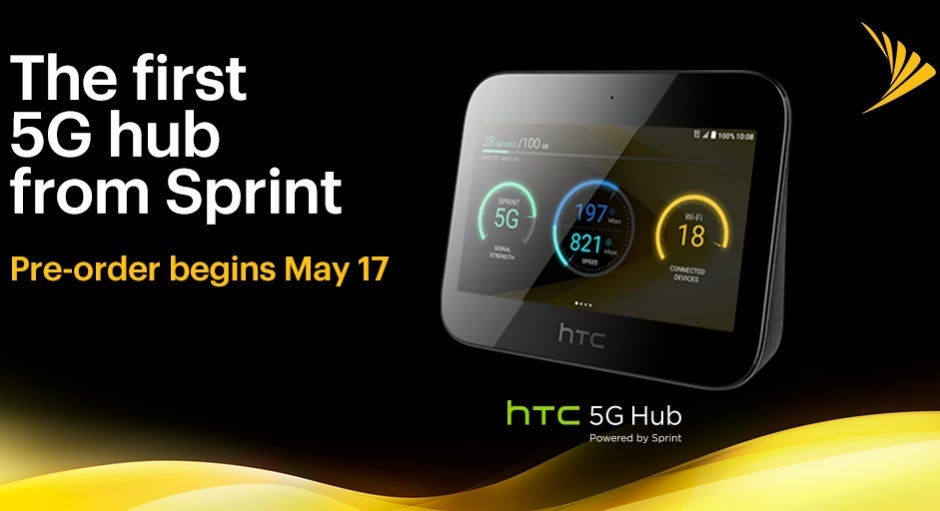 Meanwhile, the
HTC 5G Hub
is also not what we'd call cheap, with a standard $600 price tag attached to its name, but you can get this bad boy at a hefty discount too with a two-year installment billing agreement. Specifically, you can pay $12.50 instead of $25 a month for a "limited time", totaling $300 after 24 installments. The smart hub packs a Snapdragon 855 SoC and Snapdragon X50 modem of its own, hiding quite a few neat tricks up its sleeve, including 4K video streaming capabilities to a second screen.
The HTC 5G Hub sports a 5-inch display of its own, allowing non-5G laptops, tablets, phones, and TVs to easily experience early Sprint 5G speeds.
5G markets and plans
Sprint's 5G revolution starts in Atlanta, Dallas, Houston, and Kansas City on May 31, with availability soon to follow in (parts of) Chicago, Los Angeles, New York City, Phoenix, and Washington, D.C. That's a relatively decent (and specific) list, although it's no match for Verizon's promise of rolling out mobile 5G services in over 30 US cities by the end of the year. Obviously, Sprint intends to bring its next-gen network to more people further down the line, but we don't know anything about that just yet.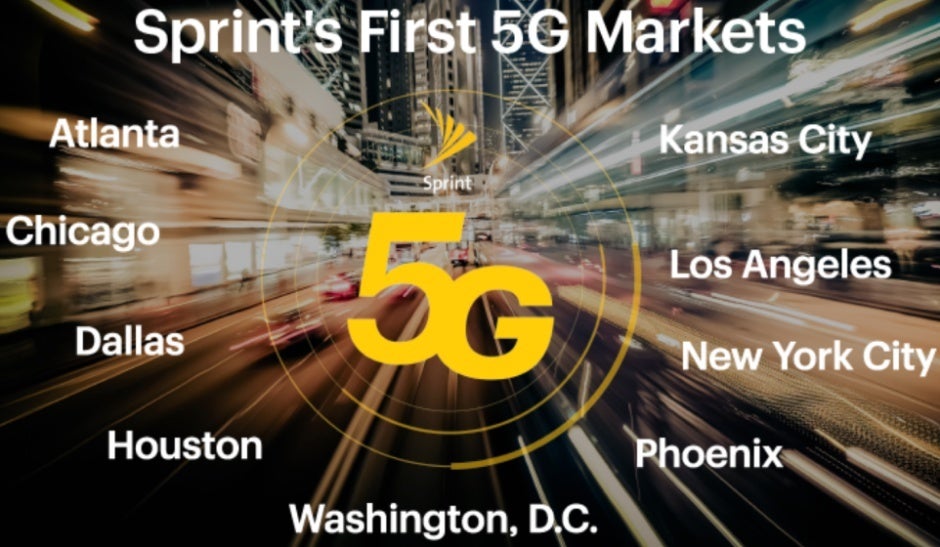 The final and possibly most important piece of the 5G launch puzzle is the price of Sprint's "plan of choice" to be paired with the LG V50 ThinQ and, someday, the
Galaxy S10 5G
as well. You get not just unlimited 5G data, talk and text nationwide with Sprint's Unlimited Premium option, but also a bunch of extra perks like Hulu, Amazon Prime, Twitch Prime, Tidal HiFi, and 100GB LTE mobile hotspot. All for $80 a month for one line, which... doesn't really feel excessive. Sprint is claiming the bundle delivers a monthly value of "nearly" $150, which may well be true.
In contrast, Verizon's Above Unlimited plan costs $95 a month for a single line of service, with a $10 5G surcharge marked down to $0 at the moment if you buy a 5G phone from Big Red. Interestingly, Sprint is also offering a special $60 plan for the HTC 5G Hub with only 100 gigs of high-speed data included and a massive downgrade to 2G, yes, 2G taking place once you hit that ceiling.